Actor and comedian Matty Cardarople is a recognizable face with words of wisdom for his fellow actors – Take charge of your career.
Most recently, you can see Matty on Netflix's Wheels of Fortune, also starring Matt Jones from Breaking Bad. You'll remember him from Netflix's hit series Stranger Things and in the TV series Lemony Snicket's A Series of Unfortunate Events.
Matty is proof that you can rise up and challenge yourself to become successful at your passion.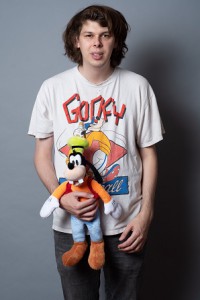 You attended Long Beach Comic Con pre-Covid, in 2019. Are conventions and other appearances built into your contracts or are those an added bonus that you're asked to do later?
It's an added bonus and perk of the job. Especially when a show has such an impact on fans that connect on a deep level with the characters. It's like a mirror for fans to see parts of you in them. I think that's why conventions are so cool, you get to see someone you admire in person. I geek out when I'm there too. I got to meet Elijah Wood and Creed Bratton from The Office. So, yes. It's a very huge bonus on all fronts.
Are you allowed to bring your own ideas to your characters? Do you discuss your ideas with the Director first or just do them?
Most of the time when you're on set filming you'll go off the ideas you did in the audition that got you the job: That's important. You don't want to try something new or do it in a different way. I think they would be like, "Um, What's happening?" – So to answer your great question — If the director has an idea or they want it delivered a certain way you go from there. And if you have a new idea you can easily bring it to them. It's a collaboration. The director will always elevate your performance… at least that's what you can hope for.
Also, there is room to try some truly new stuff with some adlib. I typically do that with a short tag at the end of a scene. But you wanna test the waters with this and see what kinda set you are on. You don't wanna do this when they are behind schedule or it's a tense set. Sometimes you'll get a director that will want to do a "fun take" and that's where you can really let loose like the great Robin Williams!
How did you remain professional as opposed to a fanboy while working with your idol Jim Carrey?
It was incredible to meet Jim Carrey. He was coming out of the makeup trailer at the end of the day. It was my first time meeting him. Everything slowed down and it happened in slow motion. I introduced myself and shook his hand. I was starstruck. I couldn't really speak and I can't really remember the words that I did get out but he was happy to meet me and very kind. I went to my trailer and cried with joy. He had such a huge impact on my childhood.
When I was 12 years old, my dream was to be a pitcher for the Boston Red Sox. I was getting ready to try out for a little league team. I worked so hard with my Dad every day practicing my pitches over and over again. I had a killer fastball, but I didn't make the team and a lot of my friends did. I was crushed. I found something that made me happy. That was baseball, being with my friends, and connecting with my Dad.
There was a lot going on as a kid for me. My parents had just gotten divorced and I was bullied for being a daydreamer. As I've come to realize as an adult, I had ADHD and I was bullied or misunderstood. So I didn't make the team and that was the one thing that was uplifting me.
But then my parents took me to see Jim Carrey in the film Ace Ventura: Pet Detective. He made me laugh so hard, I was gasping for air, I was snorting like a pig, and most importantly I had forgotten I didn't make the team. I was happy. And from then on whether I knew it or not was to bring that to others in times of struggle and pain. Like Jim did. At the premiere of Dumb and Dumber To, my publicist was like, "Let's go get a photo with Jim." And I was like, "No, I don't want to bother him." Haha I was that nervous. But then years later I saw him speak about his art work and got to see his art show in person. I saw him briefly and built up the courage to get a photo with him. I still hope that one day I could buy him a slice of pizza with him to truly thank him and just chat – So yeah if you do meet someone that has had that much of an impact on you, I say let the tears and excitement flow. There's healing for you and them I'm sure of it. Just make sure the cameras are not rolling.
What did it feel like the day you got your SAG-AFTRA card?
It was 2006. It was the best feeling in the world. I got my card on a SAG Comcast commercial where I played a clown that smashed a watermelon like the comedian Gallagher. I think I got cast because of my hair. I was given a Taft-Hartley which basically means you gotta join SAG. It's expensive to join but worth it. I have my parents to thank for that. It was an amazing feeling. It was validation that all my hard work had paid off. It was the start of my career. I'm so grateful, with everything I've learned so far on this journey. Thank you SAG-AFTRA.
Did you / do you have an acting coach? If yes, who is it and how did you find them? Do you only go when you're working on a script? What about earlier in your career? If no, how'd you learn to act?
I do have several different coaches from Lesly Kahn & Co. that I work with. I get coached for every single thing I worked on and from the beginning. I think it's really important to bounce ideas off another person so that you can have the best audition. I've studied with Lesly Kahn & Co., Beverly Hills Playhouse, and UCB.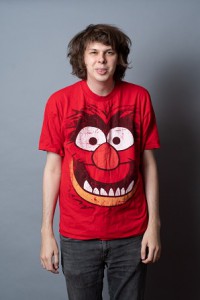 My first experience with performing in front of people was a class in high school. I had an amazing English teacher that would give me five minutes to perform in front of people. My classic bit was that I was getting ready to read a poem in front of the class but I acted like I couldn't find it. Then I would pull it out of my shoe and read from it. It would always get big laughs. Then that teacher asked me to read some poems at a local bookstore. My first gig

Then in my college years, I went to NY film academy in the backlot of Universal Studios. I studied filmmaking and acting for the camera. I was in several student films and that's where the bug of acting really took off for me. Then I went on to be a personal assistant to actor Luke Wilson. Luke helped me get a speaking part in Blonde Ambition and Owen Wilson helped me get a part in Drillbit Taylor. They were my first cheerleaders and really believed in me. I'm very grateful for that experience and they were so kind. Then my big break that came for me was Dumb and Dumber To, Jurassic World, and Selfie. And that has propelled me where I am today. I'm grateful for all the people that have helped me get here and all the lessons I've learned. It's been an amazing journey so far.
What advice do you have for people who want to become actors?
Immerse yourself in performing. Study really, really hard. Write on an artist mission statement. Work on yourself and your craft everyday. Surround yourself with positive people. Don't be afraid to ask for help when you need it. Don't get discouraged. There's a lot of rejection but you just have to keep moving forward and don't give up. Make your own content if you're not getting gigs, take classes, and take a writing class. Stay as active as you can. Get an acting coach. Have a strong work ethic. Believe in yourself. Don't get in the way of yourself, or let anyone get in the way, and just go for it. I believe in you. Thank you for reading this. By reading this you are taking charge of your career. That's a win right there and a start. Feel free to reach out to me on Instagram if you have any more questions and I'll answer them. We're all in this together. To make the world a better place.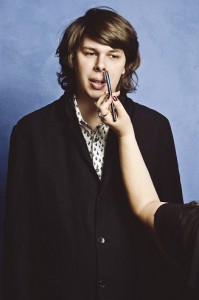 COMEDIC LIGHTNING ROUND QUESTIONS:
a. How come when I look at you, I involuntarily want to pick my nose?
Lol, I don't know, that question is for the Boogeyman.
b. Has anyone ever called you Quadruple instead of Cardarople?
Oh yes, at least it's not Fartarople.
c. Do you use the stage name "Matty" instead of "Matthew" in hopes it'll make you appear cuter?
Yes, Who told you? No, actually. My family has always called me Matty and think it makes me feel closer with them when I'm not around them.
d. backwards talk Ever?
Every day.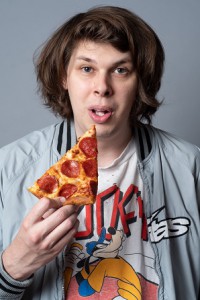 e. Pepperoni pizza or a shiny new motorcycle?
Both please.
You can follow Matty Cardarople on Social Media at: