Sisters Cassie and Sabrina Glow, aka the Glow Girls, have been doing voiceover work since they were little tots.
Now, at ages 14 and 12, the Glow Girls have over 500 jobs under their belts.
Cassie and Sabrina share their successful story below and give advice to others who are thinking about a career in Voiceovers. Even more so, they give us a peak into their home studio and a rundown of equipment!
At the bottom, there's a bonus interview with their "Momager", Susan Glow. Susan tells us about the hardships and rewards of having children in the entertainment field.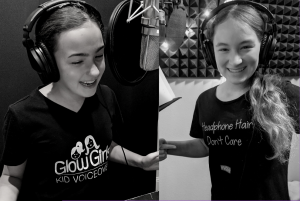 CASSIE and SABRINA:
How old are you now and at what age, and how, did you get into the voiceover industry?
Currently, Cassie is 14 and Sabrina is 12 (we're only 20 months apart) and we officially booked our first voiceover jobs at ages 8 and 6 respectively… so we have been working Voice Actors for over six years. We wish we had started even sooner as we love it so much!
We actually got into the entertainment business quite by accident. At ages 6 and 4, we were in dance class, holding hands, swinging our arms back and forth, giggling and singing G-L-O-W, G-L-O-W, G-L-O-W, we-are-the-Glow-Girls! – a silly little chant our parents taught us to learn how to spell our last name. By coincidence, a talent manager had stopped by the same dance studio to say hello to a friend, who happened to be our dance instructor. The talent manager handed a business card to our parents and encouraged them to think about the entertainment industry.
We had some fun experiences with commercials, short films, and print work. But when we learned more about Voiceover, we knew that was what we wanted to do! We think our childhood, which was filled with reading books aloud, singing, puppet shows, acting out made-up stories, countless trips to magical theme parks, and a love of cartoons and animated films sparked our interest in Voiceover. We then began coaching with top industry professionals, studied across multiple voiceover genres, and practiced-practiced-practiced. Eventually our passion and hard work earned us a track record of more and more voiceover bookings and agency representation across the country.
Today, we work with various animation studios, production studios, creative agencies, and streaming services that specialize in the kids' market. And we even have a professional home recording studio able to host live directed VO sessions so we can connect with clients all over the world!
Did you have any special training for voiceovers?
Yes, we have had extensive training in Voiceover across multiple genres like Animation, Toys and Games, Promo, Singing, and Commercials.
Some of our favorite Pro Coaches who were invaluable in leveling-up our career include Sara Jane Sherman for Animation, Mary Lynn Wissner for Commercial, Melanie Galiardo for Singing, and Cristina Milizia for Toys and Games. We have also had the opportunity to take specialty industry workshops with Voiceover legends like Randy Thomas and Tara Strong!
Each genre over voiceover has its own unique delivery style, so it's really important to understand the differences between them in order to do well on auditions, be confident in analyzing a script, and delivering your best performance. We continue to do private coaching as well as specialty workshops to keep our skills sharp – plus voiceover class is really fun!
And it may sound funny, but voiceover training also comes from watching TV! Listening to commercials to know what the advertising trends are… watching cartoons to learn the style nuances between each network… that is an important part of voiceover training too!
Oftentimes when actors are self-taping for an audition, they go into the closet because it's a quiet space to record. You turned a large closet in your home into a studio. What was involved?
We were fortunate enough to move to our newly built home last year. There were several available floorplans offered from the builder, and when we saw the one with an extra 70 square foot space perfect for our Home Recording Studio – it was the deciding factor in choosing our home!
We were lucky because this space is in a pretty isolated spot in our home with two internal walls. The walls are sound treated with heavy hanging producer's sound blankets, 2-inch-thick acoustic foam, and some additional sound panels on the ceiling and behind the microphone. The hardwood floor was covered with padded rugs.
We spend a lot of time in there so we decorated with special voiceover keepsakes from some of most special voiceover jobs and added sparkly lights for fun!
What type of equipment do you have in your studio?
Our home studio is equipped with a Neumann TLM 102 microphone paired with a Steinberg UR12 interface. Other accessories include a Harlan Hogan metal pop filter, Audio-Technica ATH-M40x studio headphones, and an adjustable music stand to hold our script while recording. We use Audacity to record and edit audio files on a laptop, and also have Source Connect, a technology that allows us to connect remotely with professional studios and clients around the world.
What in your life experience was most helpful to you in becoming a voice actor?
Our childhood was really fun and filled lots of creativity. As early as we can remember, our family would read tons of storybooks together. And we wouldn't just read them aloud… we would take turns making up voices and acting out our favorite stories too! We played lots of games like charades, dress-up, puppet shows, and make believe, and there was lots of music playing in the house or on road trips. When we got a little older, we were fortunate enough to take fun acting and musical theater camps in our community. All of this combined with our love of animation from watching movies and cartoons and the ability to read independently at a very young age really contributed to our abilities to develop as voice actors. Fun Fact – Sabrina's first ever Voiceover job required her to voice a toy with a British accent, which she learned from watching Mary Poppins and Peter Pan!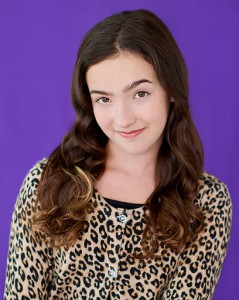 With school and work deadlines, have you ever felt overwhelmed? How do you handle stress and pressure?
Even though we absolutely love Voiceover, the demands and pressures of the business can be a lot to manage. Typically, auditions are needed with a very fast turnaround, sometimes even the same day. For voiceover bookings that we record independently (meaning the client has booked us, gives us all the materials, we record on our own in our home studio and then deliver finished files), often the client needs the audio on a tight production timeline too, like 24 to 48 hours at the latest. For voiceover bookings that are in-studio or live directed by the client (meaning the client has booked us, and we either connect with them live from our home studio or go to a nearby host studio) you have to be very flexible with your availability, usually during business hours, to accommodate all of the engineers, producers, directors, and creative team members involved.
Even when you love doing something, it can be overwhelming. There are a number of things we do in order to lessen any stress and keep Voiceover fun –
We realized that you don't have to do every audition – it's okay to pass and say no every now and then! Sometimes the desire to book a job makes you feel like you have to go after every opportunity out there. We don't take that approach. Instead, we only focus on the voiceover jobs that we are excited about and are a good fit for our strengths.

We read the specs of auditions carefully noting the turnaround time and expected recording date and compare it to our current voiceover booking schedule, academic obligations, or even family events planned. If it isn't something we think could fit into our schedule, we pass on the audition so as not to put ourselves, the client, or an agent in a difficult or stressful situation.

When we do have a voiceover booking scheduled, we typically get ahead on our schoolwork so that we don't get behind in class.
Tell us about school pre-Covid-19. Were you homeschooled or in physical school? In a Covid-19 world, how do you handle school? What do your friends think about your job?
Before COVID-19, we were homeschooled. Having total flexibility in our schedule allowed us to work on auditions with incredibly fast turnaround, recording bookings during business hours, travel to LA and New York when needed, and meet with clients across time zones – it was incredibly helpful in launching our career.
Last year (about five years into our VO career) we started attending an in-person school, which was a huge adjustment for our career. You just can't physically turn around auditions and bookings in the same manner as with a flexible homeschool schedule. Fortunately, because our school is focused on performing arts, they are supportive of our career if a Voiceover booking calls for us to miss school.
Our current situation is digital online school in conjunction with our performing arts school. Although we are required to be logged in to virtual school at specified times, conducting school virtually from home does enable us flexibility in our schedule and easy access to our home studio during the day! As well, with some of our virtual classes, we are able to work ahead allowing us time to record bookings in the afternoons and weekends for our ongoing clients.
Our friends think it's really cool when they recognize our voices from a commercial, watch one of our cartoon episodes, or hear one of our podcasts or soundtracks on Spotify. And it's fun to perform some of our voices for them too!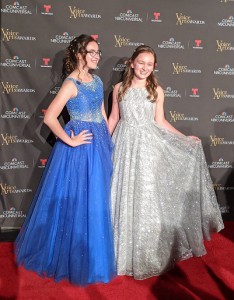 What type of VO jobs are your favorite? Why?
Animation jobs are always a favorite. Being able to add your own personality and interpretation to a script in order to bring a character to life is the best. Sometimes the client shares with us that how we delivered a line inspired the animators to draw our character a certain way… it is so exciting to be part of the creative process. And hearing yourself on TV is surreal!
But we've had favorite voiceover jobs across other genres too!
Commercial – Cassie is the commercial voice of ZURU Toy's MiniBrands campaign in which she voices both the fast-talking live-action hamster mascot as well as the announcer taglines.

Singing – Sabrina has recorded her singing voice for several musical Hallmark ornaments that hang on our Christmas tree every year, and Sabrina's latest musical animated series is in consideration for a Grammy nomination!

Promo – Cassie got to voice a series of Promo episodes for one of our favorite shows, Top Chef Junior!

Toys – Sabrina and Cassie have both voiced Singing and Talking toys. This is always special when we see our toys on the shelves at the store and can share the toys with our younger cousins and family friends!
Do you audition or are you just given jobs?
Voiceover is a very competitive business – we audition a lot! We've probably submitted thousands of auditions over the course of our careers in order to earn the 500+ bookings we've recorded. Our colleagues in the industry say you're doing well if you book one out of one hundred auditions. So, you have to be resilient and keep your auditioning skills sharp to compete.
After being in the business for six+ years with a successful track record, we are fortunate to have developed a portfolio of ongoing clients and repeat business too! So, for those opportunities, we don't need to audition. Sometimes we also receive direct voiceover bookings through a referral or after a client listens to our Voiceover Demos on our website.
For a role, when you're required to go into the production studio, do you read from a screen / script or do you memorize your lines? Are you in the booth with the other actors you're playing against, or do you all record your lines separately and then it's pieced together? Is there a director giving you instructions on how to speak the role? Do you do multiple takes?
Going to the studio is always a fun experience! No matter what type of voiceover we are recording, we always arrive at the studio prepared – our script printed out with our lines marked up, pencils, a water bottle, and wearing clothing that won't make noise in the booth (we have a huge collection of t-shirts with funny sayings on them that we typically wear!)
For voiceover it is advisable NOT to memorize your lines. You definitely need to be familiar with the script and should understand the character or creative campaign. It's a good idea to have practiced your lines several times out loud, but it's best to remain open and flexible to direction during a voiceover session, and not have committed a particular delivery to memory in advance.
Most often, we record our lines solo in the booth with the client, producer, and/or voice director leading the session, and then this audio is later cut together with the other actors' recordings in post-production. When a voice actor is asked to deliver a line, you are typically expected to offer "A-B-C" takes, meaning you deliver the line three times in a row each time with different inflection. Then the director may select one of those takes and move on to the next line, or the director may offer feedback and ask you to deliver another set of takes implementing the new creative direction.
We also record automated dialogue replacement, or "ADR", at the production studio. ADR is actually re-recording some of your original audio once the animation process is close to complete. Often when you first record your voiceover lines, the animation itself is still in development. So once the animation is finalized, there may be some minor script changes or the director may want to change the delivery style to more closely match the animation. For this type of voiceover you are recording while watching the video on a monitor, and timing is very important.
For some of our animation projects in the past (pre COVID-19) we've been in the studio for an ensemble recording, meaning all of the voice actors in the project are together in one room, each with his or her own microphone and script stand set up. In this setting, actors directly play off of each other and you typically record the script top-to-bottom (meaning you go all the way through a scene reading your designated lines… not multiple takes per line). It's fun to work alongside the other actors, and it creates a different energy than recording independently.
Do you have any activities / hobbies that you enjoy when not working or in school?
Outside of Voiceover and when not in school, the main things we like to do are Karate, artwork, board and card games with our family, and trying new recipes in the kitchen!
Currently we are both brown belts in Karate – we practice patterns and weapons training a few times per week. Otherwise, you can usually find us drawing, sketching, composing music, and learning storyboarding animation techniques – all in preparation for our own animated musical adventure someday! Also, our family is very close – so several times a week we are challenging each other to family game night playing a funny card game like "Exploding Kittens" or a classic board game like "Clue" (the competition and laughs are fierce!) And each week we try a new recipe from the collection of cookbooks and food magazines we have – last week we learned how to use a kitchen blowtorch to make Crème Brûlée! We are lucky that we are sisters and best friends, and enjoy so many of the same interests.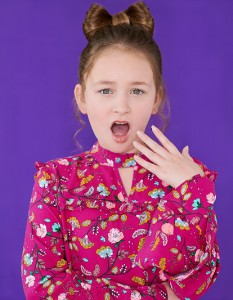 What advice do you have for child actors who want to get into the voiceover business?
The best place to start in Voiceover is to try a voice acting class or workshop to see if you think it's fun and if you like it! After that, continued acting coaching and training is really key to learning the art form and becoming competitive (after all, voice-OVER should really be called voice-ACTING – it's more than just talking into a microphone!) Then, practice practice practice!
As with any area of the entertainment industry, Voiceover is an incredibly competitive business. A unique challenge to this art form is the fact that as a Kid or Teen talent, you aren't just competing with other Kids and Teens – you are also competing with adult voice actors who can sound like Kids or Teens. Also, the remote aspect of Voiceover allows for competition worldwide too! When it comes to booking a voiceover job, you definitely hear "no" a lot more than you hear "yes" in this business, which can be frustrating. We have submitted thousands of auditions over the years in order to earn our hundreds of bookings. So if you discover that voiceover is your passion, keep putting in the work, keep training, and keep trying!
MOM / MANAGER SUSAN:
What's it like having two daughters in show business?
Having two daughters both in the voiceover business has its advantages and disadvantages. On the plus side, it's wonderful that they share this passion for voiceover and have common experiences. Also, given that it is so unique be a Sister team of Professional Voice Talent, many times clients will end up wanting both Glow Girls for a voiceover project! It is always special when the Girls get to work together. On the down side, because they are close in age, have shared talents and have common goals, Cassie and Sabrina are usually directly competing with each other. From a logistical standpoint, it also means I am recording, directing, and editing double the auditions for almost every voiceover opportunity, which is very demanding.
Launching, keeping up with, and growing the Glow Girls' busy career is definitely a family affair. As their Manager, I direct, record, and edit all of their auditions, record and edit bookings, engineer client directed sessions from our home studio, coordinate bookings at outside studios when called for, execute contracts, invoice clients, and handle their social media, press and professional development. It is a substantial investment of time, energy, and money. We do it because the girls love it, but we also strive to maintain balance as a family. We make sure the girls are not overextended with voiceover by only taking on projects that are interesting or fun, and never to the sacrifice of family time, downtime, or other interests that are important to them as well, like karate and art. That commitment to balance has really helped the longevity of Cassie and Sabrina's voiceover career – every time they get in the booth, they love it just as much today (if not more!) than when they started. Otherwise, what's the point, right?
When Cassie and Sabrina first started out, did you ever think they would become as in demand as they are now?
Honestly, no. When they first started out, pursuing voiceover was just an idea for a fun activity that combined their love of animation, acting, musical theater, and reading all into one! Money was never the goal, and still isn't the goal. Can you earn some nice paychecks for the work you do? Yes, of course. But you also have to invest money to remain competitive in voiceover for things like ongoing coaching, top-notch studio equipment, workshops, and professional demo production. If money is your motivation, it puts undue and unrealistic pressure on your kids and your family. We are so grateful for the incredible life experiences Cassie and Sabrina have had doing what they love!
Did either of the girls go to a speech therapist?
No, neither of the girls have ever required a speech therapist. We have however studied with dialect coaches for roles that required a specific accent.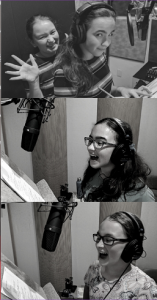 Did / do either of the girls have braces? If yes, how, if at all, did that affect their careers?
Both Cassie and Sabrina had braces. Cassie started with traditional braces at a young age, before she started doing voiceover. Luckily, having braces (which have been off for years) did not impact her ability to successfully do voiceover. Sabrina required braces a little later. Since their voiceover career was well underway at that time, we opted for removable Invisalign braces which were really convenient for auditions and bookings.
What do yours, Cassie and Sabrina's future look like regarding the VO work?
Both Cassie and Sabrina plan to continue doing voiceover throughout middle school and high school, and on through college someday. In addition to continuing their voiceover careers, the Glow Girls have some big creative aspirations for the future – namely, developing their own animated musical adventure series. In support of their goals, both Glow Girls can see a future that includes going to an arts-focused college in a geographic location that supports both animation and voiceover. They both also have goals of earning a working internship at an animation studio. Whatever lies ahead, both Cassie and Sabrina agree that there won't be a time in their lives that doesn't include Voiceover.
Glow Girls Social Media Accounts:
Instagram / Website / YouTube / Facebook / Twitter