Matrix 4 and STARZ' Spartacus action actress Ellen Hollman is an Army of One this December.
We got a special inside look at what it's like for Ellen Hollman to take her career to the next level by adding writer and producer to her credits.
"Out hiking, Special Forces Brenner Baker and her husband stumble upon an illegal drug compound. The drug dealers capture them, kill her husband, and leave her for dead. They should have made sure they finished the job. Now, 1st Lieutenant Brenner Baker of the Army's 75th Ranger Division is on a one-woman killing mission carving up everyone in her path until there is only one person standing, her."
You've been quite busy! You produced, wrote and star in the upcoming film Army of One, which is about Special Forces Brenner Baker who stumbles onto a Cartel's compound. Her husband's killed and she's left for dead. At what point in your acting career did you decide to delve into writing and producing?
I began producing, creating and writing my own content a couple years ago beginning with proof of concepts and short films (ie Fallen Angel, Gambit, Kenzo) and this has grown into bigger opportunities since including Army of One. My best advice to anyone wanting to get into the industry is wear every hat in every department and see what you like most. You just may surprise yourself.
Exclusive Photo to DirectSubmit/NYCastings
Take us through the process of fulfilling your duties for Army of One. Who came up with the idea for the story? Did you take a screenwriting class? What exactly does a Producer do?
The script was nearly completed when I came on board but Stephen Durham, our Director, gave me the liberty to alter many aspects of it from action design, to dialogue, to infusing a bit of humor into it as well. Nearly 20 years in the industry you pick up a thing or two on how to put together a script… you also learn what NOT to do. A Producer pretty much spends all their time on the phone doing damage control, babysitting cast and crew and not a whole lot of sleeping. It's all somehow worth it though!
You have the Matrix 4 coming out soon, starring Keanu Reeves and directed by Lana Wachowski. Did you audition for the role? Tell us about your character.
I had a face to face meeting with Lana the Legend herself. She had seen my action and highlight reel and knew what I was capable of so instead of auditioning we ended up delving into a deep and meaningful meeting of the minds for over an hour. She wanted to see who I was as a human, not a product. Guess I passed the test! As for the character? Well, I would tell you but I'd probably disappear mysteriously if I did!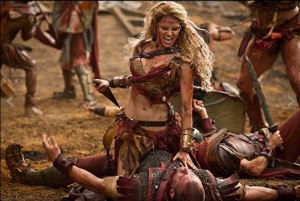 You played Saxa on the STARZ series Spartacus where you hold your own against the gladiators. What was it like being a strong female fighter among a bunch of men?
Saxa was such a legendary character to bring to life, one of my faves to date. I never felt in competition with the male Gladiators because what I had was a different skill set. They relied on strength, Saxa relied on speed and agility… and a feisty temper! We all respected each other because of our strengths and never judged one another for any shortcomings. To this day we are all still so close, I love my Sparty family!
What do you think about all of the fanfiction written about Saxa? Have you read any of it? What's your take about fanfiction in general?
Haha! I haven't read much of it I admit but I'm pretty sure a decent portion of it involves me making out with Mira (my pal Katrina Law) which ya know, who would say no to that!
Exclusive Photo to DirectSubmit/NYCastings
You come from an entertainment family — your father, Hart Hollman, was a violist for the Detroit Symphony Orchestra and your mother Julie, a master pianist. Growing up around music, did you yourself play any instruments? Why did you choose acting as your creative outlet?
I was fortunate to have both parents install the importance of classical music into my daily routine and actually played the violin and piano for years. Although I enjoyed honing those skills, it was never my passion sadly… the performing aspect certainly stayed with me though! Acting is a beautiful outlet to express yourself, tell a story and meet lifelong friends you otherwise never would. In my case a husband!
Let's talk about all things Jiu-jitsu. How did you become interested in this martial art? At what age did you start studying Jiu-Jitsu? Do you know other forms of martial arts? Has knowing Jiu jitsu helped you get work?
The incredible Eve Torres Gracie gave me the Jiu-Jitsu bug when we met on the set of Scorpion King: Quest for Power. I received my assistant instructor certification in their Women Empowered Program as well as my blue belt through the Gracie Academy a couple years later. I'm an addict for life! This particular skill set along with judo and fight choreography with my husband Stephen Dunlevy and his stunt team 87Eleven (John Wick, Deadpool, Atomic Blonde) certainly keep me sharp for jobs requiring some ass kicking.
Photo by Bjoern Kommerell 
How old were you when you moved to New York to pursue an entertainment career? Was it scary? Where did you live? How did you earn a living while working on building your career?
19 years old living in NYC… suuuuper scary but too determined / bull headed / naive for that to deter me! Worked as a model for various clients such as Betsey Johnson, Kenneth Cole and Victoria's Secret before taking off to L.A. a couple years later.
What is your food and workout routine? Why is it important?
At the moment the SWEAT app is amazing along with canyon runs in the California heat. Also some judo and Jiu-jitsu with hubs to keep the skillset up to par.
Anything else you want to say?
Since we're in the midst of global uncertainty, I encourage those — whether they're in the entertainment industry or not – to create and tell their own stories with friends and share via Zoom, FaceTime, etc. It's how humans have survived for hundreds of thousands of years in dire times and it's not only good for morale, it keeps you young. Whether it's a short skit, a series of jokes or pranks, or even a juicy confession… sharing your heart and your wit will always be a timeless remedy. 
SOCIAL MEDIA
Website
Twitter
Facebook
Instagram
Photo by Bjoern Kommerell
ELLEN HOLLMAN BIOGRAPHY
ELLEN HOLLMAN is making a name for herself in the entertainment industry through the characters she has brought to life in film and television. Most recently, Ellen will be joining Keanu Reeves in MATRIX 4 directed by Lana Wachowski as well as upcoming action adventure MONSTER PROBLEMS with Michael Rooker and Dylan Obrien.
Hollman is widely recognized for starring as "Saxa" on the hit STARZ series SPARTACUS: WAR OF THE DAMNED and SPARTACUS: VENGEANCE, one of the most buzzed about shows in STARZ history. A seasoned jiu-jitsu practitioner, Hollman is also known for her serious ass kicking in major roles on NCIS: NEW ORLEANS as recurring antagonist/assassin "Amelia Parsons" and AMC's groundbreaking martial arts series INTO THE BADLANDS. Other credits include recurring roles on Ryan Murphy's series 9-1-1 on FOX, Navy SEAL Series SIX on A&E as well as LETHAL WEAPON and HAWAII 5-0.
Born in Michigan, Hollman was raised by her father Hart Hollman, a violist for the Detroit Symphony Orchestra, and her mother Julie, a master pianist. No stranger to the arts, Hollman spent countless hours in the Opera House and Orchestra Hall surrounding herself with classical brilliance. In her teen years, she decided to pursue a career in the arts herself, and moved to New York City. There, she studied at various acclaimed acting studios and honed in on her craft of choice: bringing to life a versatile array of characters on stage and on the silver screen. In 2004, Hollman moved out to Los Angeles. Within one year of being in LA, she started landing projects.
Photo by Bjoern Kommerell
Aside from acting, Hollman is the CEO of Visual Impact Now, a non-profit based in Los Angeles. Visual Impact Now has served as a fundraising and awareness arm for their partner ONE SIGHT, to provide free eye exams and glasses to children and families who are unable to afford it. They have been involved with various high profile events including the GOLDEN GLOBES STYLE LOUNGE, COACHELLA, SUNDANCE, LA FASHION WEEK, and more. Their Host Committee Members and supporters have included Zoe Saldana, Chris Pine, Debra Messing, Malin Akerman, Shaun White, January Jones, and Taylor Lautner, to name a few. Over the years they have serviced over 7,000 LA youth with eye care and glasses.