Netflix's Young Selena, 9 year old Madison Taylor Baez, sure packs a pint-sized punch!
Madison Taylor Baez had to learn to sing in Spanish in order to play her role in Selena: The Series, which is about the tragic life story of Selena Quintanilla, the Queen of Tejano music and an iconic Mexican-American pop star. (You may recall Jennifer Lopez playing Selena in the 1997 film Selena.)
Learning songs, memorizing lines, playing musical instruments such as piano and others, going to school – as if Madison wasn't already busy enough, she recently released her 2020 Holiday album, Blingle Bells, which you can order now on iTunes.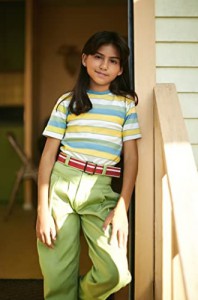 How did you get the role of Young Selena?
I got invited to audition and the audition process was about three months. I had to do two auditions and prepare two Spanish songs and one English song, as well as do two scenes for both the initial audition and for the producers' call back. I had never sang in Spanish before so I worked with a vocal coach Heidi Rojas who sings in Spanish and got me ready. I felt really good after both the initial audition based on their reactions. On the final callback, I brought a microphone in my back pocket and also dressed in a similar outfit I had seen Selena wear at my age. I had studied young Selena's singing movements prior so when I got called into the room with producers, I was ready. I told them that I was going to sing the songs how I would sing them and then I would sing them again but sing it the way young Selena would based on videos I had seen. The producers were all smiling and taken back by that and asked me to say that all again so they could get it on tape. Then I pulled my mic out sang both the songs and everyone in the room were all smiles. Then a month or so later, I got the call that I got the role!
Tell us a fun story about being on the set of Selena: The Series.
Well, for the scene at the senior home, I sang "Why do Fools Fall in Love." I didn't find out I was going to sing or record that song until late that evening before I had to go into the recording studio the next morning. I was already asleep in bed. I ended up learning the song on the short drive to the recording studio in the morning and recorded the song in two takes. So it worked out, LOL!
Did you have your own dressing room or trailer?
I had my own dressing room on the main set location which was a nice big room with a sofa, table, bathroom and mini fridge. I didn't really decorate it but I always had plenty of snacks with all my comfy blankets.
You got your acting start in a short film called The Tooth Racket. How'd you hear about the casting call?
Actually, I got my acting start doing 11 National commercials. The Tooth Racket was my first film role. The casting for it was a funny story. My dad got an email audition request for the role but it was a system glitch that sent it to him that we should have never got. So when I went to the audition, it was actually for callbacks with the producer and director. They didn't have me on their list of actors as I had never went to the initial audition. We showed them the email audition request so they agreed to let me audition but I had to go last. I ended up doing the scene, then they gave me a new scene and asked me to go out the room and review it and come back in to do that scene. I did the scene and when I finished, they called my parents into the room and said they were blown away and confused at the same time because I wasn't supposed to be there LOL. Then they wanted to know more about me. The next day they called to offer me the part.
Did you wear your own wardrobe or was there a wardrobe coordinator?
The wardrobe was simple, just a nightgown they provided.
What about hair and makeup?
For my hair it was pigtails and just light makeup.
You have such a powerful voice! Do you take vocal lessons? At what age did you realize you had the ability to sing really well?
I have worked with some vocal coaches very briefly but my dad has been my vocal teacher and taught me everything about singing, performing and history of music. I never really can remember an actual time I realized I could sing. I started singing so young, really from the time I was born, I had a microphone in my hand. I just felt that singing was part of me and my everyday life that's I wanted to do.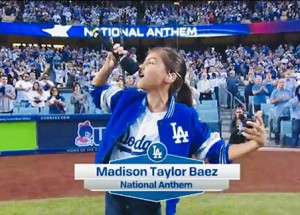 You've been invited to sing the National Anthem in stadiums and arena's for the LA Dodgers, Lakers, Rams, Kings, Galaxy, Harlem Globetrotters, Government Officials and at many high profile charity events. How did you get your first arena gig with the LA Lakers?
My dad one day decided to teach me the National Anthem in hopes I would be discovered. I learned it in about 20 minutes and he video-taped it and sent it to the Lakers. A few days later my dad received an email reply inviting me to sing at a game a few weeks later. That was my first public singing appearance at seven years old. Then from there it kind of took off for me and other professional teams called to invite me to sing.
Watch Madison Taylor Baez perform The Star Spangled Banner.
What's it like performing in arenas in front of thousands of people?
It's an amazing experience to perform in front 58,000 fans. The energy I get from the crowd and hearing them cheering your name "Anthem Girl, Anthem Girl" is pretty incredible.
Did you get stage fright?
No not really. I get some butterflies but once they put the microphone in my hand those all go away and I am ready to go and excited to sing.
It sounds like you do NOT go into head voice when you sing the National Anthem. Wow! Do you think as you mature your vocal range will change?
Correct. No head voice. I am able to hit all the big high notes of the National Anthem. As far as my singing range, I feel because I practice daily on developing my range that it can only get bigger as I get older as long as I continue to practice and take care of my voice safely.
Who maintains your social media pages for you?
My parents manage my website and all my social media.
Why is it important to even have a social media page in today's world?
It's very important not just to promote my music, acting and upcoming events but it's a way to connect and communicate with the fans, as well as gain new fans. It's important that fans have a way to see what I am up to and follow my career. Also, since I'm still only 9 years old, I never go on my social media sites without being supervised by one or both of my parents. That's important to mention.
How did your Manager Kim Matuka of Schuller Talent find you?
When my dad decided to look for representation for me, he researched and emailed the top 25 talent agencies in LA with pics and videos of me singing. Mostly all replied with interest and then my dad narrowed that list to ten. Kim Matuka was part of that list. After talking and meeting with those ten agencies, my dad chose Kim. Kim and her mother for decades have been managing some of the best talent in the industry, especially kids. Kim really had such a strong belief in me even though I had no acting or commercial experience. She is also truly caring of me and my family. She has been amazing!!
You're now also with Paradigm Talent Agency. Did they sign you before or after you got the part as young Selena?
I signed with Paradigm after I got the role for Selena.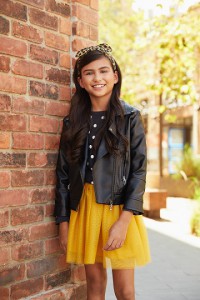 What's the difference between your agent at Paradigm and your manager at Schuller?
My agent Jennifer Millar is responsible for getting me auditions for roles in television and film. Kim manages and consults with my parents in the overall direction in my acting career within the industry. As well as promote me for new opportunities.
You're a member of the actors union SAG-AFTRA. How did you get your card?
I was able to receive my SAG-AFTRA Card from the all the commercial work I was fortunate to get prior to me getting the role of the Selena Series.
What advice do you have for young performers?
Hmm! I would say if it's your dream to become a performer, never give up and know that most of the auditions you go on you won't get for many different reasons, most of which has nothing to do with your actual talent. I have gone on so many auditions and most I didn't get. But I never got down at all. Always think that with every audition, good or bad, that it is a great experience to landing a role in the future. Stay confident and patient. Also continue work on getting better doing what you love.
MADISON TAYLOR BAEZ BIOGRAPHY:
Madison Taylor Baez is a 9 yr. old musical prodigy who is a rising star in Hollywood both as a singer and actress. She was born February 24, 2011 raised in Orange County, California and is of Hispanic and Filipino decent. She is best known and will be Co Staring as "Young Selena Quintanilla" in the 2020 Netflix Bio Series of the late Latin Singer Selena Quintanilla.
She is also known as America's "Anthem Girl" for her powerful and soulful renditions singing the National Anthem in stadiums and arena's for the LA Dodgers, Lakers, Rams, Kings, Galaxy, Harlem Globetrotters, Government Officials and at many high profile charity events. She has been featured on the show Kids Say The Darndest Things with host and comedian Tiffany Haddish and gave a standing ovation performance of Beyonce's "Listen". She has also been featured on NBC 4 Access Hollywood, Fox 11 The Good LA Morning Show, Inside Edition, ABC 7 News, Fox 11 News, NBC 4 News, CBS 2 News, KTLA 5 News. She broke into the entertainment world in the last 2 years also appearing in the film "The Tooth Racket" and filmed 11 national commercials for McDonald's, FujiFilm, Walmart, Chevy, KB Homes to name a few as well as music videos Nina West and DJ Carnage.