Why do some actors choose to be versatile as opposed to specializing in one specific form, such as comedy?
There could be several different responses to the above question, however, in today's world, there are so many tempting acting opportunities that one might think being a specialist is limiting. You always hear about the "fear" of being typecast.
Let's jump to one of the decade's most versatile Latino actors, Armando Riesco.
Armando can be seen as Emma Roberts' sassy transsexual roommate, Rubia, in the recently released feature film "Adult World", which opened to rave reviews at the 2013 Tribeca Film Festival and stars John Cusack.
Armando will go through great lengths to portray his characters. He has a determination to diversify which leaves the audience with a feeling of accomplishment.
After you graduated Northwestern University, why did you choose to come to New York City to begin your professional acting career?
I actually didn't. I stayed in Chicago for a couple of years, which I think was a great decision because I got to work on several plays and pay 400 bucks a month for a studio apartment right on Lake Michigan! I came to NY when I was asked to reprise a role (Dexter in Chris Shinn's "Four") in a play. Once I got to NY, I was hooked.
You will be reprising your role as troubled Iraq war veteran and American hero, Elliot Ortiz, in The Happiest Songs Play Last opening March 3rd, 2014 at the Second Stage in New York City. You're used to playing serious, difficult characters. How do you compare such a "heavy" character to some of your other work's "light" characters? Which do you prefer?
Right now I can't lie, I am looking forward to some more comedic or light hearted roles. I think as actors we can't help but take on some of the traits of the characters we are inhabiting, consciously or not. I have been playing Elliot for about eight years now on and off and while it has been an absolute gift that I would not change for anything, my psyche could use a little break!!
Armando is no stranger to the big screen with memorable roles in "Garden State" (Natalie Portman, Zach Braff,) "National Treasure" (Nicolas Cage,) "Fever Pitch" (Drew Barrymore, Jimmy Fallon,) CHE Parts 1 & 2, (Benicio del Toro,) and many more. Some of his television credits include "Blue Bloods", "Elementary", "A Gifted Man", "Royal Pains" and "Law & Order."
Tell us about your role as Emma Roberts' sassy transsexual roommate, Rubia, in the highly anticipated feature "Adult World" which just hit theaters. How did you connect with this character? How come production didn't hire a real transgender person to play the role? What type of research did you do?
All great questions. This role was exactly what I needed in my life when I got it. Rubia is sassy, sure, but she also has a generous heart and a funny, positive view of the world. She is (mostly) selfless and is a great friend to everyone she meets in the movie. I did do a ton of research for it, meeting several transgender people in the process, watching documentaries like crazy ("Paris is Burning" was probably my #1 source of research), and just finding the physicality, the voice, and all those fun things we get to do when we get cast. As far as hiring a real transgender person, you would have to ask the people who made the decisions.
Do you / have you ever signed with an agent or do all of your auditions come through your manager? How'd you meet your manager, Brian Liebman? How long have you been with him?
I have been with Brian since around 2007 and have not worked with a legit agent in that time. Brian's office [staff] work their butts off to get me in the right rooms and I am incredibly thankful to be with them.
What role does your manager play in your career?
He plays an essential role. He gets me auditions, which is obviously priority number one, but we discuss pretty much every important decision that gets made involving my career. Although ultimately every decision ends up in my hands, I listen to him very carefully and his opinion is very important to me and always considered.
You've done voice-over work for video games such as the Grand Theft Auto series and the TV series "Dora the Explorer." During the recording session, were you in the recording studio by yourself or were you interacting with other actors at the same time?
Voice-over has been a lifesaver for me since I arrived in NY in 2001. All of my jobs have come through auditions, which mostly happen in offices or right in my agents office (CESD). For the video games, there is absolutely no interaction other than a director guiding you. You do what you do and then it gets mixed by the powers that be later on.
You and your actress wife, Shirley Rumierk, have a start-up production company called Rumando Pando? Tell us about the company.
Rumando Pando is actually four people, Frank Pando and Ed Trucco are the other two participants. We basically try to make short videos and films without having to get any approval from anyone. It's tremendously empowering to be able to create your own work and not depend on anyone. You also quickly learn how hard it is to actually do something that is worthwhile!
You were raised in Puerto Rico by Cuban parents. What did your parents say when you told them you wanted to act as a career?
They have always been 100% supportive of me. I feel very lucky to have them as my parents.
How'd you choose Northwestern University? What did you LEARN at Northwestern that has stuck with you?
Northwestern is a phenomenal school and I chose it because at the time (and probably still) it had one of the top theater departments in the country. David Downs was my primary acting teacher and pretty much every single thing he taught has stuck with me in one way or another. If I had to choose one nugget of acting wisdom from him it would be to find the character's hands. Attention to detail is paramount when creating a person.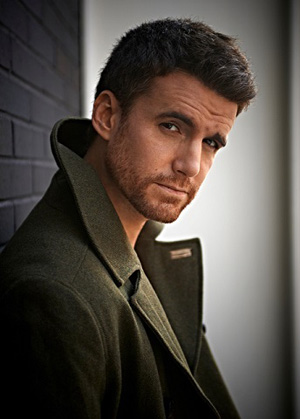 "The nicely restrained Riesco is consistently amusing as the self-possessed Rubia" ~Hollywood Reporter
"Riesco turns what might have been a cliched disaster into a believable study of awkward elegance amid tackiness." ~Variety
Photo by Nina Duncan
A lot of people know you as your character, Jesse, from the film "Garden State." What's it like being "known" for a role you played 10 years ago?
Yeah, I still sporadically will get a "Garden State" recognition on the street. It's totally flattering and amazing to have been in a movie that had some kind of impact on people.
What's with the scruffy beard look?
The photos were taken before I started the play, and I knew I was going to have to return to the buzz cut and clean shave soon enough. Hence the scruff.
Do you have any children or plan to have kids in the future? With you and Shirley both in the business, have you thought about juggling the responsibilities of a child?
We are expecting a baby girl in June. I would be lying if I told you that I know how this is going to affect us exactly, but I do know both our lives are going to be flipped upside down – and I can't wait!! I actually think actors have a great schedule for raising kids most of the time, and we will do our best to raise her right and be with her as much as we can.
What was your reaction when you were mentioned in Playbill and Variety for the first time?
Joy!
What TV shows do you watch on a regular basis and why?
I hate to admit it, but I don't watch much TV honestly. I think there are plenty of phenomenal shows out there, and I enjoy them when I do watch them every once in a blue moon ("Homeland," "Scandal," "New Girl"). I prefer watching sports though; I am a big boxing and basketball fan.
Which is more intense: Working on a play, film or TV series?
They all demand different muscles, and they can be exhausting in different ways. Plays can be physically demanding and one has to take good care of one's self to get through the eight show weeks. I am amazed and shocked to hear about actors who go on binges after their performances; I would last three days if I went that route. TV series in my experience are more of a mental challenge because there is so much waiting and not acting involved.
How often do you get your headshots done?
Every few years, maybe every four years or so? I try different photographers generally. The last session I had, which was something between a headshot shoot and a fashion shoot, was with Nina Duncan, who is unbelievable!!
Do you / did you have any fears that as an actor, that you wouldn't be able to pay your bills?
Does the pope shit in the woods? : ) OF COURSE!!! We have been very lucky so far, but that is a constant fear, especially with a child on the way. However, we are both smart, able people who will make ends meet somehow if acting dries up.
Do you have health insurance?
We do have health insurance under the union, and there is a certain amount one has to make a year to be covered under the plan. I think it's 28K, but you can see the exact amount on the website.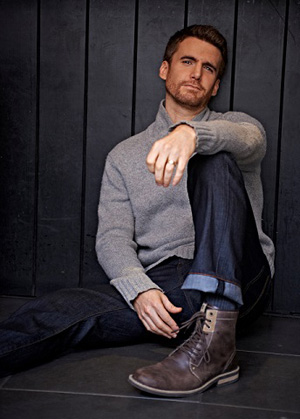 "There are some bright spots, including a great pop score and a stellar supporting performance from Puerto Rican actor Armando Riesco, who plays a transwoman named Rubia who inexplicably befriends Amy. Where other actors might have played Rubia for laughs, as a "man in a dress," Riesco manages to find humor in the character that doesn't rely either on gendered or racial stereotypes, creating a character that, despite too-few lines, feels more fully realized than anyone else on screen." ~Slant Magazine

Photo by Nina Duncan
Do you belong to SAG-AFTRA, EQUITY?
Yes. I got in many moons ago working in Chicago, it was always a priority for me. I think I got my AFTRA card doing a McDonald's industrial where I played an employee who is accused of giving out free fries to his friends.
What are you addicted to?
Love me some coffee. Soy lattes to be exact.
What are your workout and food routines?
I work out at least four times a week, and I have done so since I was 15 years old. I feel like poop when I don't get a chance to work out.
Do you have an understudy for The Happiest Songs Play Last?
I do not have an understudy. Last year, doing Water by the Spoonful, I got the stomach flu for a whole weekend of shows — buckets in the wings type stuff. I somehow got through the performances, and I lost about 12 pounds in the meantime. If you absolutely can't perform, they are forced to cancel the show.
Tell us some crazy acting story that has happened to you.
I knocked myself out doing a Mary Zimmerman play in Chicago. I would hide in a small, pitch black room to wait for my cue. Once I heard it, I would run out of the room and sprint up these stairs to make out with a girl while the main character gave a monologue (his girlfriend was cheating on him). I had to do this six times a night and one time I got sloppy and could not find the door handle in the dark. The cue came and went and when I finally found the door handle, I swung the heavy steel door open right into my face! I was out cold.
Anything else you'd like to say?!
Thank you for the interview!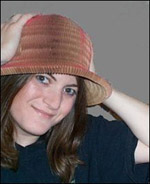 ILANA RAPP. Please follow me on Twitter: @LizardLadyNJ and also remember to follow @NYCastings for the latest New York casting notices, contests and blogs! Please email me at ilanarapp@gmail.com with any questions or ideas you'd like to see in future articles. Thanks for sharing!