Last article we found out how actresses handled same-sex scenes. Now it's the guy's turn!

Gale Harold of Queer as Folk, Freddie Smith of Days of Our Lives and Dan Feuerriegel of Spartacus weigh in on what was once the most controversial characters to portray.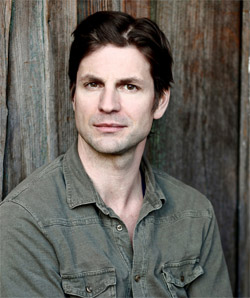 Gale Harold, best known as Brian Kinney from Showtime's Queer as Folk, has also appeared in numerous plays, films and television series such as Desperate Housewives and The Secret Circle. Watch for his latest film, currently in production, called The Being Experience.

(Photographer Robert E. Beckwith)
You gave us quite a scare when you had your motorcycle accident during your "Desperate Housewives" run. Has the accident changed you regarding how you feel about life and your career?
The accident was a definite mortality check. Afterwards I had to re-think life from almost every angle. I learned how lucky I am not only to be alive, but to be surrounded by the wonderful people in my life who came to my side, looked after me and gave me an anchor to rely on. Their presence was fundamental in my recovery not only physically but psychologically. The places I went to were the worst and most terrifying I've ever experienced. I really believe that seeing the faces and hearing the voices of these people made it possible for me to find a way out of the darkness. They helped me find faith. Religion hasn't been a part of my life for a long time, if ever, but I do have a new found appreciation of the principle of faith. Some say that Jesus is the rock, or the anchor. I say that your friends and family are your anchor. And you can REALLY hold their hands, not just sing about it. No disrespect to George Jones.
How many motorcycles do you have and what makes/models?
I have a few. All Italian. My favorite? It's a tie between two Ducatis. A 1973 750 GT with right side shift, and a 1978 900 Sport Darmah set up like an SS. My Darmah has a four leaf clover on the keychain. That's all the good luck I get. I ride with my good friend Hugo and a Scottish genius named Leif Lewis who I rely on to look after all the serious work my motos need.
You came to acting when you were close to 30 years old due to the persuasion of one of your friends. At what point did you realize this is what you wanted to do as a career?
I started studying at 26. Before that I never thought of acting as something that I would ever try. I had screwed around with some bizarre 'performances' that I filmed on Super 8 for a film class I was taking at SFAI, but the pieces were super raw and primitive. After I began to explore what an actor actually is, I studied for three years before I had the guts to go on an audition. Pure terror. That's one moment I'd like to experience again. An acting career? Many days it feels like I'm in an extended existential experiment. I feel blessed and very fortunate, but a lot of my dreams continue to evade me…
How did you get your first agent and/or manager representation?
My first manager, Suzanne DeWalt, saw a play I was in. She was invited by the director Joan Scheckel, who was my first real acting teacher. Joan was also good friends with my friend Susie Landau Finch who had first encouraged me to consider acting, so that's how I began studying.
What was the audition like for "Queer As Folk?
When that audition happened, I had already decided to leave Los Angeles. I hadn't decided where I was headed but it was going to be either Chicago or New York. I couldn't decide which because I had $5 to my name. The cart was definitely before the horse.
I had no reservations about the part. I had reservations about auditioning. I was slightly traumatized by my 99% record of rejection. I had been cast in one part. That film was a blast, but I was still trying to toughen up to survive the brutality of the other 99%. I didn't believe I'd ever get another job in front of a camera, and wanted to figure out if I could cut it on stage in New York or Chicago. At the audition I read from sides for Linda Lowy, the casting director, and I read with her associate John Brace. I had seen the original on a VHS tape my girlfriend had. I thought Aiden Gillen was a total badass, but didn't think it would ever work as an American adaptation. Anyway, I'd vowed this would be my last Los Angeles audition. Apparently it went well.
There were a series of callbacks which required a haircut (I think), and the purchase of a suit I couldn't afford. The callback and test process was a nail-biter. The strangeness of performing in a boardroom environment surrounded by executives was so intense I might as well have been walking through a remake of the video for ASHES TO ASHES by David Bowie. And that was only slightly less bizarre than an actor who was testing for the character of Michael telling me he wasn't going to kiss me just before we went into the room. Had he even read the scene? We'll never know…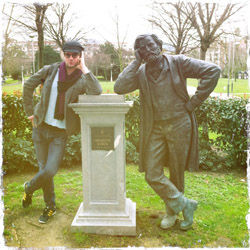 Gale Harold is scheduled to appear at Rise 'n Shine in Los Angeles, CA on June 7-9, 2013 alongside Randy Harrison (Justin Taylor) and other QAF actors. Gale's also slated to be at Queens of the Road Con in Spain on March 28-30, 2014.
Once you had the part, what type of research did you do to portray the selfish, gay Brian Kinney?
I had enough gay friends to have taken a few spins through the happy bars of San Francisco (where I lived for almost nine years) and Los Angeles. And I grew up in Atlanta. I'd worked and lived in mid-town for a few years, so a lot of the 'social' research was already done.
My take on Brian was foremost one of free will. It seemed to me that the most direct way to find him was to underplay all the cliches. He simply wanted men and believed he was right. He had no need to question himself. Of course those were my angles. How he came across was the result of those choices I made blended with the way the part was written, shot and edited. I kept returning to my belief that his sexuality was not up for debate by anyone, himself included. That was very freeing, and it inspired me to deflect all speculation about my own sexuality. I'm straight, but the character was too important to me to muddle his world with my private life. As a nobody, I got away with that deflection. I think it may have helped to introduce Brian as a believable gay man. Maybe not. However it played, it's been out of my hands for a long time.
Brian Kinney was a very strong character to bring to American television at the time. Did you have any fears or thoughts that people around the globe would say you're not properly portraying a gay man?
Hell no! Well, I say that now with the benefit of hindsight. Seriously, at the time I was just a naive hetero thinking that all gay men would slap me on the back and say "right on". I was basically unfazed by gay culture as I understood it. But I hadn't even scratched the surface of what it means to grow up and survive being gay in America. In the 13 years since QAF hit America, much has changed. Thank goodness for that. But honestly, I was not prepared for the affect that role would have. I probably thought that because I was a serious devotee of Burroughs, and Cocteau, and Genet, I had a deep understanding of gay culture. I wasn't even close! And I definitely wasn't prepared for the backlash I got from those who saw me as an unwelcome trespasser.
Did you at any point feel uncomfortable when having such intimate scenes with other men?
Revealing yourself, physically or emotionally, to cast and crew is frequently uncomfortable. But it is essential if you want to to tell the truth. I felt more at ease being bold with some than I did with others. I was incredibly fortunate to have worked with Randy Harrison as Justin Taylor. We share enough taste in music and art to have had a real camaraderie, and luckily that evolved into a deep friendship.
What's your advice to actors who will be doing same-sex scenes for the first time?
Tricky question. I'm no expert. All I can say is that if you are fortunate enough to be playing a character who is developed enough that you can mine his or her identity-which isn't always the case-decide what or how the character behaves before and after sex. Basic. And then be yourself. Kiss well and passionately (if that makes sense), and move like you mean it!
Anything else you'd like to say?
Stay tuned!
Special thanks to @CassieGD and @verybookish
Freddie Smith is currently on the soap Days of Our Lives as the gay character Sonny Kiriakis. You will also recognize him as Teddy's love interest, Marco Salazar, in 90210.
Describe your audition for your character of Jackson "Sonny" Kiriakis on "Days of Our Lives."
I got the sides a few days before the audition, but it was for a different character. I read for the casting director and she called me back to read again. However, she told me they were changing the role to Sonny, the first openly gay character on the show. I thought to myself, 'Great, because I'm currently playing a gay role on '90210," so I had auditioned again, and sent her over a clip from '90210.' Next, they called me in to read with the producers and there were about seven people in the room. I think I wore the same outfit for every audition and also had product in my hair. A few days later, I was in San Diego for the weekend and I got a call from my agents saying they wanted to test me. We did the deal and I went to test. When testing for soaps, you actually go to set and get your hair and make-up done as well as shoot on set as if it's a real scene. I remember that they encourage you to run lines with the actors on the show that are in the scenes with you, but I kept to myself. I knew I had one rehearsal and one take to make an impression and didn't want to show my cards early. During the scene, my mother on the show started crying and I felt such a connection with her. Later that day, I found out I had gotten the job. The producers said they knew right away.
Do you think you were stereotyped because of your "90210" role of Marco, a gay soccer player?
I don't believe I am stereotyped. Playing two gay roles in a row is like playing two straight roles in a row; it's just a small part of who these characters are. I had no idea how this storyline would affect the viewers. Chandler [Massey, character name Will], the producers, and myself had very high hopes and kept a positive attitude once the show started airing, people loved it. It's such a great feeling! Now, I feel it isn't even about us being gay anymore, but about us as a couple and that's what is truly important! The first kiss, yes, both our hearts were pounding through our shirts, but thank God it was the first kiss for the characters as well, so it played truthful. After about a week of kissing, we got very comfortable and by the time we had the sex scenes, it was like any other day. As the filming progressed, we just kissed when we feel it's right in the moment, sometimes when it's not even written in the script. And of course, we use breath mints!
You graduated from Edgewood Senior High in Ashtabula, Ohio in 2006. Why did you make the decision NOT to attend college?
Ever since I was five years old, my parents knew that schooling wasn't for me when I got off the school bus crying. I never wanted to go back to school again. Even in high school, I tried very hard to get interested in something in terms of a career, and college just never seemed appealing to me at the time. Luckily, when I was struggling to make a career decision, like every other high school student, I found a theater arts class that my best friend told me would be easy. Who knew I would love it so much that I would start taking acting classes every weekend in Cleveland?! Three weeks after graduation I moved to LA. From day one, my parents have been so supportive and still, to this day, are my biggest supporters.
What's it like doing photo shoots?
Most of the photo shoots we have done have been on set. We did one shoot on location at a hotel a year ago, but other than that everything is done at the studios.
Has having same-sex scenes opened up any doors for you?
This role has opened my mind so much. I have always supported equal rights, but the most valuable thing I have learned is how it feels to actually step into a gay character's shoes four times a week. My character faces so many challenges just because of his sexual preference. I have characters that call me disgusting, freak, faggot and even though I'm just acting, it truly affects me personally because you have to put yourself in those shoes and really feel the emotion. That's why I'm such a supporter, because we are living through the equal rights movement today and I couldn't be happier to be part of it. The most rewarding thing is getting mail about how a young man or woman, have come out to their parents because the Will and Sonny storyline helped them be comfortable and happy in their own skin. I feel very blessed to have been able to take on this role and have such a positive impact on others.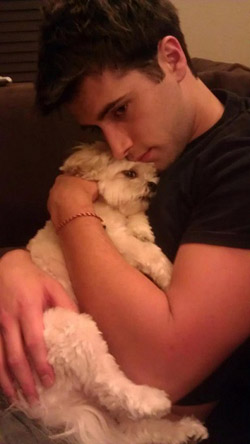 Freddie Smith's Twitter: @freddiemsmith
What are you most passionate about?
I don't have very many hobbies. That is not to say that I don't have time to enjoy doing new and exciting things, I just loving working. Other workaholics will understand that, if I'm not at the gym, running lines, filming on set, I'm writing my own web series, movies or TV shows. Doing something creative everyday truly gets me out of bed in morning.
Do you have a dressing room at the NBC Studios?
I do have a dressing room but the only thing I have brought to it, in the two years that I've been there, is a TV.
Do you work out and/or have a special diet that you follow?
Yes, I work out at least four times a week sometimes at the gym, sometimes at a park. My diet consists of 2,000 calories a day of clean calories, meaning only fruits, vegetables, and proteins. You'd be surprised how much food that is when you take out the sugar and most carbs. I put my dad on this diet three months ago and he's already lost 40 lbs! I am so proud of him. The key to losing weight and maintaining a great healthy lifestyle is consistency. You must treat a diet and exercise like a part time job. You're not going to build muscle and lose weight if you don't do it every day. Just like you won't make money if you don't go to work every day.
What type of research did you do to portray gay characters?
I haven't done any specific research for a gay character. I have found there is no difference between playing a gay or straight man or kissing a man or woman on set because the universal emotion and motivation is love, which is the same for everyone.
How do you receive your fan mail?
I receive my fan mail usually through the studio. I get wonderful gifts and letters from fans. They are just an amazing group of people.
Anything else you'd like to add?
Something that has helped me in my life is that no matter what you are doing, just 'enjoy the process.' Keep making steps to better yourself, but don't rush it. Also, surround yourself with positive people that bring the best out of you.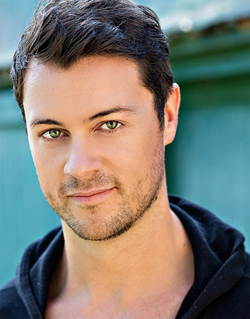 Dan Feuerriegel plays the gay character Agron in Starz' series Spartacus.
You auditioned for several roles in Spartacus before given the part of Agron. What were your thoughts when you received the call that Spartacus wanted you?
My first thought was utter relief. It was a tough year for me and when you hear, 'Spartacus wants you,' it makes all the doom and gloom worth it. But I feel like that with every job I get. It was my Australian agent who gave me the good news.
Do you do any body hair grooming for Spartacus?
I waxed my chest and shaved from time to time. The make-up people sent me to waxers.
When you accepted the role of Agron, did you know before your first day that you would have a vigorous on-set workout demand and diet?
I was aware of both, but I had to get in shape my own, off-set, as I came into first season half way through. By then, boot camp was well and truly over. And there was no extra pay. I participated in full boot camps for the 2nd and 3rd seasons.
How is nudity written up in your contract?
My contract said there was potential for nudity in every episode. However, when there was nudity I would have to sign an individual nudity waver for each scene I had was to appear naked. My agent in Australia reviewed it.
Being raised and working as a successful actor in Australia, what prompted you to get a California Talent Agent?
How I chose was that I didn't have to choose. My Australian agent was the only one to show interest, so I went with them… and they are amazing. To get to the next level I knew that I had to get U.S. representation. I met the person who was to become my American manager at a 'Spartacus' after-party. We had a lunch and the rest is history. My American agency was one of two who showed real interest in me. When it's the right choice, it just happens.
Before Spartacus, your acting roles were guest appearances. Did you do anything in between for work?
I worked at a video store, did promotional work and worked at JB-HI-FI, (equivalent to Best Buy in OZ).
You knew from the beginning that your character had an interest in men. Did you do any backstory in your head as to Agron's childhood?
No, I generally just stick to what's on the page. I prefer to leave the rest up to the audience.
You treat the kissing scenes with actor Pana Hema Taylor (character Nasir) as if you would any other love scene.
Yes, they are shot very much out of order, but its generally one week for the Romans, one week for the rebels. There were one or two scenes where we were fighting, but we always had time to change costume and get cleaned up. I had gum on hand, just in case.
Once Agron became a major character in the later seasons, were you able to re-negotiate your contract for more pay?
Unfortunately, I'm not allowed to answer that. Sorry.
Is it written in your contract that you're not allowed to give away the storyline before it airs? Do fans or family members beg you to tell them spoilers?
Absolutely that is in there. They were very stern about having us keep things quiet. Especially photos on set, (re: costumes, set design, etc.). And yes, they do

I keep it quiet because I want the audience to be surprised.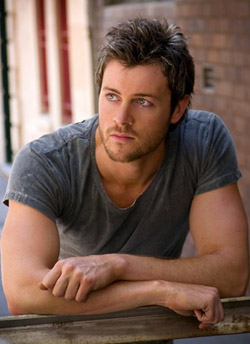 Dan Feuerriegel's Twitter: @DgFeuerriegel
You've gathered quite a fan base. What was it like the first time you were recognized on the street?
First time I was recognized was back in my hometown of Brisbane. I was on the street with the friend on a night out and two girls came up to me and asked if I was on 'Spartacus.' It was a little thrill, but also embarrassing. I get shy easily and this experience was no exception. It's always overwhelming.
How does it work when you and all the other actors need to be dirty and bloody?
They have heaps of make-up artists. During battle scenes, we individually have to go stand on a mat and have three or four costume/make-up people covering us with dirt, blood, etc. They found this to be the quickest way. If there is time, our individual make-up artist will start the blood and dirt.
You're straight, correct? Do you have a girlfriend/wife in real life?
Yes, I am. And no, I'm single.
Please give some advice to actors who have not yet done a same-sex scene.
It's only a big deal if you make it a big deal in your head. A gay sex scene is the same as a straight sex scene. Approach them both the same way. Everybody around you is mature and professional, so there is no need to be embarrassed. Of course it's nerve-racking, as you are in a very vulnerable position… but it's only acting. Once you are in the scene and you see the camera and the crew, (it's a limited crew) and realize how choreographed everything is, you realize even more so that it's no big deal. But if you do find that you are feeling very out of sorts and there is something that you genuinely don't want to do, (e.g. a position, etc.) then speak up and stick to your guns.