The CW's Nancy Drew actress, Aadila Dosani, is a "yes" person. Opportunities are out there and Aadila wants you to take every single one that comes along your way. You never know when you're going to hit that gem of a job.
I'm sure you've read several times how many actors have passed on a role, only to find out it the movie / show was a huge success. Did you know that 12 actresses were asked to play the role of Catherine Tramell in Basic Instinct, before the job was offered to Sharon Stone?
Aadila Dosani shares how she won the part of Amanda Bobbsey in Nancy Drew and helps us understand how never giving up is what you need to succeed in show business.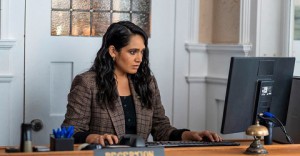 You play Amanda Bobbsey, one half of the Bobbsey Twins, in Season 2 of the CW's Nancy Drew. Tell us about your audition.
I received the audition through my agent in the summer of July 2020. It was right when things were starting back up here (Vancouver, Canada) post being in the thick of it with the pandemic, so needless to say it was exciting to get such a big opportunity to read for a character like this going into the rest of the year. The initial audition was taped; we received mock sides that were written for the audition itself. I wore… honestly, what I thought my character Amanda would wear. I am a big believer in dressing the part (it is part of my process) – I truly think fashion is a major facet in how individuals express themselves. Black skinny jeans, ten year old black booties, a "Dark Side" Star Wars tank and a bunch of eclectic jewelry that I had personally thrifted throughout the years. A couple weeks later I found out I had a Zoom scheduled with the Director & Co-Executive Producer of Season 2 Episode 1 (Larry Teng) and Co-Executive Producer & Director Amanda Row. We chatted for a while about life, I then read the scene with Larry a couple times; he gave me notes and as soon as I got off the call I re-taped with his notes and sent it in. A few weeks later I heard I was approved by the network however since production was being pushed the show wanted to make sure they were casting the right person for the job and they were going to do a second round of auditions and expand their search. I had no idea I was going to play a Bobbsey Twin so off course, I didn't understand why. In hindsight, I understand why they did. But I have to say, those were a grueling several weeks as I had fallen so hard for Amanda. It came to a point where I honestly thought the role had slipped through my fingers until one night at 10:15pm my agent called to let me know it did circle back our way!
Because your character is a recurring role, how are things handled with Covid-19 protocols? Do you have to stay within a co-worker "bubble" even if you're not on set for a few weeks? Do you have to quarantine?
The COVID Safety Protocols that CBS has put into place are above and beyond. We don't have to stay in our co-worker bubble per say, but everyone pretty much does. We get tested three times a week in the blocks we are working and luckily I didn't have to quarantine as I am a local Vancouverite and the show films in Vancouver.
A character is a character is a character. Yet in the TV version of Nancy Drew, the Bobbseys are of South Asian heritage. Were you given any background as to why Amanda and Gil Bobbsey are represented as South Asian?
You know what, I don't actually know if the network wanted to cast South Asian actors from the get go. I know quite a few actors and actresses who were auditioning for the roles and they filled the diversity board. From what I can tell with this show, they have and currently cast humans who embody these characters the best. I cannot imagine anyone else playing the members of the Drew Crew because they all truly, genuinely and innately embody these characters that were written. Not to mention how insanely talented they all are – this show requires a lot of prep and they are going through crazy procedural-like dialogue on the daily.
I think Praneet Akilla and I just embodied these characters the best. I really am noticing how much of an effort The CW is making in being more inclusive of different races and heritages.
With this show in particular, our characters (Gil & Amanda) were able to just live and belong in the Drew Universe without an explanation as to why we are South Asian – which I feel like a lot of shows do if actors who don't look like what the characters from these fictional novels (source material) look like. We are The Bobbsey Twins who grew up on the wrong side of the tracks (you get to learn all about this in the second half of Season 2) and that in itself is such a massive win for representation.
I read these books growing up as a kid. I was and still am such a sleuth. I always imagined myself having a twin and solving crimes with her (yes, I did want an identical twin sister). I never, ever thought I would see someone from my background represent the twins because that, back in the day, wasn't how it was. So, on a very personal level, this is a massive win. Because I know there are kiddos like me reading these books having to push their imagination into overdrive to feel they belong. Now they don't have too.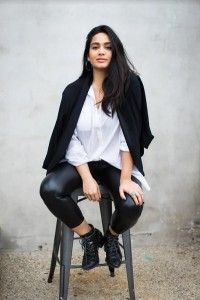 Early in your career, you were in theater, even moving to Toronto after high school for a theatre program. What did you learn in the program? How is working in theater different or the same as working in television and film? Which is your preference?
I learned so much in the program. Honestly, the biggest thing was discipline. I don't know… I suppose I created a narrative in my head growing up that acting and performing would just happen, you just shoot up and become a star, someone will find you in a talent show or university showcase and BOOM your career blows up. WHAT A BUST! THAT DID NOT HAPPEN! The program really taught me how we need a plethora of tools in our toolbox and how it really is about creating a sustainable process for yourself because it is all about longevity. It taught me to wear Teflon and take / handle disappointment in a healthy way. (Now… did I always deal with it in a healthy manner, NO – still expanding on that one).
In my opinion working in theatre and film are so different. Aside from all of the technical elements, in theatre you feel the audience, the energy the high from all the humans in the auditorium / theatre. NOTHING compares. In film – honestly – time is money! I still feel you have to be really prepared for both… but theatre… I don't know, you can just get lost because there is no "rolling, cut, again".
I have to say I love both mediums – I love how intimate film can be. How real and raw it is.
LOVE BOTH!
After being prodded by a friend to find a TV/Film agent, what steps did you take to signing with one? Are they still your agent today?
Oh wow. This was so long ago. Well, my friend Jessie introduced me to Kelsea Forzani-Mannix with Details Talent in Calgary, AB Canada. Kelsea and I met up for an in person meeting and she decided to take me on that day. So the process for my first agent wasn't very hard, but I was also in a small town with few film/TV actors and I think only three agents. Calgary at that time had quite a few productions happening and their Indie scene was on fire so I think the right time, right place really made a difference. I also think my theatre background helped. I didn't have a lawyer look over the contract. I haven't had a lawyer look over any contract I have had with an agent. I am not with Kelsea anymore as she only represents Albertan talent and I had decided, once I got the film/TV bug, that I wanted to move to a bigger hub – Vancouver, BC.
The process of signing with my first Vancouver agent wasn't as easy. I had to fly over to Vancouver to have a meet and greet with her. I also needed to have a demo reel, and thankfully had a bigger resume from the jobs I had booked in Calgary. Honestly, I lied saying I was moving within the month! Ha! It took me two years to make the move but I did have to be back and forth from Vancouver to Calgary because I was constantly on the verge of losing her as an agent.
Back then, taped auditions weren't as much of a thing, so you had to be in the city in which you were auditioning. More so for tax purposes. So it was tough to say the least! I think that is a major thing people should take into account. Productions get massive tax breaks for hiring local residents / talent. It wasn't until I moved where I started to book actual film/TV roles. I did get a head start commercially going back and forth, of course that trained me for the larger productions in Vancouver (comparatively to Calgary).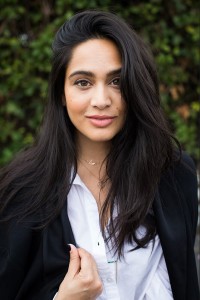 You've wanted to be an actor since you were a little kid. What did your family say when you told them you wanted to do this full time?
I have been so incredibly lucky to have my family's support from the get go! They have always pushed me to do what I love, and I cannot be more grateful. Of course, my parents did say to have a back up plan! But they were so great about it. They never once steered me into giving up any of my artistic self but would push me into using that part of myself into going into advertising or marketing – and I wasn't mad about it. I love the world of media and advertising, I am so fascinated by it so there was never any resentment about that.
So you grew up liking and pretending to be the Spice Girls, hmm? When you look back now, what did you see in the Spice Girls that made you pretend to be one?
Oh the Spice Girls! I did! Posh Spice all the way! I just felt like she was so opposite to everything that was me and so unapologetically herself. She was everything I wanted to be but didn't have the means to be. I think… looking back now… they just were that girl group that took you out of your own reality for a little bit and transported you into a magical, wild, wacky, beautiful, girl power filled world! Every time I listened to them I felt like I was being transported into a world where nothing else mattered except loving your besties and being your wacky self. The Spice girls kind of provided that little bit of escapism for me when I didn't really have anything else that did that. Music. It transports us, doesn't it?!
You were the only woman that played on the St. Michael's College Men's Rugby Team at the University of Toronto. What was it like being the only female on the team? What type of training did you do? What did you do to get accepted on the team as a player?
Not going to lie, it wasn't easy! At the time, St. Michael's College didn't have a women's team so this was my only option. There were quite a few players who did not like me being on the team, especially the Captain. I don't think I was ever fully accepted. I get it. Rugby is a physical sport and I was not, am not, as strong as the men on the team. I cried a lot. Everyday there was a practice. Every time I had to go to a game. But, I hate it when someone tells me I can't do something, so I forced myself to buckle up and get out there.
We did a lot of intense training. Practiced multiple times a week doing endurance drills and practicing plays. Off the field I was always in the gym trying to get stronger, and did a lot of weight training. I have to say, I did have some really AMAZING guys who always stood up for me and supported me in every way and I cannot be more thankful for them. They told me to cut the noise out and that I was on the team for a reason. I had a place on it. I earned it. They really looked out for me on and off the field and made sure that I was included. If you are reading this – Phil, Greg, Steve, Will – THANK YOU!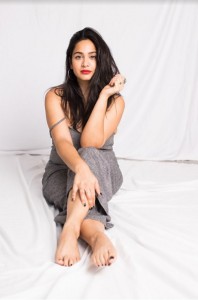 Tell us about your activism.
I really love and am very passionate about the #Iamsizesexy movement that Addionelle had initiated years ago. Having conversations about body positivity, especially within this industry, is very important to me. I have gone through so much in this industry with people criticizing how I look and the size of my body. I deal with body dysmorphia issues myself on the daily. I would love to use my platform to work with Addionelle to bring this movement back.
What words of advice do you have for young girls out there who are looking to fulfill their dreams?
SAY YES! Just… say yes to all the opportunities that come your way. Forget about the commerce behind this industry. The magic is in the YES. Blank out the noise. Not everyone will like you, and that is totally okay. It's better that way. You are unique. Trying to be a clone or become someone else will bring tears to your eyes every night and it isn't worth it (took me 20 years to realize that).
No one else has your energy, your aura, your beauty, your talent. No one else can imitate you but you so live in that. Forget about everyone else's journey, trust your gut and go for it. It won't be easy but it will be so so so worth it!
We are finally in a place where the industry is shifting. There is room for everyone. If you love it just know it won't happen overnight, but if you genuinely keep at it, it WILL happen. It took me a long while, but I kept at it. I didn't let anyone tell me otherwise. I had to learn that I had to believe in myself the most, and that I WAS WORTHY of being a storyteller and that is when doors started to open. You have to be your own advocate. That's the one thing you can control. Don't let your voice be diminished (easier said than done, I know). Worrying about what people think isn't worth it – trust me!
SOCIALS and LINKS: