Actor Kola Bokinni plays Isaac McAdoo in the Emmy Award Winning Apple TV+ series Ted Lasso.
Born in London, England to Irish and Nigerian parents, Kola reminds us that having a job you love is a privilege. Staying humble and having patience to grow your career are two of the key things Kola teaches us.
We agree! You've heard the stories about actors or crew on set who are difficult to work with. Or how newcomers think you become rich and famous overnight when in reality, the actors have done the long haul.
So yes, being humble and having patience is what will grow your career. Let's see what else Kola Bokinni has to share with us.
You play Isaac McAdoo in the Emmy Award Winning Apple TV+ series Ted Lasso. How did you hear about the role? Tell us about your audition.
It's a funny story of how I heard about the role. My good friend Will Poulter is also good friends with Jason Sudeikis and had asked Will if he knew any British actors that can do comedy and play football. Of course Will, knowing I had a football past and being the lovely man he is, told Jason about me and I auditioned and the rest is history.
The audition was pretty straight forward. I read for Dani Rojas but he was actually more of a Jamie Tartt character back then. The second stage was to send a short video of me portraying my array of football skills, ha. The first audition was in person at Theo Parks Casting office in London but obviously the second was on tape in my local park.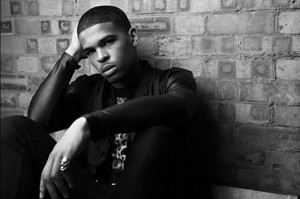 You've also been in Netflix's Topboy and their popular series Black Mirror. What are the similarities and differences when working on an Apple TV+ show vs. a Netflix series?
The differences were that on Topboy and Black mirror I was always on location so it was always a trailer and these shows tend to be more serious and somewhat gritty. On Ted Lasso I was either at the studio set or on the pitch which meant I'd have a dressing room. I don't think they'd ever trust me to get to set by myself LOL as it is the other side of London and sometimes call time was in the early hours of the morning, haha. The food has been generally good but as everyone knows Ted Lasso is about football and in order to play an athlete one must eat as an athlete would.
You've been a serious professional actor since 2015. What did you do before acting? Why did you decide to pursue acting as a career?
Funny enough I used to work at Abercrombie & Fitch – not my most exciting years, haha. A family friend is a writer and she was doing a community project in Peckham where I live and asked me to come along and share my ideas. It turned out to be a theatre project and we used the ideas generated to create a play put on at the Bussey building in Peckham. We performed for two weeks and it was amazing. After we found out that we would have another two weeks at the famous Royal Court Theatre in Sloane Square, we performed and I got great reviews from top critics at the time, so used that to sign with my first agent.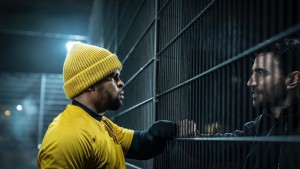 Have you had any dialect or vocal coaching?
At first, I used to just watch a lot of American movies and try to imitate (badly) as best I could. When I got confident enough to go up for American castings, I did. I have had dialect coaches on jobs such as Black Mirror and Hunter Killer they were always supplied by the studio.
Days on set can be very long and tiresome. What do you do to keep your mind and body healthy?
Crack jokes! Contrary to my somewhat serious demeanor, I'm actually not a serious huge joker. I love to make people laugh and lighten the mood even on some of the more serious jobs I've done. I believe that laughter is the best medicine for mental health and if you can brighten someone's day just for a second, it can help in a massive way. I also believe exercise is key to burn off that bad energy. I always say to myself, "You never regret a workout, you only regret not working out." I've been pescatarian for three months now an I'm loving it! Feel great but I'd never push my diet choices on anyone, ha.
Do you feel your look will typecast you into certain roles? What were you told by industry professionals about your gaze as an adult?
Of course! But we turn L's into W's over here, haha, I was told many times to "smile" or "why you look so moody" ha but I never thought it would be a hindrance. I looked at it as an advantage and use my gaze in a comedic way as well as serious and it's working so far… fingers crossed.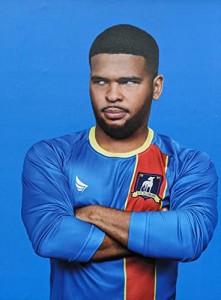 Has anyone ever crossed the street when walking toward you?

Hahahahahha! I wouldn't say I've noticed, if it has happened then I don't know! I get a lot of babies running up to me, maybe that's why I was Santa in Ted Lasso. Haha! I love changing people's perceptions. I can't count how many times I've heard "I thought you'd be so different but you're great" — not my words. These are definitely real people that have said these things, ha.
Growing up in a household as the last of seven children must've been quite a frenzy. You started acting around the age of 14. What did your family say when you told them you were interested in acting?
Yep! It was the kind of household were if you were quiet, you may have starved, haha! I'm joking! Well, my family is quite artistic but it was seen as a pipe dream… Like, "Okay Kola… You've had fun. Now it's time to get real." My sister Yinka was probably the only one that stuck to it! She's given me love when I needed it it's and been hard when I've needed it. She's the best. I played football for basically my entire life for teams and for fun. I was a very hyperactive kid, haha. I was never allowed fizzy drinks of any kind but also, I was charming – I could make adults genuinely laugh.
You've been in numerous productions. Which directors have stood out to you and why?

A couple of directors that have stood out to me first was: Erica Dunton — she was a director on Ted Lasso this past season. I just feel that she's so great at her job an also life! Haha, she went above and beyond in my eyes from emailing us individually before she started, to pep talks and emails of praise after each shoot. It just made me want to give my all for her. 
Second, Reinaldo Marcus Green — he was a director on Topboy. What a cool dude! I had my brother on set for most of the production and he said it reminded him of his relationship with his brother and the strong family ties he has. I just felt like I could come to him with any problem I had and be heard.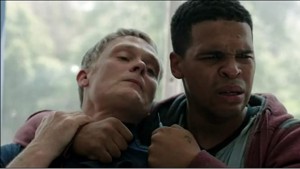 What advice do you have for people who are thinking about becoming actors but haven't made that leap yet?
The advice I'd be so bold to give is, it's not a sprint, it's a marathon. You are always learning! It might sound cliché but it's true. Try to listen more than talk because you never know what wisdom someone could share with you. PATIENCE is key and most importantly, ENJOY YOURSELF. Remember that this job is a privilege and there are real superheroes out there going to work without complaint.