Leaping into nearly every artistic medium, dancers abound on Broadway, TV, reality shows, films, music videos, tours, commercials, award shows, and so much more. There are boundless ways to make a living as a dancer, and an exciting array of styles.
But… do you have what it takes to make a living as a dancer? And, can you rock an audition?
To help NYCastings members learn more about the dancing business, we spoke with agent and champion of dancers – Fatima Wilson.
Toronto native Fatima Wilson began her career casting commercials, music videos, and print. In 2007, she brought her expertise stateside, joining Bloc Talent Agency's Los Angeles staff. Shortly thereafter, Wilson was commissioned to move to New York, where she heads the commercial and dance departments.
Bloc NYC is a talent agency representing choreographers, dancers and actors for live concerts, theatre, commercials, feature film, episodic television, music videos, and print. bloc choreographers represent both the classic and contemporary in style and conception. They strive to shape their movement and creativity to evolve with the times.
Q & A with Fatima Wilson
Q: What happens at a dance audition?
You go in early, you sign in, you get a number, they put you in groups, and you learn the choreography. Every audition varies, but those are the basics. You do the dance combination and they may ask you to stay for a call back.
If it is a dance audition involving commercials, it may involve freestyle. So you have to be a really good freestyle dancer. Some people get stressed out doing that because you are coming up with your own moves and not everyone can. They get scared. But it is just you vibing with the music and coming up with tricks. Usually, we find that our b-boys are great at that, and our dancers who dance house because they will hear music and just enjoy it. Our casting directors will comment that we have amazing people, and it's always good to hear that.
Q: At a dance audition, how much time does talent have to learn choreography?
It all depends. You can go to a dance audition that will last for the entire day, where you learn the combination, they spend an hour with each group, and after that they will have call backs with the people who did pick up the choreography quickly. Then, they add on to it and choose from there.
Q: Dance auditions sound very different than normal acting auditions?
They are. And, many people have the perception that dancers come with their own choreography so they don't want to have rehearsals, and they don't think that they don't need a choreographer because the dancer can make up the dance – and that isn't true. Many dancers can pick up choreography quickly, but that doesn't mean they have the creativity to create their own choreography. Many of the dancers we rep do have that choreography background, and are able to do both. Some people I know have learned just from watching music videos when they were younger, and they can pick up choreography easily just by watching.
I have one client who will stand in someone's class and not do the routine the entire time, but then jump in and do the choreography exactly. Some people are born with the ability to pick it up and more people need some training and guidance.
At our agency, the people who do very well are well-rounded. They can do hip hop, they can do musical theatre, they can do jazz, they can do ballet, and they can sing. Those are the people who really thrive.
Q: When dancers submit for auditions, what does the term moves well mean?
If it says moves well – that could mean that you do move well but don't do that much choreography. If they are looking for professional dancers, they are looking for someone who picks up choreography quickly as well as being a really strong dancer. For the majority of posts, they put what style of dance because there are two different worlds – there is commercial which is more like Beyonce, Janet Jackson, and then there is the legit world where it would be musical theatre or Broadway / Off Broadway
Q: What type of clothing should dancers where at auditions?
When people go to hip hop auditions, I tell our clients to bring their own style. For women, especially for artists and tours, it is very sexy. Heels. They want to see as much skin as possible. Hair. Make-up. You have to be at your best because hip hop has evolved into a pussycat doll style for the women with a little bit of edge to it too.
Dancers are very stylish. A lot of artists get their styles from choreographers and dancers. There are certain choreographers I know that have a certain style and then I see that on an artist. It is the same thing with models. There is a huge influence of dancers on fashion. There was a time when harem pants came back because dancers were wearing it and making it their own.
Q: Does the choreographer choose who will book the gig?
Usually the choreographer picks the dancers, or the artist picks the dancers but the choreographer has an influence. Unless it's a commercial. Then, the casting director will pick the dancers and the choreographers will often come in later.
Q: Are headshots different for dancers?
There are definitely different styles of headshots for dancers. Headshots are more body conscious. It is a three quarter body shot, very stylized. It shows the person's personality. For women, it is a little sexier because that is what they are looking for. People don't realize how important headshots and resumes are. One of the good things about our agency is that we have created a website where everyone has their own individual pages. We pay for it. They don't have to pay for it. And they can put their headshots, their resumes, and their dance links. Everything is on there. And, if someone needs their information they can email it or we send it to submit them for jobs.
Q: Do dancers need a reel?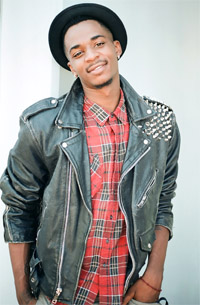 Yes. I'd say 2-3 minutes long – but it has to be intense, really good clips. Great lighting. Able to see your face. Many people put videos of themselves up in huge groups and you can't see them. I suggest you go into a dance studio and freestyle, or do a choreographed routine so people can see that you do choreography. That is what I tell a lot of my clients. Do a little video of your best tricks, your best freestyle – and people have been booked off that.
Q: How do you find your clients?
The way we find our talent is we have an audition and put them through the same process as typical auditions. You learn the choreography and we give you about an hour or less and then you come back to the callbacks and we add on to the choreography you already learned. We look to see if your skills, and ability to pick up choreography, matches up with what we are looking for.
The majority of the clients that we work with can pick up choreography quickly.
Q: Do you attend classes to find talent?
We will do class observations at Peridance, BDC, Steps on Broadway – sometimes we get referrals from clients who are really strong dancers. We find really good people from referrals because our strong dancers have worked with them, and maybe they just don't know how to get into that commercial side of the world or don't have enough information on dance in general if they didn't attend a school for dance.
Q: What are some trends in dancing?
It's what is on TV. Its Glee based singing and dancing, and its hip hop like in the Microsoft tablet commercial. The main guy in the Microsoft commercial is from our LA office and it is the second time they have used him because of the style of dance he does. Hip hop has been around for a long time and it will continue to be – the only thing is it is evolving. There is no curriculum for hip hop like there is for ballet so it continues to change based on different styles. There is always an added element to hip hop.
Q: Is there a body type trend?
Yes! You have to be an all-around package. The commercial world is definitely superficial to a certain extent. You definitely have to be pretty in the face. Video girls are more voluptuous and sexy, some hip hop girls are slender, modern dancers are more muscular, belly dancers are toned and lean – but there are so many body types. It all depends on what people are looking for. We have a lot of different body types that we represent. It ranges. Certain people work because of their body types.
Q: You mentioned that music videos DON'T pay well?
A lot of people want to do music videos quickly, and for not a lot of money. And the first budgets they cut is with the dancers. So it is a struggle for dancers. But it is starting to change because for the first time they decided to make music videos union. There are people who have danced from their early teens into their forties and can make a good living off of dancing. But there are also people out there just looking to make things for cheap. That is why we make sure to help our dancers get paid what they are worth, and get paid on time.
Q: Are dancing jobs mainly non-union or union?
In NY, the majority of dancing jobs are non-union. Of course, for Broadway there is a union. If you are a musical theatre dancer you can survive here in New York. But if you're not, it can be harder. That's why a lot of our dancers do commercials as well. Commercials are often after that youthful look as well as someone who can move, and most of our clients have great looks and bodies – so it works out well.
Q: What is one thing people don't know about dancing world?
I find that many people don't know what avenues they can go into. If they went to college or university, they might have been taught that they can only do musical theater when there are so many more styles. So, when we see talent at showcases, we help them get into other style of dance too. And once they come to the agency, we open up doors for them.
Q: Do you have any specific advice for those who want to dance as a career?
Know your worth. In this industry people want to take advantage of you. They see dance as a hobby, when it is a job. I always say that, and the Dancer's Alliance says it to. They are a support system for dancers always trying to help them in this industry.
And, know that you have the most amazing job in the world where you get to travel, you get to work with new people, you get to work with artists, and not a lot of people get to do that. It's an amazing job, and very educational because many kids that weren't able to travel – end up traveling and going to places they have never been before.
It can be a difficult business, but it also builds you to be a strong person as well.
THANKS FATIMA!