Being an actor is tough! It's not just memorizing lines and learning technique. It's a business that thrives on relationships, image and public appearances.
There hopefully comes a point when you're ready to take that next leap in you career. It's a scary, competitive world out there and publicity agents are available to help!
Below is some amazing advice and insight from M Public Relations in the United States & Canada and On the Map PR based out of Australia.
Also, actor Vik Sahay, best known for his series regular role as Lester Patel' on the NBC series Chuck, talks about his personal adventure from his early acting career on Canada's You Can't Do That on Television to building the team he now works with, including hiring Nicole Walther from Silver Lining PR.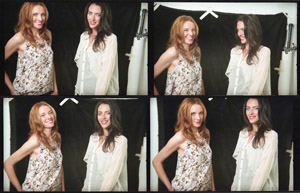 Mieka Tennant & Morgan Moss of M PUBLIC RELATIONS
Twitter: @mprlovesyou
How did you, Mieka and Morgan, meet and what were the events that led up to you deciding to open M Public Relations? What's the "M" stand for?
We each worked in different facets of the film industry before starting M PR and had admired each other's work from afar. We decided to meet for lunch and by the end of the lunch we had a business plan in place. A week later we had our first client. M is the first initial of both our first names and coincidentally now our married surnames.
Where are you based out of? What year did you start the business?
We have offices in Vancouver and Los Angeles. We launched M PR out of Vancouver in 2011 and opened our Los Angeles branch in summer 2012.
Why would talent choose a boutique firm over a larger PR company?
Choosing a PR firm is similar to choosing an agency or managerial firm; talent tend to go with the PR firm and publicists that they connect with. We pride ourselves in working closely and collaboratively with all of our clients, their teams and the productions. We actively and attentively work towards achieving the goals of our clients.
How do you decide which clients you will represent?
Promoting our clients stems from a genuine excitement about the talent on our roster. We work with clients that excite and inspire us, therefore our pitches are authentic and dynamic.
What's the perfect client?
They are all perfect in their own way.
What types of questions do your clients ask you when they are deciding which PR firm to hire?
Each person's story is unique and everyone has their own reasons for hiring a publicist so the questions vary from person to person. When we first meet with a client we like to discuss their goals, their projects and what makes their story unique.
What type of agreements do you have with your clients?
We like to be open and flexible with our clients to be sure we are providing them with exactly what they need and offering the best service possible.
How do you get paid?
We work with our clients on a retainer basis.
How are you pro-active in continuing to give your clients public relations?
Relevancy is most often lead by the release of a clients project. We use these peak periods for the client to form their campaign and generate press.
Define image development. Has there ever been a clash with what you suggest for image development vs. what the talent feels should be their image?
Image development is a personal thing. We approach it as a collaboration. We feel it's key that the 'image' be an accurate representation of their character and be both authentic and unique.
Are you in touch with your clients' agents and managers?
We work very closely with each client's team, including agents and managers.
Anything else you'd like to add.
Thanks for chatting with us!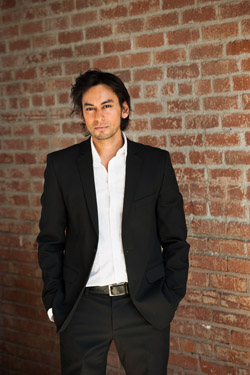 Actor Vik Sahay is currently in the comedy An Awkward Sexual Adventure coming out through Tribeca Films in the US and Canada in April. He also has a leading role in William Brent Bell's new film WER, coming out in theatres the end of the year.
Photo by Stewart Marcano Photography.
You were born, raised and schooled in Canada. What prompted you to go to the arts magnet Canterbury High School of the Arts?
Well, magnet is definitely the key word. I had been cast in a kid's TV show and another older cast member was going to Canterbury. Once I heard about what it was, it stuck, and I knew I had to go. I was a dog with a bone, hounded my parents, and travelled really far by bus every day. I just knew I had to be there. I don't know if I knew at that point I wanted to BE anything, other than at that school. The actor thing came into focus once I was attending Canterbury.
You have a very unique look with your longer hair and scruffy face. Who helped you create your image?
I think my hair helped me create my image. It grows insanely quickly. It's crazy. I could get a buzz cut and a week later need a trim. So…that is truly the foundation – and then it seems to have worked for a cluster of characters, so it kind of stuck as a thing. That being said, it's not a look that I insist on keeping. I cut my hair short quite often, actually.
How did you receive representation from your agent and manager?
My Canadian agent, I pursued before I had many credits. I think I'd been recommended by someone. But I did a monologue for him and the rest of the agency as I had very little tape for him to go on. My manager in Los Angeles was sitting next to an old friend of mine on a plane, if you can believe it. So that became my in with her. By then I did have a demo reel. And I stuck with just the two of them, because they're truly fantastic, until recently, when I got a US agent. My manager set up that meeting. And he fits fantastically on the team.
Your role as "Lester Patel" on the TV series "Chuck" really catapulted your career. Please describe your audition.
The crazy thing about 'Chuck' is that I actually auditioned and tested for the role of Morgan, which went to the very talented Josh Gomez. It began with casting, but the rooms grew as I got farther and farther into the process. The last test was in a room of like, thirty-five producers and executives with a live feed to a similar room in NYC. I was devastated when I didn't get it. Then this call came from my manager saying they wanted to give me a small role in the pilot. It didn't exactly come like a big shiny consolation prize. It was a line or two, and 'Lester' was described as….very different than me. But it was being directed by McG, and I showed up fresh as roses, began improvising, and one thing led to another.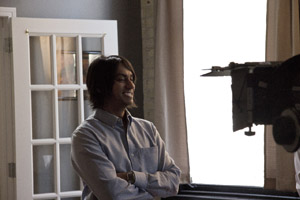 Vik Sahay in An Awkward Sexual Adventure.
Vik's publicist is Nicole Walther of Silver Lining PR.
Once you were made series regular in season 2 of "Chuck," you decided to make some life changes, i.e. move to California, get a publicity agent. What made you choose your publicity firm?
It became clear, going through the early press and publicity days as season one unfolded, that I was in the deep end, and had no idea what I was doing. There were cast members on 'Chuck' who had clearly been to the PR barbeque before, and I'm really lucky I got to watch them navigate press. I got a sense of what an important part of the job it is. You may not love promoting your work (I don't) but you must. There's no two ways about it. It's part of getting more work. I was approached by a firm who seemed classy to me; I had particularly good chemistry with one of them, who was truly excellent, and when she went out on her own, I followed. When I have new work coming out, it can get really busy, many conversations a day. Like around a big film festival, for example. She gets me interviews on radio, in print, online, on-camera, suggests events for me to attend, coordinates those red carpets, manages exposure, trying to include authentic interests I have (like MMA, tennis, and art). Then some weeks are totally quiet. It's like auditions; there are high and low tides.
Who helps you make decisions when considering speaking engagements such as the prestigious Toronto International Film Festival Rising Stars Program?
Mostly through my publicist, though my roots in Canada tend to bring things up through established relationships, as in the case of Rising Stars, an old colleague/friend, approached me with the idea. How I decide? I really like to feel like I have something to offer, that I can be of use. Giving back to the arts community is huge for me, supporting other artists.
You have two films debuting this year, "My Awkward Sexual Adventure" and "Wer." During the filming process, how do you know what publicity you will be doing?
My film work has mostly been indie, so the big time press tours are still ahead of me. There are some basic commitments that get put in contracts at this level, and that is negotiated by my agents, managers and lawyers. My publicist does not look at these contracts. A lot of it is 'best efforts' and with the kind of distribution/publicity budgets these companies have (limited) it ends up being kind of improvised as we go. Once something comes out, at a festival or such, my publicist gets to work opening up and fielding as many publicity opportunities as she can.
Does your publicity team work well with your agent and manager or have there been bumps in the road?
My team works incredibly well together, I feel. I really feel like I have a very strong cohesive, supportive engine around me. But generally, I'd say my publicist deals with me. She cc's my team on any schedules or appearances. I'd say she has a little communication with my manager, by email, and a little with my agent. I can't really think of any bumps, to be honest.
When writing emails to your agent and manager, do you always copy your publicity agent?
I do not copy my publicist on my day-to-day communication with my manager or agent. Only when we're all trying to hash out a festival schedule or some such thing. She is not involved in the audition racket or negotiations on a given project. She does need to coordinate her work with the publicists for each of the projects I do book. And that can get kind of delicate, and she's really impeccable with it. A studio or network for a given film or TV show wants to be the one breaking news, it can be a real no-no to jump the cue and break something before they have. There is a protocol there, she knows it and follows it.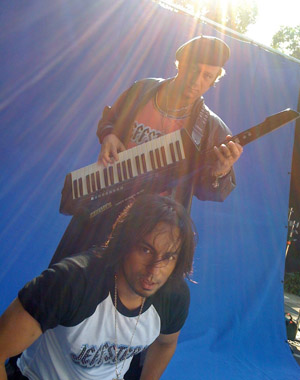 Vik Sahay on the set of the TV series Chuck.
You have a killer smile and great teeth. Did you ever have braces?
Thank you. And no, never did. I guess I can thank my mother for saving me a lot of money on that front.
What's the difference, as an actor, between a comedy show and drama?
Call times are hugely variable in TV and film, in either comedy or drama. TV days are way more packed. In film, you'll work on one scene for a whole day, often more. So as far as how much material you've got to have prepped, TV is more demanding. I'd say you're onto something when you say bring humor to drama and pathos to comedy. That duality is really important, I think. I don't have a comedy/drama switch, though. I just try and play real people with real needs. I use paper scripts. Sometimes there are table reads, sometimes not.
Do you have any quirky 'demands' on set?
Nothing dietary, but the only thing I'll write with is a fountain pen with fresh squid ink from the Greek Islands.
Anything else you'd like to add?
As Twitter and Facebook become more and more important in this game, and can and should be fun to dance around in (I have yet to join that party), do try to have something helpful to share once in a while, to say, to add something inspiring to the world conversation, not just a photo of your tuna melt.
Emily Cheung is the Director of ON THE MAP PR based in Australia.
Twitter: @onthemappr
What's your background that lead you to be the Director of On The Map PR?
After studying PR at Australia's leading communications university, RMIT, I began working in the field for a national Bridal Industry governing body, The Australian Bridal Service. After just six months, I was offered an interview to work as a PR coordinator for Sony Music. I was lucky to have talked my way in and scored the gig; little did I know how much my life was about to change. I was promoted to West Australian PR Manager and then promoted to VIC PR Manager. After seven wonderful years with Sony Music, I left to take part on a popular Australian television show and then started my PR firm ON THE MAP PR off the back of my new found national profile.
ON THE MAP is coming up to its first birthday and I couldn't be happier with where we're at. We specialize in entertainment PR and represent some of the biggest Australian talent and some overseas talent, too. You guys in the States might know of a few of them – Ron Pope, the NYC based singer songwriter with a huge global presence after his song A DROP IN THE OCEAN went viral and Jane Badler – leading lady Diana in sci-fi hit 'V', 'Mission Impossible', 'Murder She Wrote' and more.
Please describe what your company does for your clients on a daily basis.
At ON THE MAP PR, we represent music artists/bands and film production companies and work on getting their releases exposure across Australian media outlets. We thrive on showing people that paying for PR will get you far more bang for your buck than using that same money for an adspend. One ad in a newspaper may cost $5K, but for that same $5K, we can help get you features in many newspapers, on radio and TV as well as major online sites around the world. We are a one-stop-shop and cover all mediums, print, online, television and radio. We work with our clients on the importance of branding and image and we're all about getting the right exposure.
With your location being in Australia, how has the Internet and social media helped grow your business to include the USA?
The internet has played a huge part in my business spilling over to American shores. After a record label recommended me for a NYC artist (Ron Pope), my name became attached with the artist and the word then spread via social media online and press clippings began popping up around the world. This has led to a number of International clients seeking out ON THE MAP PR and our services for an Australian release. The internet offers easy access to countries around the world and essentially breaks down country borders, making it as simple as a click of a button to get in touch with anyone around the world. I can communicate with local Australian media just as easily as I can communicate with international media and all because of the internet.
What types of clients do you represent?

ON THE MAP represents all entertainment-based clients. We specialize in music and hence spend most of our time working with bands and artists, but we also work on films and are currently promoting John Rhys Davies' (Lord of The Rings) new sci-fi blockbuster THE HALF DEAD here in Australia (it's due out early 2014).
At what point in an entertainer's career should they seek the help of a publicity firm?
As soon as you've got something to promote, an artist/actor should seek the help of a publicity firm. PR can help you make a name for yourself and works to get as much exposure for you and your release as possible, by utilizing long-standing media relationships. Research shows people are more inclined to read content over ads, hence your money will be better spent in PR over advertising. If you have an event or a release to promote, it's important to seek out a respected, experienced publicist to help you get exposure to promote your event. Publicists can work with unknown individuals and will tailor a unique introductory campaign to suit specific needs. Many bands come to us telling us they've released their first album and no one bought it. When asked if they hired a publicist, almost all respond with 'no', and it dawns on them – how can they expect anyone to buy the release if no one even knows about it. This goes for new artists and also experienced artists. Even if you have a presence in the entertainment world, people still need to be made aware of your release, so they can see it/buy it/hear it. This is where publicity comes in to play!
If two of your clients have an event at the same time, how do you choose which to attend?
I will always have a presence at my events. If there are two on the same night (this happens more often than you'd imagine!), I will always make every effort to get to both, even if it is just to show my face and let the artist know I am there. I believe it gives them an added confidence. If for some reason I cannot get to both events, I will send an ON THE MAP PR representative to ensure someone is there, but I personally like to get to all events.
How does payment work?
I have many different payment schemes. Most artists pay up front fees, or if they're a regular client, they will be pushed on to a monthly retainer which they have to pay at the start of each month. People have come to know I charge up front fees and I never have any issues in getting paid. If the invoice isn't paid, I don't start the work – it's as simple as that. I hear of many nightmare stories about clients who take forever to pay. I don't have time to chase up accounts, so my system works brilliantly for both parties – they pay and we start the work and get it done and done well.
Have you ever clashed with a client's management team?
Management can often be interesting to work with! I've worked with some incredibly difficult managers, and some absolutely wonderful ones who I now consider my friends. I have definitely clashed with a number of management teams, but I feel it's my job to stay true to the artist and keep the peace. I have a strong work ethic and strong morals and won't let anyone walk over me, however when a manager is proving difficult I always try and see where they're coming from before I explain why I see things differently. If we still cannot sort the issue out, I bake them cake and usually win them through bribery!! You wouldn't believe it, bribery still works!! Ha! (I also visit media regularly and take them home-baked cakes, if they have a cover avail and my artist/release is in the running – they'll generally give it to me over the other person who doesn't drop in with cake regularly! ;p
Anything else you'd like to add!
Thanks for talking with me and for your interest in covering ON THE MAP PR!