Muretta Moss stars as the family matriarch Rita Loud in the upcoming original live-action holiday movie, A Loud House Christmas which is based on the Emmy Award-winning animated series by Nickelodeon.
While it may appear that Muretta has everything (or maybe not!) under control in the Loud household, real life tends to be a little more mismanaged.
Muretta Moss. Photo by Polina Williams Photography
Tell us about your audition for A Loud House Christmas.
I received this audition through my agent and it came with a clip from casting of Rita Loud. I watched the clip while I was prepping and researched the show. It's double-sided auditioning for an animated character. For one I have the benefit of a very distinct blueprint and background on who Rita is, but on the other side, what is the balance between being a cartoon character and a real person?
It was a self-tape audition and while I was walking out the door to go record at a taping facility in Atlanta, the taping service called me and said a tree fell and the power was out. Well, I had my pink cardigan on and I was ready to go so I called my best friend for help, went over to her place, and taped with her. I really liked the audition tape I sent in to casting, but I honestly didn't think about it again. I was very surprised to find out I booked it. Honestly, being a Nickelodeon mom is pretty dreamy—I get to be quirky and you know it's going to be funny.
A Loud House Christmas is on Nickelodeon and Paramount+. What was it like being on set?
Being on set is always a dream. My first day on set, we were shooting one of the last scenes of the film: the snowball fight outside our home. This scene, like a lot of others, was filmed on location. I remember getting off the van and arriving at the house and it was truly movie magic. There were holiday decorations and snow falling in the middle of May, and the scene included the entire family. What a great start to the next month of filming!
I live in Atlanta and we never shot more than 30 minutes from where I live, so I self-reported to set and had a lovely trailer. All the COVID protocols were in place, so I spent a lot of time in my trailer or in these pop-up bubble tents. It took around a month to shoot the project and when you are an adult on a children's show, you can expect to be the first call and the last cast out because we are always working around school and child labor laws. Crafty was good, but there were always treats on set that producers or crew or cast brought as appreciation. Honestly, it was a perfect set experience even with all the q-tips up my nose.
Charlotte Ann Tucker, Ella Allan and Mia Allan
Did you have any interaction with the young performers in the film? If yes, give us some insight as to what it's like working with kids.
The kids are so professional and talented. Charlotte Ann Tucker who played Lily and was one of the youngest really kept me on my game. She was always ready to go, a dream scene partner, and it's not just because it came with cuddles. One of my favorite moments was on my first day of filming during the big snowball fight. When you play a mom on set, you automatically take on some motherly duties like protecting the young ones at all cost from vicious snowballs! Well, Charlotte did not need any protection. She wanted to be put down and get in on the action. She had one of the best snowball-throwing arms out there.
It's fun working with kids, you have to abide by the child labor laws, and I've been told Georgia has some of the strictest. We all worked as a team and worked it out when a character was in class or cut for the day. The hardest part of this production was calling the kids their actual names and not character names when we weren't filming—and keeping Ella Allan and Mia Allan [the twins] straight!
Muretta Moss standing in front of Covid-19 pods at work
Besides being an actress, you're also a writer and recently wrapped production on the show Intersection, a passion project you co-created, wrote, and starred in. How did you put your team together? What setbacks did you have in making Intersection?
Intersection is a passion project and a dark comedy about gentrification and the people living through it. The spark came from my friend, fellow actor and producer, Meg Messmer. I have my real estate license and I had sold her a home in an "up-and-coming" area. Meg shared her idea for the show with another friend, the talented actress and writer Jennica Hill. When Jennica got involved, I jumped off the sidelines and we started writing. We were writing about gentrification and our roles in it, and invited a few other writers to join and share their perspective. Jacinte Blankenship and Karen Ceesay came in full-force and we had an all female writer's room. It was fantastic and difficult.
One major setback was the pandemic; we were scheduled to shoot right when lockdown happened in 2020. In a way, it was a blessing in disguise because we took the next year to delve deeper and rewrote the project and shot in spring of 2021.
The directors fell into place. Our showrunner, Meg, took two episodes and our DP, Charlie Fisk, directed two. The extremely talented comedian and director Alycia Cooper directed the episode centered around my character, Mary Margaret. Avery O. Williams did some script advising so it was a very natural fit for him to direct an episode.
There were some things that went wrong—we parked a truck in a parking lot we didn't have permission to use and that created quite an uproar in the neighborhood. Indie filmmaking is not easy, especially tackling a hot button issue, but overall we had an incredibly talented cast and crew and I'm proud of the finished product.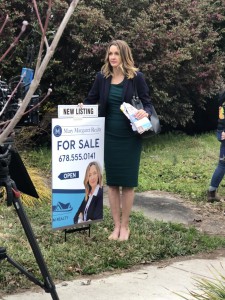 Intersection is a dark comedy that explores the intersecting effects of gentrification and the lives of people living through it. You play Mary Margaret, a real estate agent desperate to make a reputation for herself through flipping houses in a "new" up-and-coming neighborhood. You yourself have your real estate license and actively sell homes. How did your real life experience help you with the making of Intersection and building your character?
As a real estate agent, I always knock on a neighbor's door if my client is very interested in a home to talk about the neighborhood and see if they know any details about the house. It's one of my favorite parts of the real estate process, getting to know the neighborhood. I will never forget when I knocked on a door and asked the owner why she moved to the area. She said "Because I wanted to move to a historically Black neighborhood." That was the moment when I — a very white lady — was like Ohhh…okay…I see what I'm doing and it's not good. I understand everyone needs a place to call home, but I also understand the impact people can have when flipping homes and moving to historically Black communities. It's complicated because, for the most part, people like bike lanes, but that type of development creates displacement. You can't seem to have both and that is a huge problem. That is why we wrote this show.
My character Mary Margaret is the quintessential agent that will do anything to close a deal. It was fun writing a character based on my own experiences; Mary Margaret is definitely a heightened version of myself.
You love, love, LOVE improv! What is it about improvisation that makes you a whole person? Are there certain levels of improv? What's the difference between someone who is a beginner in improv vs. someone who has been doing improv for many years?
I do love, love, LOVE improv. I love the listening and responding and working off of impulses. You are always part of an ensemble and creating something on stage as an improviser. I thrive off of the connection. The basis of improv is "yes, and" where you are always "yes, and"-ing your partner to build the scene. That is such a beautiful tool for life. Find the positive and contribute more to it. I recommend everyone take a beginner improv class no matter what you do. It is not just "make 'em ups" (though it kind of is), there are rules to improv and the more you study, the more you learn. You don't have to want to be an improviser or be on stage to benefit from this school of thought. I studied extensively in LA Second City, iO West, and UCB. In order to fine tune my skills, I wanted to perform as much as possible and soak in all of the training and watch the experts perform. Everyone has different styles and you can truly be your unique, magical self on stage. I now perform weekly at the Village Theatre in Atlanta.
You will be launching a podcast called Counter Parenting which is about co-parenting from a step-parent's perspective. Are you a step-parent? What makes you an expert in the field?
Yes! I am not an expert on co-parenting or being a stepmom, which is why I created this podcast. I'm launching in January 2022 and I talk to experts like divorce lawyers and family therapists to discuss all aspects of divorce, children, and the roles of a step-parent. The step-parent is a complicated role to step into and not always supported. There are podcasts for the divorced parents and children of divorce, but not many for the step-parent — that's why this podcast is needed. I'm excited to launch because I know there are a lot of "steps" in my shoes and it will ultimately only benefit the children we are step-parents to.
Someone told me you're funny, like a comedian, but I just don't see it. Prove me wrong.
Well, I've thrown myself on the couch groaning in dislike. Funny is subjective. I think I have great timing. (Still sprawled out on the couch) I know I'm weird but I also think weird is great. (Slowly sitting up) So, ultimately I don't have to prove anything to anyone because it really doesn't matter. (Stands up) People pay me to be funny, so you know, you can prove me wrong. (Superwoman power stance howling at the moon)
Muretta Moss. Photo by Stacey Bode Photographer
You have a master's degree in Public Administration, an undergrad in Public Policy and a concentration in finance. At the time, what field of work did you think you were going to go into with those degrees? At what point did you decide to go into acting?
You know too much about me! I originally wanted to reform the child welfare system. I was so young, so naive. You can't reform a broken system. If you want change, you need to start equally funding our public schools. When I realized this probably wasn't the right career path for me, I was already so comfortable in the higher education environment — it's safe, positive, and I enjoy learning. After sitting in an office one summer as an intern, I knew there was no way I could survive in a 9-5 job. I was studying acting and working regionally in the Southeast commercial market at the time and the itch to make it a career kept getting bigger. After a brief stint as a TV reporter, I took the big leap and moved to LA to be a working actress.
What advice do you have for people who want to be in control of their own destiny?
*Stunned silence* I don't know how to control anything — I was a big life coach person for a while and it was all about controlling your thoughts, but even that doesn't make sense to me. Be free, be wild, be authentic! If you live truthfully, your destiny will unfold and you don't need to control anything!
Please visit Muretta Moss' socials below.
Instagram
Website
Twitter
Instagram
Twitter
Facebook
Credits: 
Photographer: Stacey Bode Photographer @staceybode
Hair and Makeup: Jennifer Nieman @jennifercnieman