GLENN SCARPELLI has been a staple in show business for 40+ years. He is one of the people you can say has continued to build an entertainment career over a macro period of time.
…
And with time comes revivals. Think Fuller House (original series Full House from 1987-1995), V (original series from 1984-1985), Roseanne (now The Conners), The X-Files (originally run from 1993-2001) and One Day at a Time (original run 1975-1984).
…
Melissa Leon of the Daily Beast says, "One Day at a Time acknowledges this pain, processes it, and offers a warm, welcome escape-a spot on the couch in front of the TV. Its defiant optimism and earnestness make it compulsively watchable."
…
Revivals are fun! People like to re-live their childhood and share "their" shows with today's young generation. With graphics and the world itself evolving, it's no wonder the powers that be want to re-imagine their favorite shows but with today's advances.
…
NYCastings spoke with GLENN SCARPELLI who played the boy "Alex" in the original One Day at a Time and who was brought back as a different, adult character in the Netflix revival.
…
You've been in show business since you were a little kid. At what age did you enter the profession? How did you get started?
I was lucky enough to live in New York. I begged my mom to be an actor from when I was the age of five. I stepped foot on stage in a school play in kindergarten and I felt like I came HOME! Mom finally gave in to my request when I was eight years old and we met a manager (Muriel Karl) through another friend doing commercials. I signed with her and booked the very first commercial I ever auditioned for which was "Celeste Frozen Pizza". After that I booked two Broadway shows ("Golda" with Anne Bancroft and "Richard III" with Al Pacino) and I played Audrey Hepburn's son in the Peter Bogdanovich film "They All Laughed". I regarded booking those roles as signs that I did the right thing by listening to my inner voice about my passion.
…
You played Alex Handris in the original One Day at a Time which ran from 1975–1984. As a teenager on the show, did you understand at the time how paychecks and residuals worked?
…
I never thought of money AT ALL actually. I was a kid and never did this for money. Honestly, none of that was on my radar. I did of course get residuals though, because as I grew older and started taking responsibility for paying bills I realized how blessed I was to keep receiving residuals for YEARS to come after the show ended. How many businesses offer that?
…
What was your initial reaction when you heard that One Day at a Time was going to be revived on Netflix as a re-imagined show? How'd you hear about the revival?
…
I stayed close to Norman Lear all these years and also his business partner/right arm/co-exec producer Brent Miller. I love Brent so much! We were at lunch one day and he told me about the new version. I think it was before Netflix was even in the picture. The concept was to always develop it with a Latino family. My initial reaction was HOW COOL! I have the utmost respect for Norman and his team and knew if they ere involved it would be brilliant.
…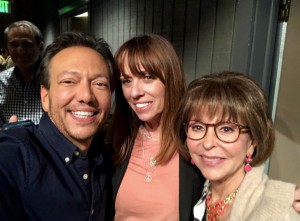 You guest starred in an episode on Season 3 of the Netflix version. What was it like being back on that set?
Like I said, I stayed close to Norman and his team so I visited the set before I ever did the cameo. I think I went to the second episode taping ever with my BFF (and former co-star from the original cast) Mackenzie Phillips. Norman brought us out in front of the studio audience and we did some Q and A. It was a blast! As you mentioned, I did finally do a cameo in Season 3 which will drop on Netflix early 2019. I feel so blessed working with all these amazing folks… especially show runners Gloria Calderone Kellett and Mike Royce. They are sensational. It was really them that wrote the cameo. The cast is brilliant. I love them all. Rita Moreno is an icon and one of the sweetest and most professional actresses I ever worked with. Justina Machado deserves an EMMY in my opinion. Her work is stellar. Isabella Gomez and Marcel Ruiz are the two kids on the show and I adore them both so much. Talent galore. Stephen Tobolowsky is also wonderful. And Todd Grinnell as the new Schneider is not only hilarious as an actor but also directed an episode in Season 3. I know Pat and Bonnie would have loved them all too.
…
Mackenzie and I haven't done an episode together but she also has done several episodes as the recurring role of Penelope's (Justina's) group therapist. We don't play our original roles but that's all I can say at this point about that. Netflix doesn't want to me discuss too many details of the cameo until Season 3 drops.
…
Being on the set was surreal and wonderful. I got all choked up several times as I stood on the living room set looking out at Norman as he watched scenes being rehearsed. One of our original producers works also on this version, Patricia Fass Palmer. She hid on the set memorabilia of the late great Bonnie Franklin and Pat Harrington… this made me all emotional too. Our original cast stayed close throughout the years and we were so sad to lose both Bonnie and Pat a few years back.
…
They shoot these shows a bit different than in the old days. They have much more freedom and flow on tape night. They do many rewrites as the show goes along. They really find the jokes to get the laughs they are looking for. I enjoyed it. Back in the day we did it like a play without stopping much. By Friday night we had very few rewrites. It was kind of nailed down by then. I recently watched our original series which was released on DVD last year in its entirety. There were so many flubs. LOL… I liked it though. It gave a real "live" feel. That's what was "in" in those days. Norman was a pioneer of that sort of TV. He transformed TV and really transformed our society through his comedy. A TV genius…. and still IS! He's 96 and goes to work on this Netflix version every day. He is a hero of mine!
…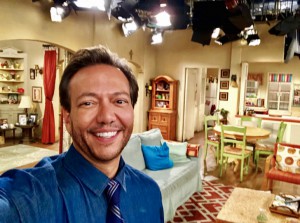 What are your thoughts about revived shows in general?
…
Honestly, at first I thought, "Can't anyone think of a NEW idea?" Then I have to admit I watch so many reboots and LOVE them. It's like a walk down memory lane while making social statements about TODAY. Some are better than others and I think Netflix' One Day at a Time is one of the BEST! I'm trying not to be partial… LOL…
…
Glenn Scarpelli on the set of Netflix' One Day at a Time.
…
You're currently attending conventions / fan gatherings. Who makes the arrangements? Tell us a convention story revolving around the fans you've met.
…
I have just started doing the convention thing. I've done like four of them thus far. My joy comes from meeting the fans! So many folks were touched by "One Day" and I am so honored to have played a role in people's lives. I have been approached for a few of these conventions by the promoters themselves. There are booking agents out there too (in fact the last one I did was through a booking agent). The "show" flies me in and puts me up. It's like a family reunion with all my fellow actors from those days. It's usually quite a love fest. Mackenzie and I have done a few together and like I said, she's my BFF. So many folks show up with memorabilia that I have never seen or totally forgotten about. That's always fun.
…
After I came out in 2004 so many gay men have shared with me that I was their TV crush back in the day. Haha… I love that! There weren't many gay role models back then… NONE in fact… so if my character "Alex" helped the gay community in any way I am thrilled. I hear many stories from these guys at the conventions but this is a G rated interview… hahaha… I'll refrain from sharing… Haha…
…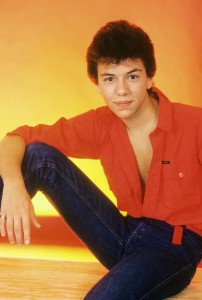 During the height of the original One Day at a Time, you were on teen magazine covers and had fans fawning all over you. How did you handle that as a young man? Did you ever think that being an actor would include being in magazines that fans read?
…
LOL! I'll share this with ya: When I worked with Al Pacino on Broadway the greatest advice he gave me was, "Don't ever believe your own press". And I never did, including those teen mags. I was so appreciative for them because the helped my career grow (no doubt) but I never saw myself as I was portrayed. I think I stayed pretty down to earth. I never had a problem posing for those shots though. I was very confident in my own skin.
 …
When did you move to Arizona and why? What prompted you to start Sedona NOW TV? What steps did you take to make Sedona NOW TV happen?
 …
In 1992 I lost my first "husband" to AIDS (I put quotes around husband because marriage equality was but a dream back then). He was 36, I was 25. After he passed away I went on somewhat of a spiritual "walk-about". I needed to figure some things out. I left acting at that time and decided to reinvent myself. I wanted privacy. The best way to explain this is that I let go of who I "THOUGHT" I was. My spiritual quest led me to Sedona, AZ and I fell in love with it. I decided to change everything and move there. I've been here 24 years now. I opened a local TV station called Sedona NOW TV and we've been on the air for 18 years. It's been a wonderful ride and I adore the path and life I have in Sedona. I have a wonderful guy in my life, a successful business and a dream place to live. Dare I say I'm happy??? LOL.
 …
Sedona has been a rock in my life. In fact, Mackenzie and I recently shot a film here that I also co-produced and developed. I did this because after all these years I realized how much I missed acting and wanted to use those tools again. Working with her in this way was such a great joy… a true on screen reunion for us. The film is called "
Sacred Journeys
" and is NOW STREAMING on AmazonPRIME. We did this film of course as a SAG/AFTRA project and I was so thrilled to get my Union card out again as an ACTOR! I decided I wanted to create a project for me in Sedona and shoot it entirely on location here. Developing this film was one of the great joys of my life.
 …
After watching the flick (which was originally created as a TV Pilot), I hope many folks want to visit us here in Sedona. Everyone should come at least once in their life. My life partner (Jerry) and I also own a vacation rental business with incredibly beautiful homes for rent. Please visit us at
sedonavacationvillas.com
if you are interested in coming!
…
What advice do you have for people today who are just joining or thinking about joining the field as actors?
…
I've been asked this question a multitude of times over my life and here is what I believe: If you are considering this business you must LOVE it to be IN it. It's not a business for the faint of heart. It is cold and rough… but it is also one of the greatest and most fulfilling jobs one can ever have. YOU are your art! You must have confidence in who YOU are and quiet all the voices around you. But I say again: you must LOVE it first. Only if you truly LOVE it and it's truly your passion is it the right business for you.
 …
 …
Follow GLENN SCARPELLI on social media: