All kinds of people — scary, grieving, naive, curious people — have once again invaded New York City for The Tribeca Film Festival. Which means it is the ideal time to chat about characters; the art of building real and complex layers as an actor.
Joining in this conversation are the talented teams from two Tribeca films, Replicas and The Playroom.
Replicas brings us on a wild journey as The Hughes cottage vacation is violently interrupted by a family on a murderous and identity stealing journey, in search of the "perfect" life.
In The Playroom, four children in their attic hideaway make up a fantastic story, while downstairs their parents weave a drunken intrigue of their own.
Here are their character transformation tips…
From Replicas:
Rachel Miner – Actor
Begins to create the character immediately…
One of the advantages of having acted for years is I make calculations quickly. It is a muscle that I have worked on. I naturally begin to create the character as soon as I start to read. As I am reading, I start to think as that person. With good writing, like with Joshua's script, it is very natural and very apparent. With clunky writing, it is harder because the viewpoint shifts. The writer doesn't assume the person's viewpoint consistently and so you have to work harder. But in the case of this film, I read it and instantly started to see the script as her. To think "What would justify these actions?"
The more life you have lived, the more you have experienced, you begin to instantly feel an empathy. You begin to bring forth all the people you have empathized with. You begin to bring this human being together. What are the emotional and intellectual aspects of this person? What is the thought process of this person? And then, hopefully, you are not thinking about it. You can just be that other human being.
You can't really be that character when you are thinking about being them. It gets in the way because you are you trying to do something, instead of being.
With this character (Jane), it was really fun because so much of this character, to me, was reacting to the people around her. She was so curious. She spent so much of her formative years being told what to do that she really waited for someone to tell her how to behave and what to say. It was a great acting exercise because I didn't come into any moment with a preconception. I was reacting and letting whatever was going on bounce off me. The character was desperate to please and had a curiosity. She was looking for clues on what to do.
Rachel also draws on life experiences…
One of the wonderful things about growing up in this business is I get to travel to a lot of different countries, and hang out with people from almost every walk of life, upbringing, and social class. I think that is one of the most important things you can do as an actor, to just be open to the research you are doing in your everyday life.
The wonderful thing about being an actor is every experience you have is something you will potentially use, and every person you meet is a wealth of information. I am a geek and a curious person anyway, so every cab ride, every subway ride, I meet people. And I am constantly asking them, "Where did you grow up?" and "What do you think of the government there?" It is something you can draw on, and it makes life more interesting.
Joshua Close – Actor & Writer
Transformed into his own character…
I didn't write the character for myself. I didn't decide to play the character until three weeks before shooting. I had envisioned someone else for the role. So, from the starting point, I was trying to make the character as real as possible. In writing, I drew from films like With a friend like Harry … who needs enemies? Films that I think add a more humane element to this genre. And I have been getting nice comments from people who have seen the film that it was even scarier because these were real human beings. They were not just people you could write off as crazy or a monster type. They are human beings with a history, who have gotten to this point. In writing, I wanted to make them as honest and real as I could. And when I took on the role, I wanted to be as real and honest too.
Joshua researches emotions…
When I took on the role (of Mark), I started looking at grieving parents. Everyone takes on their grief differently. I looked at where the division comes in between couples, and played that as honestly as I could up until the point where they are kicked into survival mode. I didn't want to cover it with action or smart, clever transitions. I wanted it to just unfold and escalate as naturally as it could.
When escalating a character…
I think you have to just 'swing for the fences.'
If you can be OK with looking like a fool, you can take chances and open up.
We were in a place, all of us, where we came together and were close enough to have this trust. We would play a scene over the top and then measure it to see if it felt accurate and realistic. And then we came under it, to see how that affected everything. We measured the tones.
With this group it was easy to gauge what felt honest and real. For the more emotional climax beats, it was just like "let's all swing for the fences and then see what is realistic to all of us." That is what we wanted to get across — does this feel real? Because that is when it feels the scariest.
I think it just opens you up to say, "Let's take it as big as we can." It frees you to just go for it.
And, the best takes are the ones where the Director says "OK. We've got it. Let's just play." On those takes you get these spontaneous moments. You are always looking for that sort of spontaneity.
On revealing both the good and bad layers of a character…
I think it is interesting to find the bad in good people, and the good in bad people. I think when you play those things it is much more unsettling. If you find the ugly within these lead characters that you are supposed to follow and care for, it becomes complex. It becomes as close to humanity as you can get.
Finding the opposite of the way it seems helps the character feel more two sided. It's not just playing what is on the page, but figuring out what is underneath it.
Jeremy Power Regimbal – Director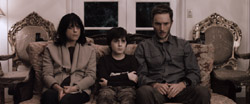 To help transform characters from a Director's perspective…
I did a workshop with Joan Scheckel, an acting coach. I had to play every role out. I had to act out the synopsis and the characters, to get into their shoes.
Josh joined me in some of the labs, to help me go through it. We focused on their (Mark and Mary's) relationship in the film, which was very disconnected. We workshopped the relationship. We took ten things we wanted to work on. We asked lots of questions.
As the Director, I ask questions like "What do you feel about doing this?" I let the person discover the character rather than pushing an idea on them.
From The Playroom:
Julia Dyer – Director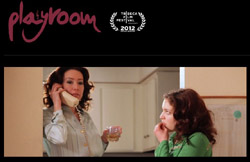 To help actors transform into character…
Every actor is different, so I look at the actor and what they already bring. I think that every actor has their own process. The best way to direct an actor is to come to where they are and work within their own language and process. It is complicated because sometimes you have actors who are coming from different places, and like to work in different ways. It is also very fun.
In preparing for the film, Julia discovered a unique character transformation technique…
The film is a coming of age story. In the less than 24 hours in which the film takes place, Maggie has to make that transition from childhood to adulthood and it is not an easy one. It is a rough, nail scratching one.
Olivia Harris who plays Maggie has the biggest arc, the furthest journey, and she had never done a film before. She had done theatre acting and was extremely talented. And, she was a highly trained vocalist. She was a really gifted and sophisticated vocalist.
We had an idea that we wanted to record a song from the 70's with Olivia singing it to possibly use in the film, or to promote the film. We had selected the song Up on the Roof by Carole King. We had had Olivia come over the studio and we invited her to sing the song in Maggie's voice. The composer and sound designer also spoke with her about what that meant in the musical language she knew really well. Olivia sat down on a stool in the home studio, and sang the song. It was perfect. It was one of those amazing moments where we couldn't believe what we heard.
For Olivia, singing as Maggie had opened a doorway into the character that made sense to her. She was able to take her training as a singer and help open the character emotionally. From that day she know who Maggie was in side of her. And she used music on set to help her get ready for the scenes. She used the music to help her hold on to the character. 
— Thanks to the Replicas and The Playroom for lending their insight. Go check out their films and support The Tribeca Film Festival!