23 year old actor Ashley Ganger of Netflix's Grand Army booked her starring role with no prior acting experience.
How, how, how??? And what was going through her mind during the process?
Netflix's recently released series GRAND ARMY is a Young Adult drama about students at the largest public high school in Brooklyn, New York. The series follows students as they deal with issues involving sexuality, racism, and social justice.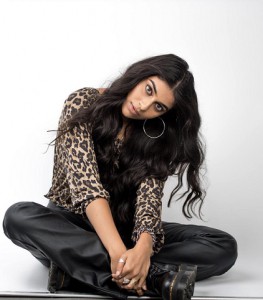 Ashley Ganger plays Meera Pakam, the opposite of your "typical good Indian daughter" which is a very interesting family dynamic that isn't explored very often with Indians on TV.
The word "Grand" in the title is fitting since this is Ashley's very first professional acting gig. Talk about going from zero to 60 in three seconds!
Not having any experience being on a set could be quite scary. Since every job has a different dynamic of people (actors, crew, production staff), Ashley was hoping that her co-workers would be gentle and help her learn the ropes.
What steps did Ashley Ganger take to secure the role, and what actions did she take to help continue her newly acquired success?
You star as Meera in Netflix's GRAND ARMY which is a Young Adult drama about students at the largest public high school in Brooklyn, New York. Tell us about your audition.
The audition process was a long one in my case. I was originally sent the sides and immediately started working on them with my acting coach. I had never really auditioned for anything of this caliber before, so I was super nervous. I remember reading the character description and the sides and I was like… wow this would fit me very well. I had two callbacks after my initial audition, and each time I got a callback I remember thinking, "They want to see me AGAIN?" I was so immensely grateful every time. I did the audition off book except for my first callback. They sent me a new scene that morning and it was quite lengthy and they assured me I could put it on tape but I decided to give it a try in the room to get some feedback from the casting directors and I guess it worked in my favor.
You decided to switch careers into acting, after six years as a competitive swimmer. How has the discipline of being a swimmer helped you with your acting?
I think being an athlete, you must push yourself to always work harder because you have this need to constantly evolve and be improve. Once I fell in love with acting, I felt that way again. I am constantly pushing myself and trying to find ways to work on my craft. I think it also taught me resilience; in this industry you must realize quickly that there's going to be a lot of challenges to overcome. When you're an athlete and train eight times a week in additional to a full course load in school you have to learn to keep pushing and keep your head up all the time.
Being that Grand Army is your first acting job (plus such a main character to boot!), tell us what was going through your mind when you learned you won the role.
I was at the mall with one of my best friends and I got a call from my agent Stephanie. I picked up and she said, "Congratulations MEERA!" I freaked out. I walked out of the store and had to sit down for a second, at the same time I found out I got the part I found out Grand Army was going to be a Netflix original. I was just in shock and I called both of my parents and they were so thrilled.
First day on set. Tell us about it.
First day on set was a very nervous one for me, it was also the first day I met the actors who were going to play my parents. They were so sweet and helped me out a lot, they gave some good advice throughout all of filming. Amir Bageria, who plays my brother in the series, really helped me find my footing throughout so much of filming as it was all so new to me. I think I was just in awe all day. I was like wow so this is what goes on behind the scenes, this is movie magic, this is how they do it!
At what point did you decide to get a publicity agent?
Honestly, I had no intention of getting a publicist and then my agent told me that someone had reached out to them. After that I started to consider it a little bit more and to think about it. After a few meetings and understanding what publicity agents do, I thought it would be a good idea. Luckily I found someone who I really get along with and vibe well with.
What's your home life like?
I am currently living with my mom. We're very close so it's never a dull moment. I also spend some time at my dad's place. I do hope to move to the city soon though, so we'll see how that plays out. As far as my love life goes, I am very happy and I'm very lucky to have someone so supportive and understanding in my corner.
Give us some insight into the history of your family and family name.
Ganger is my dad's last name, and my family is from India. Both of my parents were born in India and majority of my extended family is split between England and India. Ganger is a very uncommon Indian last name so sometimes it throws people off; I remember Googling it one time and seeing that it comes from Ireland, no idea about the connection but my family is from India. As far as my first name, my mom wanted to name me just Ash after Bollywood actress Aishwariya Rai… so they took the shorter more Canadian version of that, I guess.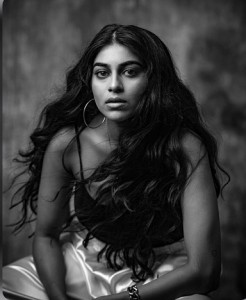 Do you have an acting coach?
Yes!! Her name is Christina Collins and she is the absolute best! She has been a part of my journey since the beginning and was the one who encouraged me to get an agent. I worked on some scenes with her from Grand Army and she just helped keep me calm and collected during the whole process. She's a terrific actress and I'm very very lucky to have her. She really has become family. I also absolutely love acting classes, it's honestly such a stress reliever and it's also a fun way to meet other actors and creatives. I think it's important to always keep working on your craft, there should never come a time where you feel you've learned everything. There is always something new to learn.
Do you have any acting jobs lined up?
I'm currently figuring out my next project. My agent works hard, finds me great auditions and I am extremely grateful for her. In the meantime I continue to work on my acting and I'm excited to see what lies next for me.
What advice do you have for up and coming young actors?
I would say to just be so passionate about life, storytelling and don't let anything stop you. It's a tough industry and career path but if you believe in yourself enough you can accomplish whatever you set out to do. Keep your head up and don't give up!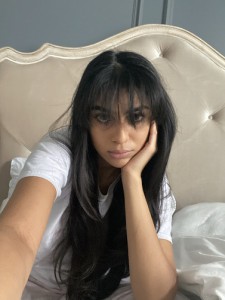 ASHLEY GANGER'S BIO:
Ashley was painfully shy and introverted as a child (cried if a stranger spoke to her). Her mom thought a suitable solution was summer theatre camp and it did the trick.  She became comfortable on stage and was better with people.  She was is also a great athlete and thought swimming would be her future, but after six years wanted a change. Ashley started classes at the Toronto Academy of Acting and fell in love with acting all over again.