Currently on DirectSubmit / NYCastings the way to add your actors reels or any other performance video is by uploading them to YouTube and then using the YouTube SHARE button to copy the video link to paste into your Video Reels page.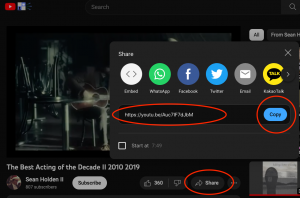 Here's a step-by-step guide on how to use it:
Locate the Video: Open YouTube on your device (either the website or app) and locate the video you want to share.
Find the Share Button: Underneath the video playback window, next to the thumbs up/thumbs down buttons, there is an arrow pointing right. This is the Share button.
Click the Share Button: Click on the Share button, which will open a dialog box with various sharing options.
Choose the Sharing Method: You have several options for sharing the video. Choose Copy Link: If you click "Copy," it will copy a direct link to the video. You can then paste this link into the Video Reels page on DirectSubmit / NYCastings.
We use Youtube for videos because it's free and has the best tools for users.
Here are some tutorials if needed: