Being a young performer in blockbuster mega-movie or hit television series can be very challenging. There are so many things to think about — family, friends, school, after school activities, pets  the list goes on and on. It takes a lot of juggling, patience and understanding in order to survive such a wonderful treat!
One of the main things you always want to remember is to keep your kid grounded. Do not let such an event give your child an ego and most certainly do whatever you can to keep your schedule as normal as possible. Sounds impossible, and sometimes it is!
Jorge Vega made the cut for the recently released The Amazing Spider-Man 2 and did voice-overs for Dora and Friends. Joey King was in The Conjuring and did voice-overs in Oz the Great and Powerful. Michael Grant can be seen in television's Brooklyn Nine-Nine and the upcoming film Fair Haven.
9 year-old Jorge Vega is also known for his roles in Team Umizoomi, Wallykazam and voice-over work on Dora and Friends.
When you went up for the role in The Amazing Spider-Man 2 did you KNOW it was for the Spider-Man movie or was the casting call very vague?
The casting call was vague, but when I worked with the Casting Director, I knew it was for Spider-Man! We knew they were filming in New York, so we were pretty sure.
Describe your audition for Spider-Man.
My manager called with the appointment and the sides [piece of script] read Skinny Kid. I practiced in a few hours and went to the audition. Then I got the callback and then my manager called and told me I landed the role!
How does your schooling work?
I am in 4th grade and go to a Catholic school; auditions are mostly after 3pm, so we have managed. I had an on set tutor for the movie and while we were on tour with the Radio City Rockettes. As my mom explains to me, New York State has rules in place for young performers so the school follows mandates from the state. Every day I miss school I still need to complete my homework or school work and study for tests accordingly. My mom takes care of coordinating that with the teacher and then gives the work to the tutor to work with me. When I was on set with the Rockettes, I would be tutored for a minimum of four hours per day – not my favorite thing, but you have to do it.
How and when did you get started in show business?
My first job was when I was seven years old. It was a radio advertisement for the Ad Council and that same month I did a Radio Shack commercial in Spanish. I started when my manager saw me interact on an acting workshop for kids. She called me for a formal interview with my mom and I have been going to auditions ever since!
Besides acting, what activities do you enjoy?
I love building Legos. I can spend hours building the sets and then making sets or figures I create. I love Minecraft and can't wait for tennis to start again in May.
When did you join SAG-AFTRA?
I joined in 2012.
Were you FITTED for the Spider-Man costume? How come you wear red sneakers instead of Spider-Man costume shoes?
Yes! They fitted me in a regular Spider-Man kid costume and I was scratching my head and a little sad because I thought I would be a regular fan and my face would not show. But then, they explained to me I would get my own Spidey suit because I was going against the biggest bully of all. I guess I wear red sneakers because I am a fan, not the real Spider-Man – I think it looks awesome!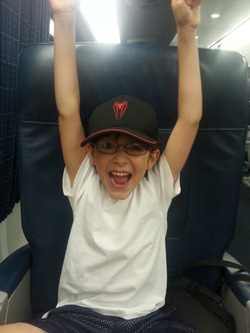 Check out another Spider-Man interview w Jorge Vega HERE!
http://www.huffingtonpost.com/ilana-rapp/jorge-vega_b_5240590.html
Did you have your own trailer?
I had a small trailer with a couch/bed. No TV yet for me, but coming soon!
For your Spider-Man shots, were there many different locations or did you stay in the same general area the whole time?
We shot on 5th Avenue, Brooklyn, China Town and in a studio.
At what point in your career did you hire a manager?
I started acting once I hired a manager.
Did you have to sign a non-disclosure form for Spider-Man?
My mom signed it.
You've done voice-over work for the Nick Jr ® animation series Wallykazam! and Nickelodeon's animated series Team Umizoomi and Dora and Friends." How do voice overs work?
Luckily, I don't have to memorize lines. They want kids to be kids and to not be prepared. I am familiar with the story, but your lines are at the studio. Most of the time, we don't see the lines until we arrive at the studio.
Who runs your lines with you?
For commercials and non-voice over auditions, my mom runs the lines with me and explains the character or the setting to me if I don't understand it.
Did you do the work in a Nick studio or at a rented studio somewhere?
Nick tells us where to go, mostly rented studios.
For the Nick voice-overs, how did you audition?
Several auditions and then a voice demo. It also depends on the show. Sometimes you call in an audition and sometimes you go to the studio.
Did you self-tape and send it in or did you actually audition in front of the Casting Director?
Usually, we record at our agent's office and they send the tapes.
Are your friends supportive of your decision to be an actor?
Yes! I keep my acting activities separate, but sometimes they see me on commercials and they are like, Jorge, I saw you on this commercial! and congratulate me.
You're an honorary youth volunteer for the NYC Chapter of the American Diabetes Association. What exactly does an honorary youth volunteer do? Why did you choose ADA?
My mom works very closely with them and takes me to meetings and volunteer activities. I have learned diabetes can affect all your organs if you don't take care of it. It also affects kids and I help her out at all the events. The ADA in the NY office has adopted me and love that I come by to help!
Any advice for actors your age?
To follow what you love and make sure you have fun! You and your parents need to have an excellent relationship with your manager and/or agent – that is one of the keys to a successful career! Make sure you follow up with school work and always be on time!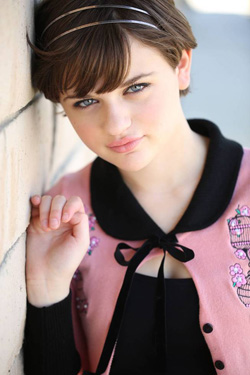 14 year-old Joey King is known for her starring role as Ramona Quimby in Ramona and Beezus. Follow her on Twitter: @JoeyKingActress.
You've been involved in very powerful films such as The Conjuring, Oz the Great and Powerful and The Dark Knight Rises. What's the best behind the scenes on set memory you have from each of these movies?
Oz The Great and Powerful – Sam Raimi kept wanting me to meet his daughter. He said that we are very much alike and would make great friends. Unfortunately I did not get to meet his daughter until months after filming completed, during an ADR session [automated dialogue replacement – the process of re-recording dialogue by the original actor after the filming process to improve audio quality or reflect dialogue changes, also known as "looping"]. Sam was right, we hit it off right away and have been close friends ever since. Sam's daughter, Emma, is fun and silly and a very genuine person and I love her like a sister now.
The Dark Knight Rises was an incredible experience. I got to travel to London and India. I think India is the most memorable place I have ever gone. We stayed in a Palace and there were peacocks running free and they played beautiful music at meal time. The streets were full of people and they were so warm and friendly and cows roamed the streets all the time.
During filming The Conjuring I came down with ITP [a bleeding disorder in which the immune system destroys platelets] I would wake up with bruises all over my body and it freaked me and everyone else out because that's what happened to my mom in the movie. Eventually I was diagnosed with ITP and the doctor said it was my body reacting to getting the flu. ITP goes away, but it takes months for your platelet count to go back to normal. We had to be careful in some of the scenes I shot, like when my mom tries to choke me, because I would bruise almost instantly.
Describe your audition for The Conjuring.
I didn't get to meet the director James until after I got the part. I remember meeting with the casting agent but I never got to go back in for a call back because I was working on a TV show called BENT at the time.
How does your schooling work?
I am Home Schooled and have been doing that since the 5th grade. I did go to public school until 3rd grade then I switched to private school. I travel for work so much, that being Home Schooled just made sense. I'm in 10th grade and I almost never miss a day of school. I can school on the weekends if I need to catch up and I always have a set teacher when I am working on a movie or TV show.
How old are you now and when did you get started in show business?
I am 14 right now; my birthday is July 30th. I was four years-old when I did my first commercial for Life cereal. I was so excited because I love Life cereal and still eat cinnamon Life cereal today! I did plays starting when I was three. My big sisters were in this theater group and they were kind enough to let me take classes with the big kids. I fell in love with making the audience laugh (even though I wasn't sure what they were laughing at) even at three. I guess I was born a ham. But when I was almost six, I did a short movie and really fell in love with the process of making movies. I am still very close with the director from that film.
Besides acting, what activities do you enjoy?
I started playing keyboard and I love it. One of my best friends, Arianna, and I like to write songs and play them. We wrote a song for my mom and her mom and sang it to them on Mother's Day, while I played piano and Ari played guitar. We made both our moms cry!! I hope to get that song professionally recorded because it is very special to me and I think a lot of people can relate to it!
When did you join SAG-AFTRA?
My mom said I joined SAG-AFTRA as soon as I was eligible. I have actually seen union reps on set sometimes and they are always nice and ready to answer any questions you have.
You did the voice-over work in Ice Age: Dawn of the Dinosaurs, Horton Hears a Who! and The Boxcar Children. How do voice overs work?
Each voice-over job is different. With Boxcar Children, we started off all being in the same room together and that was really fun. Most of the time it is just you, (no other actors) and the producers and director. I memorize lines fast, so I like to look at my lines like three times to get a feel for whats going on and then I go with what's in my heart and make adjustments whenever the director instructs me to. For all the above, I was in California, but I have done ADR for movies and TV all over. A movie I just finished might need a line redone, but I'm in New Mexico, so I have to go to a sound studio that is close to where I am working at that time.
Did you have your own trailer for any of your projects?
I have never had my own trailer. The truth is, I always have to have a classroom as well, so I request that half a trailer for personal and half for school. Sometimes it works out that way and sometimes not. I honestly don't spend a lot of time in my trailer, so it never has been that important to me. But some trailers are way cooler than others. I think my favorite trailers were on Crazy, Stupid, Love and the Lifetime movie I just finished. Those trailers had sectional couches and you could really spread out.
Joey can also be seen in White House Down with Channing Tatum, Jamie Foxx and Maggie Gyllenhaal.
What were you doing in New York recently? Share a fan story.
I was in New York recently doing some press for Wish I Was Here. I am so excited for people to see this movie. Zach Braff is an amazing director and this film will really make you laugh and cry, it is one of my all time favorite parts. I got to stay a few extra days in New York to just be a tourist and have fun. I got to see THREE of my OZ costars in plays on Broadway and it was an incredible experience. I truly loved all three plays and enjoyed the remarkable performances of Zach, James and Michelle!! A fan story to share is when I was at Battery Park looking out at the Hudson River, a few girls were asking if someone would take a photo of them, and I volunteered. After I took their picture they recognized me and were so excited. Of course there were lots more selfies after that, and they even tweeted me the photos.
Now that the world knows who you are, do you have any fear about being safe?
Well it's pretty easy to find out where someone lives now with the internet and all. My mom is almost always with me and she is a bad ass (am I allowed to say that?), so I feel very safe when she is around.
At what point in your career did you hire a manager, agent, publicist and lawyer? How'd you decide who to work with?
My agent Meredith has always guided us on what to do next. If we needed a manager or lawyer or PR [public relations] person. My mom relied on Meredith telling us what to do and when to do it. Now I have a manager, a lawyer and a publicist, so they all kind of make decisions together. But ultimately the jobs I do are up to me and my mom. Meredith says you have to love at least one of three things about a job to take it.
1) The story, 2) The people you are going to work with or 3) The money
Because I am 14, and don't have the responsibility of a family to take care of, number 1 and 2 are the most important thing to me. They probably always will be!
Did you have to sign a non-disclosure form for any of the productions?
Not that I can remember.
Who negotiates your contracts for you? Do you get to ask for things, like special food, a car?
My lawyer does all the negotiations. I'm really chill, so I don't really ask for anything special. I like certain teachers, so I do ask for them.
Do you ever get overwhelmed with everything you do related to show business?
I never get overwhelmed because it is all very exciting to me. I love to travel and go new places and meet new people. I love interviews, even when I mess up (like falling on Jay Leno) because I get to talk about a project that I did and am excited for people to see it. I love meeting fans, they are so fun to talk to and I love when they tweet me photos that we took together! It's weird to say, but sometimes I feel like I was born to do this because nothing ever fazes me or stresses me out when it comes to this business. I could look like poop and still be excited to walk a red carpet for a movie I did. I even love talking to clubs and groups and if I mess up, well, that's just me, no one can be perfect, so why stress out about it.
Are your friends supportive of your decision to be an actor? Any adults ask you about wanting to lead a "normal life" instead of the life you're currently leading?
All my friends are supportive, and most of them are actors or are in the arts or have parents that are in the business. They understand I travel a lot, but we try and make lots of time for each other when I am home. I have wonderful friends, I really do. I love them so much! We have a great time together and sometimes my sisters hang out with us as well. I have the best sisters and all my friends love them! As far as adults asking me if I want a normal life, I can answer by saying this, I have traveled to many places and what may seem very odd or very different to me, is just everyday normal to them, so my every day normal may seem odd to you, but it is very normal to me.
Do you travel a lot for work? Where is your home base? Who goes with you on location? Who pays for the airfare?
I travel all the time and I love it. I would be a liar if I said I didn't miss my family, friends and animals, but thank goodness for Facetime! It has been a huge education getting to see the places I have seen and meeting the people that I have met. I would not trade or change one thing at all. My home base is California, but I love so many of the places that I have traveled to, that I hope someday to have a small home or apartment in many of these places as well. My mom goes with me most of the time and sometimes my dad will come when he can get time off of work. My older sister has even traveled with me. Kelli is a great travel companion; she's very smart and fun and a bad ass like my mom. As far as money goes, production will fly me and one guardian to a job. If anyone comes to visit set, then we have to pay for that trip.
Any advice for actors your age?
If you love it, then stick with it!! Don't be afraid to be yourself, and always have fun! Rejection is just a learning tool, but remember that you can't be perfect for every role, so be realistic and don't be to hard on yourself.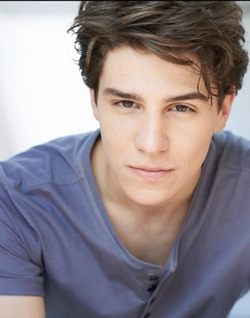 18 year-old Michael Grant may look familiar. He was on Pretty Little Liars! Follow him on Twitter: @MichaelGrant15 and visit his website at http://michaelgrant-music.com.
You have a film coming out called Fair Haven starring Tom Wopat. Tell us about your character. Did you create a backstory in your head or were you given any direction as to your character's past?
In Fair Haven I play James Grant, a young gay classical pianist who recently endured the tragedy of his mother's death. The script and story are a wonderful exploration of James's journey to come to terms with who he is and pursue his dreams. The director, Kerstin Karlhuber, has been absolutely fantastic, and we spoke at great length about the emotional backstory of the character.
Describe your audition for Brooklyn Nine-Nine.
The audition process for Brooklyn Nine-Nine was actually very simple. I went in to read with casting on tape. Everything went well in the room, and we read through the scenes a few times. Fortunately, a few days later my representation called to tell me that I had gotten the job!
What made you decide to move from Tennessee to Los Angeles to embark on your acting career?
The move from Tennessee to Los Angeles was a very natural one for both me and my family. My sister and I were both fortunate enough to get an agent before actually fully committing to making the move, which made the process much easier.
How old are you now? What was your very first job?
I am 18 years-old, and moved with my family to Los Angeles when I was 14. One of my first jobs was a promo for the Toy Story 3 video game.
Besides acting, what activities do you enjoy?
I am a big sports fan. I also love to read and watch movies! Having grown up in Tennessee, I am a huge Tennessee Titans fan!
What was it like getting mixed up in the "Pretty Little Liars" series? Did you watch this show on your own before you had the audition / booked the job?
"Pretty Little Liars" was a fantastic set to work on! The cast and crew were a lot of fun and extremely professional, and I had a really wonderful experience! After getting the job, I went back and watched some episodes of the show, just to get an idea of the story lines and where my character fit into the arcs on the show.
What's the most challenging acting job you've had to date? Why?
The role I am shooting now for "Fair Haven" is probably the most challenging job I've had to date. The emotional complexity and depth of the relationships for the character were very daunting at first, but the challenge has proved to be a wonderful learning experience and a lot of fun!
Do you have a workout routine? Do you have a diet you stick to?
For me, being physically fit is very important to acting. I try to eat really clean foods. Lots of good proteins, fruits and vegetables. As far as a workout routine, I like to work out around once a week in order to keep active.
What differences do you see on location shots vs. local studio shots?
When shooting something in a studio, convenience and resources are very abundant. Everything from the trailers, to the office equipment are stationary, which makes things easier to get to and use. On location, the crew is basically picking up everything (trailers, computers, camera equipment, etc.) and moving it, which can present an obstacle. With that being said, location shoots are generally a lot of fun in that they provide a different environment and give a different atmosphere from studio shoots.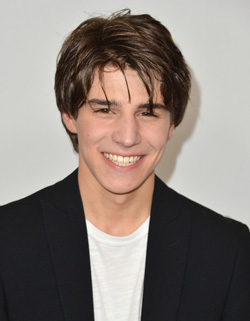 Michael was also in The Secret Life of the American Teenager and Criminal Minds.
Now that the world knows who you are, do you have any fear about being safe?
No, not at all. Anyone I've ever met who has recognized me from my work has been very nice and generous!
At what point in your career did you hire a manager and agent? Do all of your people communicate with each other?
As I mentioned before, I had an agent from very early on. Everyone (manager, agent, lawyer, publicist) all work very closely together and are in constant communication.
Did you have to sign a non-disclosure form for any of the projects you worked on? Who goes over paperwork with you?
I have not had to sign a non-disclosure agreement for any projects to this point. However, when I do have contractual questions, I reach out to my attorney.
Who negotiates your contracts for you? Do you GET to negotiate or you accept whatever is given to you?
My representation is involved in negotiating the contracts for jobs. I am not involved at all in the negotiation process, and trust them to get what they feel is the right deal.
What made you decide to hire a publicist?
The decision to hire a publicist felt like a natural one. We both mutually felt that, at this point, it could add value to my career. It was also a wonderful fit, and we all hit it off in addition to working well together professionally.
Are your friends supportive of your decision to be an actor?
I have been very fortunate to have a wonderful group of people close to me who are very supportive of my journey in the entertainment industry.
Do you travel a lot for work? Who goes with you on location? Who pays for the airfare, hotel and food?
I actually haven't traveled that much overall for jobs, as most of my work has filmed in L.A., but my last two projects have coincidentally filmed in other parts of the country. On both projects, I have traveled by myself, and production has covered airfare and hotel costs.
Any advice for actors your age?
My biggest advice would be to work hard and stay focused. In any field, there will always be distractions, but managing those and staying grounded in the truth of oneself is vital.