Ask yourself… Do you want, need, hope that a casting director will see your work? An agent? A manager?
"With Reel Services, a casting director can be looking at you, within moments," shares Angelita Ali – Senior Editor/ Producer/Camerawoman for "REEL SERVICES" in New York City.
"Having a reel will directly increase an actor's chance of getting work. Without one, it may appear as if you have never worked on screen or on a set. Many actors think a head shot and a resume will do the trick but a photo can only show so much."
"Having a reel, a video and audio representation of you, is the single greatest way to showcase your talent when you can't be there in person."
Wondering… How do I get started?
Q&A with Angelita Ali of Reel Services
Q: Why is it important to get your reel done by a professional?
There are so many do's and don'ts involved in creating a great reel. Anyone can buy an editing software and TRY to make a reel, but what you need is to create a successful reel that will bring you results. This is why it's best to find an expert editor who understands the field of acting. The editor needs to know how to cut and combine your scenes without taking away from your performance.
For Instance, say you have one minute to dazzle a casting director with your acting, you better make sure the first few minutes of your reel does just that — or there goes your chance. You need to start marketing yourself in a way that will get you hired.
Q: How long should a reel be – max/min?
An ideal reel is no more than 3-4 minutes. That's more than enough time to show them what you're capable of doing.
Think of it like this, the definition of the word "Demo" is the shorter version of something. I know you may be head over heels with your one hour monologue performance, but don't even think of putting the whole thing on your reel. I've heard casting directors claim that they would rather see 30 secs of the best monologue you have ever done than a 5 minute reel full of variety. The shorter the better.
Q: How many clips of work do I need for my reel?
You can have as many as you would like, depending how long each scene/commercial is (ideally 3-4 scenes). We will help you eliminate choices and bring your most amazing moments to the screen.
Q: What type of files do you need?
VHS, DVD's, Mini Dv's-, etc— we can convert all footage. (Even if your video is online, we can capture it for you!)
Q: Do you mix commercial and legit scenes on one reel?
Normally, you would keep a commercial reel separate from a legit reel. You don't want any distractions when jumping from clip to clip, it can hurt the flow of your reel and distract from your performance. Plus, you have to make sure your reel is in the correct order if you do have both commercial and legit on it. Why would you want a legit casting director sit through your commercials?
Q: What if I don't have a hard copy of my scene, just a link to it online?
No worries, we can capture the footage and convert it into a format usable for your reel. Even if you just want to capture work that you did online for your own personal files, not for a reel, we can capture it before anyone deletes it online and convert the file for you to keep.
Q: What if some of my scenes appear really dark or have low sound, can you fix that?
We do all our editing with Final Cut Pro", this professional software provides us with tons of capability to adjust lighting and add color correction/brightness to your footage, so your scenes may be savable.
Q: Should I include work from classes I've taken that get filmed?
Depends on the quality of the footage and performance. Like I mentioned before, a casting director would rather see the best 30 secs of a scene, so if you happen to capture that in an acting class, you can use it. The whole point is to show them what you can do. PERIOD.
Q: Are college short films good to include?
The quality of these student films keep getting better and better. I used a student film in a clients reel because it looked like a full budget movie. The clarity and the way it was shot was amazing. It's worth doing these short films because it gives you footage for a reel, experience on set and it shows that you can work in a professional environment even though you may not get paid for it.
Q: How do you decide the order for the reel?
The first rule of building a demo tape is to make the first clip the best one. If you've got something brilliant on your reel, you have to lead with it. I always sit with the client and help pick out the scenes that show them at their best. We make the decisions together.
Q: How do you decide where to cut a scene?
The whole point of editing your scenes is to cut out other actors and make you the center of attention. You don't want someone else stealing your shine on your reel. You need to eliminate back and forth convo's to where it's only you the casting director will see, while keeping the essence of what's happening in the moment. It's editing like this that makes it necessary to have someone with experience about cutting scenes together to tell a story. You have to know how to edit. You need to make sense of what's going on. I have chopped people out of scenes, without losing the momentum. You have to have a good eye for these things and a sense of order.
Q: Can you edit a scene to make my part more prominent?
Of course, the whole point of a real is to make you stand out. To cut the other actors and you become the main focus. I make you the star of your reel!
Q: Should I have my picture in the beginning and end? If so, the same picture or two different ones?
A professional head shot in the beginning of your reel is usually the way to go. It's a good first impression, but the photo in the beginning will only be on screen for about 3 secs. It wouldn't take up much space on your reel. The closing photo can stay a bit longer if you choose to add contact information onto your reel. You can choose two separate photos. The opening head shot should be like a greeting, a very welcoming image. You can choose to close with a different look, maybe something more business oriented or sexy showing a different side of yourself.
Q: Should I put a montage of pictures in the reel, or just scenes / work that I've done?
If your main focus is acting and you have enough to work with, you do not need the photos. It depends on what purpose you are trying to fulfill with your reel. The only time you should add a montage is if you are trying to get an agent with your reel. Agents would want to see all your looks and that's where the montage of photos would come in handy. Some people have done great Modeling Ads and want to incorporate the doctor, fireman, pilot or office look into their reel. This is filler stuff and can work if done the right way. However, a montage is not recommended for acting reels. Reel Services has worked on all types of reels for different types of artist such as choreographers, stuntman and hosting reels – these reels are the ones that would include music and photos to create more of a theatrical look.
Q: Do you also do Voice-Over Reels?
Yes, we record and edit voice overs right in our studio. We also do audition tapings and actors introduction reels. Reel Services specializes in creating high quality video & audio materials for professionals in the entertainment business.
Q: What is the cost to get a reel done, are there any hidden extra fees?
The starting price of a reel is $250.
A basic package includes:
· Editing 4 clips.
· 2 hours of editing time – searching through your work, selecting scenes and editing them together.
· 1 DVD with a menu and the QuickTime version of your reel – so you can burn your own DVD copies after that.
· We also provide a web formatted file so you can upload your reel onto websites or email them out.
I always make sure my actor knows what they need and how much it will cost them. I never throw curve balls or hidden fees. The price you agree to will be what you are paying once your reel is complete.
Q: What if I want to edit something in a couple of months?
Your reel is stored onto a hard drive. This allows you to come back in a few months or so an update it with new footage you may have .
Q: Do I get copies? How many?
You walk away with whatever package you choose. We do offer to burn you additional DVD copies if you need.
Q: Once my reel is done, how do I get it online at NYCastings?
We can upload it for you right on the spot. Just log you in and add it to your resume page.
Q: How do I put it online, on my website?
We will provide you with the web formatted file needed according to your website requirements, or we can do it for you.
Q: How do I get started, on your schedule? And how long does it take until my reel is ready?
The turnaround time for a demo reel is 48 hours. I have a very flexible schedule that will be suitable to actors who are working parents or have busy schedules themselves. Just give me a call at 212.219.3339 x3, and we can definitely work around your schedule. I stay later in the evenings and have come in on weekends to assist actors with tapings or editing of a reel.
For more information on Reel Services or to see demos, please visit http://www.ReelServicesNY.com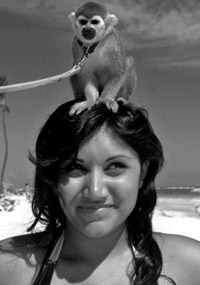 Angelita Ali received her Bachelor's of Arts in Media Arts in May 2009. Experience has been the key to her success and growth. She broke away from the traditional classroom setting by working hands-on in a network-quality multi-million dollar studio during her four years of high school. Following graduation from the Media Arts High Tech Program she landed a six-year stay with Jersey City's award winning channel, JC1TV. In 2004 Ali was honored by Teen People Magazine for being one of the 21 Teens who will "Change the World", and landed a spread in an April issue along with other teens including celebrities Raven Simone and Jesse McCartney. The event credited her efforts towards stopping school violence for Pax's "Speak Up" Campaign.
During the summer of 2008, Ali also worked as a production Intern for Cablevision Advertising Sales in Hoboken, N.J., where she helped produce 30-second commercials for national broadcast. She currently runs "Reel Services" in NYC under the supervision of Aaron Seals. Working in all aspects of video production (including scripting, producing, directing, editing, and filming) has fueled her interest to further pursue this career path.