Reinventing the term "Casting Couch" – Skype now brings auditions directly to your living room!
That's right! The free online service that lets you video chat with your friends across countries is now being used by entertainment casting companies. The basics of these auditions are simple enough – you dial up via Skype and use your webcam as the capture device. But what does it take to present yourself in the best light, with only one take, because your audition is live?
To help actors learn more about this new form of auditioning, NYCastings sought advice from a casting director who uses this technology all the time – as well as from working actors who have Skyped and lived to tell about it.
First up…
Tara-Anne Johnson, CSA
With over 15 years experience as a Casting Director, Tara‐Anne started her entertainment career as a talent agent in Los Angeles. From That 70s Show to 3rd Rock From The Sun, Tara‐Anne's resume currently spans all genres of film and television, including scripted comedies, feature films, commercials, reality television, celebrity booking, and nationwide searches for new musical talent.
In 2005, Tara-Anne and her business partner Christine Scowley formed Bizzy Blondes Entertainment, naturally segueing into creating and developing their own television projects around the countless new faces they've discovered throughout the years.
Q: When have you used Skype for auditions?
We use Skype for people that are not in Los Angeles (and therefore not able to come in and audition/interview in person.) We like to be able to "see" the person/people auditioning as it helps us communicate with them better. Since "face to face" isn't possible with out of towners, Skype is the closest to "face to face" we can get.
Q: Should an actor / person audition for Skype any differently than in person / is there anything they should take into consideration?
When Skyping, 99% of the time they will also be recording their side of the audition/interview. So the computer and camera are set up like I am right there in front of them with the camera next to me. Two things to consider when preparing for a Skype audition:
1) Since you are responsible for the recording, you have to do a test-run and be sure your video quality is decent, in particular the lighting, and also be sure your sound is working properly.
2) You have to realize that because we are not literally sitting in front of you, be careful you keep up the same energy you would as if we were right in front of you. Sometimes people's energy level sinks over Skype and therefore affects their audition/interview.
Q: You also have people tape their side of the Skype audition. Why?
They have to record their side of the Skype because they will then send us a link of the recording. We download these links into our casting system and that is how they are presented to our producers for further consideration.
Q: does the quality of the taping / Skype time come into play in landing the role/spot?
Quality of the taping doesn't necessarily cause you to not land a role/spot; however, it can cause you to be presented in a way that isn't your best self. Imagine bad sound and you're supposed to be singing. Or bad lighting and we can't tell what you look like. That said, if we see potential in you and your video quality is just mediocre, we often will have you re-record yourself if it's not a good enough quality to present to our producers.
Q: Where should the Skype session take place?
Location (and/or background) will depend on the project you are auditioning for. We let people know ahead of time where to record themselves. Most often it is in a family room type setting.
Q: is there anything you learned from Skype auditioning that could help actors do them better, or differently?
And now for some wise words from the brilliantly talented…
Veronika Dash – Actress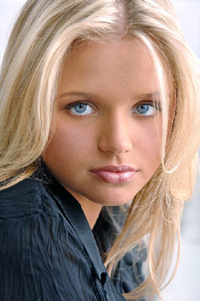 Veronika Dash has recently graduated Magna Cum Laude from the prestigious University of Southern California with a Bachelor of Arts degree in Theatre. Upon graduation, she has become bicoastal traveling between New York City and Los Angeles to work on upcoming projects, pilots and films. Recent work includes a co-star role in For A Good Time Call (w/Justin Long), a supporting role in Dumb Girls for MTV, principle work for The Onion News, and a lead in a play called Scottish Sperm that's playing at Montreal's Zoofest.
Q: How do you feel about Skype auditioning?
In my opinion, Skype auditioning is bitter/sweet. On one hand, I think it gives actors a great opportunity to audition for a project even if they aren't in town (or even in the country). But on the other hand, it becomes a far more impersonal experience and you lose that instantaneous connection you typically have when you read live with casting directors present in the room. I've heard many casting directors say they know whether or not an actor is right for the role as soon as they walk through the door, but with Skype auditions the experience is limited to just an image on their computer screen.
Q: Do you audition for Skype any differently than in person / is there anything you take into consideration?
Absolutely. As an actor, you have to be aware of what you're auditioning for because the project will indicate what your wardrobe looks like, what kind of make-up you should have etc. When I have an on-camera audition, I know I need to make sure I wear a color that brings out my eyes and doesn't have patterns, logos or anything to distract from the performance. For Skype auditions, you have to be more aware of what you are wearing and how it translates on screen because that is the first and only impression you are giving, since they are not seeing you in person. Unlike in person audition, you have control of what angles are flattering to you while filming and how you can position yourself in the designated space for the best performance. Basically an advantage with Skype auditions is you are your own director, whereas in a regular audition setting you are given direction by whoever is in the room.
Q: Have you done any other types of web or taped auditions? How do they differ?
I've sent in many taped auditions over the years because I would be submitted in Los Angeles while living in New York or vice versa. Taped auditions are a piece of cake once you get the hang of them because you can give yourself as many takes as you need. For someone like me who's a bit of a perfectionist, it becomes sort of an issue because no matter how good the take might be I'll always say, "Let's do one more just in case." since Skype auditions are live, you have to be great from the moment your face lights up the screen because you won't have a second chance to film it.
Q: how did you get all the tools that you needed (lighting, location, etc) to host the Skype audition?
Once an actor realizes how vital it is advance with the changing times in order gain expose to more opportunities, they begin to learn the tools necessary to make their Skype'ing and self-auditions more successful. Lighting is everything! I can't believe to this day how many of my actor friends (especially from a theatrical background) don't understand how to properly light their faces so it is flattering, yet also clear on camera. I prefer to use natural light so I try and find a good area around the house with a big open window and position my laptop in the opposing direction so the light hits my face first. If it is done during the evening, I would get a desk lamp (or two) and just line them up a few feet away, in about a 45 degree angle, with the light facing in my direction. If you don't have anyone helping you, you can always do a little test by filming it or snapping a photo to see how it looks. In terms of quality of sound, you have to make sure you don't hear cars or crying babies in the background because it always takes the person watching you on-screen away from the scene. And I mentioned before, but wardrobe is also an important factor many actors don't pay attention to as much as they should: a professor of mine at USC, Joseph Hacker, had an entire lesson on the importance of dressing the part (to an extent) so we would understand how wardrobe choices can help or hinder the audition process and this is especially important if you are filming the audition yourself.
Q: is there anything you learned from Skype auditioning that you would try to do better, or differently, next time?
Just as in any audition, you want to be completely open to creativity and notes from whoever is watching you. When I had my first Skype audition, it was with the director of the project and it was a more intimidating environment that I anticipated; overall, it just felt like such a foreign concept to me. I couldn't really get in my zone because the entire process was so different then what I was used to. I think with Skype auditions it's important for the actors to remember that it is still about your performance so whatever you need to do to make yourself comfortable, do it before the opportunity arises. Next time a Skype audition comes up, I think overall I will be more prepared because now I know what to expect and how to deliver; as they say practice makes perfect.
Some technical help from…
Angelita Ali – Senior Editor & Producer at Reel Services
When recording in any setting make sure you know your frame. If your camera cuts off at a certain place, you would want to make sure you stay in frame, especially if it's a tight shot. 
Lighting is very important. Most camcorders can do a really bad job if used in poor lighting situations and can produce grainy, washed-out video. Bring as much light into the room as you can. But be careful not to cast shadows. It would take a while to go through a whole proper lighting setting, but as a tip, just make sure there is enough lighting on your face. When the lights are low, another tip is to disable the autofocus, otherwise you risk getting that annoying pulsing effect from the lens trying to lock onto a subject. But when disabling the auto focus, make sure you properly manually focus your shot before taping.
For sound, most microphones built into most camcorders are fairly basic, recording audio from any direction. Be careful with the position of the camera because if people are laughing or talking around you, it will pick up their audio as well. Your best bet is to get as close to the microphone as possible without sabotaging the shot.
Adding more encouraging audition advice…
Christina Calph – Actress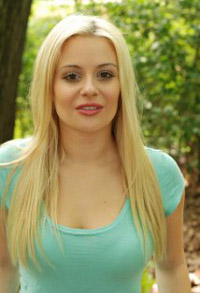 Fluent in four different languages: English, Italian, French, Spanish – Christina Calph also speaks hilarious comedy. You can catch her in films such as Arthur and Town Heist, as well as many other comedy, modeling and legit projects.
Q: Have you auditioned via Skype?
I have auditioned via Skype before and it got me a role in an indie film shooting in Florida. I was apprehensive at first about auditioning on Skype, but I realized sometimes they are based out of state so it's hard for them to make an audition in the city. Therefore, I would Google all people involved to get a sense of their credibility. If they didn't have any links or web sites available to talk about their work, I would pass on the audition.
Q: Do you audition for Skype any differently than in person / is there anything you take into consideration?
I do not move around or out of my seat unless they direct me to. I use or mime props the same way I would an audition but I try to stay in the frame of the screen.
Q: Did you also have to tape your side of the Skype audition?
No. I am not sure why someone would require the actor to tape the audition. I feel that is more for casting to remember your work. But I guess it could be good to look back and watch how the audition went.
Q: have you done any other types of web or taped auditions? How do they differ?
I've had to put myself on tape for projects. Sometimes I've had to email links directly or upload the footage to YouTube, privatize it and then send the link. People have their own unique ways of auditioning these days. Bottom line, nothing differs. If they like you, they will like you no matter what you decide to do or how you decide to do it. People say there are different techniques, I disagree. Be true to yourself, your performance and you should be fine. Do not cloud your head with what you should or shouldn't do because that will lose the joy in what is YOU!
Q: How did you get all the tools that you needed (Lighting, location, etc) to host the Skype audition?
I wouldn't change it from a regular Skype call to a friend. They are asking you to Skype from home so that is what they should expect. However, if you feel insecure about the location, transform it to what makes you feel good. At the end of the day, it is about you and the energy you let out…There are no right answers in this career, do what makes you feel successful and you will be!
Q: Is there anything you learned from Skype auditioning that you would try to do better, or differently, next time?
I love auditioning for Skype because it allows you to be comfortable with the person who is auditioning you. There are no time limits. I would be a little more relaxed with it and more confident with my delivery.