Need your acting resume printed out fast? NYCastings has an app for that!
NYCastings.com organizes your profile information into a PDF format so you can print it from anywhere. To best use this tool, here's a quick overview on how it works as well as insight into how casting directors view your resume and headshot.
Going to an audition and don't have your headshot? You can go to your NYCastings page while at the audition, or your house, go to View Resume and hit the print PDF button. It prints out perfectly, the day has been saved, says President of NYCastings Aaron Seals who added this feature to help make auditioning prep easier for the site's members.
These 3 steps are…
Go to View Resume on your profile page
Click on the PDF file
Print – that's it, you're done!
Even if you are not in a jam, this PDF resume is a clean, well-formatted presentation of your acting experience that also includes a picture and your personal / contact details. You can use it in place of your current format and even print directly on your headshot.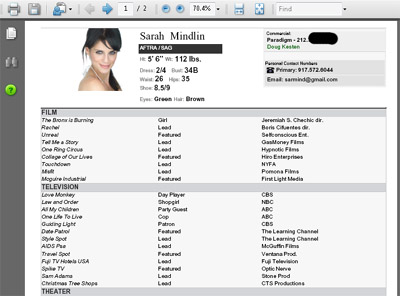 It also provides a link to your profile page so casting directors, agents, etc can see you have a web presence.
Another helpful feature of this PDF resume is that you can custom choose which picture you want based on the role you are auditioning for. To change the picture just click on View Resume and choose which photo you want from the scrolling bar. The new photo will replace the current one on-screen. Then click on the PDF logo and print out on your resume. The new picture will appear in the top left-hand corner.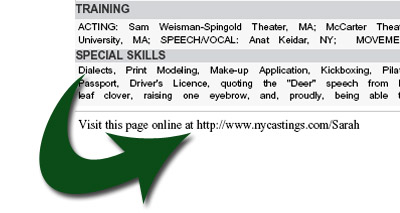 This PDF resume also has A 2nd use; for the casting director, says Aaron. If they don't have your resume, they can go to your page and print it out directly.
Since casting directors have access to your profile, it's important to keep the details up-to-date. If you want to see examples of how fellow, NYCastings.com members format their resumes you can view samples here… (LINK).
And for advice on what casting directors hope to see on your headshot, here are some words of advice from 3 industry experts:
Angela Mickey, Senior Casting Director at Liz Lewis Casting:
Headshots should really represent who you are. If you look too vanilla, I don't know anything.
Jodi Collins, Jodi Collins Casting and Coaching:
A good headshot looks like you and the eyes are clear. It should capture your essence so that I feel you.
Brooke Thomas and Mary Egan, Casting Directors at HOUSE:
We like smiles in headshots. It should look like you on a great day. With no hands in the shot.
For more resources on headshots and resumes check out the NYCastings Resources directory (LINK here).