Keeping it real with casting directors Brooke Thomas and Mary Egan
In a chic Hell's Kitchen loft, I sat down with the dynamic duo known as Brooke and Mary within the commercial industry… to chat about their opinions as casting directors, teachers and fun-loving women.
Brooke Thomas and Mary Egan have built a lifestyle out of casting and teaching NYC actors. Their casting office, HOUSE, is literally a warm, welcoming living room and their classes often integrate wine, cheese, and conversation into the agent/CD/manager meet & greets they offer students. As a team, Brook and Mary have a motto of why do it if you're not having fun, and they believe that anyone can do commercials, if they are relaxing, enjoying and being honestly themselves.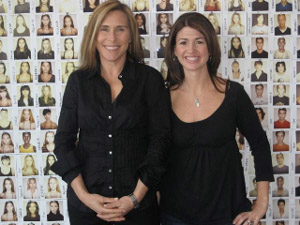 Speaking honestly, Brooke and Mary shared a lot of straightforward advice about commercial auditioning. And in line with their fun style, they scripted an on-the-spot… 30sec commercial bit that gives an inside look into the mind of casting director during audition experience! Stay tuned for that improv commercial piece, after the main show of questions (Q) and answers with Brooke (B) and Mary (M). Take one…
Q: To break into commercials, why are classes important?
M: Commercial training is different. There is a method to it. There are people who have won Tony Awards who can't do commercial copy.
Q: Why can't you just practice commercial copy on your own?
B: You are your own worst enemy. You can't really judge if you are doing well.
Q: When it comes to improv at auditions, I know you are fans of it… but should you stick to a minimum?
B: Anything goes. It's your audition. Don't get too far off that you're not making the points. But it's about making it your own. If you get into your head about how far you can go then you're not being you. You should not be judging yourself.
M: Also realize that improv doesn't always mean being funny.
Q: Is there a commercial 'type' ?
M: There are no types anymore.
B: Anyone can do a commercial if they can capture that honest you. It's about real looking, every day people.
Q: Any networking advice?
B: Do one thing every day to market yourself.
Q: How important are agents to getting work?
B: It's important but…
M: …it doesn't seal the deal.
B: The goal should not be to get an agent. The goal is to get work. If you go out and get work agents will come.
M: Well said.
Q: After you meet with an agent, should you keep in touch? See them again after it's been a while?
M: It's about the vibe. If someone said keep in touch then keep in touch. If they didn't – don't.
B: Some agents are sign only. We had a student who got signed after a year and a half because she kept in touch. But, you have to follow social norms.
Q: Once you get work, if you are not represented should you reach out to an agent immediately to handle to contract?
M: If it's an agent you connected with sure.
B: But you shouldn't just hand an agent a job. It can appear desperate. It happened before that a student gets a big job and then an agent wants to take them on. It's discrediting. If an agent says, they won't take the commission for that job, that's integrity.
M: Agents like Carole Ingber and Phil Cassese have said they won't take the commission in those situations.
Q: What are your thoughts on actors joining unions?
B: Join a union when you have to. When you can't do a job unless you join. You are not going to be turned away because you're not in a union, commercial speaking that is.
Q: I've heard you say that when an audition feels wrong to an actor, sometimes that's when they book the job. Why?
M: It's not about thinking you did it right. Actors want to think they nailed it. But if they were being themselves they didn't perform it. Then they get the job.
Q: As teachers, what do you offer in your classes, specifically?
B: Our class deals with who the person is and getting them to be honestlythemselves.
M: That's a great answer.
B: Thank you dear.
Q: In your class, you tell students to speak like their saying the commercial copy to a friend. Did you come up with that? How did it originate?
M: I think that is ours. We just started saying it in our teaching.
B: It creates believability.
Q: Long after a student takes a class with you, they still get emails from you about commercial audition opportunities. Why do you offer this?
M: We have great students.

B: As casting directors, we are always looking for new talent. Why not take advantage.

M: And if a student books the job we get to tell them, they got it.
Q: What has changed with your teaching methods over the years?
B: We started with four-hour classes, with ten students, putting everyone on camera and having them watch it. We don't do any more recording. It's about getting out of your head.
M: We put the camera on so everyone can see how it's working on screen but we don't tape it. Once you see everyone in class getting it, you get it.
B: That's a good one. I liked it.
M: Thanks.
Thanks to Brooke and Mary's belief in fun, they agreed to put together an impromptu 30-second commercial that represents an ideal audition. This quick glance through the eye of a casting director gives a straightforward example of why one person books a job over another…
INT. WAITING ROOM — DAY.
30 people sitting. A red head girl gets up and walks into the casting room.
INT. CASTING ROOM
RED HEADED GIRL
At Mickey D's @#!
(she swears during her audition)
CUT TO:
Another person saying the same copy being happy, another sad, another angry,
etc. Make it funny. Put a rabbit in doing the copy at one point. A man bringing in
a baby.
END WITH:
One person coming in and saying the same copy as themselves. We see why
that person gets the job.
When it comes to booking a job, a waiting room full of people might be all the same type, but they're not the same read, says Brooke and Mary. They believe that being natural is the best choice for commercials because… the talent's in you.