Daisy Winters – Dealing with Tragedy on Set
A Tragic Moment Defines the Release of Indie Film Daisy Winters
with Producer JANE BADLER & Actress CARRIE PRESTON

Watch the Daisy Winters Trailer
Daisy Winters stars Carrie Preston (True Blood), Iwan Rheon (Game of Thrones), Brooke Shields and young performer Sterling Jerins (The Conjuring).
Daisy Winters Twitter

As viewers of the large and small screens, we get excited when we get a glimpse of behind-the-scenes action. But sometimes that news is tragic, as was the case with indie film Daisy Winters, which is being released on December 1, 2017.
Writer / director Beth LaMure committed suicide soon after filming ended, but before post-production was finished. What affect and interactions does something like this cause?
Daisy Winters Producer JANE BADLER and actress CARRIE PRESTON weigh in on their time on the film and how the cast and crew were determined to get the film into theaters through new beginnings, a tragic middle and finally a comforting ending.
JANE BADLER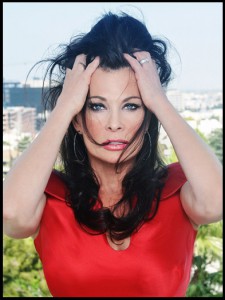 Jane Badler, who was born in Brooklyn, NY, is well known as the guinea pig-eating, brilliant scientist, evil Diana in the epic mini-series and series "V". Jane's singing and acting career took off moments after she graduated Northwestern University. In most recent years, Jane has released several albums in which she wrote emotional, heart wrenching songs, collaborated with several well-known artists and produced music videos.
Without knowing it at the time, while she was making music videos, Jane got a taste of what it was like to be behind the camera. But it was one of those things that she never really thought about. It was just something she did automatically since the album projects were her own.
Producing a full-fledged film, such as Daisy Winters, was a new beginning for Jane Badler. The reality of not being in front of the camera caught up with her and she went on to produce a second film, not yet released.
You are a successful singer and actress. When and why did you make the decision to start producing films?
As a singer and actress it is often hard to feel empowered as a person and a woman. I like the idea of making the story happen rather than just being part of the story. Also, I find that life is a continual journey… I was curious and interested in what it takes to find a project and make it happen. I had already produced theatre and my own one-woman shows, so it seemed like a natural progression.
How did you become attached to Daisy Winters?
My son Harry introduced me to the writer / director, Beth LaMure, about four years ago. He sent me the script for Daisy Winters as he was being considered for one of the supporting roles. I read it and thought it was a perfect script. Fast forward two years — Harry invited me to an enchanting evening at Beth's home. After dinner Beth asked if we could meet up the next morning for a coffee. We met up and she told me that Daisy was shooting in a couple of months. At that time Brooke Shields and Sterling Jerins, the young lead actress, had been confirmed. Beth was incredibly charismatic and talented. She wowed me and wooed me and I was terribly excited to work with a woman director on this remarkable script.
When you visited the set for the first time in Savannah, Georgia, what were your initial thoughts? Who was the first person to greet you?
I was quite nervous as I had never produced a feature before. I arrived in Savannah not quite knowing what my job would be. I tried to stay out of Beth's way while still offering any creative support. A few weeks into the shoot, I realized that part of my job was to work with Deborah Crawford to keep the budget on track and help with any problems that may arise. It was definitely a big learning curve and I'm very grateful to still have opportunities that are way out of my comfort zone.
What was it like for you to be behind the camera instead of in front of the camera? What did you learn being behind the camera that you didn't necessarily know in front of the camera?
I must say that at first it was very strange to be on a set and not be pampered or part of the action. I was really just trying to stand back and not get in anyone's way… just be there when needed. I really had to put my ego away and humble myself. I became so much more aware of the big picture and how important everyone is in making a good film – not just the actors. I grew to love the process of film making even more when I was freed from worrying about my performance and was there to get the best out of everyone and the best product on a pretty small budget.
The writer / director, Beth LaMure, committed suicide soon after filming ended. How did the cast and crew handle this situation?
Our director suffered from Bipolar Disorder. I was unaware of this and it wasn't until filming and the edit had finished that Beth went into a depressed phase. She was protected by a close group of friends so most of us were unaware of the extent of her illness. I can only speak for myself when I say I was absolutely shocked to hear the news. I think we all kept it quite private for a while out of respect for Beth and the family. Also, we all needed time to register what this meant for us all on a personal and professional level. Beth was an extraordinary person and we were all blessed to have been able to work with her on this beautiful film.
What obstacles did the production have to overcome?
Probably the biggest obstacle was losing our beloved writer and director several months after we finished filming. Luckily Beth had finished the edit so we just needed to do music and sound. We all worked together to finish the film without Beth. But most difficult was not having our head cheerleader to champion her film. We finished the film last December and for six months it was languishing. Deborah Crawford, one of our producers, showed it to Eric Parkinson from Hannover House and he loved it. We were so lucky as it's so hard to get a theatrical release. We are opening December 1, 2017 in 100 cinemas. Very Exciting!!
Your production company is called Me Jane Productions. What was involved in starting your own company? Who came up with the name?
I actually started my production company about 20 years ago. I called it MeJane because when I was young, I can't tell you how many men would say, "Ah, you Jane, me Tarzan!" I think they thought it was clever but I find it a bit tiresome. So in honor of my youth and bad jokes I thought I would call my production company MeJane. I produced two plays and my own one-woman shows under MeJane. Anyone can set up their own production company.
What exactly does a Producer do?
A producer can be so many things. A producer can raise the money or put up the money. A producer can help put the film together. A producer can be involved in every aspect of the film from casting to location to putting a crew together or none of the above. A producer can also introduce the team to someone and be called a producer. In my case I was very involved in raising the funds and also worked in post production – helping Beth with the editing and finding the music supervisor and composer. I worked very closely with Beth and then with Deborah Crawford after Beth passed away.
What are the differences between an Indie film such as Daisy Winters vs. a blockbuster film?
An independent film is a movie that is produced and distributed outside of the major film studio system. Often in the big studio films there are a lot more people giving opinions on the film and making demands. The more money spent on a film, the more at stake. With our film, Beth was able to have full autonomy as there were very few investors. Indie films often give the director more room to fulfill their vision.
Anything else you'd like to say?
I am hoping that Daisy Winters finds an audience. It's message is such a poignant one… a young girl's search for the idealized love of a father she never knew.
CARRIE PRESTON
Unless you've been living in a forest with no wi-fi, electricity or life sustaining elements such as water, you will immediately recognize actress, comedian, producer and director Carrie Preston.
As an Emmy award winning actor, Carrie has played just about every role under the sun, from HBO's True Blood to CBS's The Good Wife, to recently wrapping the thriller-horror feature 30 Miles from Nowhere. If you're quick enough, you may be able to catch her doing a gig at a theatre or a benefit reading like the one she just did in Georgia at Theatre Macon (Carrie was born and raised in Macon, GA).
Whenever you look, Carrie Preston is on the move. One day she's here and the next day she's on Elon Musk's BFR to Mars to help colonize the planet.
Tell us about your character in Daisy Winters.
I play Aunt Margaret, a complex woman who has an intense relationship with her sister (Brooke Shields' character) and her niece (Sterling Jerins' character). She comes in at a critical point in the story and stirs things up for for the character of Daisy.
You've worked with an infinite number of actors throughout your career. Is it easier now to walk onto a set full of strangers than it was in the beginning of your career? On Daisy Winters, who did you do most of your scenes with and how did you get to that comfort level of working with them?
Even now, when I walk onto a new set, I get the "first day of school" jitters. But those usually go away pretty quickly once I have what I like to call a show buddy: someone that I can check in with and laugh with and process things with. When you're on a low budget movie, the amount of time to get to know people is very brief. On Daisy Winters, because I was only there a few days, I had to dive right in. Luckily, my scenes were with Brooke Shields, the nicest star in the universe, and Sterling Jerins, one of the most talented young actors I've ever had the pleasure of working with. So they welcomed me to the set and made me feel very much at home.
As a member of SAG-AFTRA, how does the system work with an Indie film's smaller budget? How are actor contracts negotiated?
SAG-AFTRA has many tiers of contracts, and they definitely want to see their members working. So they will work with the producers to make sure the contract works for all involved. Our agents are totally involved in making the deal with the producers, but it's understood by everyone that the budget is likely very low. Sometimes back-end or deferred pay is negotiated. But it's all carefully decided ahead of time. With most of the indies I do (and produce), everyone is there for the love of the material and of filmmaking in general.
Daisy Winters was shot over a year ago. What thoughts go through your mind and what obligations, if any, do you have when a job nears its release date?
I remember my brief time in Savannah on the set very fondly. I am looking forward to seeing the final cut of the film and supporting its release into the world in any way I can. I know how much hard work it takes to create something from the ground up, so I want to surround Beth LaMure (the Director) and the producing team with love.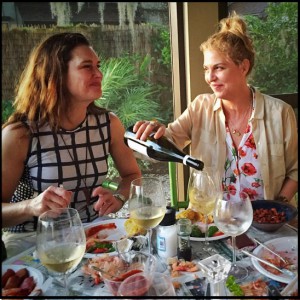 Please tell a story about your time on Daisy Winters.
When I first arrived on the set, Sterling Jerins was so excited to have a new person around, so she gave me a personal tour of the entire house where we were shooting. She was so precious. I remember thinking here's this self-possessed little girl taking care of the anxious grown-up — how perfect for Daisy Winters!
(Daisy Winters is about an eleven year-old girl's unconventional, yet deeply loving relationship with her mother and what happens when this essential mother/daughter bond is harshly broken. Along her journey, including her quest to discover her father, the courageous, resourceful and precocious Daisy learns about how to embrace every moment with determination and an unrelenting belief in herself.)