Launching a career takes a steady burst of momentum, and the best way to get to the top – is to learn how the acting biz is built from the ground up.
To help NYCastings members learn what it takes to get a career in Film & TV rolling, we spoke with acting coach Dani Super – who teaches Intro to the Art of Film & TV Acting.. a 6 week beginners acting class.
Dani Super is a private acting coach, on-set coach, acting teacher and casting director in NYC who has worked on numerous film, television, and theatre projects. Dani holds degrees in Theater and Business from Emerson College in Boston. Having worked as both a talent agent and a casting director, Dani brings years of valuable industry experience and a well-balanced perspective to her teaching.
Q & A with Dani Super
Q: Why is it essential for an actor to learn the basics of on-camera acting for Film & TV?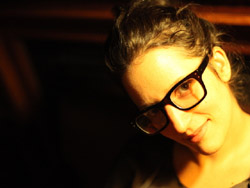 Film and TV is a medium that is a big portion of the job opportunities that are available to actors. Acting is a craft and learning the medium of Film and TV is part of that craft. I like to think of it like watercolor vs. oil painting. You need the basics of knowing how to paint to do both, but one requires a lighter touch.
That's why in week 1 of Dani's classes she goes over… Under 5/day player scenes/sides from a current feature film – building in all the given circumstances, line memorization, interpretive choices and character development. The class works the sides/scenes until they are right for the camera.
Q: Actors often hear that on-camera acting is much 'smaller' than theatre – what does this actually mean?
For me that means proximity. That is the not only the physical distance between you and the other actor in the scene, but also you and the camera.
Q: What are the most common, "green" mistakes that actors make when auditioning forFilm & TV?
Over shooting the camera. Not knowing what genre they are in. Not understanding what the conflict in the scene is and what makes the scene work.
That's why in week 3 of Dani's classes… Students are led through what a general audition is and what is expected of them in regards to on camera auditions. They are interviewed and watch the playback in class.
Q: As an on-camera coach, how do you help actors sharpen their skills?
There is always the need for an objective outside eye in preparing for a role. Scenes read, feel and land in different ways. It is important for each actor to take that into account when breaking down a scene. That is what I help them do.
That's why Dani's course… Teaches students the different requirements necessary for giving a fully realized performance for camera. Dani covers the many current styles of film and television such as: episodic, sitcoms, one hour drama, feature film and under 5's. The class teaches the students the basic process of rehearsing and shooting on set from the actor's perspective. A strong emphasis is placed on the essential process of preparation before the audition.
Q: How long does it take for an actor to get good at acting for the camera? Is one class enough?
That all depends on how quick a study an actor is. Generally speaking one class is usually not enough.
Q: Once an actor begins to learn on-camera acting for Film & TV – what are the best next steps for them to take to move their career forward?
Trying to put it into practice. The practical implementation of the genre is the best way to cement the learning of it.
Q: Do you have any inspirational advice for actors just starting out with Film & TV?
Comprehension, context and tenacity are all vital to having a prosperous outcome.
For more information check out:
Intro to the Art of Film & TV Acting with Dani Super a 6 week On-Camera Class