Sydney Mikayla is a teenager on the ABC long-running soap opera, General Hospital.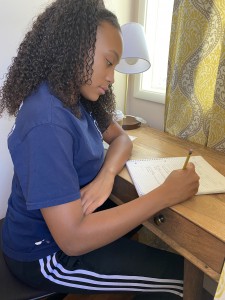 Navigating through teen years, finishing high school and applying for college, all while working full-time as an actor, is no easy feat!
So when Sydney was accepted into 14 colleges and universities, the pressure was ON to make a decision, not only about which school to attend, but what to do about her role as Trina Robinson on GH. After much thought, Sydney chose the University of California in Los Angeles (UCLA) and is finding the balance between work and school.
Today we get the backstory from Sydney Mikayla on her acting career and her future plans on making a difference in the world, starting with her college degree. Hello class of 2025!
You portray Trina Robinson in the daytime soap opera General Hospital. Tell us about your audition.
Both times I auditioned for General Hospital were in person. I wore clothes that I thought reflected my style, but I tried to add a bit of New York flavor. I had a pair of worn-out lace-up boots that I wore because I felt they embodied Trina. After I got the role, I ended up wearing them on the first few episodes I shot. When my agent called me about the audition, I was excited, but I'd never really watched soaps. I had a small role on a soap years before, but it wasn't a genre I was familiar with. I had the usual butterflies I get before an audition, but I think that's normal. I'm always grateful if I even had the opportunity to get in the room. I know how competitive this industry can be, so I don't take those opportunities for granted.
Sydney Mikayla and Nicholas Chavez as Trina and Spencer. Photo by Troy Harvey, ABC via Getty Images.
In 2019, when you joined the cast of GH, you were still in high school. You switched to homeschooling to accommodate your schedule. Did the GH production have to provide that to you? How did you decide which homeschool program to use? What are your plans for college?
When I started at GH, I attended a public performing arts high school. After a while, I found that working on GH and doing my voiceover work was a bit too demanding. I didn't want to miss any classes or be present with my classmates for group projects and performances. I was exhausted trying to be excellent in every area I really couldn't fully enjoy my success. Switching over to a homeschool program was a good choice for me. It allowed me much more flexibility in my academic scheduling, and I was able to take some performing arts classes in my free time. GH didn't provide the homeschooling program, but every union production must have a teacher on set for minors.
You started taking acting lessons around the age of five and then started working professionally around eight years old. How did you get your first agent and manager? What do they help you with?
I think I was around five years old when I started studying at the Amazing Grace Conservatory in Los Angeles. It was a great place to get a foundation in acting, make some wonderful friends, and gain incredible performing experience. I was also fortunate to study under some fantastic teachers there. When I was younger, I did a few commercials and small acting jobs; one of my first roles was on Yo Gabba Gabba, which I was super excited about. I've had a few agents over the years and just a couple of managers. My mom found my first agent and my first manager, Chris, one of my dad's banking clients! Chris passed away a few years ago, which was a huge loss for me because he was such a tremendous supporter. I think he would be very proud of what I've accomplished so far, and hopefully, there is much more to come. But I have a fantastic team now. They submit me for acting jobs, help me navigate my career, and are my cheerleaders. I appreciate all of their hard work.
Your mom, Sonya Leslie, is also an actress, having appeared on Broadway and in film and television. What was it like growing up in your household with a mom in show biz?
Well, they say the apple doesn't fall far from the tree, so I'm guessing my mom's the reason I wanted to pursue acting and performing. She always said I was a ham when I was younger, but I think I just wanted to do the things I saw her doing. I don't remember her being away for long periods. I guess she was just good at balancing everything. Plus, I was an only child, and she never wanted to miss anything. She has probably only missed one or two performances out of all of them that I've done my entire life–including elementary school performances! Both parents helped me with my homework until the math got too hard, then they happily hired a tutor. I always worked hard to get excellent grades. I probably obsessed about it a bit too much– I'm still upset about that one B I got in High school. I'd say I was a pretty good kid overall and didn't get into too much trouble.
Sydney Mikayla in The Gabby Douglas Story. Photo by Allen Fraser. Courtesy of Lifetime.
You were nominated as an Outstanding Younger Performer in a Drama Series at the 2021 #DaytimeEmmys. When did you find out about the nomination and who told you? Even though you didn't win the Emmy, you did win the Young Artist Award in 2014 for your portrayal of Gabby Douglas in Lifetime's biopic The Gabby Douglas Story. Give us some insight as to what the Daytime Emmys look for vs. the Young Artist Awards.
I think it's such an honor anytime you get nominated for your artistic work. When you put your heart and soul into something, it's a blessing to have your work well received. For the Emmys, I wanted to record myself hearing the nominations just in case I received one. It was so hard not to listen to the information live, but I was busy taking a test that morning, so my mom read me the nominations later that day and recorded it. Thank goodness I got the nomination, or that would've been a sad video. General Hospital submitted a reel on my behalf, but I chose the scenes and clips I wanted to submit. You have to adhere to a specific time restraint, then you send it in and hope for the best!
Winning a Young Artist award was pretty awesome because that movie was such a special project to me. That award show gives youth performers a unique opportunity to be recognized for their work. That was also the first time that I got to walk a red carpet, so that was an unforgettable experience.
What goals do you have for helping young Black women realize their dreams?
I love performing, singing, dancing, acting, all of it. More recently I have decided that I would also like to become a film and television producer, capturing underrepresented groups and positively changing the narrative of how minority groups are perceived. I have decided to major in sociology to gain a deeper understanding of human constructs and create authentic work on-screen– especially for women of color. I think it is vital that we are not only in front of the camera but also behind the scenes.
Not only is it essential to pursue a career but also to just be open to other opportunities. I'm hoping that getting my degree will always allow me to have options. My dad has always stressed the importance of having multiple streams of income, which is something that I think I will always have in mind. My parents are both frugal, and I believe, and that has rubbed off on me. I try to save my money and only keep a small amount in an account that I regularly access– out of sight, out of mind. I do, however, like to splurge on an occasional pair of Air Force 1 sneakers.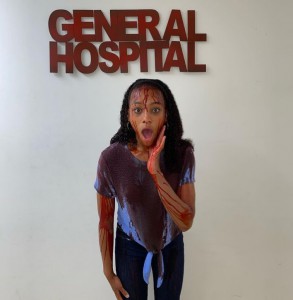 Were you named after the character Sydney Bristow played by Jennifer Garner in the TV series Alias?
No, not at all. My mom just loved the name Sydney and said she didn't know of many other Sydneys when she named me. (Can you believe that? There are tons of Sydneys everywhere) My dad wanted my middle name to be Azaria, which I think is pretty, but he was vetoed.
What advice do you have for teenagers looking to get into the entertainment field?
If you can take classes and train, then do it. Remember that whatever is meant for you is for you, and when you get an opportunity, you will be ready for it. Until then, enjoy the journey, celebrate the success of others and never give up.