Unless you're on the fourth planet of the star Sirius, you've probably heard all about diversity in film and television – especially in the past couple of years.
She made a comment to me once about how this business is such a 'white girl thing'. – Corina Calderon discussing her former acting coach.
Minorities in show business is a major conversation. It's not just race I'm talking about. It includes women, the disabled, LGBT, just to name a few. We can break that down even further to include not only actors, but writers, producers, directors – the list goes on and on.
When the Oscars 2016 backlash happened (where only white actors were chosen in the top four categories), I overheard someone say, "Who cares? It's just the movies. It's not real life."
This person obviously has no idea how the entertainment business affects "real life". I'm sure YOU do understand, readers, so let me introduce you to two amazing actresses who shed some light on minorities in film and television!
P.S. I'm also sneaking in cameo quotes by actors Victoria Cartagena (Hulu's The Path & FOX's Gotham) and David Banks (Half Magic & 5th of July).
CORINA CALDERON. Have you heard of a superhero movie called Suicide Squad starring Jared Leto and Margot Robbie? Go DC Comics, yay! I'm told that Corina is the first Latina actress in a DC Comics superhero film.
JESSICA PIMENTEL. Netflix's Orange is the New Black did a great job in casting Jessica as inmate Maria Ruiz who has a crazy awesome plotline on the recently released Season 4.
Both of these actresses also share some fantastic #acting advice and stories with us. Let's get to it!
CORINA CALDERON
Corina plays Grace in the DC Comics film Suicide Squad.
Photo by Pocho Sanchez.
What was your reaction when you received the call that you got the job for Suicide Squad?
Straight up, I started crying from joy and relief and took it as a sign that I WAS doing something right and that I needed to keep my faith and trust myself and my heart no matter what! I was in the car, probably going to another audition, when my manager at the moment called me and told me casting had contacted him asking if I was available in August 2015. My manager asked "for what?" and the casting director told him, "I can't tell you much but I promise it's a good one, for a huge project and we can't close on it or make an official offer just yet because we still need the studio's approval, but she's director's [David Ayer] choice." We had no idea what it was because I never even read for it or auditioned.
Later, while on set, one of the producers came up to me to introduce himself and said to me, "So nice to finally meet you. I've heard a lot about you. This role was just for you from David. You were actually one of the first people cast in this film." Seriously!!! I almost died from excitement!!! I was like, "NOOO way! This is happening and I'm awake!"
Just a few days before, I had a huge break down and I was feeling so low and defeated, depressed. I felt like it just wasn't going to happen for me and that I needed to just start thinking of going home and figuring out something else to do with my life. I was so angry and frustrated. I didn't understand how I could put my heart entirely into something that just seemed to have no results or promise — I was going on so many auditions and nothing! I worked my ass off and put my all into every audition to do my job 100% in the room and nothing. I really felt like my spirit couldn't take anymore rejection. But that was the turning point for me; it was a true blessing because it made me realize that as long as I continue to do great work at every audition, it doesn't matter if I book that one or not. People, the right people, will notice my work and talent and remember me and I WILL BOOK the ones I'm supposed to book! That it will all come when the time is right and I just need to keep trusting myself, my work, my talent and my worth!
Later while on set, I was talking with David and his wife (who I already had met on End of Watch, the film where I first met David Ayer) about this experience and life in LA as an actor and all the rejection blah blah blah and David turned, looked at me and with his stern low voice said, "Life is rejection." I was like, okay…but he's right — it's just the way it can be and we have to just keep going, never give up.
Why are you an actor?
Acting really makes my heart happy. It makes my heart smile. I LOVE being on set! When I'm on set playing and doing my part in a story that's being told, I feel so alive! I've always known I wanted to be an actor since I was about four or five years old. It's always been my dream to be in movies and on TV. I love the feeling of moving someone, inspiring someone, touching someone's heart with my art and talent. I know how good it feels to watch a great movie or show and feel joy, to laugh! … or to feel compassion, sadness or even fear and suspense! And be totally invested or captured by their life and story… I want to do that for people as well. It's also a great escape for me. I'm sure we all know what it's like to feel sad or lost in life. Then we put on a good movie with some popcorn or snacks and it's therapeutic; we feel instantly touched by it. I want to do that for people, I want to be the actor that someone can watch and feel happy when they watch me. Especially my family, my nieces and nephews to show them that anything is possible, dream big, work hard and you can do anything you want in life.
You're a spoiler in the film, yet everyone already knew that you play Grace. What exactly were you told about what you can and can't talk about prior to the film's release? Who told you this?
Yes, that is true. My character is a "turning point" and or "plot" in the film for one of the leads so I've been very limited in what I can say or talk about. This came from the studio, Warner Brothers.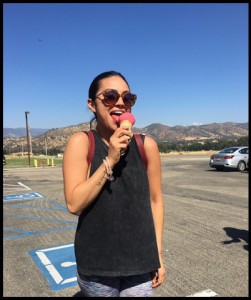 Corina Calderon enjoys refreshing ice cream on a hot day.
What's in your backpack, Corina?!
Photo exclusive to NYCastings.
What's your family history?
My grandparents, my mom's parents, were born and raised in Crystal City, Texas. They were migrant workers and would travel for work which is how they ended up in Illinois and began their family. I was born in Moline, Illinois. When I was about nine or 10 years old, we moved back to Texas to join my grandparents who had already gone back after retiring. My mother's mom is what we call Tejana, a Mexican American from Texas and my mother's dad is, too, but comes from Mexican, Apache Indian, Spanish and German descent or bloodline. I've never had much of a relationship with my dad so I don't know much of his background but I do know he was born in Matamoros, Mexico and came to the U.S. with his family when he was two years old.
What is your experience as a minority in the entertainment industry?
I have to say I've had great opportunities so far. I've auditioned for so many different characters from doctors to lawyers, forensic scientists to cholas (Latin American woman with Indian blood), battered wives, young mom from the hood and different projects that I feel lucky to have not really have felt the "minority thing" or limited in what I can go out for or play.
I will say though, that when I first started acting and taking classes I had this acting teacher who was a bit tough and I believe now, just jaded and bitter. She made a comment to me once about how this business is such a "white girl thing". She said, "Isn't it frustrating?" She's also the one who said I brought out the bully in her, hahaha! I thought that one was hilarious. Little did she know, first of all, MY MOM and my upbringing — that she [acting coach] was like the freakin' Fairy godmother to me! It was adorable that she thought I could be intimidated by her after growing up with a mother like mine.
What was it like your first day on the set up Suicide Squad?
When I arrived in Canada they took me to set to meet with David. He showed me around, introduced me to Mr. J and Margot Robbie because they were in the middle of filming a scene. But then we went on to look at play backs so he could explain to me what I'd be doing. Like I said before, I had been given very little info on my role. I just trusted David's work that I jumped on the opportunity knowing it would be dope! I have to say everyone was so nice, Will Smith, Cara Delevingne, Jai Courtney, everyone. It was refreshing especially because I was a little nervous being on such a huge set.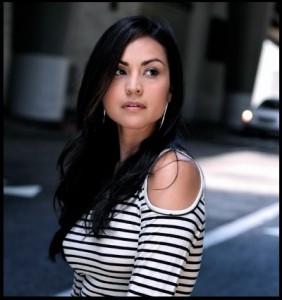 Corina Calderon.
Photo by Bjoern Kommerell.
How old are you? At what age did you get started in show business?
I'm 34 and I feel 24. I started in this business very late. All She Can, my Sundance film, was the very first thing I had done other than local commercials, University of Texas (UT) student films and extra / background work. All good though. I don't mind people asking, I'm proud of my age.
How many red carpet walks have you done so far? For the red carpet, who dresses you, does hair and make-up? How long is a typical "red carpet" day from start to finish? Are there rehearsals for that? How do you know when it's your turn to go?
I've done about six red carpet events. I usually have my friends who do makeup and hair help me. It can be so expensive to get hair and makeup for the red carpet so we help each other out in that way. I dress myself though. I pick out my outfits and dresses of course with the help of stylist friends who have the hookup with different show rooms but ultimately I choose what I'm going to wear. For the Suicide Squad premiere, my publicist Heather Weiss totally hooked it up! She's amazing! She really helped me out in so many ways. She's a blessing. No rehearsals. You just show up and someone will let the photographers and press know you're there and then you just walk the carpet and smile. I love it! I LOVE getting dressed up. Red carpets are so much fun!
What type of music do you listen to?
Mostly Latin music. Cumbias, salsa, bachata, tropical. But also rap, hip hop and R&B.
Playing Grace in Suicide Squad is your breakout role. Has anyone stopped you on the street?
Well, actually playing Luz Garcia in All She Can was my breakout role. It was so amazing having a young girl stand up at one of the Q&As crying, telling me this story really hit home because of her family situation and getting into UT and other struggles – it really made it clear that I was truly living my dream. Being noticed on the streets in Utah was exciting while at the Sundance film fest in 2011. That was the role that brought me to LA and got me my first LA manager and agent. But yes, playing Grace and being in Suicide Squad is a whole other dynamic because it's a film that will be released world wide and I believe may take my career to another level.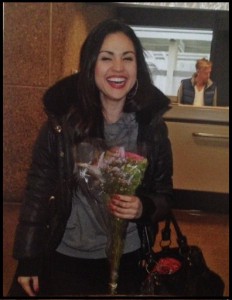 Corina Calderon receives some unexpected beautiful flowers!
Photo exclusive to NYCastings.
You came onto the scene with your first leading role in the indie feature All She Can for which you were named "Actress to Watch at the 2011 Sundance Film Fest". What's the difference between working on an indie film vs. the production of Suicide Squad?
Definitely the freedom, as far as improvising goes, and being able to bring more of your own ideas to the role and to the director. There was a lot of pressure for me on the set of All She Can because I was the lead and I was in just about every scene. Of course the pressure for something like Suicide Squad is on another level. Part of the reason being is I was working alongside such heavy hitters in the biz, but also because the role was offered to me. I felt David trusted me enough to deliver and execute without having to audition or show him I could do it.
Lots of people in the world can only see the outer beauty (physical) in a person. Is this particularly more so in the entertainment industry? What are your thoughts on outer beauty vs. inner beauty?
There's nothing like someone who has a beautiful heart. Ultimately it is the heart that matters. Beauty, money, fame, success isn't happiness. I've learned that the hard way. My main goal in life is to be absolutely happy with myself, my life and who I continue to become every day – that, realized with courage, compassion and a great sense of awareness for humanity. So inner beauty is true beauty, real beauty. If you're mean, cruel and have absolutely no grasp on what it is or what it means to be kind to the person in front of you, it doesn't matter how beautiful you might be on the outside, your life will never be fulfilling or have true meaning or purpose and you're just walking around totally clueless of your mission.
How did you receive your script for Suicide Squad? Do you have any tricks for learning your lines?
I read the script for Suicide Squad in my trailer when I arrived in Canada. They were super secretive about it. I prefer reading my scripts through email on my laptop. The best way for me to learn my lines is running them with a friend and writing them down. I feel if I can read, hear and see them over and over again, they stick! Then I can be off book and free to play. It's like a muscle that you work on and becomes stronger as you exercise it more and more. And definitely at home in private so I can be walking around my apartment saying the lines or yelling them out loud without looking like a crazy person is just yelling at herself.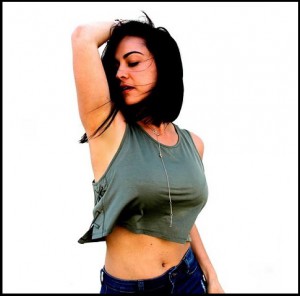 Corina Calderon.
Photo by Pocho Sanchez.
People may recognize you from one of your more recent recurring roles in several episodes of the TNT hit series Murder in the First created by Stephen Bochco and starring Taye Diggs. How does a contract work for a recurring character?
I did three episodes and usually it depends on the character's story arc whether they will return in the future or not. Especially if your character doesn't die! — even greater chance. But you usually get paid weekly and contracts vary.
Do you have any other interests other than acting?
Yes, I love dogs. I've always wanted to my own an adoption center to care for and rehabilitate dogs. And designing gowns. I've actually designed some of my own; one of them I wore for the Imagen Awards where I was nominated for best actress in a feature alongside Gina Rodriquez, Eva Longoria and Eva Mendez. I love fashion.
Did you have any interaction with extras / background players while on set of ANY productions you did?
I started as an extra in Austin, Texas. I was an extra on Fast Food Nation directed by Richard Linklater and on Machete directed by Robert Rodriquez. Extras are just as important to the film as leads are. And I interacted with them a lot, even made it a point to take pictures with them when they asked, if the time was right and we weren't interrupting any filming. Why not? You never know what one of the extras might become one day

Just be nice to everyone, period.
Any advice for aspiring actors?
Just keep going, don't give up if acting is what you really want to do and really know why you are doing this because it's a lot of hard work, it's not easy and never becomes easier no matter what level of success you achieve.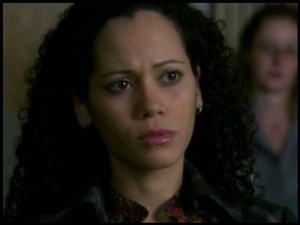 VICTORIA CARTAGENA on Minorities in TV & Film.
"Growing up, the world around me – my TV screen, the movies I went to – I didn't see many representations of Latina women. At one point I thought Jennifer Beals was Puerto Rican because we shared the same hair style. It's important to see diversity on our screens. We see it. Our kids see it. It's a way they can look at the world outside their homes and feel that there is a world that reflects them. And they feel 'Hey, I belong in this world, too.' That's so important."
DAVID BANKS on Minorities in Show Business.
"We are all professionals who are refining our craft to provide the public an entertainment experience. We are all working together for the benefit of our fans and the advancement of our industry. We all have roles to play to inspire and generally entertain our communities. To that end we are all members of the same fraternity. The message of love and striving to reach our dreams is a common language, yet at times we voice our unique dialects."
JESSICA PIMENTEL
Jessica plays Maria Ruiz in Netflix's Orange is the New Black.
Jessica's Twitter.
You're well known for your character Maria Ruiz on the Netflix original series Orange Is the New Black. How is your character different now, four seasons out, from the 'Maria' in Season 1?
The only thing I knew about Maria when I first got the role was her name is Maria and she was very pregnant. And that is what Maria's character focuses on for the first season. Season two you watch Maria struggle with the pain of being separated from her child, wanting to be the best mother that she can possibly be, and being in prison. You see what depth of love and affection she has for her child and also for the father of her child who she trusts with the responsibility of caretaking and child development. And Season 3 her child is taken away from her and you see her fall into an angry type of depression while she must learn how to deal with the one thing that keeps going and learning how to resolve that issue and accepting the fact that her daughter will be just fine without her. Season 4 you see Maria accepting this fact and you see her get to interact more with other prisoners but once the hope of seeing her daughter anytime soon gets taken away from her, Maria does a complete 180 from the deeply caring, loving, funny and weepy character from Seasons before.
You were born in Brooklyn to Dominican immigrants. Why did your family choose New York? What's your family history? Is it important to you?
At some point in the late sixties my aunt got married and moved to New York City. My grandmother was missing her terribly. She saw her chance to perhaps improve the lives of herself and her children and all be together again by moving to New York and brought the rest of the family along to live in Brooklyn.
Family history is very important. It is the key of understanding who you are through your culture, traditions and values. Your family is your first support system and hopefully your strongest for the rest of your life. We don't really keep a family tree but we do have many old albums of our relatives who span many continents with great information written on the backs of each picture.
You've been involved in show business for 20+ years. We're seeing more and more minority roles in television and film recently. Why now? Are the executives getting pressured into this or is there another underlying reason?
I would not say that anyone is being pressured to do anything as I am not in the boardroom when decisions are being made. I will say that there are more women writers and producers than there ever were and more people of color in the writers' room and producers' table than in past years and I'm assuming that this is a natural reflection of what is happening in our culture.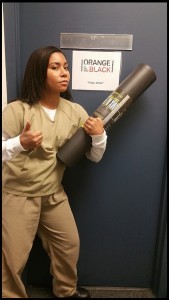 Why is your nickname The Crusher?
That nickname was given to me by a fellow band mate and Big Brother and is a shortened version of the Super Hero version Captain Boy Crusher. The nickname came about because it was said in order to step Toe to Toe with me in love, you would have to be a man or you would leave a devastated little boy. That soon began to translate to other things that I do and is no longer about specifically other people but how I deal with any challenge put my way. I go into any obstacle with all my heart and soul and I'm not happy unless I crush the challenge at hand.
How did you become an endorsed artist for Spector basses, Halo guitars and Krank Amps?
Halo came about as several people that I play music with were already endorsed by them and were very happy and suggested that I try them out. Krank amps came about after my band Alekhine's Gun won a contest by playing a show thrown by heavy metal website Metal Injection. Spector basses was a nomination made by my friend who knew that they were looking to endorse and sponsor more female musicians. I then had to submit several examples of my playing and if I met the requirements I would be an endorsed artist.
You've been practicing Buddhism for 20 years. How did you become introduced to Buddhism and who was the first person you talked to about it? How have you evolved over the years?
This question is an interview in and of itself. I was first introduced to Buddhism in school by my English teacher when we had to read the book Siddhartha by Hermann Hesse. He later suggested that I should look deeper into it as I seemed to have a good connection and understanding of the story.
Luckily my mother had a book in the house called Religions of the World and in the chapter of Buddhism I read something called "The chain of Causation and Dependent Origination". It made more sense to me than anything I had ever read in my entire life. It was an explanation of why we suffer. I continued to study on my own for a short time till I found a teacher who would then introduce me to the teachings of Tibetan Buddhism in a very in-depth and traditional way. Buddhism is the biggest and most important part of my life and I apply it to Everything I Do whether that is acting, writing music, or taking out the garbage, it is the very core of my life.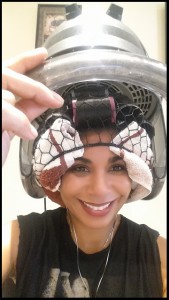 As an actress, how do you deal with fans who go nuts over something your character does?
I was very well prepared for a backlash against Maria after the things that she does in Season 4. To my surprise quite the opposite happened and instead of being vilified, I received an enormous amount of love and support from fans across the world. It seems that most people do really understand that the actor in the part are two different entities and they seemed to enjoy watching Maria's enormous and somewhat dark character arc as much as I enjoyed playing it.
Actors are always told there's going to be a lot of rejection and not to take it personally. How do you deal with rejection?
There are many things going on behind the scenes when casting a project. When you go into an audition you must go in fully prepared, and committed, and ready to show your talent to its fullest. If you do those things then you've done all you can do. If you do not get the role, 99% of the time it is over something that is out of your control. For example, you may be too tall or too short. You may be asked to read for someone's brother or sister but the person that they cast looks nothing like you therefore you won't be convincing in that role. There are hundreds upon hundreds of reasons why you won't get a part and most of them have nothing to do with anything you can change. You must learn to go in, do your best and be your best and then let it go and move forward and focus on the next situation. But always remember even if you're going in for something you know you're not right for, if you give a great audition you will be remembered and when the time comes you will be the first choice for something that you ARE right for. So try to think of every audition as not auditioning for one role but as a resume for all your future roles and possibilities.
How did you get your Actor's Equity Card?
I got my Equity card by being in a play called A Very Old Man With Enormous Wings at the Shakespeare Theatre of New Jersey.
What benefits do YOU actually use from SAG-AFTRA and AEA?
Unions are here to protect us. So every day by being in a union you are using the benefits of knowing that you will have a safe and pleasant working conditions that are monitored and supervised and you will not be taken advantage of or put at risk. Unions negotiate basic rate of pay and handle paying for your Social Security and safety insurance. I was once hurt during the performance and ended up breaking my foot. Because I was working in a union house I was able to receive workman's comp. I'm pretty sure it would be very hard for me to have booked something while wearing a cast so I was very happy that I had that protection during that time while I healed. I also use health insurance which is given to you based on your earnings. There is also retirement funds and emergency funds for actors in need. In some cases they can also help you find housing and temporary jobs for in between gigs.
What television, film and plays are you currently watching? When you watch, do you enjoy the program or are you always watching how other actors work?
When I watch a good show I am able to tune out and just pay attention to what is happening. When I watch a great show I want to be on it. When I watch a really great show I analyze and study every single aspect of it not just great acting but the writing the directing the cinematography the placement of props the choices of wardrobe and costume, the music scoring….everything. I watch these things in order to learn and improve my craft and understand deeper the medium of film and television. This year I greatly enjoyed Game of Thrones, Peaky Blinders, Wolf Hall, Stranger Things, American Horror Story, House of Cards and Mr. Robot. And I am looking forward to the next chapter of Black Mirror.
Do you practice any type(s) of acting methods? Or do you just do your own thing?
I have studied all the well-known styles of acting and feel that each one offers a different approach for ultimately getting the same result which is a real and passionate believable performance. I choose my approach depending on the script, the role, the moment and what is or is not available to me. Sometimes you build the character inside out (what is my age, where am I from, what is my class, what do I want, what do people say about me, what did I say about myself, how do I seem to react to situations, etc.) which can help you convey the character's physical life. Sometimes you build a character outside in (how do I walk, how do I talk, how do I say, how do I hold a coffee cup, what is the center of gravity in my body in general, where is the center of gravity in my body for the scene, etc.) which can help you infom and convey the character's emotional life. Sometimes you don't build a character at all but be present and use another actor and what they are doing to inform your actions and reactions. Sometimes we use our own life past experience to get us emotionally to a point where we can recreate the necessary expression to match what is happening in the moment. Often times when I am stuck I find that switching between techniques helps and one key tool that I use is music which puts me in a specific mood for an underlying feeling that is the undercurrent of the performance. These techniques are tools in your toolbox and you have to find the right tool for the job.
You have some very intense scenes in OITNB, especially in Season 4. Are there production meetings and/or table reads where heavy scenes are discussed?
We do not traditionally have table reads on our show but when there is a scene that is technical and has the possibility where someone might get hurt we do have rehearsals prior to shooting as well as a stunt coordinator and sometimes a fire marshall and there is always a medic on set. We also have wonderful writers and director that can help clarify something if the actor is confused and a giving and talented cast who work together to make the story come alive.
For OITNB, are you given the entire script or just your scenes? When you read the script, do you have a feeling in your mind on how you're going to play those scenes, or do you wait for the Director to give you notes?
I am given the full script at some point, usually when shooting the episode before. I tried to break it down first as an observer seeing where the entire storyline is going, then as the actor from the character's point of view. I know my relationships with the other characters and what I want in that episode. I do come with what I feel is going to work to get that across however, our director may have a bigger picture of what is happening and can tweak it. This is very helpful because we often are not around for when scenes that we are not in are shot . So the director can make sure that each performance fits the mood and tempo of that episode and later the entire season. Sometimes you come in with an idea and it works but the director will still have you try many different approaches to leave it up to post-production to choose what fits or looks / feels best. Sometimes things happen by accident and they work wonderfully, even better than you'd planned, and that becomes the new performance. Sometimes you're asked to do things that don't quite feel right to you but actually work much better than you think and you may have to put some trust in your director, producers and writers. You must be flexible to try different things. Some will work, some won't work, and some are purely technical which may feel awkward in real life or during your performance but are necessary in order to fit the frame of a shot or to convey certain information that can only be read on a television or film screen.
What could the entertainment business improve upon as far as minorities are concerned?
I am a very big fan of colorblind casting and opening roles up to all races, ages, sizes and genders. If you've ever heard the expression "Sometimes the best man for the job is a woman" that's precisely what I mean. Of course there are many times when a character's age, race and sex are and must be a definite but, there are many times when that is not the case and I would love to see those ambiguous characters met with an openness for experimentation.
You're interested in math and science. With such a crazy acting schedule, do you ever feel like you're not soaking up enough information on your other interests? What kind of math and science do you enjoy?
During the time that we are shooting I have very little free time to focus on much else. But we have a long break each year where other interests take hold. I am particularly drawn to theoretical physics, cosmology, astrophysics and quantum mechanics as I see many similarities between these Western ideas and that of ancient Buddhist scientific theory.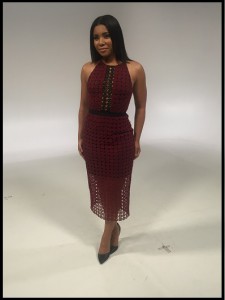 Jessica Pimentel.
Anything else you'd like to say?
I am thankful each day that I get to live the life of my dreams and do what I love. And I hope that everyone out there understands that they too can live the life of their dreams as long as they are willing to go all the way to pursue it. There is no finish line. Success is simply being able to do what you want and hopefully learning to take the good and the bad, the ups and the downs, and the failures and wins as being exactly the same as both of these are temporary and will change. It is all part of the journey and part of the story of your life and sometimes, somewhere down the road you will see that something that you thought was a failure, that brought you great distress and sadness, was actually the first step of a beautiful victory in the making. Thanks!