It's hard enough booking a great role, or any role for that matter. But what's it like to book a huge job while you're still in school? Child actor JACK MESSINA of NBC's MANIFEST gives us the low down on how he handles school, the job and everything else in life.
JACK MESSINA may only be 11 years old, but he sure has a maturity about him. It's always a pleasure to interview kids who have a clear understanding of what it's like to be an actor while also being able to have a childhood.
At what point did you realize you wanted to be an actor? What did your family say when you told them?
I am 11 years old and I'm in the sixth grade. I didn't really think about becoming a professional actor at first, until about four years ago, I followed a friend into a class at a local acting school. We started going just for fun after school and I really enjoyed it. I didn't think anything would come of it, but at the end of the semester, my teacher held a showcase in front of talent agents and managers. We all had a few minutes to do a monologue in front of them. I just thought it was part of the class, but the next day, my mom got a few phone calls from the agents and managers saying they wanted to see me again. I ended up signing with a manager and started going on real auditions. That's when I got hooked. I loved it. I booked my first job and had to fly to Toronto.
Tell us about your audition for Manifest.
My audition for Manifest started with a self-taped audition. My manager sent me the script and I worked on it with my acting teacher. I was going on so many auditions at the time, and I didn't want to focus on being disappointed when I didn't hear back from any of them. I had to just keep trying. I knew this was a big deal, an NBC pilot, and it had impressive names behind it, like Robert Zemeckis. I had a description of the character, Cal, and I knew it was going to be an interesting show. I had to read a scene that took place with my twin sister, Olive, but I had to do it alone. I didn't know who would be playing Olive yet, so I had to imagine who she was.  I got a call back and this time I had to go to the casting director's office in New York City. There were no other actors there, I just read the scene again by myself. A few days later, the producers, director and the creator, Jeff Rake, wanted to meet me in person so my parents took me to the meeting in New York. A day or two after that meeting, my mom got the call from my manager that I got the job. It was late and I was already in bed but she came in my room and told me, I was so excited I couldn't sleep.
Tell us about school.
I attend public elementary school and I was in fifth grade last spring when I shot the pilot episode of Manifest.  Production started again in the summer, so when school started in September, I was working full time on the show. My mom met with my teachers and principal to make sure the school was supportive of my absences. On average, I would work 2-3 days a week. The school provided my work to the tutor on set. I would work with the tutor before, after and in between scenes. We were required to do three hours each day I was on set. It was a bit of a challenge keeping up with stuff I missed in school but each time I returned to school, everyone helped me catch up on what I missed and I'm so grateful to my teachers and school for supporting me and helping me. I'm so lucky to have this opportunity, I wouldn't change it for the world!
You started in show business around age 7. When you were younger, did you think you'd take the path of "regular" school then college? How did you see your educational future?
I have two older brothers in college, so when I was younger, I tagged along on all the college tours with them. I just thought I would be like them and someday be looking at colleges too. Now that I'm a working actor, I am thinking that my future schooling might take a different path. My parents and I are discussing the possibility of home schooling while I'm on Manifest. I will be starting Middle School next year and it will be much harder to miss so many school days and communicate with all the different teachers.
What's your favorite subject in school?
My favorite subject in school right now is Math. We are learning algebraic equations.
Once you booked Manifest, what happened?
When I booked Manifest, the first person I told was my acting teacher, Ann. She helped me with my audition and she was so excited for me. I can't thank her enough. Then I told the rest of my
family. My aunts and cousins couldn't believe it. It wasn't going to be a one-time appearance, it was a series regular on the show! So much changed from being on the show, like having so many new followers on Instagram, and being recognized in places. Now, I feel like I represent the show and the network in public and I have a responsibility to my fans to respond to them. It's been fun having fans come up to me in places and tell me how much they love the show.  A lot of people try to ask me if I know what happens in the show, but I never tell. When we're filming, we get each episode's script right before we start shooting, so we don't know anything ahead of time.
Your character, Cal Stone, is struggling with a terminal illness. How do you deal with such a heavy topic? What type of discussions did you have, and with whom, about your character? Who helped you build the character? 
My character, Cal, has leukemia, so the first thing I was told when I got the job is that they were going to shave my hair. That didn't bother me at all. The first scene I shot in the pilot was a scene in the doctor's office having my blood drawn. Playing a person with such a serious illness is sad, but the show focuses on Cal getting better and dealing with new things like his callings. In episode six, I had a scene in the hospital where I was very sick and had seizures. I worked with an acting coach who helped me understand what a person having seizures feels like. The director gave me good direction in the scene, especially after doing it over and over and over again. It was a tough day filming, but I definitely learned a lot.
Do you have any hobbies?
When I'm not in school or working, I like to play video games. Fortnite is my favorite.  I also love to ski. I live in NY, so we go up to Vermont to ski. I am on a development team on the weekends and I'm teaching myself some tricks.  I also play the drums. I'm in the school band, but I mostly like to play for fun. I have a small dog named Cookie. She's twelve years old but she acts like a puppy.
Where is Manifest filmed? Where are you from?
Manifest is filmed in NY. I was one of the only cast members that didn't have to relocate. The others had to find places to live, leave family behind and get used to life in NY, and enjoy the best NY pizza!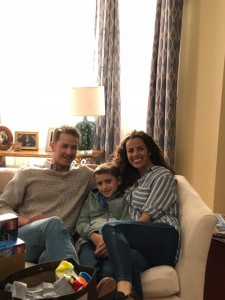 Are you in any of the actor unions?
When I started Manifest, I had to join the SAG-AFTRA union. My mom helped me do it and the people from the union are really helpful. The union reps also visit the set once in a while to make sure everything is good. There are a lot of rules for a child working on set. Production is very strict about following all the rules, which is a good thing.
With child actors, a work permit and trust account need to be established. How does that work?
My mom also handled getting my work permit, which I had to have from the start of my first job. There were forms that the school signed and my doctor signed to approve the permit. It gets renewed every year. There also has to be a trust account set up at the bank called the "Coogan Account".  A percentage of my pay goes directly into this account and is protected for me until I am older.
Share a behind the scenes story from Manifest and The Marvelous Mrs. Maisel.
On set on Manifest, I was usually the only kid around. We have to keep it fun so I brought Nerf guns to set. I had Nerf gun shoot outs with my TV dad, Josh Dallas. It was fun.  I also taught a lot of people how to floss.
Working on The Marvelous Mrs. Maisel was amazing. It takes place in the 50's so the wardrobe was so cool. I had to speak and sing in Italian. I learned enough to get through the scene, but I don't speak it fluently. I met a lot of nice people doing that show.
What advice do you have for young performers who want to become actors?
I would tell other young actors to keep working on skills.  Acting is an ongoing process and you learn from every experience. Listening is the most important skill. You have to be able to listen to direction and deliver what they want. And then they may change it a little bit each time you do it, and you have to remember everything they said, and do it over and over again.  Also, you have to be committed to the job, so many people are counting on you to show up and do a great job. Sometimes there are sacrifices you make (I had to work on Halloween), but it's the best job in the world and I am so lucky and honored to be an actor.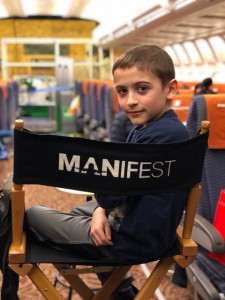 Jack Messina