Ever wish you had super powers? The ability to spin a web and have casting directors captivated by your face and talent?
Breaking news alert! YOU CAN become super…
In the print universe, there are so many things people can do to enhance their longevity in the industry, says print agent Charlie Winfield from FunnyFace Today Models Inc.
At FunnyFace Today (FFT), they have all types from the womb to the tomb, Charlie says. It lends the possibility for almost anyone to have a successful career.
To learn more about the world of print work, NYCastings met with Charlie at his FunnyFace Today headquarters. AND that is where we found out… Charlie has a secret connection to a legendary super hero!
So many Spider-Man collectables graced Charlie's desk, wall and floor that it inspired us to ask more about his super powers when it comes to casting print work.
Here are Charlie's…
Top-Secret Details
As part of a dynamic team, Charlie runs the commercial print division for kids/teen and adults. Some of their clients include Parent/Child Magazine, Gap, Johnson/Johnson, Nabisco, Verizon, AOL, Wendys, McDonalds and many more.
Charlie has over twenty years of entertainment experience by way of acting and as an agent in both Los Angeles, CA and New York, NY. He started out as a child actor at the ripe age of 6yrs. and has been in the business ever since.
When it comes to succeeding in the print business, Charlie reveals that it is all about the engaging factor.
At FunnyFace Today, It's all types of people. We do not pigeonhole, Charlie says. We are specific with what we look for but we are about making people comfortable, looking out for people's best interest and being an agency that is relatable.
FunnyFace Today takes pride in really explaining the industry as they used to do in the old days. It used to be about cultivating talent and they still take the time and energy.
When it comes to finding new faces, Charlie looks…
Behind the Mask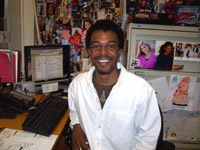 What we look for with all of our models, whether it be kids or adults, is marketability, Charlie shares.
We base things on a look because you are selling a product and have to be engaging to the client but at the same time we need personalities because looks can be deceiving. You can look wonderful but not have a personality or look beautiful but not take good pictures.
The biggest misconception about print modeling is that it's strictly about being beautiful or having a chiseled body, which is great but it is also one dimensional, Charlie says.
We teach that your versatility is what will enhance your marketability. Many times models will come in one-dimensional and pigeonhole themselves. There are a lot of different types of modeling you can do from high fashion, to parts, fitness, catalog, and lifestyle modeling.
In this industry everyone is so busy. They don't always take the time to say if this person's hair was different' or if they had on a pair of glasses on.'
To capture fresh faces, Charlie relies on referrals and his…
Spider-Senses
We can tell in the first two minutes if you are right for FunnyFace Today because it's about how you act around other people, Charlie shares.
If I am a client, and I am a looking for people to sell my product, I want you to be engaging. And I am marketing my product to everyone, so we want our clientele to be able to sell any client's product anywhere.
At FFT, We need to be aware of all the different mediums that talent is on: Internet, TV, Print ads. We have to be on top of everything that's being marketed. Right now clients are looking for ethnically ambiguous because it makes them able to sell their product to a wider market.
I call us boutique even though we are a large agency because we are very specific. We don't take a lot of the same type because we want to be a resource for our talent and look out for their interests.
Since FunnyFace Today is so specific in what they look for, it becomes very time consuming if people are mailing in or walking in, so usually we take referrals from clients and photographers, Charlie says.
We also do a lot of traveling to conventions and we bring kids here in the summer to have an opportunity to work in a major market. It's an opportunity for the parents to see if their kids have potential. And for the kids, it's great to see the competitive market because you can tell off the bat if it's a New Yorker or an out-of-towner. We want to see personality. We want to see how hungry you are. Do you really want to do this?
If you really want to work in this business, it is essential to…
Marvel at the Print Universe
I tell everyone to do their homework, Charlie says. You see periodicals on the newsstands, thousands of them from all over the world. Look at the ads and at the types of people you see. Look at the talent and ask do I see myself as a viable commodity?' Same with TV. If actors and models took the time to focus and pay attention, they would really see how to market themselves.
It's important to do your research because trends do change, Charlie shares.
There was a time if you were African American you could not be too dark or too light and you could not have a big nose or lips but now you see all types of people. The Latin community is huge right now as well as the Asian community. As advertisers change their vision, we do too. We make sure to encompass everyone. We are moving into a more positive area with works for all types of ethnicities creeds and colors.
In most cases people have preconceived notions of this industry and I tell people to start with a clean slate so you can see the different types of marketing, see where they fall and learn how to market themselves.
Commercial print is being able to convey in print that you are an actor. You are not just standing and posing. It is an action shot. As a commercial model, you want to make yourself viable to sell these products.
To market yourself, it definitely helps to have…
Special Devices
This is such a subjective business but my thing is… if you want to act have an 8×10. If you want to model, I think yes have a comp card because it is about how versatile you are. If it's just a headshot, it's just one look.
Charlie recommends you have different looks on your comp card such as a shot with glasses, one glamorous, one with your hair in a ponytail and another as a relationship shot with an animal or child.
It shows your versatility that you can be a chameleon, Charlie says As an actor that is exactly what you do for different roles and the comp card is the same.
You can't please everyone. Four different agents can look at the same thing and have four different takes but you can have a little something for each of them, Charlie says. Therefore, having versatility will work out better than if you just have one image.
Once you arm yourself with the power of versatility…
With Great Power Comes Great Responsibility
We expect our models to carry themselves professionally, Charlie says.
How you look makes us look good and it makes our client look good. If I send you out to a client and you do a good job they will think that you did well and that we did a good job at sending you.
At FFT, It's about loyalty and integrity. It's those people that show integrity and loyalty in this business that we have a tendency to sign, Charlie shares.
It's vital for models to realize that everything comes back to the agency. The walls have super hearing, per say.
Everyone talks. Parents talk, models talk to each other. They ask who are you working with, how long have you been with this agent, are they sending you out, how much money do you make? They don't realize that we hear this. We know what models are good and what models are irresponsible. We hear everything. As big as New York is this is a small industry, Charlie says.
And for the most part this small industry is a very…
Friendly Neighborhood
We have a great relationship with our clients and our models, Charlie says. Our models go from kids to adults and then having kids and we work with their kids. We keep it in the family.
As an example of their loyal mentality, Charlie's co-worker Doris Stinga shares a story about an actor, named Will, who used to be a client and decided to come back into the business.
I do scouting at Actor's Connection and he was there, Doris shares. I had a job on Saturday Night Live for a transvestite and asked if he had the clothes for it. He said yes and he booked it. That brought him back into the business. He's been doing movies. He's in one with Al Pacino and he is living happily every after.
To Be Continued…
Thanks to Charlie Winfield and the FunnyFace Today team for this AMAZING info.
For more AMAZING details, visit http://www.fftmodels.com/