Zoë Tapper plays bisexual character Kate in the very anticipated Netflix series The One.
The filming of The One was done a little differently than what actors are used to, so we're happy to have been let in on the way production carried the recording.
Zoë Tapper is also a writer and producer, having several shorts under her belt. One of her passion projects is called Stand Still which she worked on with Michelle Bonnard. This film will grab your heart and educate you about the world of postnatal depression.
You star in Netflix's upcoming new series The One which is based on John Marrs' novel. How did you get the role?
I was actually in Croatia when the audition came through from my agent, so I did a quick self tape on my phone and promptly forgot about it and got on with my holiday! When I got home, I was thrilled to be asked for a call back and chemistry test with one of the other actors. I often find that when you don't put too much pressure on yourself, it makes for a better audition tape. So basically, my advice is, if you want a job, go on holiday!
Tell us about your character, Kate, who is a straightforward and skeptical Detective Inspector at the Metropolitan Police.
On the surface, Kate is a no nonsense, straight talking, workaholic but as soon as she takes the Match DNA test her world gets a whole lot more complicated. The gender of the match isn't an issue — she has dated both men and women in the past but the circumstances associated with her new found love bring a lot of stress and mystery and concern for Kate. Added to that, she starts investigating a crime that is linked to The One (the matching agency) and suddenly nothing seems to make sense to her anymore.
Filming of The One took place in Bristol, Cardiff, and Newport in January 2019. Were you given information as to why it took so long to be released, especially since it was filmed pre-Covid-19? As an actor, what information ARE you given regarding production releases so you know when to do publicity?
We were actually filming from the end of 2019 up until March 2020, so actually it has only taken about a year to be released, which considering the global pandemic is nothing short of a miracle! As an actor, you often don't have that much pre-warning about transmission dates. There are so many factors that have to be taken into account when deciding when to release a show that even the producers don't always know until quite late in the day. Different channels / networks / streaming services have different procedures when it comes to promoting their shows in the lead up to them airing, so it all depends really. The One airs on the 12th March and it's only relatively recently that Netflix have been in touch regarding publicity.
Zoë Tapper in her trailer on set.
What differences are there regarding working on a BBC production vs. a Netflix production?
The mechanics of filming are no different really from job to job. The One was unusual in that we had two full film crews working side by side at all times, so the eight episodes were filmed concurrently. This allowed us to film in a shorter period of time but it also meant that it was pretty intense. Sometimes you had to be with a different crew on the same day, so you might spend the morning in Newport and the afternoon in Bristol, grabbing a quick sandwich on the go. It also meant that as an actor you had to really know your character beats inside out, as potentially you could film a combination of any of the scenes from any of the eight episodes in any given day.
You're married to fellow actor Oliver Dimsdale. How did you two meet? Is there any fear between the two of you about not knowing when you'll have your next paycheck?
There was no DNA matching service for us, we met in a bar! We have both been acting for nearly twenty years so there have inevitably been busier years than others. There is no real roadmap for how we do it, we just try and take each job as it comes and find a way to make it work if it is important for one or both of us. It can be a juggle at times but we both support each other and it is convenient to have another actor on hand for those last minute self-tapes!
Zoë Tapper checks out the shot in her film Stand Still.
Earlier in your career, you appeared in the ITV1 fantasy drama series Demons as blind vampire-turned-monster hunter Mina Harker. What were you thinking when you accepted this role? Would you play a role like this again now that you're more established?
Funnily enough, the executive producers behind Demons are the same guys behind The One — Johnny Capps and Julian Murphy. Who doesn't want to play a blind, half-blood vampire?? It was a fun show and I loved my custom made vampire fangs.
You've been on the red carpet at award shows. What goes on behind the scenes?
There are no hard and fast rules and it depends on the event. I am used to other people doing my makeup but am also happy to freestyle it! I love to dress up and particularly after this last year, that sort of event seems like a distant dream. For now, I'm just as happy watching Netflix in my jogging bottoms!
You co-wrote a short film with Michelle Bonnard called Stand Still which premiered online. It's about the darkness of postnatal depression that threatens to overwhelm Susannah, but a chance encounter with Rupa might be the help she needs. Why is a film like this so important? What was your writing journey like? Did you have a personal experience that made you want to write this film?
Myself and co-writer / friend Michelle Bonnard have both experienced postnatal depression and were shocked that this experience of motherhood (which affects 1 in 5 women) is so rarely depicted on screen. It was important for us to illustrate that mental health struggles don't discriminate. We are often fed an image of an ideal motherhood experience that just does not exist and we wanted to explore what happens when that ideal is shattered. We were selected by the BFI (British Film Institute) and given funding and the film premiered at the London Film Festival in 2019.
You're an Ambassador for MumsAid which is a charity providing counseling for women experiencing mental health or emotional difficulties during pregnancy or postnatally. How and why did you become involved with MumsAid? Is there something else you wish you could do to further enhance this, or any other, charities?
The struggle many women face with their mental health around pregnancy and birth is a subject very close to my heart. I became involved with MumsAid about eight years ago. In making Stand Still and supporting the brilliant work that MumsAid do, I hope to help shed more light on perinatal mental illness and provide a platform that can stimulate discussion. It is not an easy subject to talk about but those voices, those women, need to be heard, so that we can continue to challenge the stigmas that still sadly exist around maternal mental health.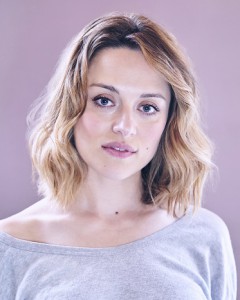 Anything else you want to say?
It has been a tough year for our industry and it is great to see it starting to flourish again. What has become clear to me during this time and I think to many others, is that art and storytelling holds such power; it helps us to relate to the world and each other, to challenge opinion, deliver messages and to escape for a short while into other worlds. That I think, is pretty magical.
SOCIALS: