Actor Joanne Baron shares her first hand knowledge of video auditioning
Like a shooting star, Joanne Baron often finds herself traveling a great distance for acting gigs. Yet no matter where she lands, Joanne has to keep up with the casting process… which means auditioning via video.
Just a few weeks ago, when Joanne came to New York City to be a guest star on the final episode of Law & Order, she also received several audition opportunities back at home, in LA, with no physical way to get there.
When I was in New York and knew I had three auditions, I called many places and no one tapes auditions besides Reel Services, Joanne says. I was so relieved when I found them. 
And, I was extremely enthusiastic as an actor, Joanne shares. I had such a fun, creative, positive experience in every way with Reel Services. The videos looked great and the work was responded to well.
When it comes to video auditioning, Joanne feels that they are no different then doing a play, commercial audition, film or soap opera.
There are certain elements of technical reality, Joanne says. If you are trained to live under imaginary circumstances and know how to make choices based on the truth of the material, or the writer's intention, then looking into a camera, or actually speaking with someone, will modulate the issues but not change them.
Joanne Baron speaks from a lifetime of experience. She appeared in countless projects including, Introducing Dorothy Dandridge, alongside Halle Berry, Frankie and Alice, Superman-2, Mad Men and ER.
Yet, the real power behind Joanne's star comes from her extensive training.
I was originally a William Esper student, taught with him in NYC and studied under Meisner in private classes in his famed Neighborhood Playhouse, Joanne shares.
Today, Joanne continues the legacy of Meisner and Esper, with her school the Joanne Baron/D.W. Brown Studio in Santa Monica, California; teaching the same specific, sequential training program designed to create an emotionally alive actor of depth, imagination, and truth.
We hand down the biblical tradition of the Meisner work, Joanne says, which we feel is the most practical technique for acting, directing, lighting and producing. The training program illuminates all aspects of story telling.
Speaking of story telling – NYCastings asked Joanne to share some of her stellar insight on the right way to create video auditions…
What do you like about video auditioning?
If you know how to act, it can only be educational and encouraging. I have taped things in life and gotten jobs from it. Someone to Watch Over Me, with Lorraine Bracco (Ridley Scott, Director) was from an audition tape. I have gotten many first jobs in my life from taping something.
I find it creative and encouraging, not only when I get the job, which is the goal, but when someone who would not normally see me takes a look for a few minutes at a tape. That could get you an actual audition.
Also, if you look at your work, and have some ability, it can be very encouraging because you don't always get feedback at a live audition. Casting directors are very busy and you night not even know that you did a good job. But when you tape it, you can see for yourself.
Why is it so important to already know how to act when it comes to creating a video audition?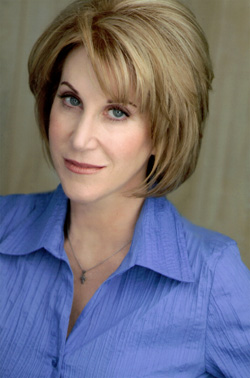 Training teaches you the skill, whether it be in dance, piano or acting, and that skill is something within you that you modulate to a degree when you find yourself in different technical situations.
If you don't have the training, then taping an audition is as useless as asking someone to perform a medical procedure who never went to medical school. Once you have the skill, and the confidence, then there is the potential for a career. A lot of people get lost in this world by wanting to have immediate success.
You can't have illusions about what you are going to achieve and think you are going to become discovered without any training. There are many people at my school who say they want to audition when they admit to not knowing how to act yet. They just hope that if they can tape something, they can get a job. That is where the modernization of Flip cameras and YouTube is a detriment to society. It makes things accessible and gives the illusion of star potential without the craft and training.
How should you set up the camera shot for a video audition?
The shots vary. People want me to shoot me from the waist up or standing. It happens a few different ways.
Should you edit a video audition?
It is protocol not to cut anything. When you send in a video audition you have to choose a take from start to finish. But you can choose a take, unlike in live theatre where it is what it is.
Are there certain specific techniques for auditioning via video tape?
There are certain tips, like you can't move a lot or blink a lot. But the basic point I am making is you can either play the piano or not. Then someone can tell you if the camera will be closer to your fingers as you play.
What about those classes that teach video auditioning or on-camera techniques?
I am not going to say there isn't any value. I would only say that in my experience, as an actor, the specialty in acting should be in adjustments and not education of techniques that impede the potential of an artist to perform.

Every day of the week, someone from my school gets a job. Mariska Hargitay, my student, is 7 years in Law & Order. Sherri Shepherd goes from comedic show to comedic show; from Everyone Loves Raymond to 30 Rock. I am not aware of them needing any specialty technique training.
What happens to all your video auditions?
There is a library of the tapes incase my agent wants to use it as a point of reference for another role. If you have really good video auditions, it might be useful for another part that is similar. Yet, an agent or manager is critical for this. The agent or manager can send your tape to a casting director who might think you are too proper and prim and say, she was so good at this audition. Do you want to take a 30 second peek? Not everyone may have an agent, and not every casting director may be willing to look at it, but it is another tool.
How do you get in the door when casting directors are being bombarded by so many wonderful people? This is one more opportunity. It is a fantastic way to give yourself a shot when a casting director may not give you the time for an audition or think you are the right type. It may open the door for an actual audition or a future audition.
What are the risks of creating a video audition without the right training?
Some people get confused between access and quality. You only get one chance to make a first impression and it does not matter if you have access if you do not have quality to showcase. That is the only downside of video auditioning. You can't gear these wonderful resources as a replacement for good old fashioned learning and competitive edge training that would make you a candidate to appropriately be taping things.
Can you make a poor impression if the quality of the tape is not strong?
Yes. If it does not seem and look professional, that is the 2nd way to undermine yourself.
1. The talent itself must be strong
2. The manner in which you are taping must be clear and professional.
It doesn't have to be a set, or some ridiculous attempt at substituting for an actual performance, but it does have to be filmed in a good clean way where the actor is appropriately dressed and the lighting is good.

Why is there an increase in video auditions lately?
People are overwhelmed with the choices and don't have enough time to meet everyone. Also, people can not always pay to travel across country for auditioning and production may not have enough money to interview people on camera so it saves time and money.
It is part of this new amazing online life, so amazing that I could tape an audition for Entourage at Reel Services and then they can have it in LA ten minutes later.
Any inspirational advice you share with actors?
Everything related to this dream, as it is perused, has to be perseveringly committed to with sacrificial elements. Commit completely to being the best, which means serious training and then persevere once you have that training in a way that you do not allow yourself to consider defeat.
There are so many ways to do what you love. You can do play after play and be in the LA Times and NY times and not make a living at it. That is not failure. Failure is not committing to the leaning and pursuing it with excellence. It always goes back to being good at what you do.
Thanks Joanne Baron for sharing your Reel Experience!
For more information on the Joanne Baron/D.W. Brown Studio in Santa Monica, California visit: www.baronbrown.com