Hey NYCastings members! Yes, I'm talking to you.
If there is one thing that actors still struggle with… it's headshots!
Actors carry around headshots that are outdated, that don't actually look like them, or that convey only one emotional level instead of having dimension. It's kinda turned into a mistake 101 epidemic.
So what can you do about it?
Make sure that your pictures stand out and make the right impression! To help, here is some advice from the President of NYCastings, a Director who recently used NYCastings, and a successful NYCastings member.
Advice from… Aaron Seals
Aaron Seals is the creator and President of NYCastings and has played many roles in the entertainment business including agent, photographer, producer, director and creator of the '6 Steps to a Successful Acting Career' video. 

Q: What is the most attention grabbing part of a headshot?
I've heard many people say 'The Eyes!' and that's a pretty good start, but many times I've seen awesome shots where the person isn't even looking at the camera. So you can't count on just one thing.
It's really more about, 'What you decided to show me.' So there is good attention and bad attention… Good is when it's a great shot of you, showing personality with great production because you found the right photographer. Bad is when all quality was ignored and you look like a person who doesn't want to be in a photograph, or you're telling some kind of lie by using massive amounts of make-up, or you've been photoshopped by your brother so you look like cartoon mannequin.
Q: How many headshots should an actor have on hand?
Several of your best shots is a good starting point. I've often seen actors handing Casting Directors, or Agents, a couple options and the person usually looks at them all. They decide which shot they like best or take them all. People seem to like choices, so give them what they want.
Q: How do you know if your headshot is to blame for a lack of response?
If nobody is calling, that's a good sign that your picture is not inspiring them. However, you can't know 100% if that's the case because you're dealing with many different people, in different positions in the industry. It could be a great shot, and you get continually passed over because you don't have a resume going yet, or you haven't introduced yourself properly, or you have a phone number from Pennsylvania.
So, the best way to approach this is to not be married to one idea… Keep changing things on your resume and submissions and keep track of things that worked and what didn't get a reaction. Time after time after time I have heard from actors that have gotten great new headshots that they have gotten more auditions after they changed their pictures – and the good news is it happens immediately.
A person can really shoot themselves in the foot by not paying attention to the reality of not getting calls. I've heard many people blame a website, or an agent, or classes as 'not working.' Don't play the blame game. Going months without being called in means YOU need to change what you're putting out there.
Q: Can a headshot look too much like a character / not enough like the actor in everyday life?
Sure, but today where most people are doing on-line submissions you can have a large variety of shots to see and THIS IS REALLY GOOD for the person viewing. I think every actor should have their 'Professional headshots' to show them in their ideal natural state, BUT having other kinds of shots can tell me so much more about the personality of the actor. For instance, if I only see 1 headshot of a person that can be a little one dimensional. But, if I see many shots of them, I'll start seeing more angles of their face, their expressions, their teeth, maybe their body type. All of this helps create a clearer picture of what they really look like. Also, if I see lots of expressions that tells me they're more animated in their personality. There is nothing worse than shooting a person who is really stiff.
Also, I may see them dressed as different characters so it lets my mind explore the possibilities of them in a role. More is better in this situation. And in many cases I may be looking for a specific type to play a role in my film – let's use a Cop for example – If the person happens to have a shot of them in a uniform, looking like I think a cop looks, they have a much, much better chance of getting the audition.
Another hidden benefit of having lots of character shots, is that the client is spending more time looking at you, and will then remember you better.
Q: What are some common mistakes with headshots that actors should try and avoid?
Rocking a Black & White headshot – This makes you look at least 10 years out of date and I still see several every day. Most people won't go near that with a 10 foot pole!
Don't go with the first photographer recommended to you, or the first one you find. You need to see the work of many different professional headshot photographers so you can educate yourself on what looks awesome and what looks terrible. Don't go with photographers who are not involved in the acting business (like family portrait photographers), the person that just got a camera last week, or your mom.
There are industry standards as for the quality, so you want to communicate to the Casting Directors and Agents that you understand this business, and that you're marketing yourself as a professional that people can count on.
In the end, you want things to happen fast so you can have an awesome life as an actor. Bad shots can set you back years, or indefinitely if you don't change.
Q: How do you know which photographers will best capture your personality?
In the end, you don't know which photographers will best capture your personality because chemistry between the two of you matters. Also, any events that happened that day can affect your shots. But what you have to make your decision on, is their past work. So you start by going to their website and viewing their portfolios. Then, you go and meet them in person and see if the vibe feels great.
Every photographer has their own shooting style as well – such as, some shoot very portrait style, some shoot outdoors, some use strobe lights, some use only natural light, some have fancy backgrounds, some keep it very simple.
So you can decide what settings you would like to see yourself in (indoor, outdoor, glam, simple), and let that help you narrow down the possible choices.
From there, make sure to visit their studios, I'd say 5 or more, and chat with them about what you want.

Q: Should an actor try and convey a number of character traits in one shot or a single aspect of themselves in each shot? (ie: Serious, funny, seductive, quirky)
Again, I'd say – The more pictures you have in general, the better off you'll be. This is a visual business and the people creating projects are the MOST visual people of all. Give 'em what they want!
Advice from… Jordan Horowitz (Who casts through NYCastings!)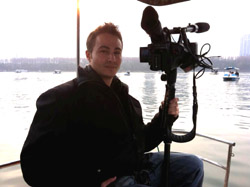 Jordan Horowitz is an award-winning filmmaker based in NYC. He has directed and produced content for MTV, including Rob & Big, Viva La Bam, and Jackass. He recently directed a feature documentary in China called Angel of Nanjing (currently in post) and has several narrative features in development.
Q: When you look at submissions on NYCastings, what attracts you to a particular photo?
I'd say I'm usually drawn to one of two things. Most commonly is a physicality that seems to fit with the vision I have in mind for the character. I'm also excited by seeing someone with an interesting look, that may be different from what I had in mind, who could potentially add something unique and different to the project.
Q: NYCastings gives actors the ability to post many pictures. Does this help you decide who to call in for a part?
Yes. Often a single photo can be very misleading. Videos are also helpful for that same reason. However, I think the talent needs to be selective about which images they are sending. Seeing a bunch of photos of an actress in a bikini is not going to make me want to consider her for a serious role.
Q: Do you look for character / personality in headshots?
Absolutely. I'll only call actors who I feel can breathe life into the role.
Q: What are some common mistakes that you wish actors would avoid?
To be honest, I rarely base anything off of headshots because too often they are misleading and don't really tell you anything about the person. Also, it tells you nothing about the person's acting abilities. That's why it's very helpful to have a variety of photos/videos so we can get a better sense of the person.
Thanks Jordon! Jordan's work can be seen on his website- www.Jordansfilms.com.
Advice from… Michael Lepre
Michael Lepre is a NYC actor and a NYCastings frequent booker. Recent projects include a film titled Long Road Home, a role in Hunted on Discovery Channel, and the lead in the play called Death Bed.
Q: What is the most attention grabbing part of a headshot?
Over all, the whole presentation for your headshot is important. The headshot is our calling card, it represents who we are. In a headshot we are trying to tell a story. The expression has to shine through so when an agent or director looks at our picture, it excites them. I think outdoor shots are the best because it gives a sense of realism. However, if I had to pick one thing, it would have to be the eyes because that is the first thing everyone looks at and that's where all the emotion lies. My ten year old son has big brown eyes and I can tell just by looking at his eyes what mood he's in.
Q: How many headshots do you try and have on hand?
I always carry 5 headshots with my resume attached, so I never run out. Once I went on an audition and ended up crashing two other auditions in the same building. I also carry a portfolio of pictures to show different character looks. When you meet an agent who has available time after the audition or interview I like to show it to them. I always get a great response.
Q: How do you know if your headshot is to blame for a lack of response?
In this business you never know why you don't get a call back. All actors second guess themselves by saying, "Was I too much in the reading? Or too little?" I personally think a picture should look like you. It should be printed at a professional shop and most importantly no glamour shots. You can use those shots in your portfolio. Don't get me wrong, it's ok to wear some makeup and retouch a blemish or an unruly hair. You just don't want your main headshot to be different because you'll upset some very important people. They want to see the same person that's in the picture walk through the door.
Q: Can a headshot look too much like a character / not enough like the actor in everyday life?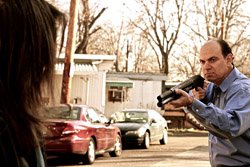 There is no doubt when you are shooting character shots you must put the time and effort into it or the picture will look foolish. You have to be honest with the shot. The character has to be real, not a comic strip. You don't want the picture to look like an actor with a costume on. When I submit through the internet with a great site like NYCastings, casting directors can see different character looks of myself.
Q: How do you know which photographers will best capture your personality?
This is easy but so important. You must meet with the photographer first and see his work. Talk to your fellow actors about their photographers. I found word of mouth is the best way to find a good photographer. You are spending a lot of money on these pictures so make sure you're happy with who you pick. The best photographer is the one you feel most comfortable with. One who will listen to all your ideas and not rush you through the shoot. A photographer's studio is fine to shoot in but, again, I like outdoor shots. I think you get a more interesting shot and you can relax much better outside. If you have a friend with a pro's eye and a professional camera it could be fun to practice. You might be surprise and get some keepers. A cloudy day is the best to shoot in but with the way computers work these day, you can adjust the lighting a little in retouching.
Q: Do you try and convey a number of character traits in one shot or a single aspect of yourself in each shot? (ie: Serious, funny, seductive, quirky)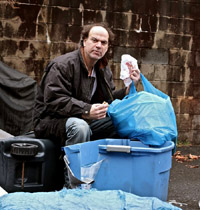 I always start with the emotion when I'm setting up a shot. What am I trying to show? How do I feel? Where did I come from? How would that person sit or stand? It's like studying for a role. You want the picture to be as real as possible. The same as you would do for a movie or TV role. You need a back story to spark that emotion so the truth comes out in the picture. I always put a little of myself in everything I do. You can't help it. I've been strong, weak, angry, sad, desperate, excited and happy, just to mention a few. I could go on but then I'll have no secrets.
Q: Why do you think that multiple / character based headshots works for you?
The multiple character headshots work well for me on the internet. However, I don't suggest mailing character headshots out. Of course it won't get me the part but it has helped me get through the front door. Casting agents work hard and have great imaginations, but I think these pictures help their process. Let's face it we all judge people the first time we meet them. I think we judge headshots too. I'm Italian American and bald. I love playing a mobster, but I can play a homeless guy, detective, hiker, dad, business owner, best friend, criminal and so on. I believe the more you can do to get notice the better.