It's not easy being a teenager, but imagine being a teenager who works in show business? How do these young performers handle school and friends while working on sets of popular TV shows and films?
The following six actors have somehow managed to keep a keen sense of reality while being thrust into the starlight:
– Madison Lintz from AMC's The Walking Dead
– Tyler Alvarez from Nickelodeon's Every Witch Way
– Morgan Taylor Campbell from The Hub's Spooksville
– Isaac Hempstead Wright from HBO's Game of Thrones
– Jade Pettyjohn from ABC's Revolution
– MacKenzie Lintz from CBS's Under the Dome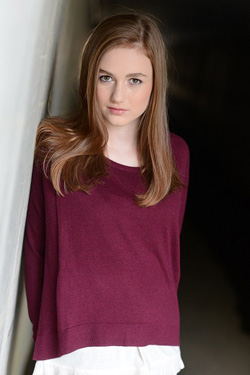 Madison Lintz is 14 years old and is known for her role as Sophia Peletier in The Walking Dead.
What was your first professional job at age six? Whose idea was it for you to enter the business and why?
It was a commercial and I saw my mom audition and asked if I could do that too.
Are you in any actor unions such as SAG-AFTRA?
Not yet but I expect to be soon.
You played Sophie Peletier on "The Walking Dead". Were you under contract NOT to talk about plotlines, like your fate?
Yes, I was told, as were my parents, we could not release any info about the show until the episodes air. The Producers told us this but so did our agents.
Your actress mom has worked with "The Walking Dead" Creator Frank Darabont in the past. How did mom find out that they were looking for your character?
Yes my mom was cast in The Mist by Frank D and while my mom knew him my audition went through the normal channels until it reached Frank D. Darabont tells the story that as soon as he saw my audition he said That must be Kelly Lintz's daughter.
What did you do for two hours during make-up?
The makeup is an intense process so I was enduring it more or less. I was only 12 years old so Greg [Nicotero] (special effects make-up) allowed me to pick the music in the makeup trailer while they worked on me.
You had to do some night shoots. What are the rules and regulations for child actors regarding working hours?
As a minor, a legal guardian has to be with you at all times. Child actors are only allowed to work so many hours and not past a certain time (not sure about the details). The union is very good about making sure those rules are followed. By the way, night shoots were really fun on The Walking Dead.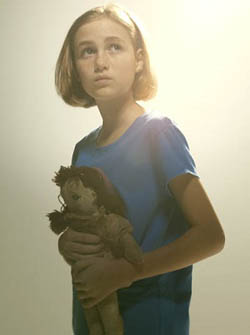 Madison Lintz comes from an acting family. Her mom, sister and brother are also in the business.
Tell us about your love for animals. Do you still have hamsters?
I love all sorts of animals and have two cats. I also love Pandas and when I was younger really wanted to get one but as I got older I realized this was not really possible. My cat Ollie is a tuxedo cat with a white mustache and paws and black all over. My hamsters are no longer alive and with the traveling I do I think we're going to stick with just the cats for now.
What is your favorite thing to do when NOT working?
Reading.
Were interview obligations in your contract for "The Walking Dead" or any other production?
No.
Tell us about your school situation and friends, on and off set.
I attend same private school as all my siblings and they work well with us when we travel to accomplish our studies
For "The Walking Dead" did you have a trailer? Craft services?
I had a nice trailer and I love crafty. (food services)
Anything else you'd like to say?
I really love the band One Direction and its my dream to meet them one day.
Tyler Alvarez plays Diego Rueda in Nickelodeon's new show Every Witch Way.
Photo by Tony Gale.
How old are you now and at what was your first professional job? Whose idea was it for you to enter the business and why?
I'm 16 years old and my first professional job was a Tostino's pizza rolls commercial. Since I loved to entertain, my mom thought it would be a good idea to take acting classes and now, the rest is history.
Where'd you get your gorgeous looks?
Thank you! Haha! I got most of my looks from my mom. Apparently I am the male version of my mom – according to her.
Are you in any actor unions such as SAG-AFTRA?
As of now I am a 'must join,' and I was about to join, but I booked Every Witch Way, which is non-union.
What was your audition like for Nickelodeon's "Every Witch Way"?
Well, first my manager got me the first audition at the Nickelodeon HQ in NYC. I was sent the sides [piece of script] a day before the audition. I felt good about my audition. Then the following Tuesday I got a call for a producer session. I was a bit nervous before going in, but I knew that this was a great opportunity so I put those nerves aside and went in and did my best. I later found out that they wanted me to test for the show in LA. This was my first test and I couldn't have been more excited! I didn't stress too much about the LA test, as I was happy that I had gotten that far. The day after I returned from LA, I got a call from my manager saying that I booked it. On 12/20/12 (the day the world was 'supposed' to end,) is when my dreams came true.
What's the difference between working on a TV series vs. modeling?
Working on a TV series is a lot of work but it's 10,000 times more fun. On a TV set you are always doing something and there is little down time as opposed to a photo shoot where you have a lot of down time and can hit up craft services (food) a lot, haha.
Tell us about your Latino upbringing.
I am second generation Cuban on my dad's side. This has exposed me to the Hispanic culture. I spent summers in Cuba with my grandmother when I was a child. If it weren't for my grandmother I wouldn't be the Latino I am today.
What are you most passionate about?
Family is the most important thing to me. My parents are divorced and I am fortunate to have a large extended family. My mom remarried and my step dad had three kids. Then they had one child together. Our dinner table has eight chairs. My dad remarried and had two kids. I love all my siblings and my step parents. I look forward to spending time with them.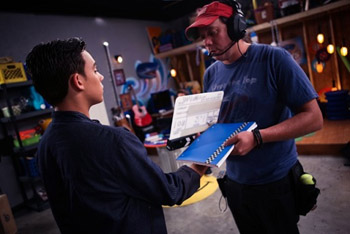 Tyler Alvarez on the set of Nick's Every Witch Way. Follow Tyler on Twitter: @TylerAlvarez
What do you think about Social Networking? Is it a MUST in today's world for people your age?
I personally think it is a must because you can talk to friends/family, make plans to hangout with people, and I like seeing all the funny videos people share.
Where is "Every Witch Way" is shot and where do you normally live?
Every Witch Way is shot In Miami Florida, and I currently live in NY.
Tell us about your school situation and friends, on and off set.
I am a sophomore at Jericho Senior High School. I have eight really close bros that I chill with a lot. We like going to concerts and having fun. They are all really supportive and think it's cool to have a friend on TV. When on set, I receive private tutoring and I love it because it's only three hours a day.
What tech do you use?
I am a huge Apple fan. I have an iPhone 5 and just got an iPad mini for my birthday.
Anything else you'd like to say?
The biggest advice I can give to actors is once you prep your audition you have to just go in and be in the moment and listen. To me, listening is the biggest thing in acting.
Morgan Taylor Campbell played Ann Templeton in the TV series Spooksville. She is currently working on No Men Beyond This Point.
Photo by Jamie Mann Photography.
How old are you now and at what age was your first professional job? Whose idea was it for you to enter the business and why?
I'm nineteen at the moment and I started in the business, of my own accord, when I was seventeen. I told my parents I wanted to act and Mum up and moved to Vancouver right along with me, just a few months before I graduated. It was probably the most sure decision I've ever made. To be an actor. For the longest time I was never sure about what I was supposed to be. My plan would switch from hairdresser to neurosurgeon to singer and then once it started turning into professions like Witch or Vampire, I thought, Oh. I should act. And then from there it was about four months later that I booked my first professional job, which was a commercial for NIKE. I got to ride a bike.
Are you in any actor unions such as SAG-AFTRA?
I joined UBCP (the Union of British Columbia Performers) while filming Spooksville. Without being a member I had to keep paying permit fees, so at that point it was a way to save money to join the union. And a few of my most recent permits went against the initial fee to join so it was cheaper for me to join at that time. It's nice too, now I have Dental.
You played Ann Templeton on the HUB Network's "Spooksville" for several episodes and you've also been on shows such as "The Killing" for one episode. What's the difference between creating a character for one episode vs. several episodes?
With a series regular role, I feel you definitely get a longer period of time to discover the character. For me though, I still feel I have a lot more things to figure out about Ann even though I spent five months with her over the summer. That may also be experience level too, because I am pretty new and I'm not always sure which choices work for myself and the character and which ones not so much, but then again I think there is always more room to learn about another person's life. I don't really judge it based on one episode or several, I find it has to do with how well I understand the person I'm playing. For me, The Killing was more difficult to grasp, because Lacey's lifestyle is very different from my own and I had such a short period of time to work with her. With Ann, I kept having new opportunities and circumstances to learn about her, so after some time you develop a level of comfort with this individual you're spending so much time with.
Morgan Taylor Campbell, while working as a professional actor, still has time for fun. Here she is having fun with her Furby, Tiger.
How come sometimes you're billed as Morgan Taylor instead of Morgan Taylor Campbell?
I remember before I ever moved, reading how many actors had stage names, I dunno maybe because they sound better or so they could keep their true identity secret (Batman). I think I thought that as an actor you were supposed to be this entity of mystery where no one really knew who you were and a new name could help me be that; help me hide parts of myself that I wouldn't want people to see and in turn I could be anyone. So, I wrote lists of different potential names and couldn't commit to the idea of having to get used to a whole other name, so I settled for half of me. Over time, after being in classes and reading plays and discovering what acting really meant to me and discovering more of who I am, I realized that if people are going to know me then they should just know me. We need more honesty in this world. And like Bob Dylan says, My name, it ain't nothin', my age it means less.
As an actor, you're really telling someone else's story. What's it like to portray a story through the words of someone else as opposed to telling a story that you make up on your own?
I believe it requires a lot of selflessness and empathy and those are qualities I'd like to better possess as a human, so having the opportunity to see the world from someone else's perspective is often times eye opening and inspiring. More often than not, we are given the freedom to make up the majority of a character's backstory, but I try not to just throw in what I think is the coolest choice, but to instead find out, based on given circumstances, what this person's life has been. It's sometimes difficult to not pick the easiest out for your character. I just watched Don Jon, and the people reminded me of some I had around growing up, and I felt that they were characters who I've so easily stereotyped in real life and it made me sad and happy to remember that everyone is complex and has stories to tell and shouldn't be undervalued.
Where'd you get your cleft chin from?
Hahaha! This is awesome! I definitely got it from Dad, right along with my Irish nose, which came from his mom, whose surname before she married was Andrews, which I suppose was originally English. It's really cool looking back at old pictures of great grandparents and seeing similar features on them as well. I find genealogy really interesting and plan to one day research much deeper into my family's history.
What was it like working on the indie mockumentary called "No Men Beyond This Point"? Did you have an audition?
I did an audition tape, so it was just me, my coach and the camera. I was in the middle of packing to move to shoot Spooksville actually, so I had to borrow some clothes from friends and I ended up wearing some fancy cardigan with a collared blouse even though the attire was supposed to be more minimalist. I was going for a school uniform type thing, but that was what I could get my hands on, which, hey, still worked out great. I just loved the concept of the film. The story and the mockumentary style itself, which I hadn't done before. Oh, I was supposed to have this rigged prosthetic breast so that I could be breast feeding my baby and you could see the milk and everything, but it ended up just being hilarious. It didn't feel quite real and there was makeup all over it to make it look natural, but that turned the baby off completely, so we couldn't end up using it. And, as for the festival circuit, I'm sure we will be there, I just can't be sure of which ones. When it comes to those things, I would imagine I'd be taking myself. Perhaps make a fun road trip out of it.
Who turned you onto Edgar Allen Poe?
High School English class. His themes of violence and loneliness struck a chord in me. Reading his work fascinated me because I came to understand that the world I was living in was so much smaller than it seemed at the time, and that the possibilities for what this world is capable of are limitless and to do with it what you will.
Who is your best friend?
My best friend is my blankey. Her name is Bubius (pronounced Bubish) and I've had her for nineteen years. I like that she stays consistent even as I grow up, besides a bit of wear and tear. So many things come and go, but I can always look to her when I need comfort.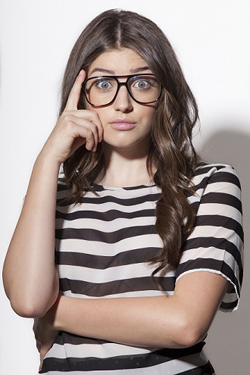 Morgan Taylor Campbell shows us one of her many looks that make her more marketable.
Follow Morgan on Twitter: @MorganTCampbell and visit her website at
morgantaylorcampbell.tumblr.com/ 
Photo by Jamie Mann Photography.
Are you attending or planning to attend university? Did you ever get your High School diploma?
I didn't like high school, so I left as soon as I could and then I finished, my one last course I needed to graduate, from home for the last few months and just mailed it all in. I was registered for university for the fall that I moved out to Vancouver, but on the last day to sign up for your courses I dropped out. I didn't want to go. I didn't want a backup plan. I just wanted to be an actor.
What is Celiac? When were you diagnosed? How has this dampened or heightened your awareness of food intake?
Very basically, it's an intolerance to gluten. Gluten free has become so hip these days, but it's important for people, especially who want to eat gluten free, to know exactly what not to eat. It's a protein found in wheat, rye, barley and is often cross-contaminated with oats, but there are so many fancily worded ingredients that one would often have no idea contain gluten. I found out when I was ten, on my way to camp, that I would not be able to eat the hot dogs, or the smores. I lived on Rice Krispie squares for that week, only to get home and find out that they aren't gluten free anyway! For the first six or so years I hated it. I was embarrassed that I had to eat weird food and I couldn't eat the cake at birthdays or ever go out to restaurants. I didn't eat at a restaurant for about six years, because at the time, a gluten free menu was very hard to come by, and still, cross-contamination is a big worry. Now, I'm completely comfortable with it and I'm thankful that if I have to be diagnosed with something, I got the thing that is just going to make me eat healthier.
Anything else you'd like to say?
I just want to say thank you. Thank you.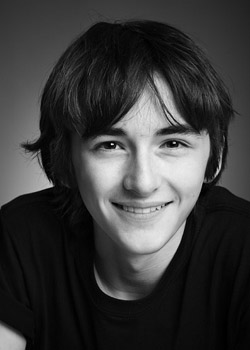 Isaac Hempstead Wright plays Bran Stark on HBO's Game of Thrones. Photo by Curtis Gibson.
How old are you now and at what age was your first professional job? Whose idea was it for you to enter the business and why?
I'm 14 and I had my first professional job when I was 10 – it was an ident for a documentary series. I was in it for less than a second. I joined a local drama group when I was nine. I joined for fun, not because I wanted to be an actor, but the other children in the group went up for occasional auditions and I was interested by that and asked if I could try too. My mum said I could do six auditions only. All the auditions were for adverts, except Nanny McPhee and Game of Thrones – which was the sixth and final one!
Are you in any actor unions such as SAG-AFTRA?
I had to join SAG-AFTRA for The Boxtrolls.
You play Bran Stark on the HBO series "Game of Thrones." Tell us some behind the scenes details. What was your average call time? Do you read the scripts in paper format or electronic?
The average call time is probably about 7:30am for me, but much earlier for the adult actors. My mum is my chaperone so she keeps an eye on my times. We get the scripts electronically and a paper copy too if there's a read-through. And we get sides [parts of a script] when we are filming, so I learn my lines then as I never have too much to say and you don't want to be over-rehearsed because the Director will guide you if necessary. It doesn't take me long at all so the rest of the time I hang out with the cast and crew. I take lots of games on set with me because there is always a lot of waiting. Depending on our location, I might have some time with my tutor, but I prefer to study in the hotel away from the distraction of the set. We have 3-way trailers, and I'm usually next door to Kristian who plays Hodor or Ellie (Meera) or Thomas (Jojen) and we all get on really well. There is always a good catering service, although I probably eat way too many biscuits and sweets things.
What was going through your mind when being fitted for the "Game of Thrones" costumes?

My first costume fitting was so exciting, and it felt like I was transported to another time and place. Far from getting sweaty, the challenge often was to stay warm as we filmed in some remote places.
What was your reaction when you found out you were nominated for a Screen Actors Guild Award for Outstanding Performance by an Ensemble in a Drama Series?
Well it's not something I had heard about before, but I am really excited to be going to the ceremony.
Where is "Game of Thrones" shot? What are the rules and regulations for child actors regarding working hours?
Game of Thrones is filmed in Northern Ireland. My local authority sets down the regulations for my employment and my mum makes sure they are followed on set. My mum is with me at all times because a film set is a busy working environment and it's good to have available the support of someone who knows you well.
You just finished working on an animated film called "Boxtrolls". What's the difference between working in front of the camera vs. behind the camera? Did you do motion capture for this or just the voice? Tell us more.
There was no motion capture for Boxtrolls, but they always film the recording sessions for reference. The lines are put down first and then the animation is produced later. I was lucky to share a couple of my recording sessions with some of the other cast, so I met Sir Ben Kingsley, Simon Pegg and Elle Fanning, which was very cool. But usually I was in a studio in London on my own or with a reader, and with the Director on the line from Oregon. It's a very different experience because you have to imagine the whole scene and the context far more than when you are on a set in costume. The Directors were excellent and they really conjured up the scenes for me and explained what all the characters were feeling and why. Making a stop frame animation is a long and detailed process and the animators require super human patience and dedication! I've visited the Laika studios and it's an extraordinary world of incredibly talented people. I'm looking forward to seeing the result!
Isaac Hempstead Wright just wrapped the animated film The Boxtrolls. Photo by Curtis Gibson.
What were your auditions like for "Game of Thrones" and "Boxtrolls"?
The first Game of Thrones audition was in a church somewhere. I had no idea what it was about, but the casting assistants explained what you had to do; it was pretty relaxed and informal. For Boxtrolls I just taped a voice recording at home and sent it to my agent. At the second Game of Thrones audition I met the producers and read from some scenes. I remember it was a hot day and the tube trains were on strike so we walked past Buckingham Palace and through Green Park which was lovely. There were some other children there for the auditions and their parents were already reading the books – we bought a copy after that!
What is your favorite thing to do when NOT working? What technology do you use?
I love music and I really enjoy playing the piano. I also play a lot of Minecraft with my friends. But I have a lot on at school this year, so that takes up most of my time.
Were interview obligations in your contract for "Game of Thrones"?
I'm not sure. HBO invites me to various promotional events, but I don't think it would be a problem if it clashed with a school event. Otherwise, things get passed on to me via my agent, if she thinks it's a good idea.
Tell us about your school situation and friends, on and off set.
I go to the local grammar school. For me, school is my priority. I have a fantastic time acting, but I really want to do well at school and go to a good university. So far, my acting commitments haven't caused me to miss too much school and I have always managed to catch up. My school is really supportive and my teachers make sure my set tutors have all the relevant work for me. My friends don't make any fuss about my acting work. Bizarrely the teachers are more impressed!
What are the differences between working on a television series such as "Game of Thrones" vs. working on commercials vs. working on a film such as "The Awakening"?
I don't really have any experience of commercials other than my first job, and shooting Game of Thrones has a cinematic feel to it – we still do loads of takes and you have to be patient with the process. It's not like regular TV apparently where speed is of the essence. The craft services (food) are always good; I love it when lunch is called or the cake tray comes around!
Anything else you'd like to say?
My advice to young people who want to act is to have a fall-back plan. It seems to me that acting is a hazardous profession; so much is down to luck. I've been incredibly lucky! So, if you get lucky and land a role, don't take it too seriously, make sure you have fun!
Jade Pettyjohn has been on several network TV shows and travels for work.

Photo by Jessica Pettyjohn.
How old are you now and at what was your first professional job? Whose idea was it for you to enter the business and why?
I am 13. When I was seven years old I booked my first commercial for a talking monkey toy. I think it only aired in Europe. But, about a month later I booked a co-star role on The Mentalist. I think that was my first real job.
It was my idea to start acting. Ever since I could talk I loved making up different characters and I realized that's what actors did. So I started asking my Mom if I could act. My mom was really nervous about it because I was really shy back then. She thought she would be throwing me to the sharks or something. But when I started growing out of my shyness, I convinced her to let me do it. I love it, I am passionate about it and have fun doing it.
What are your favorite foods?
I LOVE LOVE LOVE sushi. But also, in Los Angeles, there are a lot of fruit stands. So I love getting a big bag of tropical fruit with chili powder in the summer. That is my favorite summer treat.
Are you in any actor unions such as SAG-AFTRA?
I am in the SAG-AFTRA union. I became eligible with my role on The Mentalist and I had to join when I booked a small recurring role on United States of Tara.
What were your auditions like for ABC's "Revolution" and "Dakota's Summer?" How'd you hear about the auditions? Were you sent sides? Did you have a callback?
OK. I will start with how I hear about auditions. My manager emails my mom the sides [part of the script] and audition time and location. She prints them and gives them to me. With Revolution the sides were the scene when I say goodbye to "Mom". They taped that audition and sent it to production. I was cast off the tape sent in. So there was no callback for that particular job. For Dakota's Summer I did have a call back. I auditioned with a few scenes from that, but since that film is not released yet, I am not sure that I can say anything about it. With the American Girl: McKenna Shoots for the Stars movie, I auditioned the opening scene with my character's best friend and a scene on friendship with my tutor. That one there was a call back and then there was what is called a mix and match. That is when they take the top picks for lead characters and have them read with each other to get an idea of how people work together. Each audition is different.
What's the difference between working on a TV series like "Revolution" and "United States of Tara" where you were are several episodes vs. working on a TV series for just one episode such as "The Mentalist" and "Grimm?"
With recurring and guest star TV there is not a big difference with those types of TV jobs. Maybe if I was a series regular on something and had a more solid 40 hour work week over a long period of time it would be a little different. But, TV has a schedule. And with what I have done you get the script for the episode that you're gonna be in, and you have table reads and you rehearse on set with the Director. But it moves fast. And the longer the show has been around the smoother and faster it seems to move.
Why did you choose to learn piano and guitar over other instruments?
Well piano, was more my parents wanting me to have a few basics. I like piano, but I LOVE guitar. It is one of my favorite things to do. It's rare for me to go a day without playing at least a little. I am a rock and roll fan and the guitar speaks to me more I guess.
Tell us about "The Last Ship".
So, I don't want Michael Bay firing me so I cannot say a whole lot about it. What I can say is that it is a TV show, sort of a post-apocalyptic action TV series based off of a book. It stars Eric Dane, who was 'Mr. McSteamy' in "Grey's Anatomy" (not my words by the way… that was the show name). And he is so warm and friendly and fun to be on set with. It's such a welcoming and friendly cast and crew. I also find that it is really amazing that we are working on actual battle ships. They are so cool.
When did you become interested in gymnastics? What's your favorite part?
So, honestly, before American Girl I only did cartwheels in my front yard. When I booked American Girl I learned so much. I stepped into a new world and trained with the junior Olympic team in Canada. I fell in love with the balance beam because that was my character's main event in the film, and I trained more with that than anything else.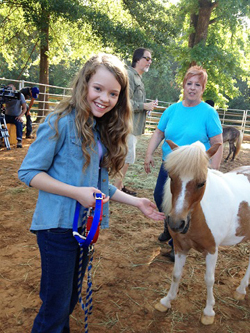 Follow Jade on Twitter: @JadePettyjohn, on Instagram @JadePettyjohn_Official and her website at http://www.JadePettyjohn.com.
Photo by Jessica Pettyjohn.
Where do you currently live? Have you ever had to travel for work?
I live in Los Angeles. I was born here. But I have traveled for Revolution, American Girl, Grimm, Dakota's Summer and will be traveling a little bit for the Last Ship. My mom always comes with me. Production pays for the tickets, which is awesome because usually it's first class. I totally geek out on that! They also pay for hotels as well, which are pretty nice. I keep the key cards and pictures of me jumping on each hotel bed for my memory box.

Tell us about your school situation and friends, on and off set.
I go to a private school. It's smaller and kind of perfect at this school. I work hard on my schoolwork there so that I am always ahead. That way I do not fall behind when I have a mass amount of auditions in a week. They really help me with that. But, it's the auditions that throw you behind schedule, not being on set. On set there is always a set teacher. When you are on set during a school day you have to put in three hours of schoolwork a day. So basically, I do homework on set, then actually work. I really do want to go to college. I want to major in business. I really like the idea of going to Stanford. But, I am only 13, so I have a bit of time to decide where to go for sure.
My friends are supportive of what I do, and I am just as supportive of the things that they do. With my friends I love going to the movies or amusement parks like Universal Studios and Six Flags and Disneyland. We laugh, we go to malls, we have sleepovers.
What tech do you use?
I am definitely an iPhone lover. I have an iPhone and an iPad, an iMac plus I have an obsession with Temple Run and Instagram. Out of all of the social media that is the one I am on most and love. My account is @jadepettyjohn_official
Anything else you'd like to say?
It's so important to understand the script. My advice to kids who want to start acting is so simple that people look at me funny when I say it. But, you should look up the words you don't know in a dictionary. If you don't know the words in a script you can't communicate them. It's so so so basic…
MacKenzie Lintz plays Norrie Calvert-Hill in TV's Under the Dome and was also a District 8 Tribute Girl in The Hunger Games.
How old are you now and at what was your first professional job? Whose idea was it for you to enter the business and why?
I am 17 and my first job was I booked an episode on a TV show called Drop Dead Diva. I was an athlete growing up and played softball and volleyball and it wasn't until I was 13 that I got involved in acting. My mother has been in the biz for over 20 years and at the time two of my siblings were involved so I thought I'd give it a try.
What's it like being the oldest of four children in an acting family?
Being the oldest has its advantages for sure. I do sometimes help my younger siblings with auditions but usually my mom handles that.
Are you in any actor unions such as SAG-AFTRA?
Not yet but I expect to be soon.
What was your audition like for "Under the Dome"? How'd you hear about the audition? Who helped you prepare for the audition?
It was a while ago so I don't completely remember but I auditioned more than a few times and my mom helped me prepare. The audition came out on the normal breakdowns in LA and the southeast. I don't remember the scenes but there were more than a few scenes.
What's the difference between working on a film like "The Hunger Games" vs. a TV series such as "Under the Dome" and Lifetime's "Drop Dead Diva?"
Not much difference. On both there's plenty of time to hang out with other actors and have fun.
What's the difference between working on ONE episode (Drop Dead Diva) vs. working on multiple episodes (Under the Dome)? Is working on one episode more intense for your character vs. having a storyline and an arc on several episodes?
Yeah, it's obviously rewarding and fun to take a character like Norrie over a season and develop her but guest starring is fun as well.
What are you most passionate about?
I get a little crazy about shoes and college football. I guess most could understand the shoes thing but my dad introduced me to college football and I love it!!!!
What do you think about Social Networking for work vs. personal?
I participate in many forms of social networking and enjoy it.
Who reviewed your contract with you for "Under the Dome"? Was there anything you had added in?
I have a management team in LA and Atlanta who help us with that aspect of the biz.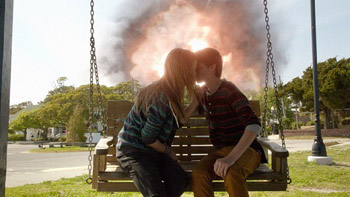 MacKenzie Lintz on set. Be sure to check her out on CBS's Under the Dome.
Tell us about your school situation and friends, on and off set.
I attend a private school in North Atlanta and when I'm on set the teachers there work with the onset tutor to complete my studies. I have a great group of friends at my school and they treat me like any other kid at school as they should. In fact a few of them have come to North Carolina last season to visit me on set which was fun.
What was it like going to the MCM London Comic Con in October 2013? Tell a FAN story — did anyone come up to you that you totally remember and what did they say/do to make you take notice?
I really enjoyed going to London and attending MCM Expo. I am still a minor so my mom went to this with me. This was not a required event by Under the Dome. All of the arrangements were handled by MCM. One fan made a 20-page book with a lot of pictures and articles about our family; they had a section for each actor in our family. It was a kind gesture.
Anything else you'd like to say?
The upcoming season of Under the Dome will be crazy. Be sure to tune in CBS June 2014!
**** Special thanks to Jessy Coisnon **** See Jessy's video on the Exposition " Delacroix en héritage at http://www.youtube.com/watch?v=TtcuuvDcYZo !