Ever think, "I MUST become a successful, working actor or I'll die!"
Well… taking a class at the renowned T. Schreiber Studio in New York City will help you ignite that passion, not just for acting but for every character.
"I always start with I MUST," says Terry Schreiber, "because I MUST propels you. 'I MUST have Juliet tonight or I'll die.' And I ask you what that means to you, not just intellectually. What does that mean to you in your body?"
Since 1969, Terry Schreiber has helped open up actors with his relaxed, safe and supportive atmosphere. The Studio began with Terry Schreiber teaching classes twice a week to twelve actors in a converted loft on the Upper East Side of New York City. Enrollment increased and the group began mounting productions in what were the early beginnings of New York City's Off-Off Broadway movement and building its reputation of high quality productions and performances. Today, the Studio resides in a renovated multi-use space on the 7th floor of 151 West 26th Street in New York's lively Chelsea neighborhood. Classes and productions run continuously throughout the year.
To help you learn more about T. Schreiber Studio, NYCastings spoke directly with the legendary, passion filled man – Terry Schreiber…
You MUST read this Q & A with Terry Schreiber
Q: In your studio, you focus on removing the tension that blocks feelings. How does this help actors?
In every class we do relaxation exercises. We differentiate between nervousness and tension because if you're not nervous when you are about to go on stage – you are not alive. The tension is what gets in the way. We tend to build up guards to protect ourselves from feelings that we don't want to have. Our exercises will help you to release that without analyzing who you were at what age to block that feeling. That is one thing I am deft on in acting classes is a teacher trying to be a psychologist. We have a class called Body Dynamics and Carol Reynolds is a certified Bioenergetics teacher.
Bioenergetics is really helpful because we lock different areas in our body. Someone who comes from a dance background has a lot of pelvic lock. The whole principle is really learning how to take the energy up from the floor and open up – especially in the pelvic area and the thighs because that is where your power source is located. It is like a fist that tension. It is learning how to breathe into that fist and let it open up.
Enlarging your range is the purpose behind it. Sometimes, the areas you have to go to into in acting are very difficult areas to open up to. It gets into some feelings that have been blocked for a while. It's amazing what happens after that 45 minutes because you are so centered and the concentration is right there and available. It opens up your imagination, your inner life, that organic life that you want to get to.
I talked to Ed Norton about American History X and asked "How could you say those things to Elliot Gould it had to be very hard," because Ed is such a liberal person and Ed said it was. The dialogue can be thick in your mouth but you have to get free with the words because the character is.

Q: How does being relaxed and centered affect how a person portrays a character?
I was working with a guy the other day who is really wired. Out of the relaxation exercises, suddenly his face, which is usually pinched and tight and leaves him as an offbeat character actor, was wide open and I told him, "You've just gone from that character to really being a handsome young man."
No athlete is going to come out and just play a game. They get to the park hours early and warm up. An actor has got to do the same. You cannot convince me that anyone can come to the theatre at 7:30 and be ready to perform at 8pm. There is just too much going on in our personal lives. Look at someone like Mary-Louise Parker who has her own keys to the stage door and gets there at 5pm. You've got to get rid of the day. You can't just walk out there and be ready to go. You've got to be centered in what you are going to do that night. You have to do a gradual warm up and find out where your energy is in your body. Is it high or low? You want to get down to that lower energy.
Q: How does your technique help actors succeed long term in this biz?
For the experienced actor, the actors use it as a gym. They use it as a place to work out, so that the audition is not the be all end all of their career. It is a good opportunity to do the roles they are afraid of, to do writers who have a different rhythm than their own and to stretch. Especially, if they have trouble getting to the things that are called for many times in auditions – the vulnerability or anger. You've got to find that in you because you are your own instrument.
I don't think you can ever just 'as if' yourself through a role without being on top of the role and connected to it. When you see the really good actors they are connected to what they are doing. They aren't doing just an idea of the role. The inner connection comes from you, that you open up yourself and share that side of you with us. Once you are doing it, the audience thinks you are the character and in the classroom you are opening up to that.
Q: How does an actor get started with T. Schreiber Studio?
We do a big orientation here every Monday night for new people for an hour and a half because we do a presentation and individual interviews. You have to audition for any intermediate or advanced classes.
If you begin with the beginner class, we have an intensive that introduces Meisner work. After three months of that, you move to Intensive Two and that adds much more scene work and other kinds of exercises.
We try to create a very safe environment here so people are comfortable taking risks or chances without judgment. I have no auditing for that reason because I think that is a complete violation. If you have twelve new people in class, every time, it is a performance. I don't want that. I want you to really explore your work and fall on your butt a couple of times because out of that comes growth. It's got to be a supportive atmosphere. The minute you have auditors you have judgment either finding out if the class is good enough for them or the teacher.
Q: If someone is trained but not in your style, will they start at beginning or intermediate level?
It depends on the background. If I am interviewing, or Peter is interviewing, we will ask if you've had any Meisner training or Strasberg training with sensory work and physical conditioning. We ask who you have been studying with and what kind of approach did they take because I feel it is very unfair to put an actor in a class over their head. They should feel comfortable yet challenged. As we move along the exercises get more demanding. We try to build through a whole series of exercises where each gives you more courage and freedom. It will still be difficult to jump in but it is about you finding tools that work for you.
Q: How does your approach give New York actors an edge at auditions?
I tell my actors to not get involved in a conversation with someone at auditions. You can say to someone you haven't seen in a while that you'll go for a cup of coffee afterward, but first you have to prepare. You have to get into yourself. You can do drop overs or shake outs through the spine. Sit in the chair and drop over and don't care if some other actor wonders what you are doing. You've got to be willing to do that. There may be people who kid you but you've got to laugh it off and go back to what you were doing. It is key.
Q: What type of person is best suited for your style of training?
Somebody who is open enough to give themselves to this kind of work and want to explore. Some of the exercises will work for you and some not and that's ok because you come out with tools.
It is very difficult to work with someone, even in the beginning stages, who is really locked up. A lot of us go into acting because we have not had very happy home lives and we think acting gives us a good chance to escape ourselves and what we learn is that if you are going to do it well you are going to go deeper inside yourself then you ever have.
When you are really playing an objective your objective plays you and you have to give up control to do that or else you are just up in your head, manipulating it. You are not really taking it on.
Q: Your Studios seems more like a community than a school with all it's theatres. Is it?
Yes, it is a family here. We do a three play season, we just finished a couple of weeks ago with our last production for the season, we are doing a bare bones production in July and will open again in October with Lobby Hero.
I have an arrangement with Actors Equity that we cast strictly from people studying here and alumni. Because if we don't trust our work, what's the purpose. You go study at Atlantic Theatre Company and the whole play is cast outside so then where is the work that's done in the classroom going? Where is their chance to perform? We are 43 years old and I just finished doing The Changing Room and the owner and the locker room attendant are both 84 years old that played those roles. We do have age appropriate casting here.
And we have a commercial class, a voice over class, Peter Miner who has been with me for years teaches on-camera 1 & 2 so if you've never had any experience you can get your feet wet with On-Camera 1. We are going to add a musical theatre class. We also have Shakespeare and the body dynamic vocal classes. We cover everything that you are going to face out there in the world.
Q: If you were to choose either Theatre, Film or TV – what would you say is your niche. What are you the GO TO studio for?
Theatre. I feel as if the best film actors are stage actors. There is an adjustment to make but they are always the deepest, richest work.
Q: If you had to sum up why someone should study at YOUR Studio – what verb, adjective or phrasing would you use?
I think we are really about providing an open and supporting atmosphere to explore the work, to explore the craft. You can feel safe here. And that's a very important thing. Some teachers attack, they strip someone's ego to rebuild them, and I think that's out the window. They are not a therapist and can leave a person in trouble.
After you do a scene at our Studio, I will ask you where that takes you and you will feel the freedom to share and talk about it. To say it reminds you of a time in high school. I just need a hint of where you are going with the role or what you are trying to get inside or share with yourself. Whatever you are playing it's got to come back to you and finding that character within you. Sometimes that is very hard, you can be playing someone who is nasty and you can't judge that character. You've got to play it and let the audience do the judging.
Q: Any advice you have been given that helped you stay inspired?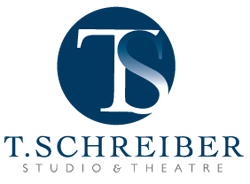 When I first came to New York I was introduced to Kim Stanley who for me is the greatest actor I've ever seen on stage. When I was leaving her house, she took my hands and said, "Just remember, as you go along with your career you may have to sell out on some things but just make sure you can buy them back." It was a wonderful point about integrity.
I also believe that it is very important to keep growing. When a young person hits it and then stops there, doesn't use a class again for a gym, that's a trap. There is always an opportunity to grow. When you shut off learning and think you know it all that's when the instrument starts to shut down. Look at the actors you admire, like Meryl Streep, and the risks and the chances they take.
IF YOU… must take a chance on T. Schreiber Studios – check out their site for more detailed class info… http://tschreiber.org/
Thank you to Terry Schreiber for his time and insight!