In this series, I will break down every acting nominee for the 2023 Academy Awards, one category at a time. This series will not attempt to predict the winners, nor will it declare that anyone "should" win. It is a breakdown and celebration of each performance and why they deserve to be recognized. Each article will also mention one eligible 2022 performance which was not nominated but is also worth discussing. Some of these breakdowns will mention plot points from the films, so watch out for spoilers. 
The 2022 nominees for Best Actress are: Ana De Armas, Blonde; Michelle Yeoh, Everything Everywhere All At Once; Michelle Williams, The Fabelmans; Cate Blanchett, Tár; Andrea Riseborough, To Leslie. Another performance worth mentioning is Viola Davis in The Woman King. 
Ana de Armas
Film: Blonde
Role: Marilyn Monroe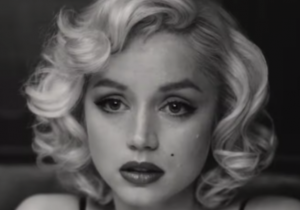 Background: At age 34, Ana de Armas is this year's youngest nominee for Best Actress. This is not only her first nomination, but the first Best Actress nomination for a Cuban woman. A busy actress since she began at age 18, de Armas rose to prominence for her role as a holographic AI in Blade Runner 2049; she gained her first Golden Globe nomination a few years later for Knives Out. For her role as Marilyn Monroe in Blonde, she has been nominated for the SAG Awards, BAFTAs, Golden Globes, and many more.

Why she deserves to win: Blonde, Andrew Dominik's adaptation of Joyce Carol Oates' fictionalized account of Marilyn Monroe's life received heaps of controversy and criticism, even leading the Razzie awards in nominations. However, Ana de Armas deserves none of the heat directed at the film. Her performance as Marilyn Monroe is astonishingly vulnerable and captivating. When Ana de Armas, who is Cuban, was cast as the iconic blonde bombshell, the choice was met with some skepticism from fans. However, the transformation is undeniable, as de Armas was able to masterfully capture Monroe's mannerisms. While her natural accent crept through at times, it was not a problem. If anything, it seemed to serve as a reminder that this is not a biopic; rather, it is a heightened imagining of how an iconic sex symbol could become something bigger than herself while suffering abuse at every turn. Ana de Armas' depiction of Marilyn Monroe was able to capture the tragic duality at the core of the character in the film: the charisma to win everybody over, contrasted with being lost and without a feeling of family. It may not be accurate to Marilyn Monroe's real life, but it's a compelling character performed excellently and is very deserving of this high-level recognition. Personally, I was worried that the controversy surrounding the film would lead to Ana de Armas getting snubbed, and I was happy to see her on the list. 
Cate Blanchett
Film: Tár
Role: Lydia Tár, a world-famous classical music composer and conductor. 
Background: For the last 20 years, at least 1 performer has swept the BAFTAs, SAG Awards, Golden Globes, and Oscars, winning all 4. With Cate Blanchett's loss at the SAG Awards, this 20-year streak has been broken; after winning the BAFTA and Golden Globe, she was the last remaining undefeated performer. Considered by many to be the frontrunner in this year's Best Actress race, Cate Blanchett is the only past Oscar winner to be nominated in any of the 4 categories this year (she won Best Supporting in 2005 for The Aviator and Best Actress in 2014 for Blue Jasmine). While Yeoh's SAG win has thrown a wrench in Blanchett's perfect campaign, her odds still seem very strong to take home her third trophy from the Academy.

Why she deserves to win: Blanchett's performance in Tar lives up the hype. A powerful narcissist with high standing in the classical music sphere, Lydia Tar's fall from grace happens gradually across the film's runtime; even as the cracks start to form, she clings desperately to her pride. As she stubbornly refuses to appear pathetic, she allows everything she cares about to slip away. Much like in classic Greek tales of hubris, the character's ego and power-drunkenness destroy her life, and once she recognizes it, it's too late. Such a role requires a performer with undeniable charisma who commands power in a room; Blanchett does this effortlessly. It also requires an intricate balance to be found when the character begins to unwind. The performer must make the cracks visible while maintaining the character's ignorance; they must use restraint to draw out the character's realization for as long as possible. The demands of the role are met perfectly by Blanchett, who remains very engaging to watch through the highs and lows of the film itself. When the Academy likes a film, they typically like to give it something, and that's an edge for Blanchett; while Tar and Everything Everywhere All at Once have both been very well-liked this award season, Tar isn't the frontrunner in any other category. Blanchett may, essentially, be accepting the Best Actress award on behalf of the film itself. There's nothing wrong with that, though – the film is elevated to its current level by the strength of Blanchett's performance. 
Andrea Riseborough
Film: To Leslie
Role: Leslie Rowlands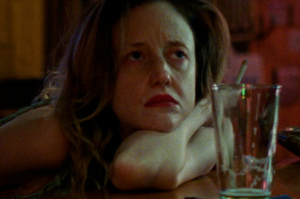 Background: Can I rant for a little bit? Andrea Riseborough's nomination has been deemed "controversial" and was even subjected to an investigation by the Academy. This is because she was nominated for a lesser-known film, which sort of popped out of nowhere. Rather than a traditional campaign backed by money from a studio, Riseborough's nomination was the result of a word-of-mouth campaign led by A-list celebrities, including fellow nominee Cate Blanchett. To me, this is exactly the kind of performance that should be nominated: an astonishing performance that many people in the industry wanted to recognize, which has now been given significantly wider attention by the nomination. However, since her nomination was unexpected, many fans have rejected it. Andrea Riseborough has become the scapegoat for everybody who wishes their favorite actress got picked. This narrative is extremely annoying to me. We should be celebrating the fact that a very talented actress (who has been underrated for years) has defied the odds and earned her first Oscar nomination. It's a massive win. And, in terms of the performances themselves, Andrea Riseborough shouldn't be on the chopping block; she might even be the best of the bunch, only lacking hype due to the quiet limited release of To Leslie, which didn't even break $30,000 at the box office. Please, before you tweet anything bad about her nomination or assert that she "stole" a nomination from someone else, at least watch the movie. Is that too much to ask?

Why she deserves to win: To Leslie follows Leslie, a former lottery winner who has, through years of bad decisions and alcoholism, lost all the money she won and burned bridges with everyone she knows. Now, only 6 years after her win, she is homeless. The humanity that Andrea Riseborough brings to such an unstable character is extremely impressive. She manages to convey the complexity of the character: Leslie has a drinking problem and needs help, but her unreliability and fits of rage make it nearly impossible for her to receive it. Riseborough transforms into the character, throwing herself in fully to demonstrate the toll that alcoholism and homelessness have on the body. She also shows incredible range in the performance, showing Leslie's performative two-facedness as she attempts to hide how dire her condition really is. The performance's range is also demonstrated by Leslie's transformation through the highs and lows of her recovery. It's a film built completely to showcase one incredible performance. If To Leslie was seen by as many people as the other films in this category, we might be discussing Andrea Riseborough as the frontrunner. 
Michelle Williams
Film: The Fabelmans
Role: Mitzi Schildkraut-Fabelman, the mother of Sammy (Gabriel LaBelle).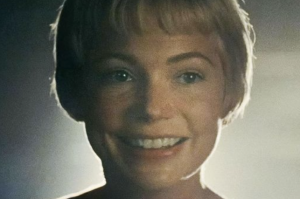 Background: Steven Spielberg has wanted to make a movie about his childhood and parents for years, and The Fabelmans is the product of a long development period. The final product is worth the wait, as it's one of the best films of 2022. Michelle Williams' character, Mitzi, is based on Spielberg's mother, Leah Adler. Williams' Oscar campaign has been plagued by debates about whether she should be entered in lead actress or supporting; however, it's clear that The Fabelmans is about Spielberg's mother as much as it is about himself, and Michelle Williams more than earned a nod in the lead actress category. At the relatively young age of 42, this is a very impressive fifth nomination for Williams. However, despite winning many accolades in her career, including two Golden Globes, an Emmy, and a SAG Award, she has not won an Oscar yet.

Why she deserves to win: The character of Mitzi Fabelman is trapped in a tense family situation. Her son, Sammy Fabelman, is a young artist, while her husband (Paul Dano) is a very serious computer engineer. In her son, she sees an opportunity for her artistic side – something she's long suppressed – to live on. Despite the beaming positivity she radiates, her character is very tragic; her life is a possible outcome for a child like Sammy who dreams of being an artist. The artistic child inside Mitzi has not died, but is trapped in a world where her dreams have been replaced with a home life. This child pushes its way out of her in unexpected ways, fighting hard against the depression Mitzi is feeling. Michelle Williams portrays the sweet sorrow of her character perfectly; moments like Mitzi dancing at night or buying a monkey are not only extremely believable, but strike a balance between the joy and sorrow at war within the character. Williams makes you love the character first before jerking at your heart (and ripping it to shreds). For me, it's the most emotionally evocative performance of the 5 nominees; despite the film being about her son, Mitzi is the heart of a very emotional film. 
Michelle Yeoh
Film: Everything Everywhere All at Once
Role: Evelyn Quan Wang, a wife, mother and laundromat owner, currently being audited.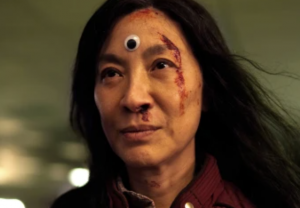 Background: At age 60, Michelle Yeoh has scored her first Academy Award nomination. This also makes her the first openly Asian woman to be nominated in the Best Actress category. After rising to prominence in action films throughout the 80s and 90s, few would have guessed that her greatest, most unique role would come in 2022. But nobody can deny how impressive her performance in EEAAO is, already earning her a Golden Globe and many critics' awards. She also scored the SAG for Best Actress in an upset over Cate Blanchett, putting the two neck-and-neck for frontrunner status.

Why she deserves to win: Everything Everywhere All at Once is a completely wild sci-fi comedy-drama film about a family thrust into a conflict spanning across the multiverse. The parallel universes in the film present the actors with a unique challenge and opportunity; they each must play various versions of their characters. Each must be identifiable as the same character while also being distinct from the other versions. These circumstances may be part of the reason that all 4 main actors in the film were nominated for Oscars this year. Yeoh's character, the mother of the family, is the film's lead, with the action centering around her. As she is thrust into the absurd world of the multiverse, she must process and adapt to what is going on. However, underneath the high-concept and comedic action of the story, there is also a family conflict that Yeoh's character must deal with. This means that, despite the absurd circumstances, her performance is actually quite grounded. Her dramatic performance is the glue of the entire film. Michelle Yeoh is captivating. She also manages to show the flaws of her character while still remaining very likable to the audience. As the lead performer of an extremely fun movie, she rises to the challenge, bringing a fun, varied, and energetic performance which is also nuanced and "real." 
Viola Davis
Film: The Woman King
Role: General Nanisca, a warrior who leads and trains the Agojie, an all-female warrior unit.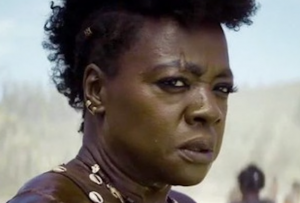 Background: An EGOT winner, as well as the only African-American performer to win the Triple Crown of Acting (Emmy, Oscar and Tony), Viola Davis is one of the most lauded actresses of her generation. After being nominated for a BAFTA, Golden Globe and SAG Award for her role in The Woman King, it seemed somewhat likely that she would score her 5th Academy Award nomination as well. However, the film underperformed at the Academy, not earning a single nomination despite critical and commercial success. With criticism aimed at the 95th Academy Award nominations' absence of any black performers in either lead acting category, Davis has become one of the most-discussed snubs.

Why she deserves to be mentioned: As the lead in one of the most exciting action movies of the year, Viola Davis' performance is bold and memorable. Known as a great dramatic actress, Davis demonstrates incredible range by portraying the fierce and tough general Nanisca, showing complete command of various fight scenes. However, there is also a vulnerable side to the character, allowing Davis' dramatic chops to shine through. On top of that, it is a historical piece; this gives the performance an additional layer, as Davis must capture the voice and mannerisms of an 1820s African warrior. While historical dramas tend to do very well with the Academy, performers in action films are often overlooked, putting this performance in an interesting gray area. I would also speculate that Viola Davis' EGOT status isn't doing her any favors in this case; with only 1 former Oscar winner being nominated across all 20 acting nominees (15/20 being first-time nominees), and several underdog/comeback stories like Michelle Yeoh, Andrea Riseborough, Brendan Fraser, and Ke Huy Quan dominating the awards season narratives, it appears that voters wanted to favor fresh faces this year.