ABC actor, Stumptown's Adrian Martinez, has muddled blurred lines in more ways than one.
First, he has tested the boundaries of being an actor by becoming an actor who also produces and directs.
Second, he has erased the category of being an ethnic actor without annihilating his heritage.
Adrian has an important message – Don't limit yourself.
All of this in what seems to be one swoop of a fulfilling career. Let's get some more information from Adrian Martinez about how he operates in this frenzied world we call show business.
You're currently in ABC's new crime drama series Stumptown alongside Cobie Smulders, Jake Johnson, and Michael Ealy. Your character, Tookie, runs a taco food truck and delves into making the truck stand out by inventing different recipes. Tell us about your audition and how your character has evolved since you first got the part. @StumptownABC
My audition for "Stumptown" was short and sweet; my agent told me about it, I did a self-tape for it in New York and was hired off of that. The producers were already fans from my work in movies like "Focus," with Will Smith and "I Feel Pretty" with Amy Schumer, so when they saw the self-tape, they were like, "Oh, yeah, THAT guy." LOL. There were casting sessions already planned in other cities, but they called after my tape submission which made my agent happy. LOL.
What can we see in the near future for Tookie?
Tookie is making his way through Stumptown beyond the food truck, as his relationships with Dex, Cosgrove and Ansel evolve and grow. I've been allowed to pitch dialogue and plot suggestions to the creators of the show – a very big deal that represents their faith in me.
You wrote, directed and starred in a movie called iGilbert and play lead role opposite Dascha Polanco of Orange is the New Black and Raul Castillo of El Chicano. What's it like directing a film that you're also in?
"iGilbert" almost killed me to be honest. I wrote, produced, starred and directed it. The stress was exhausting. I sold my property to finance it entirely, so the stakes remain high. Transitioning between actor and director was not a problem; it came naturally to me but producing "iGilbert" was a great pain. Having to sign payroll checks moments before an emotional scene that I was acting in, is something I would not recommend. Plus, since it was a low budget, some cast and crew would leave production for greener pastures, leaving the rest of us stressed out and scrambling for ways to keep the ship afloat. In the end, it's a terrific movie, reminding me of that famous quote, "pain is temporary, but film lasts forever."
iGilbert started like this:
I was sitting on the NYC subway; I practically live on the trains, I'm on them so much – when I saw a guy walk up to a woman, a stranger to him – and start taking photos of her right in her face. Feeling objectified, she said, "What the fuck are you doing?!" The man said nothing, checked the photos he had just taken from her, and calmly walked off the train. And I thought, "Wow. Who is that guy? Why does he think he has the right to do that? When did the pretty woman opposite him on the train stop being human, and start being an object he could photograph and manipulate? Where does that come from, and where is it going? And I keep seeing it. I saw it today– men taking photos of women or of other men, without emotion, without conscience, without fear of consequence, without subtlety, or with it– SNAP, SNAP, SNAP. And I couldn't stop thinking about it. I have a young daughter. She is beautiful and she will always be beautiful by any definition. Who is going to be taking her photo on the train? Will we have reached a point as a society that the photo is just the beginning? Will she be safe? WHAT-IS-HAPPENING, and where are we going with all this? In New York state, it is legal to take a photo of someone without their permission. So, what if the guy taking the photos, was me? I had reached a point in my life where I felt alienated from the rest of the world. What, I thought, is my place in the world?
I decided that the smart phones of today, despite all its bells and whistles, can for some people be a metaphor for alienation and loneliness. Technology can also save and expand lives. But where are the safety zones to keep us from going nuts one way or the other? What was designed to get us more connected as a society– smart phones, tablets– seems to also be quickly separating us from who we really are as a species. And in the case of Gilbert, my protagonist, technology is a dance on the fringes of salvation and destruction. The viewer is left to decide for himself, where he wants to dance in the long run, and at what price.
You have your own production company called Paloma Pictures. At what point in your career did you start the company? How'd you come up with the name? What will we see next from Paloma Pictures?
Paloma Pictures is named after my daughter; whose optimism and talent inspires me every day. I started the company in 2016, and I'm developing film and TV projects with studios; there will be a big announcement in 2020.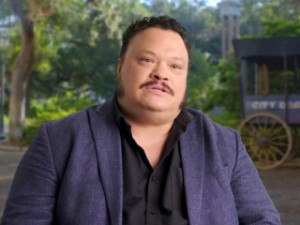 You also star as 'Elliot' the dog catcher in the CGI and live-action re-imagining of Disney's Lady and the Tramp which was released on Disney+. @disneyplus
a) What was it like working for a platform that hadn't yet made a debut?

b) Describe your work on Lady and the Tramp. Tell us everything in the making of your role.
"Lady and the Tramp" is a very special project. Being a Disney villain in a timeless classic is wonderful. They had me at "Disney" and there was no doubt in my mind that Disney+ would do well, and it has. Exciting stuff. The shoot was in the summer and November last year in Savannah, Georgia. It was HOT! Chasing Lady and Tramp, played wonderfully by Rose and Monte, was no joke. Especially in a corduroy suit from 1910, then having to spring after CGI dogs for some shots. All the credit belongs to their trainers Mark and Matilde who have more patience than anyone I've ever met ever. And of course, our peerless director, Charlie Bean. We blocked and rehearsed the scenes with the dogs so they would get accustomed to me as a person, and not as just some villain chasing them on the shoot day. The dogs are rescues and were picked from over 300 dogs! The trainers were there the whole time, instructing the dogs on where to move, when to move, how to react to me, etc. It takes great patience on everyone's part, but the end result is amazing.
In a world where show business is working on being more diverse, it still appears that there's a long road ahead. What are your thoughts on this? What's it like being a Hispanic actor?
I honestly don't see myself as a "Hispanic actor;" that's too limiting. I'm an actor. Period. You don't see white actors going around saying, "I'm a white actor." They call themselves 'actors' and no one questions it. It's ACTING, and I can play any role from any place just like anyone else. My approach, my mindset, has always been, "I belong here," and my reps and the casting community understand that and to their credit, get me in the room so I can prove it. My last three roles in movies have been Farhad in "Focus," Mason in "I Feel Pretty," and Elliot in "Lady and the Tramp." Not exactly Hispanic, lol, but yes, I'm proud of my heritage and I'm bringing it to "Stumptown" on ABC as 'Tookie'.
Adrian Martinez. Photo by Diana Ragland.
You are a true New Yorker. What if you get a job outside of your home base? Who pays for air, hotel, etc.?
I'm based in New York. I don't go anywhere unless someone else pays for it, but that's a perk I've earned over years of consistently good work. If you're starting out and have the means, I would fly to an audition if it guarantees me a face-to-face with the director. Remember, you cannot do adjustments in a self-tape, and sometimes the directors don't even see them. I was invited to do a self-tape for "Casa de Mi Padre" starring Will Ferrell. I asked my agent if the director was having a casting session in LA. When I heard he was, I flew myself out there, crushed the audition and booked it; I flew back to New York with a smile on my face. Another time, I did the same thing and did not book it, but I have no regrets. I'm going to bet on my talent every time.
What's it like doing appearances for the productions you've been in?
Doing press is a privilege and an obligation I take seriously. The actor is being asked to help get the word out on their project, in a very competitive industry filled with hundreds of shows and movies. I do whatever I need to do to help. For studios and TV, yes, they treat you right, but all of it is negotiated with your reps. You should have a lawyer to check the fine print. But I've always been treated well— first class flights, car service, per diem, five-star hotels, green rooms equipped with WHATEVER you want, red carpets with media. And depending on the job, I can sometimes bring along a plus one.
Do you have any hobbies that do not include anything to do with the entertainment field?
I'm drawn to nature and the arts. You can learn a lot about acting on the fifth floor of MoMa staring at the classics by Picasso, Matisse, Cézanne, Siqueiros, etc. I love the botanical gardens in the Bronx and Brooklyn, and the ocean in L.A.
What advice can you give to actors who are just breaking into the field today?
Acting professionally is a privilege; never forget that. No one owes you anything. Persevere. Show up prepared and on time; there are no excuses. If things aren't going right or not going on your timeline, remember— no one gives a shit. WORK HARDER. Take in life besides acting. Get off the phone and smell a rose. Develop your own projects and shoot them. You don't need anyone's permission to actualize your dreams.
You can find Adrian Martinez on Instagram.
Adrian Martinez. Photo by Diana Ragland.
ADRIAN MARTINEZ BIOGRAPHY
Adrian Martinez has over 100 film and television credits, including several standout sidekick roles, such as "Focus," opposite Will Smith and Margot Robbie; "The Secret Life of Walter Mitty," opposite Ben Stiller; "Casa de mi Padre," opposite Will Ferrell; and "I Feel Pretty," as Amy Schumer's office buddy Mason.
Martinez can be seen in the role of the dog-catching villain Elliot in the live-action/CG hybrid update of the animated classic "Lady and the Tramp," streaming on Disney+. He'll make his directorial debut with the premiere of "iGilbert," a drama feature he wrote starring himself, Dascha Polanco ("Orange Is the New Black") and Raul Castillo ("Looking").
Martinez is also known for series-regular roles on television shows such as the CBS All Access comedy "No Activity," produced by Will Ferrell and Funny or Die, as well as the computer hacker Dumont in the NBC spinoff "The Blacklist: Redemption," opposite Famke Janssen and Ryan Eggold.
Martinez is fluent in both English and Spanish and resides in New York City.