Battlestar Galactica actor Tricia Helfer played the unforgettable incarnations of character Number Six.
Currently, Tricia is in two back-to-back shows which premiered at the same time: Shudder Network's Creepshow and Syfy's Van Helsing.
Just like Number Six, Tricia follows, and leads, with great authority. Like many high school students, Tricia was a typical teenager with a life of sports and hanging with friends, when an opportunity for modeling came along. She wasn't sure, but after some prodding, she decided to take the plunge and meet with a modeling agency.
Tricia Helfer. Photo By Manfred Baumann.
That was Tricia's welcome to the world of entertainment, where she's made a name for herself in all genres, including video games. Let's take a look at how Tricia Helfer got to where she is today and what advice she has for us.
Tell us about your auditions for Creepshow and Syfy's Van Helsing and how your auditions were the same or different.
Both of these shows were the lovely experience of being direct offers. Van Helsing was Syfy and Netflix, which I've both worked with before, and a producer that we had been wanting to work together for a long time. Creepshow was a producer that I've worked with before and suggested me.
You were discovered at the age of 17 while waiting in line at the movie theater. How'd that conversation go? Were you a little apprehensive like, "Who is this guy/gal approaching me? This can't be real." Who were you in line with?
Yes, I was 17 in a small town movie theatre, and I was in line with my high school boyfriend. It was actually a girl that went to school with my older sister, who I knew, that was now away at college and doing some local modeling for an agent, Kelly Streit of Mode Models. I initially said no, but she gave him my parent's number anyway and he called. My volleyball teammates convinced me to go in to see him the next time I was in the city. A week later I was in New York. Kelly had my parents get in touch with some other parents of girls he'd worked with and the whole experience in the beginning was just to be an experience. And then I started working right away and realized I could make a career out of it.
You started out as a model and then turned to acting. Why did you decide to transition into acting?
Modeling, especially at that time, had an age limit. Acting does to some degree as well, but not completely. The jobs get fewer, but they are still needed. I wanted to use my mind more, to be more involved and I decided to get into acting classes for an experience and I fell in love with it. Within a year and a half of continuing to model and taking acting classes at night, I had quit modeling and moved to LA to pursue acting.
Tell us about your moves for modeling and when you changed your focus to acting. Were you scared? Did you dine out or eat at home?
I moved at 17 years old from Canada to Paris (for a year) and then to New York, where I lived and traveled as a model for 10 to 11 years. It was then that I quit modeling and started acting, and moved to LA the beginning of 2002. Aside from a month or two initially in Paris where I rented a room in someone's apartment, I rented my own furnished apartment. A year later when I moved my base to New York I rented an apartment for a year with a good friend, Shiraz Tal. We were both traveling and working a ton so we barely were there together. After that I've also rented or owned my own place. Albeit for a few years in New York with a boyfriend and some years in LA with my ex-husband. I'm not really the roommate kind, I need my own space.
As for saving money and eating out, I've always been one to be concerned about saving for a rainy day and building up a nest egg. And while I like to dine out sometimes, of course, I eat mostly at home.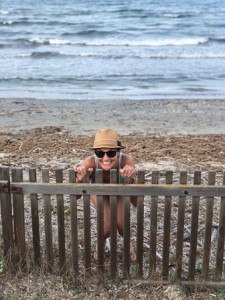 You have dual citizenship in Canada and the US. Explain how the actors' unions work in Canada vs. the US. Is there a Canadian union like there's SAG-AFTRA in the States?
I started acting in the US so my union is SAG-AFTRA, and that's the only one I know anything about. I didn't "grow up in the business" in Canada so I really don't know anything about how it works up there. I have done a few jobs under ACTRA (the Canadian union), but I prefer not to because they aren't as strong of a union.
Have you ever felt overwhelmed with modeling, acting or life in general?
I'm happy to be doing a job I love. The business side of the job gets stressful more often than not, but you keep putting one foot in front of the other and getting on with it. Of course life, work, lack of work, relationships, etc can be overwhelming at times, but you deal with it. Find outlets that help calm you down: work out, see friends, volunteer, read, meditate, drink a martini, or do whatever. Every career has its ups and downs and stresses and perks. It's about finding a balance that works for you as an individual.
Did you ever have an acting job where the Director gave you free reign to do whatever you wanted, so much so that it felt like you were directing yourself?
Acting is a collaboration with the director and the entire team. You bring what you want and then you work alongside what everyone else wants. The best experiences to me are when you are all communicating and trying different things. I love discussing with the writers and director prior and then just getting one on tape. Taking notes and trying again, or wanting to tweak something and trying it again. The best is when you all feel you have it and the director says okay we got that so let's just do one more for fun. The pressure if off and you're often the most free.
You've done several voice overs for video games. How does that work? Are you in a sound booth by yourself or do you record with the other actors in the scene? Do you have to memorize the lines or is there a board? Do you get all dolled up or show up in sweats?
You can generally show up in whatever you want to show up in. Sometimes they'll have a b-roll camera there to record for publicity so you tend to put a little makeup on for those times, but most of the time you are in the sound booth by yourself. Very rarely do you record with other actors. It's usually you in a sound booth, getting direction from the voice director in the other room. It depends on the job. If it's a cartoon, you usually have the script. If it's a video game, you usually are just working off lines you've been given on a piece of paper in the room when you arrive. You do not need to memorize, no. Although if it's a lot of dialogue, it is still good to be comfortable with it so that you can play more instead of just staring at the page. For the mic to get good sound though, you have to be basically stationary in front of the mic, so it's not hard to read while you're recording. My one quirk is I generally like to be in bare feet when I do voice recordings. My shoes get kicked off to the side. I prefer to stand too, but sometimes sitting is fine — depends on the material.
What are your thoughts about body image in show business?
Body image is a very personal thing and it doesn't just correlate to show business. Yes, we may be picked apart more due to the business, but it's not like every other woman/girl around the country isn't also feeling societal pressure to look a certain way or be a certain age. It's a society problem, not just a show business problem.
Do you have an acting coach?
I studied with Penny Templeton studios in New York the last year and a half I was modeling. When I moved to LA, I joined Larry Moss classes for about a month but then quit, too many people in the class. I studied with Margie Habor for cold reading and audition classes for awhile. I loved both Penny and Margie. I got Battlestar Galactica after a year of being in LA and was working steady so never went back to class. Not that I certainly couldn't benefit from going, of course, I just have never gone back. I coached with Crystal Carson for quite some time on auditions, and she's great. And I work with Rusty Schwimmer on script breakdowns now. Rusty lives in Chicago so we talk on the phone, have a laugh, and break down the script and character. Rusty is insanely talented and I love working with her.
In Battlestar Galactica, one of the Number Six character incarnations was possibly bisexual. Were you given this information from Day 1 or was that added later? Who talked to you about that, or were you just surprised when you read it in the script? What about the LGBT aspect?
I assume you're talking about my Gina character. When we filmed the Gina episodes in season two there was no talk or mention of her being bisexual. It wasn't until we filmed the MOW 'Razor' where we delved a little further into the Pegasus episode timeframe that both Michelle Forbes and I discovered that our characters had been lovers when we read that MOW script. I think we both would have preferred to have known at the time of the earlier episodes but I don't think the writers even knew then. It was just something they came up with later. I don't really have anything to say about the LGBT aspect of Gina. She was just Gina to me.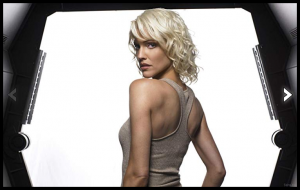 Since there were several Number Six characters, all with different traits and personalities, how did you build each character? Did you work with someone on mannerisms or did that all by yourself?
I initially worked with the director, Michael Rymer, on the Six in the mini series because we were starting the show and working through everything. As the other characters came along, I'm sure I discussed with the writer or director of the episodes but it was basically me deciding on each one. I saw them all as different people. Their slight differences would be due to their level of interaction with humans and what that interaction had been like. Also what job they did within the cylon world. For instance, I wanted Shelley Godfrey (season one) to be less seductive and more librarian-like since she was coming in to accuse Baltar of treason. She had to convince the Commander that she was someone who could be trusted. Gina had been tortured and raped by humans so she was more damaged and on edge. Caprica was in love with a human so was more empathetic and sometimes confused, but also focused. Natalie wanted to broker peace with the humans so she was more of a direct, strong figure. They each had their own thoughts and feelings, and those would slightly alter how they carried themselves.
Were you ever compared to actress Tatiana Maslany from the series Orphan Black? She played multiple clone characters in 2013+.
I've never seen Orphan Black, although I hear it was fantastic and Tatiana did an amazing job. I've heard that tons of times and it was usually in the form of some sort of compliment like "you did it first" and "you should have gotten the props" etc. I'm just happy to have played a part in the BSG world. Maybe we'll get to play together sometime.
You co-founded the charity "Acting Outlaws" with Katee Sackhoff and support several other charities including animal rescues. Do you think your celebrity status has helped make an impact on these charities?
Everyone can get involved and help make an impact. Does a certain level of notoriety help? Sure, it can help spread the word and reach about a cause or an organization to people that maybe wouldn't have otherwise found out about it and it's something they believe in and get involved themselves. That can certainly be a rewarding feeling, to help bring people together in a joint effort of helping others. Most of my focus is on animal charities.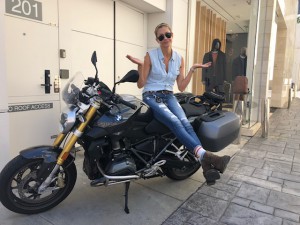 What's with you, Katee Sackhoff and motorcycles?
We both just like to ride. We have a great group of friends that also enjoy getting out in the fresh air and exploring. I think one of the draws is that in a business where you are constantly surrounded by groups and it's busy and loud, to be out on the road with nothing but the air and the machine, it's a freeing, calming feeling. Riding with a group as well is fun because it's a group experience while also being an individual experience.
You've done tons of sci-fi conventions. When you signed onto Battlestar Galactica, was doing conventions in your contract? Did you enjoy / dislike conventions? Please share a memorable convention story.
Conventions were not part of your contract. I don't think they are still, except of course, you are expected to go to ones like San Diego or New York comic cons. Those are basically just big press junkets though, and you are expected and contracted to do certain amounts of press and publicity. But the standard scifi / comic / fantasy / horror / videogame, etc. conventions that are all over the world, are outside of your show contract. You have convention agents that handle those. While the travel can be tiring, of course, it is lovely to be able to get out and meet fans and get at least some one-on-one interaction. I've had some amazing experiences listening to stories of people that have told me how watching Gina in BSG, for instance, helped them get over their own PTSD from a traumatic event. Or listening to someone tell me how watching Lucifer and enjoying the show helped them move on from the loss of a loved one. Or just hearing how someone looks up to the strong female characters I often play and it gives them strength. Or that I made someone laugh and that too is just a wonderful feeling.
Anything else you'd like to say?
Be focused, be in it because you love it, be ready, be prepared, and have fun. Don't lose sight of yourself. Stay true to who you are. You're going to have good days and bad days, but if you can be kind to yourself and to others, you're going to be alright.
Tricia Helfer in Creepshow. Photo by Shudder.
TRICIA HELFER'S BIOGRAPHY
You can follow Tricia Helfer on Twitter and Facebook.
Tricia Helfer is a Canadian cover girl model-turned-actress who has developed her resume beyond the catwalk to include many diverse roles highlighting her versatile and natural screen presence. Best known as the face of the series, and for her Leo award-winning lead performance as the humanoid, Cylon 'Number Six' in the critically acclaimed Syfy series, "Battlestar Galactica," Helfer has since gone on to book leading roles on a wide variety of networks. She can currently be seen in "Creepshow" from Shudder Network, Syfy's "Van Helsing," and FOX's "Lucifer."
Prior to "Lucifer," Tricia was recurring in season two of the Playstation & Sony Picture TV series, "Powers." Just before that, Helfer also played the lead of the Syfy channel's original miniseries "Ascension" co-starring Brian Van Holt. In early 2014, Helfer starred as the lead of the ABC series, "Killer Women." The Sofia Vergara-produced series followed beautiful badass Molly Parker (Helfer), in the notorious Texas Rangers frontier patrol, as she pursued justice despite being embroiled in a continuous fight for her peers' respect. 
 
Born in Donalda, Alberta, Canada, Helfer launched her modeling career at age 17, and erupted into an international superstar after winning the Ford Models' Supermodel of the World Contest in 1992. Her modeling credits include appearances in high-end ad campaigns for Giorgio Armani, Ralph Lauren, Versace, Givenchy, and Dolce & Gabbana as well as covers for national publications such as ELLE, Cosmopolitan, Marie Claire, Flare and Vogue.
In 2002, Helfer turned her focus to acting, moving to Los Angeles and quickly earning a guest star spot on the second season finale of "C.S.I.: Crime Scene Investigation." The following year she earned her break with "Battlestar Galactica," achieving a remarkably fast and successful transition into acting. During her hiatus from "Battlestar Galactica," Helfer portrayed the legendary Farrah Fawcett in NBC's film, "Behind the Camera: The Unauthorized Story of Charlie's Angels." She further expanded her portfolio by starring as 'Stephanie Jacobs' opposite Dennis Hopper and Billy Zane in the independent feature "Memory," and later starred alongside LeeLee Sobieski in another independent, "Walk All Over Me," which premiered at the Toronto International Film Festival.
Helfer returned to the small-screen in 2008, joining the cast of the USA Network's hit series, "Burn Notice" for a multi-episode arc. The next year she filmed recurring guest spots on the award-winning CBS comedy, "Two and a Half Men," while appearing on FOX's crime shows "Chuck," and "Lie to Me."  In 2010, Helfer booked a series regular role on the ten-episode arc of Jerry Bruckheimer's "Dark Blue," starring opposite Dylan McDermott and went on to do a variety of terrific roles on series such as "Suits," on USA Network, "Key and Peale," "The Librarians," "Community," "Chuck," "Jeremiah" and "Franklin & Bash," among others.
In addition to her vast array of television roles, Tricia starred in the film, "A Beginner's Guide to Endings," with Harvey Keitel, Scott Caan, and JK Simmons and later, went on to star in "Authors Anonymous" with Kaley Cuoco. Next up, is another lead role in thriller, "Isolation" co-starring Luke Mably, a film that portrayed the true events of a couple vacationing in the Bahamas. The getaway quickly spirals out of control, forcing the couple into survival mode.
Adding to her impressive resume, Helfer has done prolific voiceover work in mega-hit video game franchises including, playing the roles of Commander Veronica Dare in Halo: ODST, EDI in Mass Effect 2 and 3, Sarah Kerrigan in Blizzard Entertainment's StarCraft II: Wings of Liberty, for which she won the 2010 VGA for Best Performance by a Human Female, as well as in StarCraft II: Heart of the Swarm. She also showcased her voice talent in animated productions, "Green Lantern: First Flight," a Cartoon Network  TV movie, on Disney XD's "The Spectacular Spiderman," and on Disney XD's "TRON: Uprising."
In addition to acting, Helfer continues to support as many causes as she can, as she strongly believes in giving back. Tricia supports the Humane Society of United States, Best Friends Animal Society, AmFAR, PETA, Kitten Rescue and Richmond Animal Protection Society.