With an impressive career spanning across film, television and theatre mediums, Raúl Castillo is simply just getting started. The industry is abuzz with big expectations from the CAA represented actor and playwright.
Raúl can currently be seen playing the fan favorite character "e;Ritchie" on HBO's Looking. The drama offers an intimate look at a group of friends in San Francisco and their uncensored experiences while searching for happiness. Despite the cloud of controversy that has inevitably surrounded the HBO series, when asked if he had any difficulty tackling a gay role on the show (especially as a straight male in reality), Raúl simply replied – "e;No, not really." This answer alone, not only proves the fearless nature of Raúl as an actor, but his authentic dedication to the craft. He is an exceptional example of an artist who does not consider the repercussions of his work, but merely seeks the truth in his given role.
NYCastings.com spoke with Raúl on his advice for actors and the upcoming season of Looking. His responses are both concise and insightful:
RP: Would you please begin by telling me the very first part you were cast as?
RC: When I was in third grade, Tony, my brother, played the Tin Man in The Wizard of Oz. At that time I wanted to do everything my big brother did, so the following year I auditioned for the school play. Something about a mouse and a clock. I couldn't stop giggling during the audition, so I was cast as a guard with no lines.
RP: Can you reveal the most valuable piece of acting advice you've ever been given? What do you tell actors striving to break into the industry?
RC: Focus on the things you can control and let go of the things you can't. Love the craft, the process. At the end of the day, that's all we have. Look for as many opportunities to do it. Act where you can, when you can. Cultivate your own standards based off of that. Fine-tune your choices based on your experiences.
RP: I read that you studied theatre at Boston University's School for the Arts. What was the most instrumental skill you learned there?
RC: How to write and produce my own work. There was a student-run playwright's festival called Play Ground. Every year, I put up a play or two. We were given space, the rest was up to us. Some really great work came out of those years. I've always had a hands-on approach to my career and work.
RP: In addition, have you taken any classes in New York City that you found helpful?
RC: I haven't taken many, but Heidi Marshall's On-Camera Class was the most valuable. On a very practical level, it demystified the audition process for me.
RP: Out of curiosity, have you ever used NYCastings.com to submit for a role?
RC: Absolutely.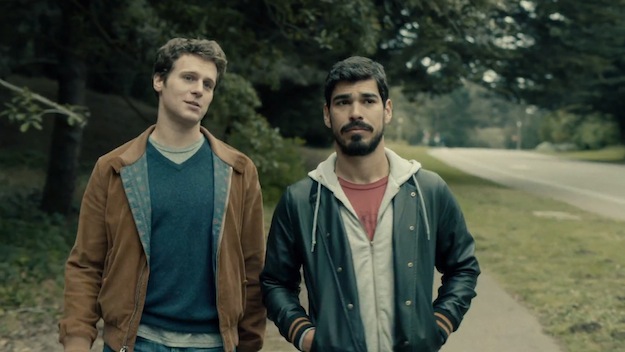 RP: As far as getting an agent goes, a lot of aspiring actors seem to struggle with the process. What's your wisdom for our NYCastings.com readers?
RC: It's like getting a girlfriend or a boyfriend: make sure they like you as much as you like them.
RP: What do you think is the smartest move you've made in your career?
RC: Move to New York.
RP: Congratulations on becoming a "regular" on the HBO's hit, Looking! How would you say appearing on the show has changed your career, overall?
RC: Thank you! It's been an incredible experience. Career-wise, it's given me a certainty and stability that's new.
RP: What can we expect from your character, "Richie", this season?
RC: A deeper look into what makes Richie tick. A look into his past, his home, his family.
RP: Michael Lannan (who wrote the pilot) was a fan of your work and asked you to come in and read for Looking. Do you remember how you felt during and after the audition?
RC: The auditions were varied and plentiful. I was between representatives at the time. I thought the role wasn't mine and then it came around again. So when the offer came in, I was surprised.
RP: On that note, what do you typically do to prepare for auditions?
RC: Depends on the audition. Typically, I try to get at the heart of what's going on. Figure out what the character is going through on a very basic level. Where I do connect with him? How can I relate and make it personal. After that, it's about being prepared and being on time.
RP: Is there a scene you were really excited about filming or challenged by for the upcoming season and can't wait to see the final product of?
RC: Yes. Episode 8. That's all I can say.
RP: You and Jonathan Groff, your cast mate, have both worked with the Atlantic Theatre Company. Do you guys ever go back there and surprise the current students?
RC: I haven't yet. But I would love to.

RP: Sounds like it would be fun. You're also a very talented writer. Do you find that your acting skills help allow you to create complex characters in your work?
RC: Danny Glicker, costume designer of Looking, was talking about this the other day. He was talking about serving the story. As designers, as actors and directors, we are there to serve the story. Having people interpret my words makes me appreciate what actors do and how an actor can contribute to the story.
RP: This might be a tricky question, but since you seem to be a jack of all trades, I'm wondering what your absolute favorite work situation is? Do you prefer being a writer or actor, and in which medium?
RC: That answer changes from minute to minute. Both can be very terrifying and very exciting in different ways. Also, they can both be incredibly disappointing but also inspiring in ways that make me want to do both again and again. It depends on when you ask me.
RP: Could you fill us in on any upcoming projects you've got cooking, besides Looking?
RC: Chicago's Teatro Vista will premiere my play Between You, Me and the Lampshade in April of 2015 at the Richard Christiansen Theater at Victory Gardens in The Biograph. I am a huge fan of that company and cannot wait. Sandra Marquez, from Stephen Adley Guirgis's The Motherfucker With The Hat at Steppenwolf, will lead the cast.
RP: Let's end with something fun. What's your favorite NYC hangout?
RC: Since this is a NYC piece, I have to mention my neighborhood joints: Betty Bar on 46th and El Rancho Burritos on 45th. Great spots, both. I love running on the West Side Highway and in the park. Lastly, when opportunities present themselves I love spending time at the Bank Street Theater, our LAByrinth Theater Company home.
Those sound like some nice havens for New York City actors.
You can catch Raúl in an all-new episode of Looking this Sun. Jan. 18, at 10:00 PM on HBO.