Netflix V Wars Actress Laura Vandervoort says, "'Fake it 'til you make it' really is a bible in this business."
As an actor for over two decades, Laura Vandervoort has been through the hoops. Starting in show business as a teenager and continuing to make a full-time living from acting, Laura still hustles like the rest of us. It's the mindset that even if we've 'made it', we still haven't 'made it'.
You know why that's key? Because if you get too comfortable – if you let your ego get the best of you – you may miss out on great opportunities.
Hence, Laura Vandervoort continues to work on a daily basis with the attitude that she hasn't made it yet. Even though now she started her own production company, Lava Works Entertainment, it's as if Laura is still learning the ropes. It's refreshing to see that someone who earns her own keep from acting considers herself to be on the same playing field as actors at any point in their career.
Let's find out the inside scoop on Laura Vandervoort and what advice she has to offer us!
Laura Vandervoort in Netflix's V Wars.
You currently play Mila Dubov in Netflix's V Wars which is about a doctor who is pitted against his best friend when an ancient disease turns people into vampires. The series is based off of the comics by Jonathan Maberry and Alan Robinson. Did you read the comics? Tell us about your character.
I hadn't read the comics, however when I was cast, Jonathan was kind enough to reach out to me over Twitter and send me some pages on Mila's background. I was given the book during production. The 10 episode series on Netflix is based on Jonathan Maberry's best-selling books about a genetic mutated outbreak, that leads to the first vampire vs. human war. Starring Ian Somerhalder and Adrian Holmes as Dr. Luther Swann and Michael Fayne, produced by High Park Entertainment with IDW Entertainment. This is an origin story, unlike other vampire-themed series. A new species coming into existence. V Wars has a lot of relevance within today's society. The series deals with borders, disease, fear, politics, power and war, all of which are so relevant within the news and our lives today. This series covers those heavy hitting topics in a smart and entertaining way.
I can tell you that my character 'Mila' is not thrilled about becoming a vampire. Mila Dubov is turned against her will by her sister into a 'blood' or a vampire. As a quiet introverted woman, becoming a vampire (the nature of a vampire) goes against everything Mila believes in. Mila doesn't have an aggressive bone in her body. She can't allow herself to succumb to her new urges, however in doing so risks her life trying to do the right thing, becoming isolated and plotting revenge. Mila staves off her thirst for fresh blood and aggression by feeding from blood bags stolen from labs. She fights against her new nature as her anger for her sister builds. Mila becomes an anti-blood vigilante in the war uprising. A Robin Hood / slayer in a sense, for the human kind. Mila certainly doesn't shy away from fighting for what she feels is right. I did do the fight sequences (similar to Bitten) whenever our stunt coordinator felt comfortable with it (which was all of my stunts for season 1 of V Wars haha.)
Did you audition for V Wars? Did you know what the show was about or was it all secretive? Did you have chemistry tests?
I actually did a self tape for another character. However, months later I was offered the role of Mila Dubov. I didn't have any chemistry reads nor did I truly know what the audition was for originally. Once I was given a bit more information on my character arc and the actors already involved it seemed like a great project to be a part of. I always look for roles that have a duality to them. What Mila struggles with was very enticing to me.
When you were a kid, you were involved in sports such as martial arts and playing on several school sports teams such as soccer, karate (second-degree black belt), basketball, tennis, gymnastics and baseball. What did you learn from sports that helps you with your profession today?
I was always competitive as a child, but also rather quiet and introverted. Being an athlete was a healthy way for me to handle that, by being a part of a team, a dojo. Martial arts was a great tool in general as a young woman. It taught me focus, work ethic and determination. Obviously, the actual physical skill of martial arts came in handy as an actor later in life, allowing me to do the majority of my fight scenes and making me a more valuable asset on set as an actor. Since I was shy and introverted as a child, excelling in different sports and achieving my second degree black belt at the age of 19 gave me that self esteem I needed. All of these qualities allowed me to feel more comfortable on set. Patience, focus, determination (when you don't book a job but choose to continue moving forward anyways.) As a child actor, I had to grow up quickly on set. I took the work very seriously like I had in school and in sports. Being well behaved, off book and professional (like the adults) was very important to me (Did I mention I was competitive haha.) As a child (and even right up until today) I often retreated inwards during social events because I merely didn't feel comfortable. As a kid, I didn't have a lot of friends nor felt the need to. My imagination and a quiet space was all I felt I needed. I would throw myself into school work, memorizing lines and sports as a way to feel accomplished. So long story short, yes having other activities as a child outside of acting took the pressure off 'booking the next job' and distracted me, but those same sports gave me the tools I needed to succeed.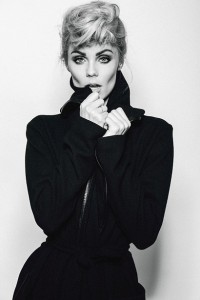 You have a company called Lava Works Entertainment and recently developed and executive produced a film called Age of Dysphoria.
After nearly 22 years in this business I wanted to experience the other side of the camera. I wanted to tell stories that I believe in and control the content. My production company and I developed and executive produced 'Age Of Dysphoria' alongside the incredible Jessica Petelle, whom also directed it with precision. Produced by Brad Turner, FilmCoop and written by Zoe Robyn. Shot in Toronto with an all Canadian crew and cast, starring Canadian icon Gordon Pinsent. We are so proud of the film and currently submitting to festivals. Despite the sci-fi genre being so kind to me, I also seek to expand as an actor outside of the genre and behind the camera, which I have slowly been doing over the years.
The concept for 'Age Of Dysphoria' came from my desire to be seen in a different light, both physically and emotionally. After working with Jessica Petelle twice on previous projects, I knew she was as hungry as I was to take the next step. I pitched Jessica my concept and asked if she would be willing to produce and direct the film. Thank God she said yes! I couldn't have done this without her, her skills and her knowledge. I had been wanting to work with my mentor, Gordon Pinsent since I was a kid. That opportunity just didn't seem to be coming my way and I was tired of waiting on the universe to make it so. The story behind 'Age Of Dysphoria' was selfishly written as a way to finally fulfill that dream. Sometimes you really just have to take it into your own hands. Adjust the focus on how audiences and the industry view you. I continue to try to do so.
How did you come up with the name Lava Works Entertainment?
It is a fairly straightforward answer honestly. LAVA stands for the first two initials in my first name and the first two initials in my last name. I believe my Dad came up with the name. I liked the imagery of Lava and how it slowly works its way through, leaving a lasting impression as it continues to move forward.
What made you want to start a company? Are you 100% owner or do you have partners?
I wanted to be incorporated for working purposes/tax planning. I also knew I'd want to eventually begin producing and possibly one day try my hand at directing. I am president of Lava Works Entertainment and 100% owner. We have two other projects currently in the development stage. A comedy feature with 'Piller/Segan productions,' as well as a horror/thriller feature with 'No Equal Entertainment.' Both of these concepts were stories I came up with and felt that there was something worth exploring within the concepts.
What is your job as a developer and EP?
In terms of my film 'Age of Dysphoria' and the other two I have in development, I came up with the concept and general plot. My job was to find the right writer who shared my vision. In addition, finding the right producing partner(s) and director to come on board. Once the script has been written and we get financing (the financing and paperwork is not my strong point, so my producing partner often does this) I'm involved in watching the auditions and selecting the cast alongside the other producers and director. For 'Age Of Dysphoria' I connected my producing partners Jessica Petelle, FilmCoop and Brad Turner with a studio and crew I had a connection with. A lot of favours were called in. I realised having been an easy going actor to work with on set and in this industry for 22 years in Toronto finally paid off. A low budget film can certainly deter people away, however all crew were willing to help us out, locations came easy to us. Our first choices for cast all said yes! Everyone involved on the producing/director side had worked in this business for years and our joint contacts truly came in handy. Overall, I would say my portion of both developing and producing is on the artistic and story telling side, as well as connecting people to create cast and crew.
What goes into submitting your work to film festivals? Do you have to pay a fee to the festivals for a submission? If it gets accepted, what happens next? Walk us through the process you went through.
I am not the one who has handled this process in the past. As I've mentioned, the paperwork side of producing isn't exactly my lane. In regards to my film 'Age of Dysphoria,' Jessica Petelle our powerhouse of an executive producer and director spearheaded the festival submission process. There are so many festivals and each has a submission fee. Each festival has a deadline for submissions for different categories just as they have a date you will hear their response by. Most festivals receive hundreds, if not thousands, of submissions and chances are slim. Rejection doesn't necessarily mean your film isn't incredible or poor quality. There are several reasons films do not get accepted into certain festivals. The entire process can be rather overwhelming and frustrating. I do believe (like in most things in life) politics also come into play during the selection process.
Some films may wish to hire a festival publicist to help guide them along the way. Overall, the expenses don't end when post production finishes and your film is locked. For our film, we chose to do an IndieGoGo campaign to help raise the remaining funds needed for post production, festival submissions, money aside for travel should we be accepted into a festival, building a website etc.
Actors are always hustling for the next job. Do you find at this point in your career you're still hustling? Do you have a fear that this could all one day just end and you'll be struggling to make a living?
ALWAYS! We hustle everyday to get that next job. You get it. It's over…and you start the hustle again. I've been doing that since I was thirteen years old. Honestly, I'm tired haha. I have moments every single year where I want to walk away from the industry, where the amount of rejection we receive daily finally gets to you. There is no guarantee in this business. Things change quickly. What works one day for you may not work the very next. We have to constantly adapt to times of failure post periods of success. Even when you finally think you have found that job that will change everything…it probably won't. That's the truth. Nothing is a sure thing. Even after 22 years, I am always fearful the producers will realize I have no idea what I am doing and I've been faking every step of my career, floundering around just hoping to make the right steps. Every actor I have spoken to feels the exact same way. That old saying 'fake it 'til you make it' really is a bible in this business, however perhaps it's more 'fake it 'til you make it…but if you don't, try to be truly happy as a working actor and just keep faking it.' I suppose it keeps us on our toes and driven to keep going, keep pursuing new opportunities and challenges.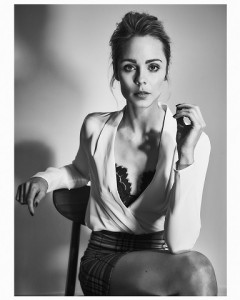 Do you currently have an exercise routine? How do you stay fit? Is it important for actors to have an exercise, food and health routine?
I don't necessarily have a routine but I do stay active. I enjoy working out as a way to relieve stress and stop my mind from running. I used to work out religiously, however as I've gotten older I prefer to only do the things that bring me joy. Pilates has been a go to as well as hiking with friends. Occasionally I will box or take a spin class, however I also now know to listen to what my body is needing especially if that is rest.
In a way…I suppose it is important for actors to stay somewhat fit merely in terms of health. This lifestyle can include insanely long hours on set, a lot of travel and you do not always have the healthiest options available to you. Feeling at your best leading into a production can get you through those longer hours. Your endurance can come into play during those late night shoots. Yes, of course the physical look of an actor always seems to come into play (especially for women) during the casting process. So depending on the 'types' of characters you audition for or are playing you may choose to adjust your appearance at times. However, overall I think merely feeling at your own personal best (and not what the industry tells you is standard and 'should' be your best) physically and mentally is what counts. Mentally, working out gives me the mental clarity I need to make decisions and process my day.
What advice do you have for actors of all ages who are just starting out in the business?
Be in it for the right reasons. Be ready for the long haul. Be patient and be kind to yourself. Not every decision made is a personal one against you or who you are. Many factors direct decision making in the casting process. Many factors direct changes on set. Don't get in your head. Try to enjoy the process, both the ups and the downs and always try to find the lesson the universe is teaching you in the 'down' times. Don't alter who you are at the core just to be a part of something 'popular' that you are uncomfortable with. Don't put yourself in bad environments or situations. Stay focused.
Laura Vandervoort is a versatile actress who not only crosses over genres, but also changes from character to character flawlessly embracing the essence of every role she plays. Best known for her roles on the television shows "Smallville" and "V," she has built an international fan base of men and women of all ages. Laura has been consistently working as an actress since she was thirteen years old. After spearheading two PETA campaigns, Laura took on the role of Ambassador for World Vision Canada.
Born in Toronto, Canada, Laura Dianne Vandervoort contracted meningitis after only six weeks of life and was hospitalized. She fought through the illness as an infant and has never stopped fighting for what she believes since. A tomboy for years to come in her childhood, Laura was drawn to athletics, studying martial arts and karate (achieving second-degree black belt) and playing on several school sports teams.
Growing up, Laura admired the work of Meryl Streep, the class Grace Kelly held, the off-the-wall twist of Tim Burton, the ever-so-compelling Canadian icon Gordon Pinsent. She first began her career in background work on Canadian commercials and TV shows such as "Road to Avonlea" and "Harriet the Spy." Laura landed her first speaking role at the age of thirteen for the children's series "Goosebumps" and then "Are You Afraid of the Dark?" She went on to take acting classes and book other TV guest star roles, such as Disney movies of the week "Mom's Got A Date With A Vampire" and "Alley Cats Strike." At nineteen, while attending York University under the concentration of Psychology and English, Laura landed the lead role of "Sadie Harrison" on the CTV TV series "Instant Star," a popular series that ran for four seasons.
In 2006, Laura shot her first feature film "The Lookout" starring Jeff Daniels, Joseph Gordon-Levitt, Mathew Goode and Isla Fisher. Several TV appearances afterwards, which included "CSI: Crime Scene Investigation," led Laura into the hands of The CW network. Landing the coveted role of "Supergirl" AKA "Kara" on the hit The CW series "Smallville," Laura became the main focus of the 7th season of the popular sci-fi drama. Following "Smallville," Laura booked the sequel to the Jessica Alba/Paul Walker feature film "Into The Blue" titled "Into the Blue 2: The Reef."
Following "The Reef," the in-demand actress went directly into filming several acclaimed indies. Laura then booked a lead role in a miniseries that was the SyFy channel's re-launch of Philip José Farmer's "Riverworld." While shooting "Riverworld," Laura also booked a series regular spot for ABC's sci-fi series "V" among Elizabeth Mitchell ("Lost") and Scott Wolf ("Party of Five").
After "V," she booked five feature films back-to-back: the psychological thriller, "The Entitled" starring Ray Liotta, followed by McG's romantic comedy, "This Means War" starring Reese Witherspoon and Chris Pine, the lead in "Desperately Seeking Santa" with Nick Zano, "Broken Trust," a leading role psychological thriller for the Lifetime network where she plays a lawyer, and a car sales associate and confidant for Wahlberg in the comedy "Ted" directed by Seth Macfarlane, starring Mark Wahlberg and Mila Kunis.
Laura has since continued on her superhero path voicing "Mary Jane" in the new Spiderman video game, which would be her second voiceover gig after doing three episodes of "Family Guy." Recently, Laura narrated a short film titled "The Hundred Year Old Whale", educating audiences on the species. Laura has guest starred on several series including "Haven," "CSI-NY," 'Private Eyes' and "White Collar" amongst many many others. Both feature film and indie film, she is inspired to work on roles that challenge her.
Laura was the lead of the sci fi-action series "Bitten" for Syfy and Space. The series ran for three hugely successful seasons. "Bitten" is based on the New York Times Best selling series of novels by Kelley Armstrong. Laura plays "Elena Michaels" the only female werewolf in existence. With high praise critically and a large fan following the series gained strength and praise for both performance and cinematography. During this time, Laura graced the cover of Maxim Magazine and was ranked one of Maxim's Hot 100.
Additionally, Laura appeared as a recurring villain on CBS' "Supergirl." The comic book franchise has welcomed her back after her title role of the character on "Smallville" as Indigo.
Laura went on to join the "Saw" franchise as their lead actor in the new installment "JIGSAW." "Jigsaw" was NUMBER ONE in theaters during its release. Laura played Anna, a woman trapped not only in the horrific games, but also tortured by what she had done to her family.
Soon after, Laura helped produce and starred in a short film titled 'Unspeakable' for the American Film Institute, for which has received many nominations and wins from festivals. Recently Laura won Best Actress for her work in 'Unspeakable' at the Queen Palm Film Festival. Laura went on to her next series as 'Tessa Pryor' in Season 2 of AT&T Audience Network series "Ice". Tessa is a real firebrand high-end attorney. Starring Jeremy Sisto and Ray Winstone, the show films both in Vancouver and South Africa.
Following her return from South Africa, Laura signed on as not only lead actress but Consulting Producer for the feature film 'Rabid.' Based on the original 1970's film By David Cronenberg, the remake was directed by sisters Jen and Sylv Soska depicting the horrors of transhumanism. A day after 'Rabid' wrapped, Laura took on a new role and new series for Netflix airing 2019 titled 'V Wars' starring Ian Somerhalder. Laura plays Mila Dubov.
Her newest project is none other than her passion project, 'Age Of Dysphoria.' Laura developed, executive produced and starred in this short film alongside Canadian legend, Mr. Gordon Pinsent. The film was directed by Jessica Petelle, who is also an executive producer.