Oftentimes there is confusion about working on Broadway vs. Regional vs. Community theater. There are so many factors that come into play (pun intended, haha. Ok so I need a new joke, whatever).
Back on track. There are pay scale differences, union vs. non-union questions and a bunch of other things that go on behind the scenes.
Today we find out what it's like for actors to work in different theatrical environments.
I got to speak with ALISON EWING who is currently on Broadway in Mamma Mia!, RINA SKLAR who just wrapped up a bunch of local plays and JACK DABDOUB, an actor who's late great father, also named Jack Dabdoub, was in more than a dozen Broadway shows. Oh! And as a bonus, there are a few words from DAVID MURPHY, the Treasurer on the Board of Directors of the Staten Island Shakespearean Theatre Company.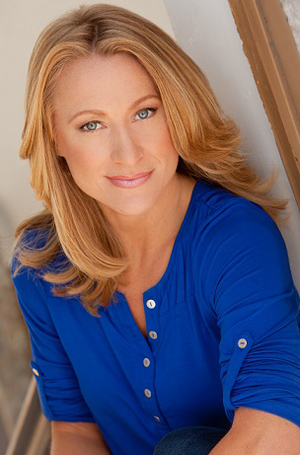 ALISON EWING was an absolute pleasure to interview! She was on tour as Tanya for Mamma Mia! and is now in the Broadway show as the same character. Photo by Brian Ray Norris.
You're now on Broadway playing Tanya in the Broadway show Mamma Mia! and you were also on tour for the same role. What's the difference between playing Tanya on Broadway vs. on tour?
Well, the director, choreographer, etc. is all the same. So you get very comfortable after putting the show up more than once with knowing and understanding what your director wants and needs from you. But there are always different actors playing roles on tour and in New York. Not only the people who are cast, but all of the understudies who go on as well. It makes it so fun and exciting to see how different actors will play the same role. Everyone has their own individual take, and it keeps it new, fresh and exciting. I have had a lot of different Peppers through the years. He's my romance in the show. They have all been completely different and completely fabulous! I've enjoyed getting to know each of them and loved the different things they have each brought to Mamma Mia.
What happens during Broadway show rehearsals?
It's different if you are going into a show that is already running or if a whole cast is putting up a new production together. When we put up Mamma Mia! Las Vegas and the National Tour, we all began rehearsals together, learning music together, reading the script together…then, for the rest of the next week or two, you are only called when you are in the scene that they are working on. You might be called to work on a song and the dance for a number for a few hours in the morning and then called again for an hour in the afternoon to block a scene. Then, as the weeks go on, and as we start running the acts and running the show, you will be called with everyone for the whole time. Now, when you are coming into a show that is already running, you will have rehearsals in the day time by yourself with the director and dance captain, to learn all of the steps and blocking. This may happen in a rehearsal studio or on the stage. At night, you can come to see the show, following the person you will be replacing backstage, or just sitting in the audience to watch the show and become familiar. This may go on for one or two weeks. Then, in the third week, your scene mates might be called to rehearsal with you. Then, the day you go on for real, or the day before, the entire cast will be called to rehearsal. You will do a run-through of the whole show in front of the director. The cast will probably have to have microphones on, but you will be the only one in full costume and make up. This will happen on the set, most likely with props and lights and costumes and music.
Do you have your own dressing room or do you share? Can you decorate your dressing room? Is there a loud speaker in there so you can hear the show and know when you have to get to the stage?
Yes, I have my own dressing room. I haven't been there long, so I'm still trying to make it pretty. I just ordered a rug to put down, and my husband is going to send me some pictures to put up from home. I have a little refrigerator and a cozy chair that I can snooze in between shows on two show days. And yes, there is a loud speaker. I can't live without it. You have to hear the show and always be aware of where we are in the show, or you can easily lose track and miss your next entrance! My dressing room is four flights up, so I have to give myself enough time to get downstairs and be on stage at the right time!
What were the differences or similarities in your auditions for Cabaret vs. Mamma Mia! ?
For Cabaret, there were a series of auditions and callbacks. I had to be prepared to dance, sing, and definitely play my violin for every audition. They made us play something we knew, and then we had to sight read music from the show. These auditions were in New York, and they took place over about a three month period. For Mamma Mia!, I auditioned in Los Angeles because I was living in California at the time. They had e-mailed me the music and scenes to work on beforehand. We didn't dance. We just went in the room and sang songs from the show. Then they paired me up with another actor and brought me in to read a scene with them. This happened about four times, switching the pairings of actors around, having us read with different people, getting adjustments from the director, etc. I didn't audition for the Broadway company. I had just done the Las Vegas version, and so I just got a call from the Broadway company manager asking me to come to New York. That was a happy day!
You were on tour for Flashdance. How do you take care of your responsibilities if you're moving around so much? Do you miss home? How do you pay your bills if you're always running around?
Everybody's routine on tour is different. For me, I like to get up around 9am, have a small bite to eat and some tea while I'm watching the news. Then I go to the gym and work out or go for a long run. This is ALWAYS part of my schedule six days a week. For some people, it's yoga or dance or meditation. For me, I have to work out in order to wake up my body and warm up my voice. Then I go search out some lunch, read, nap and relax before the show. When you are moving from city to city on a weekly basis, it grounds you a lot to have some sort of daily schedule to stick to. Yes, I always miss home, my husband and my dog, but my husband gets to come out to tour when he is on break or has time off, and that's always fun. Lots of people on tour pay their bills by having a subletter in their place while they are on the road. That's what gypsy housing is so great for! Keith and I have an apartment in San Francisco, and we work together to pay the bills while I'm gone!
Why are you an actor? What did you do before acting?
I didn't do ANYTHING before acting. I have always been in plays and musicals since grade school, and that's always what I knew I wanted to do. Of course, as an actor, there are many things you have to do IN BETWEEN your acting gigs. I have been a temporary secretary, waitress, hostess, an extra actress in movies, a cater waiter, a dog walker and an acting coach. We have to be scrappy as artists, making all of our auditions while having a job to pay the bills that is flexible. It's difficult, but so very fun, especially when we book that job!
Tell us about your upbringing and how you got involved in the business.
I grew up in Mason City, Iowa. I'm extremely proud to be an Iowan, where I learned to have a strong work ethic and positive attitude. When I was around 10, I auditioned for The Music Man and was cast as Gracie Shinn, the mayor's youngest daughter. I had two lines, and I was so proud of that. After this play, I was hooked! That summer, my parents put me in acting class at Stebens Children's Theatre. I stayed with this acting school until I graduated from high school. I learned so much there and got a really early start. I'm lucky that a smaller city in Iowa had a place like that for me to grow.
Did you receive any flack from family when you told them you wanted to do stage work?
No one ever gave me a hard time for being in theatre. My family members were always my biggest fans, going to almost every show that I was in. I was always a hyper and crazy kid growing up, and the theatre was the best place for me to channel all of my silly energy. And all of my close friends were doing theatre with me. We had a really great time. The only flack I get now is from my two nieces, both in high school. They think I'm sort of the "weird eccentric" aunt, but I take that as a compliment!
MARY CALLANAN as Rosie and ALISON EWING as Tanya backstage at the Broadhurst Theatre right before the show Mamma Mia! starts.
What are you most proud of with your line of work?
I'm proud of the discipline it takes to do eight shows a week, over and over again. Sometimes people think that being in a show is just a lot of fun, easy and filled with applause and praise. There is so much more involved with being in a show. You have to keep yourself positive, healthy, in shape, and have renewed energy over and over again. I'm so proud to have the opportunity to be in this field, giving joy to the audience night after night.
How do you feel about regional and community theater vs. Broadway?
I have seen some top-notch performances at many regional theaters. You don't always have to go to a Broadway show to see amazing theatre. Also, most of my career has been doing regional theatre. For the most part, I live in San Francisco, and my husband and I work year-round at different theaters. I thank my lucky stars that we have so many work opportunities at the different theatre companies in the area.
For Mamma Mia! on Broadway, do you have an understudy? What about when you were on tour? What if you were sick or needed to take a leave? How does that work since the show must go on?
Yes, I do have understudies. They have all done the role many times through the years and are ready to go on at a moment's notice. Both on tour and in New York, the understudy situation is all very methodical and planned. They rehearse every week, just in case the person they are understudying might get sick or injured. If I wake up too sick to sing, then I just call in to the stage manager and take a sick day. They will choose which understudy will go on for me that night. And when I take my week vacation in the summer, the stage management team will divide my shows up evenly between the understudies.
What's more exciting than performing in front of a live audience?
I think having a role in a film and being on set is pretty exciting, too, but I have to say that a live crowd really gives you an incomparable thrill.
Is there a different pay structure for the same character on Broadway vs. tour?
Yes. You can go to the Actors' Equity website at www.actorsequity.org/agreements to find the minimum salaries for Broadway and Broadway tours to see the difference. And it also depends on if you are touring on a Production Touring Contract or a SETA Touring Contract. A production Touring contract would be a very similar pay scale to Broadway. The SETA contract is a much reduced minimum salary, but you also have the potential to make overage (a percentage of the box office gross), which can help, but only if you are selling really well. Also, on the road, your housing/hotel is provided. You can read about that on the Equity website as well.
Share the story with us about when you joined AEA (Actors' Equity Association).
My first professional gig outside of college was doing a summer season of musicals at Music Theatre of Wichita. After I graduated from college, the artistic director of MTW, Wayne Bryan, told me that if I was going to New York to start my career, that I would need my Equity card, and that I must join the union. I didn't even know what the union was! I still feel so thankful for him today, that he gave me my first equity gig so that I was a union member when I hit New York City. That allowed me to get into auditions much easier. I have now been a proud Equity member for almost 20 years!
How do health benefits work for actors?
I have fantastic health and dental insurance through my union. However, you have to work 12 weeks in a year's time under an Equity contract in order to have six months of health insurance coverage. It's a really strong insurance program, though, so it's worth finding those equity jobs in order to qualify!
What was your worst audition? What happened?
Once when I was in New York, I was auditioning for A Chorus Line. I was really close to being hired, and I was singing in a room with the casting team behind the table. I told them I had done A Chorus Line in college, choreographed by a woman who was in the original National Tour, which was true. They asked me what her name was, as they might know her. I BLANKED OUT! I could NOT remember her name for the life of me, so I blurted out, "CASSIE?" They obviously thought I was a liar, and dismissed me right away….I learned a valuable lesson that day. If you are going to share stories in your auditions with the people behind the table, be sure you know names! Come in with a clear head and the names of people you have worked with straight!
If you were going to have lunch with ANY actor who would it be and why?
Maybe Meryl Streep or Dustin Hoffman. They both seem to have great wisdom, dynamic career histories, and approachable personalities. I'm sure they would have a lot of great things to say that I could learn from.
Typically how long are Broadway contracts?
If you are in the ensemble, you sign a new rider every six months. If you are a lead, sometimes six months, sometimes a year. I have seen more year contracts as a lead than other terms. These terms can also be negotiated by you or your agent.
What's your take on social media as being a tool for your career?
I'm not as savvy as a lot of my (younger) friends. I'm not on Twitter, etc. But that doesn't mean that it's not completely useful as a marketing tool. I have seen it! Lots of my friends promote themselves and connect with others by social media, and it really works! I would just say that I have also seen people get lost in social media. Getting off your computer and getting out there face to face is really important, too. I mean, check yourself. How many times a day are you on Twitter or Facebook? It's so easy to spend too much time online, becoming lost to the real world.
Anything else you'd like to say?
Come see Mamma Mia! It's really fun, and there are rush tickets available when the box office opens every day. We are on 44th Street between 8th Avenue and Broadway.
RINA SKLAR, as Bogle, poses for a picture with theater goers after the show called Jacob Marley's Christmas Carol at the Staten Island Shakespearean Theatre. (http://www.sistny.org/)
Why are you an actor?
That's a pretty difficult question. I guess the answer is that I was never anything else. I have several jobs / careers / professions and all of them are things I just started doing when I was little and never stopped: acting being one of them.
Do you use a specific technique?
I have technically never had any formal theater training so I wasn't trained with a specific technique in mind. Meisner is probably closest to what I do, but really, to be honest, the techniques I use most were taught to me by a great director: Joe Gheraldi. I began working with him in 2000 and have done many, many shows with him over the years.
You also enjoy music. Tell us about the band you're in.
I am classically trained vocally, but have always been into all sorts of music. My husband, Jack, introduced me to the music of the 1970's CBGB / punk era and told me of a desire he had to put together a band to introduce other people to his favorite music. We are both actors and performers (I met him in a Joe Gheraldi production in fact) and decided to take a more theatrical route with the band. We premiered The Flesh Junkies our Zombie Punk Cabaret show, around Halloween of 2011. We play all covers (with the exception of one song currently) and cover obscure rock & punk tunes by great artists such as The Mumps (and other songs by Kristian Hoffman), The Cramps, X, Lou Reed, Blondie, X-Ray Spex, David Bowie, Iggy & the Stooges, and much more. Jack & I are the singers of the band, though he plays guitar as well. We play mostly on Staten Island and around the other boroughs of NYC. You can find us on Facebook at https://www.facebook.com/thefleshjunkies & YouTube (see a performance at https://www.youtube.com/watch?v=EJbXC6KjnfE). We have shows coming up all the time and recently just finished another play.
Who are your favorite actors and why?
My current favorite actor is Sir Ian McKellen. Aside from being a great movie performer (how can you beat Gandalf & Magneto), he is brilliant on stage. I saw him last year with Patrick Stewart in Waiting for Godot & No Man's Land. The physicality of the characters he played in both pieces were so different, and yet, both were done to perfection. I am so sad I missed his King Lear at BAM.
You just finished your 6th year in a production at the Staten Island Shakespearean Theatre Company called Jacob Marley's Christmas Carol. What kind of character modifications have you done over the years?
First off, our Bogle is not at all typical of how the character is usually played. She (or he) is usually a mini replica of Marley who is his guide. The first year of the production, our director, Joseph Daly, wanted me to ignore how it had been done previously and figure out who I thought The Bogle should be. The guidance he gave was that he thought of her as a bit of a pixie sprite and wanted me to work with that. Through that idea, the descriptions Marley gives in the script, my interest / research in mythology & folklore, and some inspiration for movement by a choreographer I admired, The Bogle became more of a demonic / fairy creature. Over the years no major overhauls have happened to the character, but she has gotten a bit darker and more insightful each year. The biggest difference in the production year to year is finding new meaning in the lines of dialogue. I think everyone's character has gotten more intense over time.
What's the difference between a small audience production vs. a large audience production?
Every show takes a lot of rehearsal time, no matter what space you are performing it in. Marley has the benefit of having fewer rehearsals each year, but that is because we walk into the first rehearsal completely off-book and with the show basically blocked, otherwise we would have the same 4-6 week rehearsal of most shows. I love doing shows in small spaces; it's far more intimate than large theaters. In the case of a show like Marley, there is some breaking of the 4th wall and in the small space we perform it I get to actually make direct eye contact with almost half the audience before the show is done – it's a lot of fun to interact with them. There is something to be said for doing large scale performances as well – you don't get to see the reactions of the audience like you do in the smaller shows, but when a 500 person house is cheering, there is almost nothing like it. (I did Shrek, the Musical this past summer and we had a 500 person standing ovation after one of our big musical numbers…we had to hold for a good three minutes or more for applause, I don't think I have ever smiled so much in my life. It's a really fantastic feeling.) Certain shows, such as large scale musicals work best in a big theater, other shows, like the 4-person Marley, work much better in a small intimate space. The first year we did it, it was in a larger theater. I enjoy where we have it now so much more.
What advice do you have for actors and musicians who are just starting out?

Don't do it for the money; do it because you love it. Take every new opportunity afforded to you. Go for roles that will challenge you and make you grow as an actor.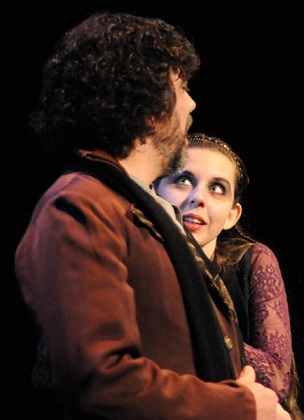 Now here's an interesting actor whose name happens to be JACK DABDOUB. If his name sounds familiar, it's because his dad, also named Jack Dabdoub, has performed in more than a dozen Broadway shows. Pic: Jack Dabdoub performing a few months ago in Jacob Marley's Christmas Carol at the Staten Island Shakespearean Theatre.
What's the most important thing to you about being an actor?
I'd put it this way — when deciding whether to audition for a show, I look at the material first and foremost. Is this a play that excites me, and is there a role suitable for me in it that I want to play? If I have worked with the director before, that previous experience would affect my decision to audition as well. It's always important to me that the production as a whole is likely to be good, regardless of my part in it.
You've performed in the play Jacob Marley's Christmas Carol at the Staten Island Shakespearean Theatre Company for several years. What's the difference between working with the same actors on a show year after year vs. working with an actor who just started with the show?
We've never done Marley with anyone else. But the deep familiarity we have with these actors is one of most enjoyable aspects, along with the beauty and power of the play, of doing the show every year. We all have generally stated that if one of us drops out, we'll all stop doing the show. Whether that turns out to be true remains to be seen. The familiarity and the trust that goes with it allows us a certain freedom of interpretation from night to night that we might not attempt with less familiar actors.
The Staten Island Shakespearean Theatre Company is volunteer. During your run, do you still audition for other roles that may conflict with your theater schedule?
I'm a restaurant manager and don't have the flexibility to audition professionally, where I might be asked to tour or work six nights a week. And I'm familiar enough with what other local companies are doing that I generally know before the year starts what shows I'm likely to audition for. When I commit to a show, that's it.
When you watch a play, are you able to enjoy yourself as a viewer or is your mind constantly saying "I would have done it this way instead…"
If I think a production is great, I can watch it with all the rapt involvement of anyone who loves theater. But honestly, it can be a lot of fun to see a show with which I have a lot of disagreements, as long as my wife Rina is there to discuss it with me afterwards. Trying to figure out why a production didn't seem to work is fascinating and instructive.
What type of disagreements do you have with different Directors you've worked with?
Any decent director encourages input and suggestions from the actors, as long as the actors are willing to accept the director's final judgment. Practically any disagreement I have with a director stems from being asked to behave in a way that compromises my character's nature. For example, I used to play Jesus in a passion play I co-wrote with the director. In our play, Jesus' last line before dying on the cross was, It is finished. I wanted to say the line quietly, in exhaustion and peaceful acquiescence. The director wanted me to shout it, accompanied by a large thunderclap. I remained unconvinced, because it seemed as though my line reading was being dictated by the way the director wanted to present that moment, not because it was right for my character. Now from the audience's perspective, he may have been right. But I could only see it from the point of view of the role I was playing. I did the line as directed every performance except one, a matinee for which I thought the director would be absent. As it turns out, he saw the end of the play and was fairly angry with me for ignoring his direction. And he was right; it was pretty unprofessional of me. Ultimately, the director's vision has to be honored, or chaos ensues.
How have your goals as an actor changed from your earlier days to now?
Not really, I have always looked to play roles that interest me in good productions.
What advice do you have for actors who want to get into theater?
Because I've never tried to have a professional career, I have no advice for trained actors looking for professional success, except to be easy to work with and kind to everyone you meet. If you aren't easy to work with you won't work unless you have some qualities the director can't find in anyone who is easy to work with. For the rest of us, my advice is to simply act. Act in community theater plays don't just take acting classes. Learn the rhythms of the rehearsal process, how to fit your performance in with what your fellow actors and the director are trying to do. Enjoy the excitement and camaraderie of performing in a group before live audiences. Say yes to every role you don't think you can do. Just act whenever you can.
DAVID MURPHY, who is the Treasurer on the Board of Directors of the Staten Island Shakespearean Theatre Company, gave us some insight into the productions they produce.
How do you secure performance rights?
Performance rights come through DRAMATISTS PLAY SERVICE INC. Fees are determined by the amount of days performed and size of the audience. http://www.dramatists.com/
What exactly is an Actors Equity approved showcase company and how did you get approved?
Actors Equity showcase means you follow their rules for ticket prices and paying of actors which for us usually meant bus fare to and from the theatre for all rehearsals and performances. We are no longer doing showcase theatre since we cannot survive on their ticket prices.
Do the actors have understudies?
Usually no understudies.