Broadway's Jagged Little Pill Actress Morgan Dudley plays the rebellious, bisexual teenage lead, Frankie Healy, who is determined to find her own voice in suburban Connecticut.
It took a lot of determination and courage to take over the role, which was originated by Celia Rose Gooding. When Broadway returned after the pandemic shutdown, Morgan was full steam ahead, ready to show the world her take on the character.
Being fearless is why Morgan Lynee Dudley was able to undertake the role of Frankie, an angry, outspoken teenager with a do-or-die attitude.
Tell us about your audition for the role of Frankie Healy.
So I heard about the audition for Frankie through my manager and was immediately so excited and ready to send my tape in! They provided me with two scenes from the script as well the cuts of two songs from the show, and I also was asked to sing a song of my choice. The scenes that they gave me were pretty stark in mood, the first one being Frankie & Jo's first and pretty lighthearted scene, and the second one being when Frankie decides that she's running away from home. About a week or so after I sent in my tapes, I was called back on a Zoom meeting with the associate music director and some other members of the creative team where they gave me notes from my previous audition. After the Zoom callback, I got the email that I was invited to an in-person callback in New York where I'd ultimately book the role!
In the beginning when you joined Jagged Little Pill, you were playing opposite Heidi Blickenstaff, who plays your mother. Heidi took over for Tony nominee Elizabeth Stanley, who was on maternity leave. Now, Heidi and Elizabeth will be sharing the role throughout the winter. Is there a different feel when you play opposite two different actors for the same character?
First of all, the both of them are absolutely INCREDIBLE at what they do! I was so excited to see the differences in how they play MJ, and getting to perform alongside them has been both an honor and a really cool acting exercise. Tonally, they are very different, and it forces me to really be present in each scene in order for my reactions to make sense throughout the show!
Heidi Blickenstaff as Mary Jane and Morgan Dudley as Frankie in Jagged Little Pill. Photo by Matthew Murphy.
You portray a school aged teenager. At one point during the show, there's a dinner scene and while it looks like you're sitting on the chair, you're actually crouched, with your feet on the chair. Was the way you sit something that you came up with or were you directed to sit that way?
Haha! So I decided to sit that way for both the character and also to prepare for the song "All I Really Want", where in the beginning of the song, I stand up on the chair to get to the table. But it ABSOLUTELY felt like an instinct. I used to sit that way in high school, lol, it must be the angst.
Did you ever take dance and/or singing lessons? If yes, at what age did you start being coached? What type of dancing? Were you coached on how to sing on Broadway? Was the singing coach provided by the Jagged Little Pill production?
Prior to the show I had never taken dancing or singing lessons! I did however gain experience in both areas through school choir, school and community musicals, and I was privileged enough to gain more, specifically dance, experience when filming for The Prom movie! Upon beginning the rehearsal process, however, I was provided with the legendary Joan Lader's vocal expertise in singing healthily and sustainably by the Jagged team and Bryan Perri. Those handful of lessons alone have really improved my vocal quality and technique.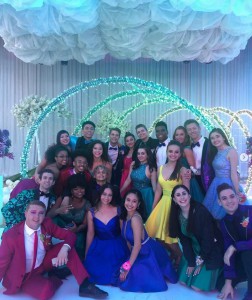 Previous to Jagged Little Pill, you were a dancer in the film The Prom, directed by Ryan Murphy and starring Meryl Streep, James Corden, Nicole Kidman, Kerry Washington, Keegan Michael-Key and Andrew Rannells. What was it like working on set? How many days a week were rehearsals to learn the choreography? Did you have an opportunity to meet any of the stars, or were you told not to make eye contact?
Yes! Working on set for the Prom was SUCH a crazy experience. It's been so long so I can't remember the exact amount of rehearsals we had, but I do remember that each dance took about a day or so to learn, sometimes less sometimes more depending on the placement of dancers, cameras, etc. Once we learned the dances, we had about two to three months without any rehearsal before jumping right into filming, haha! I remember everyone gathering and making sure we all remembered the dances correctly. I did get to see all of the principles in person which was so cool, and they all had such great energy! I remember the highlight of my life happened when I got to talk to Kevin Chamberlain about musical theatre and his role in Jessie. Definitely a "what is my life" moment.
My kids recognize you from Nickelodeon's hit series Henry Danger. What was your experience like working on that show?
I had a really fun time on Henry Danger! I had a quick little cameo as a renaissance princess, and from figuring out how we were going to costume it, to getting to say hello to everyone for my short time there, it was a lot of fun! It was a very warm environment with lots of candy, so I didn't shy away from that.
Morgan Dudley in Jagged Little Pill. Photo by Matthew Murphy.
As a young Black person with a solid career, what advice do you have for Black youth looking for guidance?
It sounds very cheesy, but believe in yourself and surround yourself with people who believe in you and encourage you. Be confident in your artistry and live in your authenticity. Remember that you are special. All of the positive affirmations.
What future goals do you have in life and in your career?
I want to release my own music ultimately! Right now I have other goals that I want to achieve first, and I'm blessed with time and opportunity to reach those goals, but eventually I will become a recording artist.
What tips can you offer to people who want to start working in the show business field?
The biggest advice I would give is to put yourself out there, but to of course, be ready for the no's. Be fearless. It's a tough business because there's just so much talent and artistry out there which is AMAZING, but like I previously stated, that's why it is so so important to truly live in YOUR authenticity. Everyone of us is special because every one of us have unique experiences to shape us into the people we are and artists we are. Don't be afraid to let that show.
You weren't born yet when Alanis Morissette released her album Jagged Little Pill. Previous to you booking the Broadway show, did you ever hear of Alanis or listened to any of her music?
Of COURSE I knew of Jagged Little Pill! My mom was a huge fan of hers and actually used to sing songs from the album at a karaoke bar that she worked at while she was pregnant with me! It really came full circle.
Lauren Patten and Morgan Dudley. Photo by Matthew Murphy.
Anything else you want to say?
There are so many important topics addressed in the show that empathizes with a multitude of human experiences.
Visit Morgan Dudley's Socials: