Juliet Donenfeld,10 years old, is currently a leading lady on Netflix's The Big Show Show with WWE star Paul Wight and That '70s Show's Allison Munn.
Juliet is no beginner to the entertainment field. You may recognize her from The Laundromat with Meryl Streep, Better Call Saul, animations such as Pete the Cat, a voice on Call of Duty: Black Ops 4 and she was even on Jimmy Kimmel Live!
Beginning by performing on stage as a competition dancer and in local theatre shows, Juliet Donenfeld gives us an inside look at how she operates her working days and what it's like working with a dog on set.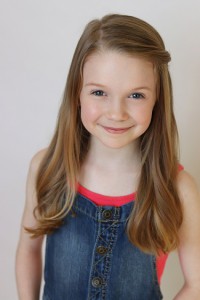 What's your typical day like on set? Do you have your own trailer or indoor dressing room? Does the production give you food? Do you get to pick out the clothes you wear or is that done with a wardrobe person?
Call time Monday through Thursday was usually around 8 a.m. and I would always arrive about 15 to 20 minutes early so I could grab some breakfast. Most of the time I ate a bagel, fruit and sausage in the school room with my teacher Ms. Lauren and the actress who plays my screen sister, Lily Brooks O'Briant. Every morning there was a new script in my dressing room so I would highlight all my lines and go over all the changes. My mom would label each scene with a colored tab so it would be easy for me to find each scene we were rehearsing. Every Monday at 11am we had a table read. Monday through Wednesday we rehearsed and did blocking and on Thursday and Friday we filmed. Friday was my favorite day because we filmed in front of a live audience so call time was late and we finished by 10pm and then I would stay to greet fans after the show. It always felt like a big party. I had my own dressing room in the Lucy Bungalow building. I decorated my room with lots removable wall stickers, pictures, plants, pillows and blankets to make it cozy. There was a window seat where Lily and I would sit to go over lines and we would also spy out the window to see all the guests lined up outside on Fridays. My favorite food on set was pesto pasta and my favorite snacks were peanut butter M&Ms and Nature Valley almond butter bars. The costume department picked out all of my clothes and shoes. I loved the all the clothes that they pick out for my character J.J. When we wrapped on The Big Show Show, I was sent home with some of my favorite outfits.
Were any of the actors at your audition there to read with you or did you do your audition with just the casting director? Who else was in the room with you? If there were callbacks and chemistry tests, let us know how that went, too.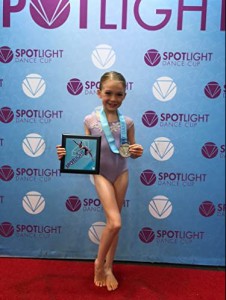 The first audition was with the casting director Juliet Ashton and her assistant Adam Weisman. I had very little time to prepare for this audition because it was a next day appointment I read the description of J.J., and I thought this character is literally me. After reading the sides, I wanted this role even more. It was a family multicam series and the role of J.J. would be so much fun, plus the idea of having two older sisters was a dream for me. I received a call back but it was on the same day I had booked out to compete at The Dance Awards for Nationals in Las Vegas. If it was my dance solo, I would have no problem canceling it, but it was for a group dance that was undefeated. I couldn't let my team down and not perform in the group dance because that would change the formations. My mom told my agent the situation and he worked it out with casting to use Skype for my callback.
The day of the callback was crazy. The moment I competed the group dance, I raced back to my hotel room, removed all the stage makeup, took my hair out of a bun, changed out of my costume, went over my script one last time and then it was time to Skype for the callback. The callback went really well.
The chemistry read was at the Netflix building. There were about four or five girls each auditioning for Mandy and Lola, but there was just one other girl auditioning for J.J. The parents and the kids sat around a huge table waiting for casting to call in each group of girls for the chemistry read. I remember there being a lot of people in the room, the WWE and Netflix executive producers, the producer and some of the writers. I got a chance to mix and match with all the girls. It was a lot of fun.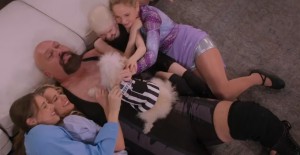 What's it like having a dog on the set of The Big Show Show?
Lily and I actually had asked the writers to pleeeeeaaase write a dog into the script. Then one day I got the script for the next week and I read it, and oh my gosh I was got so excited!! They wrote an episode with a dog in it! On Monday morning, I went to the conference room for our table read and the dog was there with its owner. We got to cuddle with the dog and play with her. Unfortunately, that dog didn't work out. She was a too heavy and blocked my face when I held her, and she also didn't follow commands so well. They swapped that dog for a smaller dog. The new dog was so smart and followed all the commands. We loved that dog so much. Lily and I took turns holding the dog on our down time. I love dogs and I have a dog at home. Her name is Sugar and she is a white Bichon-Poodle.
What's the best and worst thing about being a child actor?
The best part about being a child actor is playing pretend and dress up. I get to be different characters, have a new families meet new people be in new environments and situations. It also has some travel perks. I love when the job films in a different state. The worst part about being a child actor is when you get so close to booking a role, and you are so happy and excited for days just waiting to hear the news, then you find out you didn't get it. The other bad thing is sometimes jobs fall on an event that you really don't want to miss, like your best friend's birthday.
In the animated Pete the Cat, you portrayed Sally Squirrel. You recorded your audition in the sound booth at your agency CESD. What was that experience like?
It's funny because I always record my voiceover auditions at home, but for some reason, we decided to go into CESD and record in their sound booth for the Pete the Cat audition. I have been reading since age four or five, so I never had to memorize my voiceover scripts. I read off the script, but I do go over it many times with my mom to prepare before recording it. The booth director at CESD had me do three different takes for each line. When I audition at home I also record three different takes and my mom picks the one she likes and edits out the rest.
How did you get an agent?
My mom contacted Carol Lynn Sher at CESD by email and attached a few pictures. Carol Lynn agreed to be my agent because I had some acting experience and also one of the casting directors that knew me from a previous job contacted Carol Lynn and put in a good word for me.
In your age bracket, the discussion of braces on teeth usually comes up. Have you had a talk with an orthodontist yet? How are kids with braces handled in show business today?
I have been to an orthodontist a few times because my teeth were overlapping. My first appointment was about a year ago, I told the orthodontist that I am an actress and I also do a lot of voiceovers, so I can't have regular braces. That orthodontist was ready to fit me with Invisalign, but my mom wanted a second opinion. The next orthodontist said to wait until I lose some more baby teeth. My mom thought that was a good plan so now I see that orthodontist every six months.
Tell us about going to school when you're on and off set? With COVID-19, what are you doing regarding school?
COVID-19 hasn't affected my schooling because I have been homeschooled for two years. I love when I'm on set because I get a set teacher and I'm with other students. My favorite subjects are language arts and science.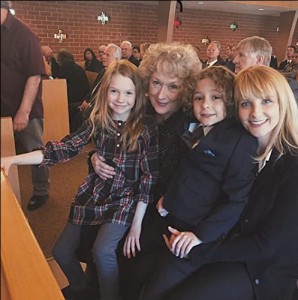 What was it like working on The Laundromat with Meryl Streep, Melissa Rauch and Brock Brenner?
I loved working with all of them. I met Brock at a commercial audition a few months before we both booked the Laundromat. I met Melissa in the hotel lobby while we were waiting for the van to take us to the shooting location. Melissa was so sweet. She said I reminded her of an older version of her daughter. I met Meryl right before we were going to shoot the first scene, the one where we were getting out of the taxi to see the condo she was buying. She introduced herself as Meryl and she hugged me. We talked a little bit and we quickly became a family. Steven Soderbergh was the director and he works very fast shooting each scene. Brock and I had so much fun in Las Vegas. We stayed at the hotel Planet Hollywood and our hotel rooms were connected by the inside door. The night we arrived we walked the mall that is connected to the hotel and we had dinner together. The next day we went to the Bellagio to have dinner and watch the fountains from our table. A favorite memory I have is when Brock and I went into the production "green room" at the hotel, and we found this giant hammock bed that was attached to the ceiling. It was amazing! I had never seen anything like this before. We climbed in and we spun it around until we were dizzy. We laughed so hard.
What advice do you have for people your age who want to start in show business?
If you are really serious about acting then I would suggest doing anything that gives you a chance to perform in front of an audience like theatre camp, school plays, talent shows, dance competitions or recitals, audition for student films or open calls — and take some acting classes. This is basically everything I did to get to this point.
Anything else you'd like to say?
I am very happy when I make others smile or laugh. I am part out an outreach program at dance where we give back to the community and help others. It's hard to handle all the rejection that comes with acting, but I know that sometimes it's not about how well you did, but more about matching the family or other factors. Just knowing that I have done my best makes me feel good and I know there will always be another audition. Eventually the perfect role will be there for me just like the one I have in The Big Show Show. Advice that I have for other actors is work hard, always do your best, keep training, don't take rejection personally and always be kind.
You can follow Juliet Donenfeld below:
Instagram : Julietdonenfeld
TikTok: julietdonenfeld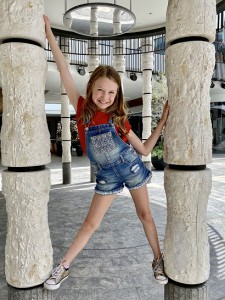 BIOGRAPHY:
Juliet Donenfeld was born in Los Angeles on December 31, 2009. She fell in love with acting when she began performing on stage as a competition dancer and in local theatre shows. Her acting career began at age five in commercials and print. At age six, she made her television debut on The Ranch (2017) starring with Sam Elliott and since then has continued to work with some of the most respected in the industry. Juliet's dream came true when she landed a series regular role on the Big Show Show (2020) on Netflix Original/WWE where she stars as J.J. She is known for The Laundromat (2019) playing the role of Meryl Streep's granddaughter, Pete the Cat (2017-2019), Silver Lake (2018), Call of Duty: Black Ops 4 (2018) and recurring roles on Better Call Saul (2020) and Good Girls (2019). She has also guest-starred on Station 19 (2019), Sydney to the Max (2019) and Coop and Cami Ask the World (2019).
Juliet has lent her voice to numerous characters for animated shows. In 2019, she was the youngest ever nominated for an Annie Award, being recognized for outstanding achievement, voice acting in an Animated TV/Broadcast Production, Pete the Cat for voicing Sally Squirrel. Juliet is also passionate about singing, gymnastics, and dancing. She has won many coveted awards in competitive dance. Her classic beauty belies her versatility and range which are revealed in her ability to be rough and tough or sweet and innocent. She is fearless and adventurous, loves to make people laugh, and always ready to advance to the next level. Her persona both engages and retains audiences.