Take witness of a career on fire…
With over 120 total bookings, and a total income of nearly $20,000, NYCastings member Kimberly Magness is one HOT star – shining and rising!
By self-submitting through NYCastings, Kimberly landed major roles in film, TV, print, and voice-over. She worked as a model, brand ambassador, and even scored a gig as a super hero. WHOOT. WHOOT. Way to go Kimberly Magness!!!
Clearly Kimberly knows how to use NYCastings as a tool to help ignite a blazing career path, so we chatted with this Top Booker to get the inside scoop on her super success story.
Kimberly Magness…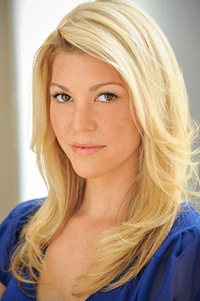 Q: You set fierce goals for yourself each year – can you walk us through your plans and mindset?
Documenting your bookings throughout the year has helped me a lot! This is my 3rd year applying for NYCastings Top Booker. It's taken me 3 years to rise to the top, but I've learned some valuable information from it over the years. By writing down your bookings, you see what kinds of jobs you book the most, if you frequently have repeat clients, and where/how you book them. By researching your booking history, you are able to see what's working for you and what you might have to improve upon. I try to increase my bookings every year. I try this through new pictures, emailing newsletters, and network-network-network!!
Q: How often do you submit through NYCastings / update your photos and resumes?
I'm on NYCastings practically every day! If not, I make sure to get on it the very next day. I have a theory that the earlier you are able to submit, the better chances you have of being called in. If you are applying to a post that's a week old, more than likely they've already filled all the audition slots by then. I try and update pictures as soon as I get them (around every 3 months or so). I update my resume probably every 3-6 months or whenever I have significant updates to make.
Q: How do you find time to book over 100 projects a year? Any time juggling tips?
Acting/Modeling is currently all I have for a job so being on NYCastings and booking is my full time job. Very rarely can I fit two gigs in one day, but sometimes you do get lucky to film something out early in the am and get to another one by night! There are lots of successful actors that do have "real" jobs so to speak. I think the most important is having a day job that is flexible and understands the time you might need off. Even though I'm not on set filming everyday, it is a full time job with looking for the next gig, submitting, auditioning, pounding the pavement, and keeping your pics and resume current.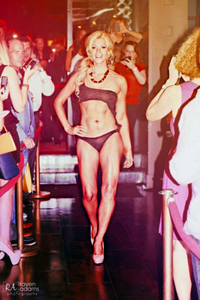 Q: You are so versatile – acting, modeling, dancing, fitness, scream queen extraordinaire – how do you stay top of your game in all areas?
Haha! Well, it's not easy, that's for sure! I just try to be as versatile as possible and incorporate my hobbies into my "special skills". I enjoy working out, snowboarding, and I have a background in dancing so I am able to incorporate that in a lot of fitness-type work. I also try and hang with like-minded people. I work for the NYC Horror Film Festival and spend a lot of time with the other judges, which helps me stay in the loop of what's new in horror. People ask me all the time if I'm a model or an actress. You can be both! It does tend to come in flows though. Some months I feel like all I'm booking is modeling gigs and others just acting!
Q: How much does networking play a part in scoring so many jobs?
I think networking plays a huge part if it's genuine. I don't attend as many networking events as I'd like, but building good and strong relationships when on set is key. I frequently work with the same people over and over by being easy to work with as well as staying in touch.
Q: Do you work with an agent, as well? (I didn't see one on your resume)
I freelance with several different agencies. I have commitment issues! Lol. I feel freelancing is the best option for me. That way you can get work from several different directions. My agents do send me on a good amount of auditions and get me some awesome gigs throughout the year. However, you are your best agent. Agencies have several clients to think about. You are your own #1 priority in this business. No one will look out for you more than yourself. That's what makes NYCastings great. You get to choose what pictures to send and write your own cover letter. You finally have a chance to explain straight to the casting directors why you're their best choice!
Q: When submitting a cover letter on NYCastings – do you mention past bookings / experience? How do you word your cover letters?
Yes! I always talk about the few latest projects I've been doing. It's good to let them know that you're not just "aspiring" but you are in fact working! I also always try to personalize each one. If they ask for your measurements, type it in there. If they want to know your availability, you better let them know you're available. Also, if I'm applying for a casting that's similar to something I've already done, I mention it. For example: casting for a prank show – I'd write, "I filmed xyz prank show over the summer." You get my drift!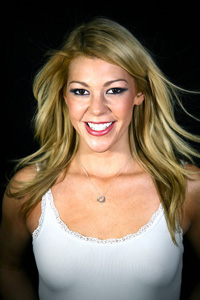 Q: What acting or industry lesson did you learn this year that stands out the most?
You will book most your jobs when you are away vacationing and/or double book for the same day. Hate when that happens! On a serious note, I've learned to try and respond to people quickly. Check your phone and email often. I booked a great paying modeling gig last summer. When I returned their call 15 minutes later, they had moved on to the next person. That one hurt!
Q: What is your mission for 2013?
To keep advancing, keep working hard, keep moving forward, and remain healthy and happy! I feel anything's possible if you put your whole heart in it. Stay positive. It will take time, patience, and tenacity, but as long as you persevere through the tough times, you'll come out on top!
THANK YOU KIMBERLY! You are an inspiration to all NYCastings members.
ABOUT KIMBERLY MAGNESS
Kimberly Magness is a Kentuckiana native who has been working in the industry since childhood. She is bi-coastal and resides in New York City. Kimberly starred as the leads in Discovery's Fit & Health's Shocking Family Secrets, the Travel Channel's Mysteries at the Museum, and Discovery ID's hit shows Stalked, Scorned, and I Married a Mobster. She can also be seen in a principal role on a national commercial for Larry the Cable Guy. Kimberly represents the renowned New York City Horror Film Festival as the programmer and judge. Kimberly is very proud of her lead role in the brutal horror film Devil's Grove which opened nationwide selling out on Amazon twice in the first two weeks! She has been honored with the Scream Queen award and listed on IMBd as one of the hottest actresses in horror movies. Kimberly is honored to have modeled on the Rachael Ray Show, Nate Berkus, FOX, CBS, NBC, and E! News. She most recently can be seen as the lead on MTV's new prank show, Totally Clueless. Kimberly is also very excited to be filming one of the leads in the paranormal feature film thriller, The Manor!