"Writing is easy. Living is hard," states the tagline of a musical drama in post-production called HOW DO YOU WRITE A JOE SCHERMANN SONG, written and directed by Gary King.
In this movie, the main character struggles with the harsh realities of show biz – a challenge that rings true for many artists on a journey. Especially, when it comes to hauling an idea from script into production.
To help ease the burden for aspiring filmmakers, Gary King offered up his film making advice to NYCastings, a site that he also uses when casting projects.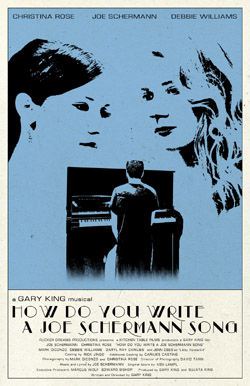 "NYCastings is one of the sites that I always use to post my listings because they are very professional and I get such a great response," shares Gary.
In fact, Gary first connected with the lead of this film, Christina Rose, 4 or 5 years ago through NYCastings for a web commercial. "We never worked together but we kept in contact and three years later I emailed her about an audition," says Gary. "I met a lot of great people through NYCastings that I still work with today."
Over the years, Gary King's work as a contemporary DIY American filmmaker has earned him a reputation for powerful performances with an emphasis on a strong, visual style. He has written, directed and produced several critically acclaimed feature films including NEW YORK LATELY which has been hailed by The Independent Critic as a remarkable achievement and Row Three as a beautiful film making its Top Ten Films of 2009 List.
Here is an exclusive glimpse into how Gary King creates his films…
Q & A with Writer, Director Gary King
Q: Tell us about your process of making called HOW DO YOU WRITE A JOE SCHERMANN SONG, from the production side.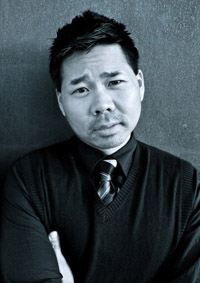 I knew it was going to be a musical and that the scope was going to be larger than my normal type of film so I talked to a few people about viable ways to raise money. There is the traditional way where you find investors or self finance through credit cards. But I learned about Kickstarter and crowd funding through other projects and thought it could be a good way to raise money for the musical. I shot my previous film for $3,000, but for this one we needed to record vocals and dancing. We needed to pay more in order to hire the people for the film and pre-production work.
For the first round on Kickstarter, we raised 31k for the production. All together we raised close to 50k.
Q: How did you raise so much money?
Many films raise a lot of money because they have a name attached to it. They are by a Sundance filmmaker or have a Colin Hanks in the film. We were really proud that although there is no "famous" person in our musical, we have a great fan following and community that believes in us. To raise money like this, we had to foster relationships for years before we even tried.
Q: How do start fostering those relationships?
A lot of different ways. I have other films that I've done. Before this musical, I directed two of my own films and was hired for two others. All of those films have different fan pages. I am also active on Facebook, Twitter and my blog. I don't know the magical formula but I am grateful to have a lot of people believe in me. I think it has to do with being accessible.
One of the coolest things that happened was near the end of the second campaign. I met industry producer Ted Hope and filmmaker Lance Weiler who both donated to the campaign and tweeted about it for me. That brought people in. When someone of that level supports you, other people think your project must be solid.
Q: Speaking of solid, your Kickstarter pitch video is engaging and professional. Do you think that helped raise funds?
With Kick starter, there are two ways to use the site. You can get an invite from someone who already used the site or apply and get accepted. It usually has to be an artist related project that has a finite ending to it. Once you are on the site, you don't have to have a pitch video but I think it is the most compelling part. You get to meet the person behind the project, see their passion and really believe in it. That kind of video can be done with just a cheap camera as long as you have passion to shine through.
For my pitch videos, I had actual clips from the film to show people that their money in the first round of fundraising was put to use. If you show some of your work, people will see you have quality and they won't think they are wasting money.
Q: On your site, you mention that HOW DO YOU WRITE A JOE SCHERMANN SONG, "will not be your typical song and dance musical." – Was it important to stress that point when raising money for the film?
It was extremely important because I didn't want people to think I was recycling a story or musical. I do say when people question the tone that it is ONE meets ALL THAT JAZZ. It is a drama with song numbers that make sense when they happen.
Q: Other than Kickstarter, how did you raise money?
We did have some executive producers that came on board because they saw the Kickstarter campaign. These were people that I met at a film festival in Wisconsin. I went there with my first film, NY Lately. It's important to go to festivals with your film no matter the size of the festival so people get to know you.
Q: To help people get to know you, your website offers amazing photo stills, videos, links, a running Twitter feed so much more! Did it take a lot of time and money.
There is a lot of work that goes into it, mainly on the programming side. Some themes I buy for $20 or so, but you can get free plug in themes. I did the content and had someone program the layout, fill in the content, the posters, the images, the videos – that kind of stuff. The only expense is time because it takes a lot of time to do it. If you are connected to a programmer, they can help you for nothing and eventually you will return the favor for them. I did not have to pay out an arm and a leg.
Q: What is the biggest advice you have about scoring funds for films?
First of all, I would say to make the film however you can. Once you know the level of money you have, you can set the scope of how big you can go. As I said, my previous film shot for 3k. If you are passionate about your project, and have friends who believe in you, you can get them on board. Make a project that people will be proud of and you can get people to help. But don't think it's too expensive because once you start doing it people will get on that train with you.
Q: Any advice for approaching people about that FREE help?
For me, what I think helped was that I made two short films before I made my feature. For those short films you aren't asking for a lot of commitment. You can build and foster relationships that way. You can find who you really get along with, make friends and those are the people you bring along to features. The people that I've kept in contact with would jump to help me. It goes back to making those types of connections and friendships so you aren't asking strangers to do things for you. You are asking your skilled friends, people who are know how to use equipment, actors, anyone in the industry who is talented. Those are the people you call in favors from and, of course, when they need help you jump to go help them out.
Q: What did you learn from this musical drama?
We are not fully done yet and this is my first time that I am scoring with a live orchestra, so this is a new learning lesson for me.
In terms of production, for this project we shot the entire film over 32 shooting days and had 4 crew people. I learned that a 4 person crew can make a film. After working on other projects, I learned where to scale back and where not to. I realized that you don't need 20 people if you know what you need and are not being the glory, "I want to be the director and everyone else works for me" type of person. If you are willing to get your hands dirty, you can make it without 20 people as long as you bring together a skilled team.
On my very first short film, I hired every department to do things because I didn't go to film school. The short was my film school. I wanted to see all the departments and learn. But the best way to see what every department does is to PA or intern on a bigger set. That way you can see what you like or don't like. Then, when you make your own movie you can bring in what you like.
THANKS GARY KING – NYCastings likes your advice!
For more information on HOW DO YOU WRITE A JOE SCHERMANN SONG and Gary King visit http://www.joeschermannsong.com/