Showtime's Your Honor actor Andrene Ward-Hammond certainly knows how to ham things up on screen. Have you heard that saying "Bigger is better"? Well… let's just say Andrene takes exploring and playing to the next level – or even to the nth degree!
If you've seen Andrene Ward-Hammond on screen (and if you haven't, I suggest you click on this link right now – but come right back!) – you know what all the hype is. The point is to enjoy your role. Have fun with it!
Andrene Ward-Hammond. Your Honor. Photo Credit Skip Bolen SHOWTIME.
You star in the breakout role of 'Big Mo' on Showtime's new hit legal drama series Your Honor. Tell us how you booked the role.
I auditioned while shooting Manifest in New York. I had the option to tape or go live, and I requested live. If I can, I always choose to go in person. There's something about being in the room…feeling the energy. It also provides the opportunity to ask questions and receive redirection. I received the audition through my agent. I got the standard breakdown. I can't remember vividly how she was described, but she was a large woman (size and character) approaching Jimmy Baxter about a hit he executed. I did not have a callback for this one, nor chem tests. I booked from the original audition.
Big Mo is stereotyped regarding being in drug dealer territory, yet not stereotyped because she's not overexcited or rowdy. What do you go through in your mind to play such a complicated character?
There's something incredibly interesting about the quiet ones. The louder and "extra" characters are easy to read. Those in command delegate, they are thinkers…cautious. Playing someone who is in control, I settle myself and ensure my moves are calculated. Doesn't matter that she's in drug dealer territory, she's a guardian in her community. Whether you agree with her choices or not, my goal was to humanize her… and demonstrate she protects those around her by any means.
You have a very interesting name, Andrene Ward-Hammond! Please share some family history with us.
I'm a 1st generation American. Brooklyn born of Jamaican parents. Raised in Queens. My mom came to America in her teens, dad still lives in Jamaica. I was introduced to the industry young. My dad is a renowned reggae artist. Felt normal to tour / travel watching his live shows. My name?? Lol! I thought my mom made it up as a kid because it got destroyed in school by teachers. They made fun of it… they made fun of me. Some never took the time to get it right. I hated it. No one could say it. I absolutely LOVE my name now. Feels exotic / eccentric. Asked my mom why… she said she'd heard it once and thought it was pretty. I agree. Lol, I've heard it only a few other times. My last names are my mom's maiden and my dad's last names. I always wanted both.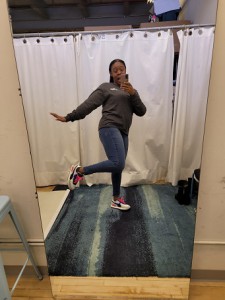 How did growing up in a Jamaican household in Brooklyn, NY steer you toward acting? What was your childhood like?
I had an awesome childhood. I appreciate it more now because.… don't we all. Lol. Every year I went to Jamaica, sometimes several times a year. Rather strict household, but wanted for nothing. Mom took me to the movies often. Almost every weekend we did something outside of the house… roller skating and ice skating. Going to museums and going to plays was normal. Paddle boating and feeding the ducks at Prospect Park was super cool to me. I had friends, but my family is so big, my cousins were my friends. Our get-togethers, birthday parties, and barbeques were EPIC. The neighborhood would show up uninvited. My childhood was so rich, it's hard to isolate great moments because there were so many. Fun fact… my mom took me to an audition for "Reading Rainbow," as a kid. I didn't do too well. Lol. Had a big personality as a kid, but sometimes shrunk under pressure. I was generally in the advanced classes because I performed well in school. With West Indian parents, you're not given the option to fail. That shifted a bit in High School because I wanted to "fit in," but I did well there too, lol, I was a science-based student then. A pre-med major in High School cause, in true Caribbean fashion, you needed to have a "real" profession. Lol. I took theater and improv classes at Jamaica Arts Center in Queens in my teenage years.Got my Associates Degree in Theater and pursued my Bachelors in PR with a minor in Psychology… because it was drilled that you have to get a "real" job. I always knew of the possibilities of being an artist and succeeding because my father was/is a musician, and he did. Unfortunately, the world gets in your head and adulting interrupts your thoughts. I learned to play again. I make a point of allowing my daughter to explore whatever she loves because it will manifest itself sooner or later. It sometimes doesn't show itself when expected… but you'll enjoy the process, and appreciate it more when you get there.
You're a character actor. What exactly is that? How does one become a character actor? What does being a character actor allow you to do?
I believe character actors are colorful and/or eccentric. They often aren't afraid to explore out of their norm. It's interesting because they often play supporting roles. They bring flair to a piece, accenting what's there. I believe you can explore and play more as a character actor because the more unusual and quirky you are, the more interesting and appealing you become. I don't mind doing that. I think there are different types of actors… some dance in the same space. Daniel Day-Lewis and Jamie Foxx are just a few examples of those who are able to do both.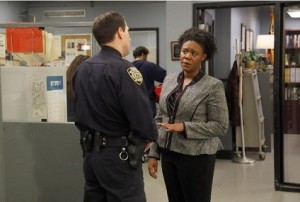 You played Kate Bowers in several episodes of Manifest. What was it like working on a show that received so much press?
I love my Manifest family! It's exciting being part of a project that has a HUGE fan base. Behind the scenes is always laughs. I can't remember a day on set that I didn't laugh with Melissa Roxburgh, J.R. Ramirez, Josh Dallas, or crew. Everyone is incredibly supportive and loving. Sometimes Mel, J.R. and I can't make eye contact because we'll laugh through the take. Most of my scenes are shot at the studio. I do get a trailer on location, but at stages there's what's equivalent to a green room. We all have our rooms there. Nice and comfy… not too much time down there, because we're usually close to set for shooting after we get dressed, unless we're at lunch. Crafty is a struggle for me because I'll eat all day, if given the chance lol. I had to back off the delicious bites because they can tend to make you drowsy. I just feel pretty in hair and makeup on Manifest. Lol. My folks there doll me up and don't mind going big… we sometimes have to dial it back because of the occupation of Kate Bowers. Fun times at that studio. Always.
Where is the entertainment field today in terms of diversity?
I know I've had struggles with hair and makeup on my trek in this industry. Going to set with hair prepped for fear of the stylist not knowing what to do with kinky curly / "ethnic" hair… or a small bag because makeup could be a challenge, is a thing. Being made to feel like I was being difficult by making suggestions on what worked for me, has happened. I'm seeing more diversity on set now, more black and brown people… in MUA trailers, wardrobe and writer's rooms. We need to see expressions of our culture, of ourselves, not always seated in stereotypes. It's an uphill battle, but strides are being made. I've seen quite a difference since starting in this industry almost a decade ago…a difference since the shift in the social climate over the past few years, but we still have a ways to go.
Some people love improv, some people hate it. Where do you fall on the improv spectrum? How does improv help an actor?
I LOOOOOOOOOVVVEEEEE IMPROV!!! LOLOL. I wish more people explored it more. It gets you out of your head. It actually helps you in life. It forces you to accept what's given and offer support. You're forced to practice letting go and actively listen. This is essential for actors who have a tendency to overthink. It assists in receiving redirection. Tone, body language, mood changes everything. We have to be flexible enough to change at any given moment. Through improv, we're able to find new moments… sometimes moments writers / directors didn't have in mind. Through you they discover, as well. With it, expectations are released. That's where the creativity lives… where the magic lies.
What advice do you have for people who want to break into acting later in life?
It's NEVER too late! Explore and play. Acting is like therapy. You discover parts of yourself you were unaware of. Performing is one of the most vulnerable things you can do. You're putting yourself out there for everyone too. Hence the reason, not all are able to do it. GO PLAY!
Anything else you want to say?
For my actors…Fame is fleeting. This is a marathon. Build your endurance. Keep training. Enjoy the JOURNEY! You have only one life, "…go confidently in the direction of your dreams. Live the life you have imagined" – Henry David Thoreau
ANDRENE WARD-HAMMOND'S SOCIALS