Netflix actor, Han Soto, who is in Season 3 of Cobra Kai, has a great philosophy on life which helps him through the grueling audition process.
Whether you're new to the scene or a veteran actor, truth be told, you will most likely go on an infinite number of auditions before striking gold. Consider the roles you do not get as practice auditions.
Han Soto takes every day as a brand new, exciting challenge. Yesterday is gone, yet he builds upon the past to construct his future. Han does his best, then he lets it go, and moves on. (Read my DirectSubmit NYCastings article on "Submit and Forget".)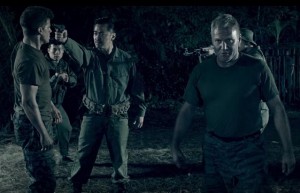 In Netflix's Cobra Kai Season 3, you play Pham Minh Thao, the soldier who kept John Kreese prisoner during his time at War (and inadvertently ended up naming Kreese's future dojo). Tell us about your audition. Did you know it was for Cobra Kai or was that all kept a secret?
The audition process was pretty standard. An audition request was sent to my agent, LandrumArts LA, via Feldstein | Paris Casting. I was working on another movie at the time and had to film the audition in my hotel room after we wrapped. I remember vividly how excited I was to be able to play this evil character; little did I know that he would be one of the most evil characters in The Karate Kid franchise history. I did one take in broken English, one take in Vietnamese and a third take with a mixture of both (which is the one I decided to go with on the day of filming).
Your character is super important to the development of John Kreese. What type of chats did you have with actor Martin Kove and the Director about Pham Minh Thao?
There was not much prefabrication of what my character was supposed to be or how he was supposed to act. Josh Heald (Director) granted me so much freedom in bringing Minh Thao Pham to life. I came to set very prepared for this role and was ready to pivot at Josh's request.
In real life, you like to help others, yet in Cobra Kai, you played a villain, and a very good villain at that! Does playing a bad guy cause any conflict within you?
Part of the work is having a grasp on being able to compartmentalize fiction with nonfiction. I've actually spent a lot of time creating this character prior to booking the role so it was just a matter of inserting him into the script and making it work for Cobra Kai. Truth be told, the way I decompress once we wrap is through meditation and breathing exercises – It's the only way I can clear the residue.
How did you find your agents Dawn & George Landrum of LandrumArts LA? What type of services do they provide for you?
I found them through a good friend of mine, Sam Medina, who you may recognize as the bad guy in the VENOM trailer or the main bad guy in MILE 22. LandrumArts LA is my one and only agent and I adore them. I think the real question here is what services don't they provide for me — They're one of the most hard-working individuals I know and on top of that they do it with a pure heart which technically makes them Unicorns. LandrumArts Unicorns. It has a nice tone, yes?
You're an Executive Partner at Kamikaze Dogfight (along with Andrew van den Houten), which is a film distribution company specializing in horror and thriller films. Why did you start this company?
We started this company to disrupt the distribution space by creating a culture that involves filmmakers more in the distribution process. We love our filmmakers.
What exactly do you do?
We distribute feature horror/thriller films through our output deal with Gravitas Ventures, a Red Arrow Studios company.
What's involved in acquiring the rights to a film, such as Don't Look Back, written and directed by Final Destination creator Jeffrey Reddick?
With DON'T LOOK BACK, I was actually an actor on the movie first and this is where I was reunited with Andrew – one conversation led to another and I jumped on the project as an Executive Producer with a micro film fund. Consequently this would be the birth of Kamikaze Dogfight in months to come. When the synergy is there, you just have to explore it to see where it takes you. There are a lot of links out there that explains what a distribution company is, how the company makes money, how do you get the money to purchase rights – I'll leave that one to Google. It is noteworthy though to mention that we choose our films based on storyline, good sound design and wonderful filmmakers.
Previous to acting, you were an accomplished businessman working in the building trades industry. What is the "building trades" industry?
I ran a roofing company following the aftermath of Hurricane Katrina and Hurricane Gustav.
Why did you choose that over different types of businesses?
I chose to start the roofing company because I was tired of seeing homeowners being taken advantage of by these fly-by-night out of State roofers.
How did being a businessman help you with your acting career?
It provided me a strong sense of organization, marketing and branding which is part of what you have to do as an actor.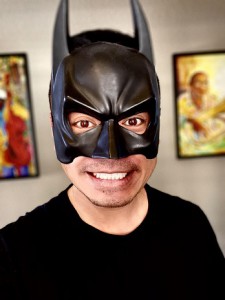 Is it true that there's no business like show business? Why did you become an actor? How did your family feel when you decided to switch careers?
The saying that there's no business like show business was true back in the day and it's becoming more relevant as we navigate this modern tech world. Technology has allowed us to do things so much more efficiently and save so much money as an actor. I became an actor because I just love storytelling and movies and working with people; there's a certain charm in being on a television series and having the audience invite you into their homes. My parents, much like a lot of directors and producers I've worked with, gave my siblings and me the kind of freedom a child can only wish for – there was a very short period where all they want us to be was a doctor, pharmacist, lawyer (all very admirable professions), etc. Among me and the siblings, we have an Actor / Producer, Chef / Restauranteur, Motivational Speaker and Restauranteur — it couldn't have been more "out of the box" than this.
You have a daughter. How old is she and what does she think about you being an actor?
Yes we have a seven-year-old daughter and she's been watching me do video auditions since she was a baby. She's actually put her self on tape a handful of times it is quite a gem to watch. I am pulling one from my Parents' playbook and I'm going to let her be whatever she wants to be.
You studied at The Groundlings Theatre & School. What important lessons did you learn there?
I learned to LET IT GO. It's a very simple yet most profound piece of advice any actor could ever get. We read all of these books and learn all of these things just to let it go at the end of the day.
You're in the actors' union SAG-AFTRA. What does the union provide for you? Do you use them for health benefits? How exactly does that work?
I will have to say that the union's health benefits are one of the best I've ever seen. This is another one of those answers that I don't want to bore you with – very Googleable.
What qualities do you possess that make you a better actor?
My ability to listen on and off-screen has allowed me to grow exponentially as an actor.
Anything else you want to say?
Ubuntu. I live my life by this philosophy. It loosely translate to "I am because we are." Ubuntu is a Nguni Bantu term that means "humanity." I read this over a decade ago and latched onto it as it resonated loudly within. With that said, if ANY actor reaches out to me via Instagram messages, I will make it a point to respond to all questions. If you're reading this, it means you've read the entire article. Consider it my way of giving back. Ubuntu.
SOCIALS: