If you want to succeed in the comedy biz you need to "get as funny as you can as fast as you can," says Andy Engel, New Talent Director Comix. 

Andy Engel has over eighteen years of experience producing New Talent shows in NYC. He helped countless talent, including: Jim Gaffigan, Ed Helms, Lisa Lampanelli, Greg Giraldo, Demetri Martin, Jessica Kirson, Tom Shillue and many others. He knows how to spot an original comedian and what it takes to make serious tracks in this industry. 

To help NYCastings actors learn more about the Stand-Up biz, Andy shared his years of knowledge and inspirational laugh lines with us… 

Q&A with Andy Engel
Q:  How do you audition new acts/ comedians / what is the process?
The point of the New Talent show is to give anyone who wants an opportunity to perform.  Sometimes people who have never performed do extremely well on our shows, for several reasons. One the crowd is always very supportive and we have positive MC's who create a supportive environment. Anyone who wants to perform can contact me at the Comix new talent page. 
However, the absolute best way for me to get to know an aspiring comic, and for an aspiring comic to become all that they're capable of becoming, is to consider taking my class at the Manhattan Comedy School
www.manhattancomedyschool.com/
The class teaches you the basics of stand – up, performance, and everything you need to become a strong comic.  The class literally shaves years off of making beginner mistakes.  It is a great way to network – we encourage people of all levels to perform, and build a relationship with us, then they can become regulars on our shows. 

Q:  Do you ever scout outside of the club?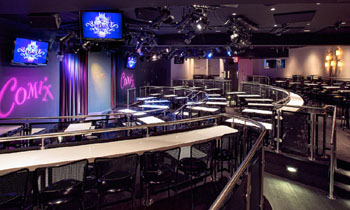 Since I have been producing for almost 20 years I have a large network of industry friends who often contact me when they want to showcase someone.
Eddie Brill who books David Letterman, Brian Baldinger who scouts for the Montreal Comedy festival are just some of the people I talk to often who tell me when they see someone who is about to break.  Also, I always have my eyes and ears on the lookout for New Talent, so yes, I do scout outside of the club.
Q:  Do they always perform in an amateur hour?

I prefer the term New Talent.  The New Talent shows, while I will give any one the chance to perform, are great shows, for people who care about comedy and having a good time.  To answer your question though, yes when they are starting out on my shows they begin on New Talent Night.

But my shows are the fastest and most direct route to getting paid and guest spots at the club.  When I see someone I like I will tell Kim Hannawhacker and Harlan Halper the owner and booker, that they should watch someone. They don't have to be one of the 2000 comics submitting DVDs and hope that someone gets around to watching them.  I can ensure they get seen.

Q:  What are you looking for from a comedian – great energy? Consistency? Pure hilarity?

An original, unique, voice, persona, attitude speech pattern that no one else has. Also someone who has good ear for characters, voices, etc. 

Q:  Is it always a straight forward stand up or do you book eccentric, Andy Kauffman style acts as well?

I produce a straight stand-up show so alternative acts wouldn't work as well on my shows. I have produced a large number of alternative shows with Andy Kauffman type acts which I enjoyed producing because it was a nice change of pace for me and my hosts as well.

Q:  How long of a routine should comedians have on hand and how short should they prepare to cut it down, if needed?

Comics do a 6 minute set on my New Talent shows. Pros do more of course.

Q: How can a comedian in NYC grow a strong career / what does it take?

This will sound very simplistic or almost trite but the answer is get as funny as you can as fast as you can, without stealing, pandering, or doing hack, derivative bits. Comics who get funny fast are hard to ignore.

Q:  I know you recruit for a particular place, but how do the comedy clubs and the opportunities they offer differ from place to place?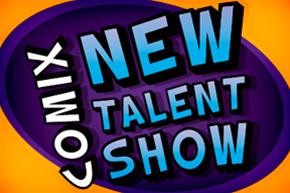 The reason I work for the place I work, is we simply offer the best opportunities for New Talent. We offer comics a free Two camera shoot DVD that is unmatched by any other club in NYC. These DVD's get people development deals and careers. In addition I do auditions for Letterman, Fallon, Kimmel and Comedy Central. I have also just started giving comics free feedback which I think gives our show and edge over every other New talent shows. To answer your question the quality of the DVD's varies tremendously some clubs literally use security cameras to give to the comics. Our club was designed by a TV and film studio so our acoustics are state of the art. Some clubs were bars that were converted to clubs so that they can't compete with us. The DVD's, The feedback the quality of the sound system are a few very distinct differences.

Q:  How can an aspiring comedian sharpen their stand up skills in NYC / hence increase their chances of making it on a main comedy stage?

I go back to get as funny as you can as fast as you can and then people will want to help you. Get stage time.

Q:  How does an emerging (or successful) comedian best network in this business?

Intern for a major comic. Work at the club.

Q:  What is the most serious side of the funny business that aspiring comedians should realize?

You need a mentor, coach someone who can give you honest answers that your fellow comics just don't have. If someone does my new talent night they can ask me questions and ask for referrals introductions etc. Find a comic you like and offer to intern for them, that can be invaluable.
Thank you Andy for giving us a front row seat to the comedy scene!