Actor Roger Dorman can currently be seen in the BET movie Karen which is about a racist woman (played by Taryn Manning of Orange is the New Black) who takes it as a personal mission to displace the new Black family that just moved into the neighborhood. Karen is being described as a brutal crime and drama thriller.
Oftentimes, film and television mimics real life acts of physical violence and cruelty. As a viewer, we understand about movie magic (blood, black eyes, etc.) but it's the psychological elements in the script that keep us thinking and talking about the show for weeks, if not years, on end.
Growing up, Roger Dorman had an abusive father so, as an actor, Roger was able to attach himself to what it's like to be in certain vicious situations.
How and why did you become involved in show business?
Funny story, I was at an investor meeting for a company I held shares in. At dinner, one of the Board of Directors members said to me, "I've got a part in a movie I think you'd be great in. I think you're the guy." I didn't know he was even a movie producer. All my opportunities since have resulted from the relationship I built with an incredible producer working on that movie.
I've been a business owner for quite some time. I still run my business to this day. Acting has become an unexpected, incredible second career for me.
Karen – Roger Dorman  and Cory Hardrict – Photo Credit Karen the Film LLC
You star in the film Karen which was recently released on VOD and BET, where you play Officer Mike Wind, a hardened racist cop, in this police brutality thriller. You're also the Executive Producer. What did your role as an Executive Producer entail?
Many people don't know the difference between being a Producer and that of being an Executive Producer. EPs are just investors in projects. They aren't involved in the day-to-day or production of the movie. I focused on preparing for my role as Officer Mike Wind while I also had the opportunity to support the film financially by investing in it.
How did Karen come about?
Director Coke Daniels wrote Karen in 2020. I was approached by my producing partner and friend Mary Aloe to participate in it. She had read the script and felt the role of Officer Wind would be a perfect role for me to play. I submitted an audition tape for a couple of the scenes within the movie, and they loved what they saw, both with the way I looked and acted. They felt I fit the role perfectly for the racist cop they wanted to portray.
You can also be seen in Cheer for Your Life, in which you also play an officer. What are your thoughts on actors being typecast? Do you feel you'll be looked at only for tough-guy roles?
I am so new to the industry that I am not too concerned about this. My first three movies are all roles of a cop. The next four I am already cast in are very different and diverse roles. I feel my acting will speak for itself, and I will be given various opportunities to play other characters. However, because I am an athletic-built guy, I have no doubt those types of roles will also be presented to me.
Roger Dorman as Leiland with April Mullen on set of Wander – Photo Credit 2019 by Richard T Bryant
There are so many real, traumatic stories to tell. What types of stories draw you in when choosing which projects to work on? Are you drawn to brutality?
I am not drawn to brutality. It can't be more different from who I am naturally. I prefer action -adventure and sci-fi films. I also don't mind emotionally driven epic tales and love stories. With that said, if there is an incredible role presenting itself for me to play, and I'm available. I'm supportive of the movie's overall message. I'll gratefully accept the work.
You appear to be humble. Tell us about your upbringing.
I am certainly not boastful of myself or my accomplishments. I think my nature is to be supportive and loving of others. I am genuinely happy for others and their accomplishments, and I will never feel completely comfortable self-promoting. It's probably why I love diving into characters and acting. I can be someone else without fear of addressing myself. I am the third of nine children who grew up in a small town in southern Nevada. I was raised in a Christian home that values goodness, faithfulness, honesty, respect, and love over anything else. As such, there isn't much room for or an inclination to boast in me.
What hardships have you had in life? How did you overcome them?
This is a definite loaded question because I have dealt with things that have been a challenge in life. My parents divorced when I was six years old, and my mother moved us six hours away from our father. My father chose not to make much of an effort to build a relationship with his children unless it was on his terms where we would see him once a year during the summer. As a child, somewhere between the age of two and three years old, my dad dunked my head in a toilet I had peed in, and he held me under because I left some pee on the toilet seat. Why a father would do something like that to their toddler boy who was still in "potty training" is beyond me. He had a temper and was cruel at times. Another time, at the age of four, I was left at a gas station for over an hour that was two states away from where we lived in California. My family simply didn't check to see if I was in the car after getting out. My oldest sister finally noticed and brought it to the attention of my parents. I know these are rough, but I own them and accept them as part of my journey. I have many more stories, but these have sufficient shock value.
Your workload is quite heavy. Do you ever slow down and just relax?
I tend to take on a lot, as my mind is constantly active and thinking of things. As we speak, I have two to three other business ventures I am about to unveil. I do slow down, and my favorite things are simply relaxing with my kids, golf, working out, or just to binge on a good TV series or movie. Health and fitness are my single most important priority in my life behind my relationship with my children.
Do people cross the street when they see you walking toward them?
If I am dressed as Officer Mike Wind in Karen or Constable Leiland Ashgrave in Wander, I have no doubt many would be anxious running across my character. Fortunately, I look nothing like Officer Mike Wind in real life. My acting manager and producing partner calls me her "human chameleon," as she hardly recognizes me in every role I'm in. When I run across people in real life, I tend to be greeted warmly and trusted by most. I just don't put off a negative or strange vibe, but more inviting and kind energy.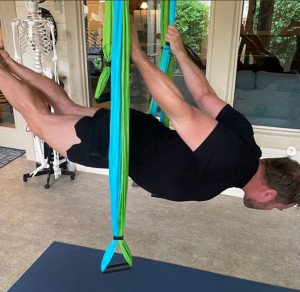 You're very athletic and enjoy many sports. At what age did you get involved in sports? Did you continue through high school? How has being in sports helped you in your entertainment career?
I've been involved in sports since I was four years old. I was on the swimming team in California until I was six. I played Little League Baseball between 8-12, being selected on the All-star team twice. I played baseball, basketball, and football all through high school. I started playing golf when I was 12. I've played since and have held a handicap of between 0-2 over the past 15 years. I have played in many amateur tournaments, including making the finals of the state amateur championship of Utah five years in a row. I also enjoy snowboarding, racquetball, squash, ping pong, swimming, and really anything that involves me having the opportunity to get physical and active.
I feel sports have helped me in every aspect of my life. I didn't always win, but I always learned something in the process to make me better. I've learned that if I wish to get better at something, I push through my fears and insecurities by simply practicing, being tenacious, and focusing on those things I could control. I see all the above being the same ingredients that lead to someone being successful in life and the entertainment business.
What's your advice to people looking to change careers later in life?
First and foremost, don't leave your career if you don't have something stable that is already set up and established to catch you financially. Further, if you're going to change careers, you'd better be making the change for all the right reasons. Love what you do! Make a move that brings fulfillment to you beyond just the financial reason, one that will enrich the overall quality of your lifestyle. Life becomes shorter and more precious the older you get, and the last thing you want to be doing is something you don't believe in, or that makes you feel like a prisoner.
Fortunately for me, I've been blessed to own a company that doesn't require me to be there all the time. I've got incredible employees that run and handle the day-to-day operations without me for the most part. I can put in as much time as is needed in acting preparation for my various roles.