Stacy Gallo helps you book commercial work
Commercial casting is definitely like the lottery because a lot of it is being in the right place at the right time, says Independent, Commercial Casting Director Stacy Gallo.
For over ten years, Stacy has helped actors land high-profile commercial gigs. She started out casting at MTV, created an in-house casting company for Hungry Man and now heads up her own casting biz – talk about creating your own luck in life!
Stacy loves taking an unknown actor, getting them an agent and calling them in herself; being hands on.
Under her guidance, actors have booked memorable and award-winning spots, including: NY Lottery Little Bit of Luck, CareerBuilder.com Superbowl Campaign, Tribeca Film Festival, McDonalds, CNN campaign, Luvs, AT&T, Yoplait, ESPN, and Mastercard w/Brett Favre.
If you want to land commercial work, it starts with a winning combination of being confident and comfortable…
The first thing I do in my class is talk to everyone, Stacy says. Then I say you just did a commercial when you talked to me' because when I say action you don't change from how you slated. When you say your name, you just say your name. When I say action, I want you to be that same person.
Actors think they need to fill an entire room and really they just have to fill this tiny lens.
Stacy wants actors to give their best performance and if they are nervous they aren't going to do well, she says. Sometimes an actor has had too much theatre or not enough training. Maybe they need to take an improv class in order to get comfortable. Being comfortable is key.
I always say I wish I could teach confidence, Stacy shares. A lot of people aren't confident and ready to audition. Those who are, I call that the Ptolemy effect. (Ptolemy Slocum). Ptolemy should be a word in the dictionary. Because he is so comfortable in his skin, everything he does is funny.
George Basil is another one, Stacy says. I never heard of him and he took my class at UCB. At first he was a little too confident, almost cocky. But I gave him that note and now he books commercials all the time. He has confidence up to whazoo and it works.
Another example is Matt Fisher who took my class at UCB and then booked the Carnival Campaign. It's all about guiding students, just a little bit.
Stacy references her UCB students because Every breakdown uses the word UCB (Upright Citizens Brigade) as if it is its own term – a UCB type talent.
And that's why I teach there, Stacy shares. I figured I might as well have my hands on the talent, find those who just aren't found yet but are totally ready to audition.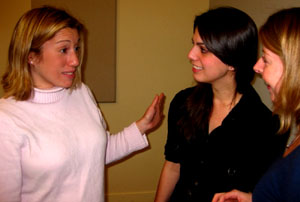 When your number comes up for an audition, Stacy suggests you relax and have fun with it…
What I like to see when I go to these networking places is a comedic commercial. Something you can improv and have fun with. I don't care what the paper says. I want to see you. I want to see you having fun.
By improv, Stacy doesn't mean changing the whole script. Sometimes it's as simple as adding in a word that means something to you.
How do you speak to your friends? Are you a bro' guy, a dude' guy? Just add that in, personalize it for yourself. That could be the improv.
An actor's body language changes when they use a familiar word, Stacy says. And having a natural, engaging presence is helpful because commercials are not all blond hair and blue eyes anymore. It's whoever is going to make that part sell while being the most interesting and memorable.
Directors want to know that on these long days you can take the script and do it a million ways, come up with fresh ideas. Improv isn't a requirement but it makes you that much more appealing. It's only going to help people if they are comfortable, to be able to do copy in their own way.
Of course, some behavior should be scratched from auditions…
Even if you feel like it's a bad take, don't stop and apologize because we might have seen something in that take that we like and then you'll ruin it for us, Stacy says.
And, if you come in for an audition and see a script, look at it. Some actors see their old friends and chit chat and then go into audition with no idea what the script says. Read the script, think of ideas, because I am going to ask you to do it another way. Use your time in the waiting room wisely. I might ask you to try it psycho or sad. Be prepared. Learn how to use your nerves and sometimes that's about auditioning a lot.
To help calm your nerves, choose copy that you're drawn to…
My advice, Stacy says, is I tell actors to watch TV or Google funny commercial spots. If it's a memorable spot, funny or sweet like a guy talking about his girlfriend, those are the ones I want to watch.
If you are going to pick copy out of a book because so many people do, it's easier and safer, find a way to do it different. Know who you are talking to. Just as you have to have a monologue prepared, have commercial copy prepared. Or write your own commercial and have someone you trust read it. Pick a product that you love that's made your life easier.
"The way you talk is how we want a commercial to come across, so pick a product and write about it. That's better than watching the same Dial copy over and over.
To increase your chances of being quick picked by an agent…
It goes back to the whole confidence thing, Stacy says. Sometimes when you talk to an actor they seem so real, it clicks. Agents want to feel like they could be your friend. It has to be a good match. When you meet someone, you just know if you are going to like them.
Agents may need a certain type. Or maybe an actor is just so funny, has that quirky nature and they can't pass her up. It's about clicking and what category you fit in, Stacy shares.
If an agent feels like you were just decent and did a good job they might think do I really need her?' They might think maybe I will freelance with her and if she books a job I will sign her.' And sometimes it's a matter of auditioning enough so that you get the call backs and then an agent will sign you. There are really only two big signing agencies right now CESD and DBA. It's a matter of finding the right fit.
What turns agents off, Stacy says, is someone who is too annoying or too in their face because that's how you are going to be as their client. You don't have to slate crazy, just say your name. There is a difference between being professional and overbearing. Don't act when you come in, just be like this is who I am, where I'm from.'
All actors have the chance to create their own luck…
Not everyone has a father who can put them in a show. You have to market yourself, Stacy says. Talk to friends and find out which workshops are decent because sometimes you can feel the scam in the air. And go to the one night events.
Also, ask a friend who has an agent to refer you because agents like referrals. And if you aren't SAG, or are SAG and not working enough, do extra work, Stacy says. I know a guy who did extra work on a commercial and got upgraded. You are going to meet people.
I got into casting because I was taking a sitcom class with Christine Kromer, Stacy shares. I was at a dead end job, met a girl sitting next to me in this acting class and hit it off with her. It turned out that she was a freelance casting director with MTV and she needed help with asking people who they liked better Christina Aguilera or Britney Spears. I helped. And then a day later she was supposed to go to Vegas for Spring Break and she asked if I could do it for her. So I didn't go into work, I went to Vegas and my life just changed.
Taking chances does pay off. If you aren't auditioning, do a student film or join a group, Stacy says. Its very depressing if you are just sitting, waiting for the phone to ring. We are all waiting for the phone to ring but think who haven't I contacted in a while? Who can I reach out to?'
You shouldn't act like things are beneath you. There is something to be said for being humble and professional in any business.
As one final lump some of advice, Lady Luck (I mean Stacy Gallo) suggests…
There are a lot of little things you can do to help increase your chances of booking a commercial but a lot of it is being comfortable and getting yourself out there, Stacy says.
Get to know the different offices so you know which ones are crazy and you can be prepared for that. And if you go to an audition and see another one don't be like why didn't I get called for that one.' Focus on your audition. Even if you walk in and see all people who look different than you, don't let it throw you.
Sometimes an actor gets discouraged because they were only in a room for two minutes and they end up booking it.
So, stay positive even in a time when it's not easy to. Everyone has bad days but sometimes for actors you have to fake it because if there is a negative energy you aren't going to book. Tune everything else out.
Auditioning for commercials is just like the lottery because you never know, Stacy says. So don't let the negative person, the devil on your shoulder, distract you. Go in, give your best performance and then go home and say I did my best today.
For more great insight from Stacy Gallo check out one of her classes in NYC. She also offers private coaching to actors she sees potential in.