If Barbara McNamara Casting was a fashion label, it might be called Rock and Rescue', because Barbara approaches casting with a hard-core passion and caring attitude. Oh and… she handles all of the background for 30 Rock and Rescue Me.
There's no comparison, Barbara says, between her boutique company and other background places. Mine is hands-on, very small, quality over quantity. I've got a great staff that I work with every day. I don't leave at 6 o'clock and have them finish up for the night. I am here until the very end. The producers and directors always see me. They never see just Emily or just Sean. I like to give them work and have them make a name for themselves, but I am very much involved.
Barbara enjoys casting in New York because it's a fun city to cast in. Whether shooting Uptown, Downtown, or Williamsburg, Barbara knows how to find what a director needs and she considers the needs of New York actors, as well.
There are a lot of actors out there and I try to get everyone work, as much as I can, Barbara shares. It's a hard business so I try to be kind. I know I'm in television and it's exciting but at the end of the day we give people work, which is a nice thing.
To help more actors learn more about the background business, Barbara gave NYCastings a glimpse into her artistic process…
How do actors become part of your fabric/ your company?
Go to my website (http://www.barbmcasting.com/) and upload your headshot, resume and details. It's free. And then send in a hard copy as well.
Do you hold any open calls?
I haven't had an open call since the film Duplicity but I will have another open call this Spring.
What look do you prefer – headshot or full-length photos?
Online, I prefer a headshot. It should be recent and current. Then I have my assistants call people in to take a digital photo. I like both the headshot and the digital because if someone doesn't look like their headshot, I can't submit them to Tina Fey at 30 Rock and have them look completely different. That would be shooting myself in the foot. So, I always have current photos.
How many people do you have on file?
Thousands.
How often do you use the same actors?
I try not to bring actors back that often. It depends on if they were featured or not.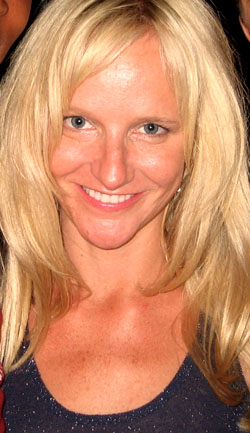 How do you keep track of so many actors?
I am very old school. I like to have my hard copies. It's quite interesting because when I started out I was an assistant on Sex and the City and sometimes I get the same headshots in the mail. Obviously, I know that person looks a little different. It's been ten years. But I do like the old school hard copies that I can lay out and have the whole scene on my floor; make sure I have a nice ethnicity break down and things like that.
The headshots are stored by SAG and Non-SAG. Most of my jobs are SAG. Rescue Me is AFTRA. And then it's broken down by males, females, age range, hair color. And I have a database.
How do you create a new line of projects?
Most new projects come from people I've worked with in the past. It's a you are only as good as your last project type of thing. Knock on wood, I've had a good reputation. I've never lost a project. Others have lost projects to me. It's all about knowing people and proving yourself.
If you were to choose one area of casting between television, movies and commercials as your signature piece, what would it be?
My TV shows are my bread and butter, consistent throughout the year. But my first film was The Devil Wears Prada which is warm to my heart, a big thing for me.
How does background casting change from season to season?
I wouldn't say it changes. But one day I could need strippers, the next day ladies who lunch on Madison Avenue and the next day 6 foot tall African Americans who play basketball. It's all about the project.
Do you see any new trends in the industry, as far as types clients ask for?
Trends to me are something fad, in and out. I guess reality shows. I did a little work on Celebrity Apprentice, which was interesting. I don't get into reality television too much but I would say that it's trendy.
When you cast an actor, should they thank you? What is the protocol?
Thank you's are nice. We certainly appreciate them and remember those who thank us. We also remember those who don't. Definitely send me post cards and keep me updated if you are in a show.
What goes on behind the scenes that many wouldn't realize?
It's not glamorous. It's insane. It's every hectic and busy. You either love it or you hate it.
Do union actors get more of a front row seat / a better chance of working with you?
There are a lot of rules and regulations you have to follow when casting a union show so I know many of my union actors. But we do have more people than you would imagine. In television, 1-25 have to be SAG and on an average, I book 250 people. Some days are bigger then others. We do get into non-union. When we are outside at Rockefeller Plaza, obviously, we are in New York City and you are not going to have just twenty-five people representing New York. You need a lot more.
How often does an actor get upgraded or wavered?
There is no one answer. For certain types, I know I will end up waving people. A lot of times it's models. If I am shooting a fashion scene and need 5'10" girls and men who are stunning, it might not happen in SAG. In some cases, I prepare in advance, whom I will waver. Other times its luck. Maybe a SAG person doesn't show up and a non-union person has the right look and intelligence that the director zones in on. Then the person is wavered. It used to happen a lot but now it doesn't happen as much as I would hope for. It's all about budgeting in the end. It happens maybe a half dozen or a dozen times in a season.
In addition to being a casting director, you also had a degree in marketing from FIT. What more can actors do to market themselves?
Just keep getting out there and do theatre or short films. Don't just sit back and think something will come to you because most likely it's not going to happen that way.
Can someone reach out to you about being a stand in?
I get that a lot and don't mind it at all. Many times, it's already set in stone who is going to stand in. For instance, one of my bigger actors on a film has a stand in that's coming from LA. But by all means, if someone thinks they fit a role they can submit.
Will you weave into casting more principle roles?
I think about it. They are different worlds. I wouldn't mind moving into principle casting but I like background casting as well. Eventually I might like to do both background and principle casting for a project.
Are you always keeping an eye out for actors?
Yes, that's another great part about living in New York. If I see someone fabulous on the street or if I see a robot in Times Square, I will give them my card.
At fashion shows, there tends to be a swag bag placed on the VIP seats. What three goodies… items, pieces of advice, etc, would you put in there for actors to take with them?
1. You must have a good headshot. That's your calling card. You don't need any props, guns, or wigs.
2. You should have a planner so you are on time. Whether it's an audition for principle acting or coming into interview for a possible feature role or background, you really need to be on time and professional.
3. I would say don't take it personally. It takes thick skin to be an actor. If you didn't land a role, principle or background, it's not you. It's what the director was looking for. Keep positive and eventually you will get it.