Of course! When Whoopi Goldberg told NYCastings that it takes some serious balls to succeed in comedy, we instantly gawked at – I mean – we wanted to learn more about gals who thrive at stand-up. Quite swiftly, our eyes zoomed in on the hilarious Carmen Lynch – a comedian with such BIG BALLS… she's performed several times for our troops in Iraq and Kuwait. Whoot!
Funny and brave, Carmen Lynch recently made her late night television debut on The Late Show with David Letterman. She's been seen in the semi-finals of two seasons of Last Comic Standing, will soon appear on Comedy Central's "Inside Amy Schumer," and has toured in Spain and Costa Rica telling jokes in Spanish. Her web series "Apt C3″ and other performance dates can be found at: www.carmenlynch.com.
Follow Carmen! @lynchcarmen
Here is what it takes to be a stand-up woman…
Q & A with Carmen Lynch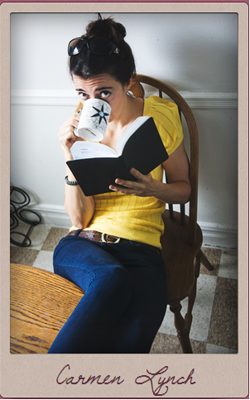 Q: Whoopi Goldberg said at the Tribeca Film Festival that it takes balls to succeed in comedy – what does this mean to you?
Well, you need balls to get onstage because at first it can feel really scary to open up to so many people, but you also need balls to keep at it for years. Those are the balls you really need. The balls that keep you going after off-nights and weeks or months of little or no work (like in the summertime it can be really slow). When you want to quit so badly because maybe someone dumped you or you're sick of eating ramen noodles every night or you're depressed because all your friends have a 401k and here you are trying to pursue your dream and it doesn't seem to be going anywhere. You need balls to not give up. This is a depressing way to start an interview.
Q: Do you… Have balls? If so, have you always?
My balls have been growing over time. And they're still growing. You don't want your balls to plateau. You have to keep taking risks or you'll get bored and be miserable. Nobody likes shrunken balls.
Q: How did you start – standing up?
I moved to NY to pursue acting and became frustrated because I wanted to get on stage every night. I saw all the "open mikes" available for comics so I took a comedy class where I got to perform on stage for 5 minutes. I performed for 2 1/2 minutes (I went through all of my material pretty fast) and that was enough for me to know I wanted to pursue comedy. Now I do stand-up but I still love acting.
Q: For women, what's the stand-up circuit like? Is it a boys club?
It can be, but it's not that apparent to me anymore. I think you notice it more when you first start stand-up, but after a while everyone just becomes "a comic."
Q: Finish this statement: When people claim that women aren't funny, I…
…don't care.
It seems to be a trend to talk about unfunny women but obviously that's incorrect. We can think of a ton of funny, successful women out there. No one can make every single person laugh so who cares. We are all not funny to many people. Not everybody likes donuts, either.
Q: You are tall and thin and really pretty – that can literally be a lethal combination in stand-up since #1 we hear women aren't funny and #2 we hear that people can't laugh at pretty women. True? False?
Well, uh, thanks.
It's all in how you carry yourself. Some female comics love wearing a dress and heels on stage while others may prefer jeans and a tank top. It doesn't really matter, as long as you're comfortable and have a good time. The audience can read your energy so go for what feels best. It's a personal choice.
Q: Where do you get inspiration for jokes?
Sometimes I just stare at my family and the jokes write themselves. Sometimes I sit at a coffee shop for three hours going over old premises or people watching (staring, really). And, sometimes if I don't do anything, when my brain isn't thinking about comedy at all, something will pop up.
Q: How do you know if a joke will work?
You really don't until you try it. I might have an idea like "oh that's good! I can't wait to try this tonight!" but it might die because the set up or the timing is off. But it's fun to try new material because its fresh and you haven't said it 35 times. And even if it doesn't work, it's usually in one of my notebooks and I'll try it again in a few months or a few years.
Q: Have you learned that certain jokes / approaches don't work?
Oh yes. I've tried stuff that never works and I end up letting it go. But sometimes I just haven't found the right way to explain something and it just needs a little fixing up. Even old stuff that used to work might sound stale and you need to find a different way to say it…to make it exciting to share again.
Q: You were on Letterman – Congrats!!! On the show you were so calm and comfortable, where you always that way?
Thanks. Someone told me that "energy is energy" and you can do with it what you will — you can choose to make it nervous energy or choose have it be excitement. So I worked on converting it to the latter. I was already super excited but I made sure to remember to keep it that way.
Q: What is the least funny aspect of being a female in stand-up?
No one ever wants to hear about you bleeding.
Q: What advice do you have for women looking to get into stand-up?
Don't get caught up in the "women aren't funny" thing. Don't get complainy about women not having opportunities. It just sounds like you're procrastinating.
Q: What is the biggest lesson you have learned by doing stand-up?
It's so cliché, but don't be afraid to bomb. Try stuff you haven't written out or even worked out in your head. Something organic and hilarious will pop in between that stuff that doesn't get a laugh yet. Tape your sets. You don't have to listen to all of them, just the ones that have a new joke idea that killed that you'll want to do at your next show. Have a room you can kill in and one you can bomb in- I think Dave Attell said that.