Anti-Semitism is creeping back up. Or perhaps it never went away but is more prevalent in our lives due to instant news and social media. What does anti-Semitism have to do with acting? I'll tell you…
Steven Skybell has reprised his role as Tevye, the lead in Fiddler on the Roof, which is on a limited run at New World Stages in New York City. This particular show is performed all in Yiddish with English and Russian subtitles.
For those of you not familiar with Fiddler on the Roof, it follows Tevye, a Jewish dairyman living in Imperial Russia during the early 1900s. Through his struggles with his five daughters' choices of husbands, Tevye shows how his culture battles against societal norms and anti-Semitic attitudes from both within and outside their community.
Anti-Semitism in the acting world is an issue that continues to plague the industry and its performers. This type of discrimination has been around for centuries and is a particularly difficult problem to overcome, even in modern times. As Fiddler on the Roof is still performed today, it serves as a reminder of how far we have yet to go in terms of achieving true equality within the performing arts community.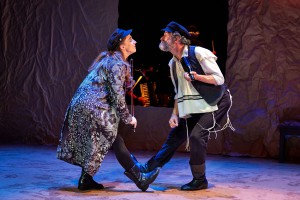 Steven Skybell is the latest actor to take on the iconic role of Tevye. The musical was written by Joseph Stein and composed by Jerry Bock.
Skybell has been in several Broadway productions throughout his career. In addition to performing on stage, Skybell also has an extensive list of television credits including appearances on Madam Secretary, Law & Order: SVU, and NYPD Blue.
Skybell's performance as Tevye is sure to be a memorable experience for both cast members and audience alike. With his vast experience and expertise as an actor, it's no wonder why he was chosen to take up this cherished role.
You've reprised your role as Tevye in Fiddler on the Roof, performed in Yiddish. Do you actually know Yiddish or did you learn to speak it just for the role?
I had studied Yiddish prior to being seen for the Yiddish Fiddler. I had always had an interest in Yiddish music and plays. And I had studied with a woman at Northwestern University one summer when I was performing in Wicked in Chicago. I certainly wasn't fluent in Yiddish, and as we rehearsed the Yiddish Fiddler initially, it slowly dawned on me that not only did I have to know everything that I was saying, but I had to know what everyone was saying to me as well. It became Acting 101 for me, and in that regard it was very challenging, but very rewarding.
There's plenty of singing in Fiddler. Have you had formal voice training?
My first voice teacher was a woman by the name of Emilia Simone, and she taught me when I was 17 years old in my hometown of Lubbock, Texas. I continued to have voice lessons throughout school and most recently studied for many years with Neil Semer. His studio is in New York City. With Neil, I studied classical music which I feel gave me a very strong understanding about how to use the voice wisely. Tevye is a very large role: a lot of emotion, a lot of talking, and some demanding singing. It has always been a challenge for me to keep my voice healthy doing sometimes eight shows a week — and sometimes we did five on the weekends in 2019. Lately, I've been relying on the vocal know-how of one of our cast members, Rachel Zatcoff. She is a voice teacher, as well as plays the role of Tsaytl in our production.
Do you wear a wig and fake beard in the show?
Thankfully, I wear my own hair and beard in this production. I played Tevye at 17 years old at Interlochen, Michigan, and played Tevye again at Yale undergrad when I was 21. In both of those productions, I did wear a fake beard. I'm very happy to have my own hair and beard for this production. The only thing I have to do make-up wise is try to tone down some of the white hair that has crept in over the last few years.
With the recent anti-Semitic happenings, do you have any fear that someone is going to harm you and/or your co-workers? Did you have any discussions about this?
We did have a security meeting with the Shubert Organization, which addressed the idea of some thing untoward happening during a performance. With the rise of anti-Semitism, and the fact that so many violent shootings are happening in our country, I'm not going to tell you that it hasn't crossed my mind that our very Jewish production might be in someways a target. Thankfully, nothing like that has ever remotely occurred. Not even heckling. With the rise of anti-Semitism, our Yiddish Fiddler on the Roof has definitely become more meaningful and its message more dire than I think it ever has been since Fiddler was created in 1964.
You've been in several Broadway and off-Broadway plays, including The Full Monty and Wicked. What's the difference, as an actor, between Broadway and off-Broadway?
The question of Broadway versus off-Broadway is very pertinent for our Yiddish Fiddler. When we moved uptown in 2019, we were at Stage 42 on 42nd Street. This time for the 2022 revival, we are at New World Stages theater. Both of those theaters have 499 seats, so technically, they are one seat away from being the size of a Broadway house. And in that regard, it can be a little frustrating because our very celebrated production was not eligible for any Broadway awards such as the Tony's. In terms of financing, an off-Broadway show is going to be less expensive. Our show is so intimate and so minimal, that I know the Director, Joel Grey, was very concerned that when we moved uptown, we not go to a theater that would cause us to have to be larger than the simplicity of what our show is. And I have to say that at New World Stages, the theater feels perfectly sized for our production, intimate yet large.
You did a residency at Colonial Williamsburg which focused on acting Shakespeare in both the colonial and current period. Tell us about this experience.
In 2019, I was asked to be the "artist in residence" for a weekend at Colonial Williamsburg. This included a performance of Shakespeare soliloquies and monologues done in historical garb. It was a very exciting experience to be part of a gala at Colonial Williamsburg, in addition to my performance, there, (which was a one night gig), I also led a master class in Shakespeare for some of the people who work as the historical players in Colonial Williamsburg. My love of Shakespeare has led me to teach in a variety of schools, including Harvard, Yale School of Drama, Fordham NYU grad acting and Juilliard. And the challenges of performing Shakespeare are very similar to performing Tevye in Yiddish. The need to take a vernacular that is not inherently your own, and give it such spontaneity and life, that everyone feels this is your native tongue. The muscles used to have that happen are very similar between Yiddish, or any foreign language and Shakespeare, which is kind of a foreign language in English.
Your TV credits include Elementary, 666 Park Avenue, NYC 22, Law & Order, Sex and the City and All My Children. How is performing on TV different from performing on stage? Which do you prefer?
I have performed on TV and film throughout my career. The obvious difference between camera work and live theater, is the audience. Performing nightly for a new audience keeps the show alive and fresh and never routine. The audience is so important in a theatrical performance. In terms of camera work, there really is very little need to repeat anything. The camera will catch anything you do so repeating is never really part of the skill set, at least not in the way of a performance eight times a week. So there can be a feeling of great freedom in camerawork. But it also is very isolated. No audience and sometimes it can be a very minimal crew that's there with you. It's much more of an internal small experience. I love both camera and live theater for their various challenges. Certainly, there's often greater monetary compensation in film and TV, and that can make it more desirable. The hours in TV and film are very long. The hours in theater can also be equally long certainly in rehearsals, but once the show is up and running, it's definitely a shorter workday than TV and film. At this point in my life, I've built my career, mainly in the theater, and I can't imagine that I would ever leave the theater completely for TV or film.
You taught acting at NYU, Juilliard, Yale Drama, Harvard's ART, and Fordham. What type of acting classes did you teach? How did you get those gigs?
I have been teaching for almost 20 years now. I only ever wanted to teach Shakespeare, because I felt there was a lot of misunderstanding about how Shakespeare works, and I very much wanted to pass on a lot of the knowledge that I had gained in drama school, and in many productions of Shakespeare. The way I fell into teaching, is, I had a colleague, who had gone to undergrad and drama school with me, and she ran the directing department at Fordham Lincoln Center. Out of the blue I contacted her, wondering if she knew if the department would ever want a Shakespeare master class, but as it turned out, they needed someone to co-teach the Shakespeare class that semester. Ultimately, the other teacher couldn't continue teaching that semester so the entire semester fell to me, and as they say, the rest is history. I've stayed on teaching at Fordham as long as my performance schedule has allowed me over the years. Then one school after another contacted me about teaching. I never really pursued it, but it became something that I felt I had a knack for and I enjoyed.
Steven Skybell's Awards and Nominations:
Drama Desk Awards – 2019 – Outstanding Actor in a Musical / Steven Skybell, Fiddler on the Roof (in Yiddish) 
Drama League Awards – 2019 – Distinguished Performance Award / Steven Skybell, Fiddler on the Roof (in Yiddish)
Outer Critics Circle Awards – 2019 – Outstanding Actor in a Musical / Steven Skybell, Fiddler on the Roof (in Yiddish)
Obie Awards – 1996 – Performance / Steven Skybell, Antigone In New York