Croatian-born Neb Chupin, an esteemed actor and producer, starred in Til Death Do Us Part, now streaming. A mechanical engineer by training, Neb transitioned from a successful engineering career at companies like MIT Plasma Fusion Center and Nextel to pursue his passion for acting and modeling in Miami.
He honed his acting skills at CP Casting Studio in Boston and Anthony Mendel's Actor Workshop in Los Angeles. Neb's breakthrough came when he worked as a stand-in for Michael Shannon in Bad Boys 2. His talent was unmistakable, earning him roles in over twenty films within five years, including Fanatic with John Travolta and Obsessio, for which he won a special acting award at The Venice Film Festival.
As his acting career soared, Neb ventured into producing. He has multiple ongoing projects, both in front and behind the camera, such as Pig Killer and The Last Redemption. His journey from an engineer in Boston to a celebrated actor and producer is a testament to his diverse talents and unyielding ambition.
Let's get on with this special treat of an interview!
You were recently seen as Dr. Loesch in Lionsgate's Mindcage with John Malkovich and Martin Lawrence and are currently in Til Death Do Us Part. Tell us about your auditions.
Hello there DirectSubmit NYCastings, thank you a lot for your interest.
My acting career really started when I moved from Miami to Los Angeles in 2012. Through some small projects and some contacts from Europe I was able to be part of the movie with John Travolta in Fanatic and Poison Rose.
Since then, I tendered the relationships with producers and directors to get to know them better and show them my acting work. In parallel, I started producing short films to get the attention as an actor since I took many acting classes earlier in Boston, Miami and Los Angeles.
In the Final Stop short, directed by Bobby B. Grubic, I portrayed a worried father in a human trafficking subject film. It received over 20 awards at various film festivals, and this is how my career actually started. I was marked as a solid drama actor who was suitable for roles of a serious worried man, serious doctor, mafia guy or a serious businessman, etc.
I sent the tape to the director of the film, Mauro Borelli, since I new him from previous projects. I also asked the main producer on the film, Dan Grodnik, if the role was open. I was very lucky to have called them at the right time. The role of Dr. Loesch was exactly what they needed; a serious man who cares for his patient.
For the film Til Death Do Us Apart, it was much simpler. I was in few movies already with the main actress Natalie Burn and she asked me to join her in this film. Since she and I spent much time as friends on various sets, she always thought that I was naturally funny, and she told me that she has a small comedy part for me. This was a challenge and also something new — my first role that I can just relax and be myself.

Tell us about your character.
In Mindcage, I worked with the director right there on the set to get the character to his liking.
There were only small adjustments. Everyone was professional there; all of the actors came ready and prepared. So, did I.
The biggest challenge was the last day on the set, where I had to memorize the speech coming from John Malkovich. I had to lip-sync his words without seeing it on camera. So I had his tape and all night I was memorizing how he speaks… Opposite from ADR (automated dialogue replacement) in a studio for example. In the movie, his character "The Artist" had skills to draw a person on a piece of paper and get into anyone's body. At the end of the film, he was in the body of my character, Dr. Loesch, and I was speaking his voice. The end of the movie is basically mostly my character so that was good — I like that.

Acting was not your first career out of college. You graduated as a mechanical engineer from Northeastern University in Boston in 1992 and took a job as a Sr. Design Network Engineer. It was in year 2000 that you started acting at CP Casting Studio in Boston and soon after retired from engineering to pursue modeling and acting in Miami. That's quite a big career change! What made you want to go into the entertainment field?
I have worked for many engineering companies since I graduated, including Gillette, MIT Plasma Fusion Center, and Nextel / Sprint later on. As a young engineer I had to have side jobs. For example, on weekends and holidays, one of the jobs was moving furniture and driving trucks for Gentle Giant Moving Co.
This tells you that the engineering salary wasn't enough to pay for all the loans and bills I had.
I think I was exhausted from all work and no fun, nothing spiritual, just work, work like a robot.
I was getting panic attacks and was seriously ill. Had to find another way to live my life.
I had to find some sort of relaxation, and someone mentioned acting classes, and I found CP Casting in Boston. I took three semesters of classes there and I truly loved it. I never missed one class. It was something quite new for me; I was a whole different person any time I took a class.. I remember as if it was today, how great I felt after attending that first acting class.
In 2001 when the market crashed, I quit my startup engineering job in Boston, saved some money, and moved to Miami where I renovated my old apartment that I previously bought, and started living a different life. I took modeling classes, started going on auditions and even had my own restaurant from 2002 – 2004.
For my first experience in producing, I acquired a small Indy project film called 411.
I was cast as an European Interpol agent by a local director James Valentine.
We had no money, so we did everything ourselves, preparing actors, blocking scenes, finding locations, etc. I learned a lot there about how small projects are being produced.
I also had experience of being an extra, double and stand-in for Michael Shannon in Bad Boys 2 film. So I watched how they make big films. I was on the set for three days.
You're originally from Zagreb, Croatia. Tell us about your childhood.
I grew up in Zagreb, yes, but summers I spent with my grandfather on the coast of Croatia, and I helped him a lot in agriculture. He had many different crops such as almonds, grapes, figs, olives and sour cherries. Today his house is a museum, small Bed and Breakfast place and the gift shop.
Back in Zagreb, my school was strict — we had tough teachers and we had to read many books and later discuss the books and the subject. We also had many plays that I participated in that school program – I had no idea that one day this would help me in my acting career.
Literature later became my most favorite subject.
My parents divorced early so I grew up mostly with my father and my younger brother.
My mom is still alive and she lives close by.
It's not easy breaking into show business. What challenges did you face along the way and how did you overcome them?
I started in late age, and I think everyone who wants to break into acting needs to have their own path. I started as a producer / actor, and it's nothing new these days. I see many young actors make their own projects to be in the game. You can't always wait for someone else to hire you. Almost every actor I meet on the set has their own projects.
In addition to acting, you learned about producing, and have several films in production that you both act in and produce, including Mindcage, The Last Redemption and the apocalyptic fantasy The Islander. How do you find the projects you want to produce? What's involved in producing?
There are different involvements with each film:
In Mindcage I was one of the producers on the set to make sure actors were happy and the director has everything he needs. This was during the pandemic so it was extra challenging. At some point the director asked me to find an Asian boy actor and a special crane to shoot point of view from the high story window. So I found the crane, and someone from the production suggested to cast my son who was there on the set hanging around. So that worked out. I was extra happy.
In The Last Redemption my producer's role was similar. It was filmed in Italy, and this was our fourth film together with a young and prosperous director John Real.
And finally, The Islander is truly my own film that i started filming seven years ago in Croatia and now we are in post close to finish. Here, I am the main producer.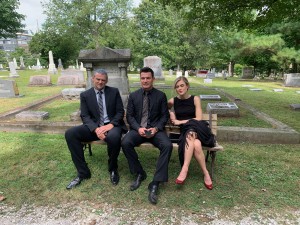 You've worked with some big names such as John Travolta, Dolph Lundgren and Natalie Burn. Were you given any instructions by production as how to conduct yourself around them?
Yes, I worked on two films with John Travolta, and also with John Malkowich in Mindcage and Natalie Burn on four other films. I found out that the bigger names they are, the easier they are to work with.
John Travolta was very friendly and I had some great talks with him. He was always in good mood and dedicated to his work. Same was with John Malkowich. I found other actors who haven't made it that big yet, but are sort of famous, to be more difficult on the set.
Natalie Burn is my friend and I admire her work ethics and dedication. She's made some stellar films, and she is on a rise.
Which actors or directors do you particularly admire or wish to work with in the future?
I worked with many directors but never with a big, big name. I would like to find out what it's like to work with Steven Spielberg. Curious…
Please share a behind-the-scenes story from a recent film or show that left an impact on you?
I'll tell you a funny story from my very early days. It was an audition for Bad Boys 2 in Miami. We were all waiting for a long time in the room to be called in. So I guess everyone was nervous. I took some newspapers from the chair to read and one of the muscle guys wanted to make a fight with me. I thought they were actors, and I just finished one year of acting school in Boston, so I started acting tough. I was so enthusiastic and wanted to show the skills I learned. I told him you can shove those papers up your ass and I really stood up and acted tough. The guy withdrew and he went back to his chair. The next day I found out those muscle guys in the room were not actors, just local gym guys chosen for that one scene. So when I found that out I had shivers through my body. He could have beat me up badly since I didn't know how to fight – I thought was all just a scene…uff I was lucky. And then I thought, "Well, I guess I acted really well", LOL!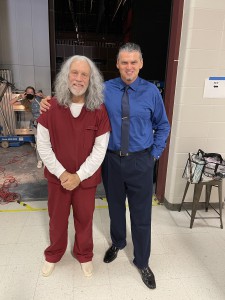 What advice would you give to aspiring actors who have chosen acting as a second career?
It's a long road. At least for me it was a long road. If you're not getting enough roles from auditions I suggest you start making short films and submit your work to film festivals. In short films you get same credits as if you're in features, and you can therefore start building your own IMDb portfolio. In addition these days with socials being the focus, you can really advance as a YouTuber, do your own promotions and show your skills. And if you have many followers you have more of a chance of being hired. Casting directors nowadays are looking at that as well. If you have many followers, you are sort of a star and can help sell the film.
Anything else you'd like to say?
Be relaxed and have fun. If you really love acting, and you're putting in many hours, the results will come. Don't worry.